My Travel Experience to Kashmir Post Covid-19
We were looking for a refreshing holiday after all this pandemic and hence decided to take a trip to Kashmir. I along with my 10 friends planned a trip to this heavenly paradise, and as everyone said, we also end up saying this line for Kashmir – "If there is Heaven on the earth then it is in Kashmir ".
Without any doubt, Kashmir is one of the prettiest states of India, visually! Deck up shikaras, beautiful locations, scenic valleys, skiing places, lush greenery, Himalayan mountain ranges, picturesque meadows, pristine rivers, kahwa tea, tranquility, and peace of nature, the smiling face of Kashmiri people, and their hospitality are some of the things every traveler will experience in Kashmir.
Let's virtually go through our 8 days' travel experience to Kashmir which will indeed also help you to plan a relaxed trip to this 'Heaven on Earth'.
Srinagar: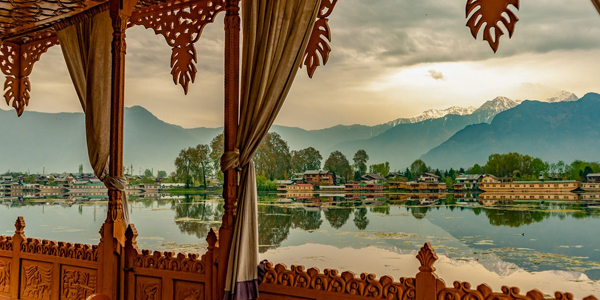 Image source: https://cdn.budgetyourtrip.com/
We began our trip from Srinagar, the summer capital of Jammu and Kashmir with a population of around 20 lakhs people. And the moment you step out of the airport, the pleasant weather and panoramic views of the surrounding mountains are waiting for you.
We covered some of the known sightseeing places here in Srinagar such as Nishad Garden, built in the 17th century and is the second-largest terraced garden in Kashmir. This garden is one of the most beautiful gardens you will come across and the best part about this place is the surrounding background of the majestic Zabarwan Mountains.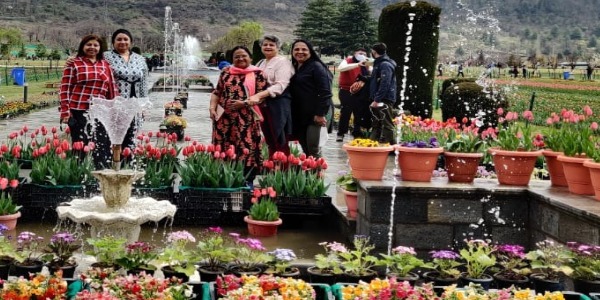 Today Srinagar is home to the largest Tulip Garden of Asia. Tulips bloom only for 2-3 months of summer, that is a short time, so if you wish to enjoy these flowers, you need to plan accordingly. You will for sure have an amazing time watching these glorified beauties. The tulip festival is held at Indira Gandhi Memorial Garden at the start of April.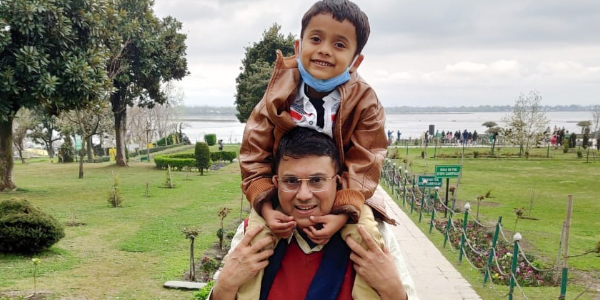 Other than this you can also visit scenic botanical gardens such as Shalimar Bagh- the largest botanical garden and also can add Chashme Shahi Garden to your itinerary. Trust me, you won't be disappointed visiting these gardens.
And, the fun experience was a shikara ride in the Dal Lake with the spectacular Himalayan ranges skirting the lake in the background and the markets and Mughal Gardens facing the lake with delight. You will be surprised to know the life on dal lake, how the humans here take a ferry from their home and town, how children use a ferry to attend their school, and the indelible moment is enjoying a sunset on your shikara ride. It is highly advisable to enjoy this beauty during the evening hours when the sky is blue and you can spot the reflection of the mountains in the lake till the sunset.
Pahalgam: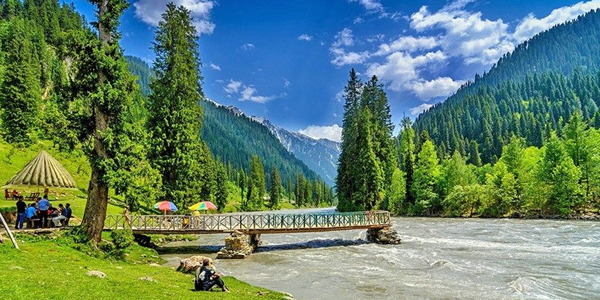 Image Source: https://www.icnnational.com/
Pahalgam is located at a height of around 7,200 ft. and is approximately 2 hours' drive from Srinagar. Throughout your journey, you will come across many woolly dogs and Chinar trees. You will also pass through Pampore village known for manufacturing cricket bats, you can also opt to have a stop here. Your journey to this hill station will be accompanied by meadows on both sides, mountains, and after a while Lidder river will also join you, flowing parallel to the road, overflowing, cold, and immensely beautiful.
There are many scenic places to visit here, naming a few you can go to Chandanwadi, located at a 16 km distance from Pahalgam. You can go for a pony ride here to travel around, enjoy a snow-boarding activity, or just walk to the Sheshnag Lake and get immersed in the beauty and serenity of nature here.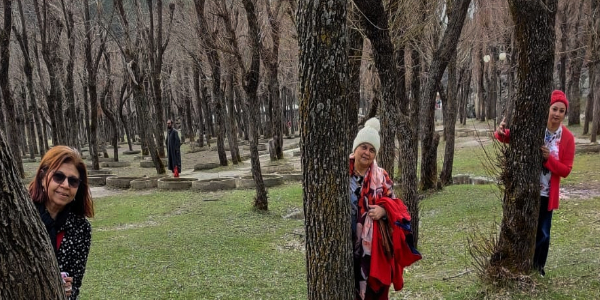 Next is the Betaab Valley, the best day of our Kashmir tour. One needs to have a small walk to reach here. The best time to visit this valley is during the summer season when this place is extremely beautiful. Just by walking on the pathways, or standing on the bridge, or hearing the gushing of the flowing streams will give pleasure to your day. Such is the beauty of this valley.
You can also add Aru valley to your itinerary, only 12 km from Pahalgam, and is very famous for heli-skiing and skiing. There are also many other things to do here such as horse-riding, family picnic at the valley, clicking pictures, and much more.
Gulmarg: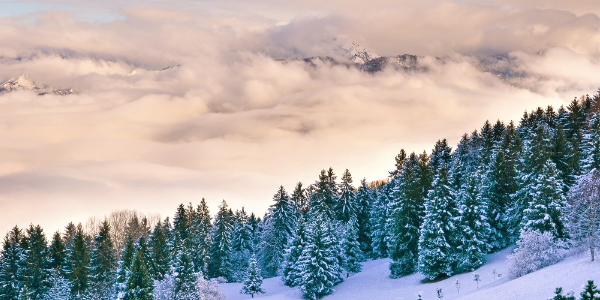 Image Source: https://www.sweetsharing.com/
The whole of Kashmir is beautiful, but when we talk about Gulmarg, the journey towards this paradise will make your heart sing. The route is full of Chinar, Pine trees, Deodars, Amaltas, and Kikar trees, with the majestic mountain ranges flanking around.
Even during April, the hotels and the main ground were fully covered with pristine and white snow. You can just go for a breezy evening walk to explore this pretty little town of Gulmarg.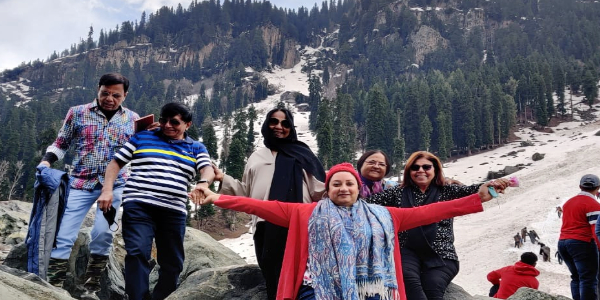 One of the most famous attractions of Gulmarg is the Gondola ride taking you up to the Apharwat Peak through the world's highest cable car. There are two levels for this Gondola ride to reach Apharwat Peak. The Level 1 of the Gondola starts from the Gondola resort to Kongdoori Station, taking around 20 minutes to reach the beautifying snow-clad mountains. Here you can enjoy many adventurous activities such as snow scooters, skiing, sledging, and much more. There are small makeshift dabbles-style restaurants also here, in case you wish to hog something.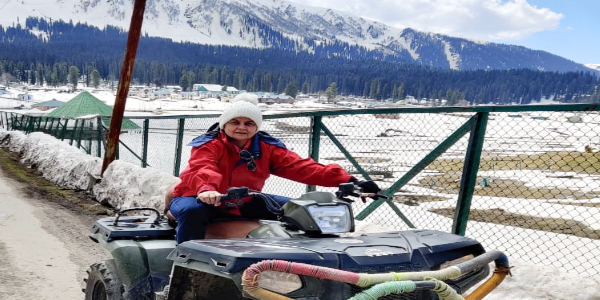 And, then you can take the Level 2 cable car from Kongdoori Station to Apharwat Peak, which is very near to the Line of Control between India and Pakistan. You can also hire 4wd scooters from the base level of the cable car station to move around the places of Gulmarg.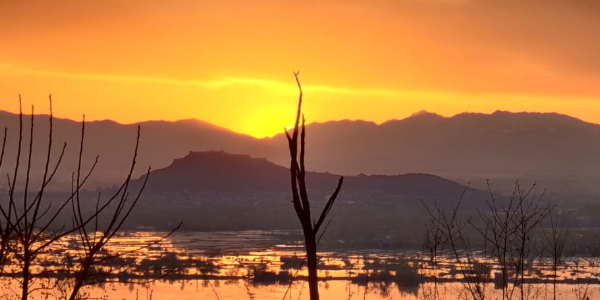 Coming to the end of my journey, many of us till date have a preconceived notion about Kashmir. We think due to all the political violence and conflicts; Kashmir is not a safe place to travel. But it's completely false, no single day we came across any threatening or saddening incidence, we roamed freely around just like the locals. And as said before, Kashmiri people are warm and hospitable, try talking to them and listening to their stories, surely it will enlighten your Kashmir tour a little more.