Top Attractions to Visit in Dubai in 2021 !!!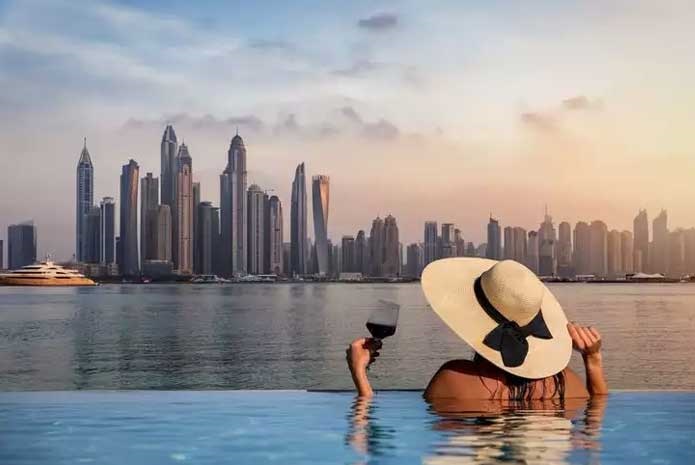 Top Attractions to Visit in Dubai in 2021 !!!
Dubai is the capital and city of the Emirate of Dubai; it is one of the prosperous of the 7 Emirates that establish the federation of the United Arab Emirates, which was constituted in 1971 when Great Britain gave them independence. Dubai is a beautiful city of ports, skyscrapers, and beaches, where great business takes place, and day by day tourism is increasing. The city is an approximately crime-free city where governmental effectiveness and open arms to business have encouraged marvelous development.
The western region of Dubai has an advantage from the small expansion of sandy beaches, which has benefited to prepare the city's tourism business. Dubai's king wants to develop the city's small seafronts, and, in the lack of natural offshore islands, planners were encouraged to make man-made islands off the coast of Dubai. The extremely remarkable of these is Palm Jumeirah, It has the structure like a palm tree. Another one is The World Islands, a cluster of tiny islands located to present a world map when looking at it from above the city. If you are planning for a Dubai tour, there are several places to visit in Dubai. People plan their Honeymoon in Dubai because it is an ideal destination for couples who love fast-paced metropolitan cities with a lot of glamour, glitz, and enthusiasm all around the city. One can take Dubai Tour Packages with Abu Dhabi.
10 Most Incredible Places to Visit in Dubai. 
There are many renowned places to visit in Dubai. Dubai presents plenty of opportunities to explore the city with top things to do like nightlife and shopping in Dubai, find fees and entry timings about different sightseeing's in Dubai, UAE. You can choose luxury Dubai Villa packages to discover amazing Dubai. 
Burj Khalifa

Desert Safari

Mall of Emirates 

Dubai mall

Dubai Miracle Garden 

IMG Worlds of Adventure

Grand Mosque

Dubai Frame

Bollywood Parks Dubai

Legoland Waterpark
Burj Khalifa, Dubai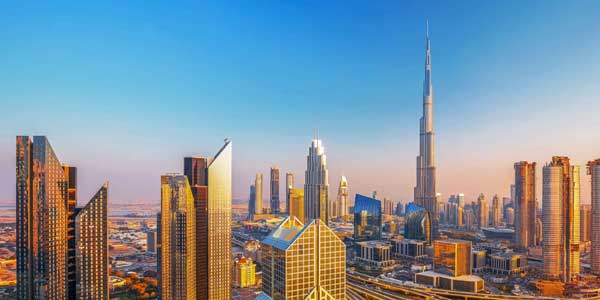 Image Source: https://cdn.getyourguide.com/
Since 2009, Burj Khalifa is the tallest building in the world. Its observatory, At the Top, is at the height of 555 meters at the 124th Level. The Burj Khalifa Dubai SKY observatory at 148th level presents a unique chance by offering amazing view of the entire city. Your exploration starts when you walk into the At the Top, SKY lounge of Burj Khalifa, from where you will be individually guided to a particular lift. There are many places to see in Dubai but without visiting Burj Khalifa your trip is incomplete. You can opt for Dubai Hotel Deals 2 Nights, 4 Nights, and 6 Nights packages.
Burj Khalifa History:
Burj Khalifa was recognized in the time of construction as Burj Dubai after completion was formally titled to honor the Sheikh Khalifa Ibn Zayed Al Nahyan, the ruler of the bordering Emirate of Abu Dhabi. Burj Khalifa was officially started on 4th January. An outside observation deck, titled At the Top, started in 2010 on the 124th level. When opened, it was the tallest outside observation deck in the world. The Burj Khalifa held an overall 8 world records when the time of its completion, including the highest habitable floor, the fastest lift travel distance, and the tallest structure.
Burj Khalifa Location:
Burj Khalifa Location is in Dubai Mall, Sheikh Mohammed bin Rashid Blvd – Downtown Dubai 
Burj Khalifa Opening Hours:
24 Hours open Monday to Sunday 
Burj KhalifaEntry Fees:
There are different time slots available for At the Top Sky but the approximate price would be AED 385 to AED538 per person  
Desert Safari, Dubai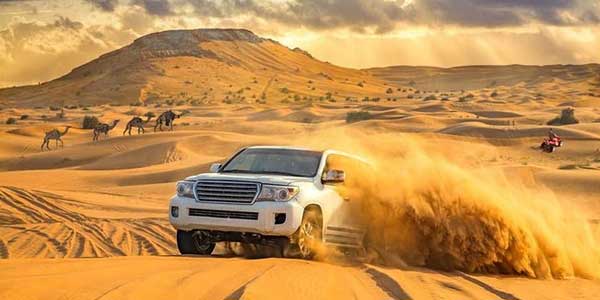 Image Source: https://media.tacdn.com/
Whether you are traveling for the first time in the city or the second time it is always wonderful to begin your morning with an exclusive Dubai desert safari. During the evening desert safari allow you besides the exciting dune bashing you can also like the appeasing sight of the sunset from the center of the desert which makes it pleasant. As soon as the dune bashing is over, many entertainments are waiting for you. Camel riding is great fun if you are enjoying it for the first time and have not enjoyed it earlier.  
And, by paying an additional amount you can also enjoy the awesome VIP assistance. In VIP assistance of desert safari Dubai, you will have a particular and convenient sitting place to explore the Arabian night and shows during desert safari.
The city has many Dubai tourist places but desert safari is a wonderful adventure. There are many Dubai and Abu Dhabi special packages and offers. Grab the special deal with Flamingo travels.
Desert Safari, History
Dubai is a huge and extensive desert. There is so much more to discover in Dubai's desert such as the camels, desert camps, and wonderful golden dunes. Former Dubai is diverse from what today you can see. A few old Emirati families were pleased to tell the interesting stories of their previous life as Bedouins and living hot desert atmosphere. Around 40 years before Bedouin villages stayed where presently the high raises building are located. To an understanding of their entire life as camel ranchers, and merchants are unusually fascinating for you to listen to and to know more about it!
Desert safari is an awesome task in which you understand the history and importance of camels in this area, old sources of entertainment, and the lifestyle of Bedouins, desert activities, and a big mix of traditional food.
Desert Safari, Location
They pick up from your location 
Desert Safari Opening Hours
Desert Safari in morning: 8:30 AM to 11:30 AM 
Desert Safari in evenig:  4:00 PM to 10:00 PM
Overnight Desert Safari: 4:00 PM to 9:00 AM
Desert Safari Entry Fees
Morning Desert Safari: AED 300 approx  
Evening Desert Safari:  AED 99 approx 
Overnight Desert Safari: AED 250 approx 
Mall of Emirates, Dubai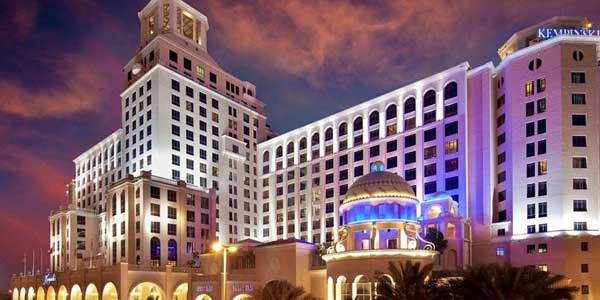 Image Source: https://www.trawell.in/
Mall of the Emirates is a grand e-commerce mall in the city. It has a cinema complex, ski slope, boutiques, and 560 shops. The Mall of the Emirates Dubai is a must-watch on your travel to Dubai city. There are lot of wonderful architectural places to see in Dubai. The shopping mall presently features around 630 retail outlets, more than 100 restaurants, and cafés, 7900 parking zone, 80 luxury stores, and 250 flagship stores. There's regularly something going on the ground floor, from family activities to fashion shows. This luxurious grand mall provides you with around 80 plus great brands of the world's most famous fashion stylists. The mall has the most convenient and luxurious stays at the 5-star hotels.
Mall of Emirates History
In November 2005, Emirates mall opened for visitors and is situated on Sheikh Zayed road. It has an overall 255,488 square meters of area. It was the outstanding modern e-commerce Mall at the World Travel Awards in London. In 2017, Forbes global media company titled Mall of the Emirates as one of the best shopping malls in Dubai city. The architecture in the three-story building blends Mediterranean and Arabic elements, with every floor linked to a car parking.
Mall of Emirates Location
Mall of Emirates Located on the Sheikh Zayed Rd – Al Barsha 
Mall of Emirates Opening Hours
Timings from Sunday to Wednesday – 10AM to 10PM
Thursday to Saturday 10 AM to 12 AM 
Mall of Emirates Entry Fees
There is no Entry Fee of the Mall of Emirates, it's free.
Dubai mall, Dubai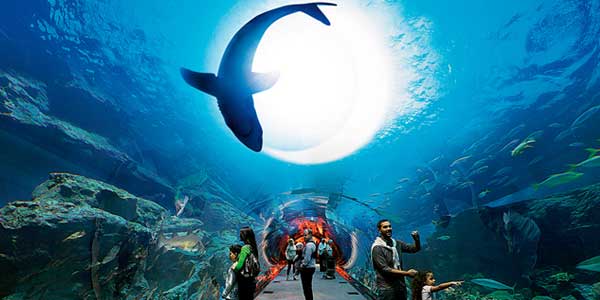 Image Source: https://imagevars.gulfnews.com/
The Dubai Mall is a remarkably -visited entertainment and retail destination/place. The Dubai Mall has around 1,250 retail shops and over 200 cafes, restaurants, and beverage outlets. It provides an unmatched retail range combined with the world's best dining and leisure activities. The Dubai Mall has the world's best Dubai Aquarium & Underwater Zoo. It boasts of a luxury hotel with 22 cinema screens and 250 rooms. The Dubai Mall has around big parking area with a car locator ticketing arrangement and valet services. It has a very attractive Dubai Fountain, Dubai fountain is set on a 30-acre area in the Burj Khalifa Lake, and Dubai Fountain used to performed dance on Arabic classical music.
Dubai mall History
The Dubai Mall was designed by a combined project of Al Ghandi/CCC, Dutco Balfour Beatty, and Turner Construction for Emaar companies, and it was planned to be completed in 2006, planned to be the size of 50 international football fields. The mall opened in December 2012, Emaar Properties declared the completion of the Metro connectivity, 820 meters long elevated, a footbridge that links the Burj Khalifa/Dubai Mall Metro station to the Dubai Mall.
Dubai mall Location
Dubai Mall is located Along Sheikh Zayed Road
Dubai mall Opening Hours
Timings from Sunday to Wednesday – 10 AM to 11 PM
Thursday to Saturday 10 AM to 12 AM 
Dubai Mall Entry Fees
There is no Entry Fee while Dubai Mall, it's free
Dubai Miracle Garden, Dubai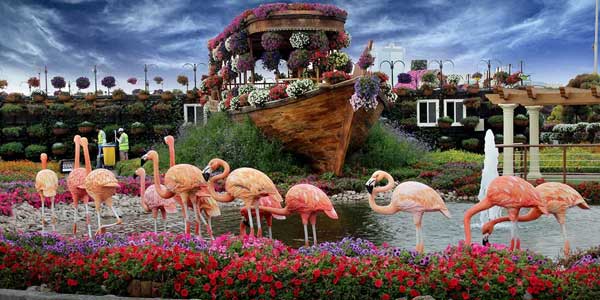 Image Source: https://i0.wp.com/
Dubai Miracle Garden is sightseeing all excursions; there are many activities in Garden. You can simply walk through the path or relax at the cabanas or dine at some international cuisine restaurants and stalls. Dubai city has its winter session from November to March month, and this is the best time to explore Dubai Miracle Gardens, Dubai. The Miracle Garden is the best Dubai Tourist Place for the winter pried. There are sixty various collections of beautiful flowers on a spectacle at Dubai Miracle Garden. Eccentric layouts and butterfly-shaped paths greet you with a charming smile. Airbus A380, Disney Avenue, Lost Paradise, Gazebos, lake parks, Floral Clock, and umbrella passage are attractions in the garden.
If you are planning to stay in the Dubai miracle Garden hotel, there are many hotels located near Miracle Garden.
Dubai Miracle Garden History
The Dubai Miracle Garden is exactly right named keeping in mind its beauty, everything pretty much in this Middle Eastern haven. It was built in the hot desert area. The garden was started on Valentine's Day in the year 2013. The garden captures around 72,000 sq m, making it the world's biggest natural garden. The floral designs are modified every season so that frequent guests get a distinct experience every time they visit the marvel. The main feature of the miracle garden is that it has a miniature of the Emirates Airbus A380, which in 2016 received the Guinness Book of World Records' "largest floral installation" title.
Dubai Miracle Garden Location
Dubai Miracle Garden Located at Al Barsha South
Dubai Miracle Garden Hours
Dubai Miracle Gardens is functional only in winters from November to May. 
Sunday to Thursday– 09:00 AM to 09:00 PM 
Friday and Saturday- 09:00 AM to 11:00 PM.
Dubai Miracle Garden Entry Fees
The entry fee for Miracle Garden is AED 50 for adults and AED 40 for children above age 12 and kids aged below age 2, which will be free. 
IMG Worlds of Adventure, Dubai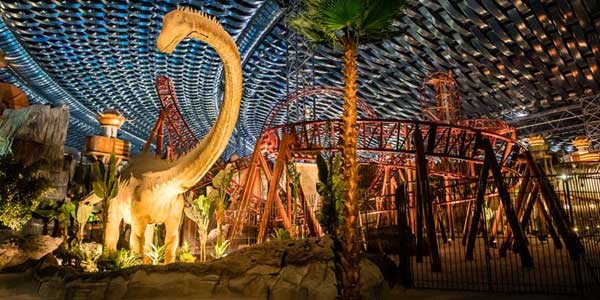 Image Source: https://i.pinimg.com/
IMG Worlds of Adventure is an amusement theme park in the city. It is Dubai's 1st mega-themed amusement park. The park is distributed into 5 zones. Two sections represent international characters Marvel and Cartoon Network, the Lost Valley and Dinosaur Adventure section are original ideas developed by the IMG Group only. 
The park has never-ending entertainment from unique IMG World rides to live stage shows. IMG Worlds of Adventure Dubai is the biggest place in Dubai. IMG World Adventure is one of the popular places to visit in Dubai. The theme park is for all ages visitors. There are many sites to shop and dine. You are looking for IMG Worlds of Adventure resorts or good resorts in Dubai contact the flamingo team. 
IMG Worlds of Adventure History
The IMG Worlds of Adventure was constructed by the Ilyas and Mustafa Galadari and Gholamreza (IMG) Group, and it is the world's biggest entertainment theme park. The IMG Park was part of the City of Arabia development project, a part of Dubai land it was a delay due to the 2008 property crash. The IMG Park got an AED1.2 billion credit from the Islamic Bank of Abu Dhabi. 
IMG Worlds of Adventure Location
IMG world is located on E311 Sheikh Mohammed Bin Zayed Rd
IMG Worlds of Adventure Opening Hours
Saturday to Wednesday- 12–8 PM
Thursday and Friday- 12 to 9 PM
IMG Worlds of Adventure Entry Fees
AED 299 to AED 325 per person 
Grand Mosque, Dubai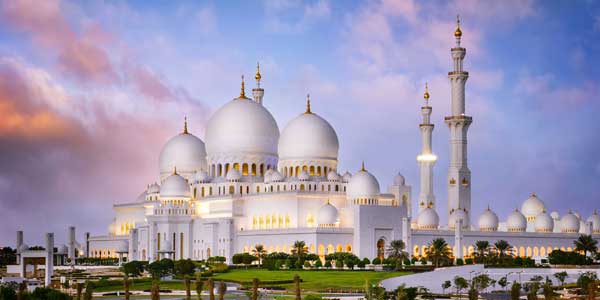 Image Source: http://cdn.cnn.com/
Grand Mosque or mainly known as Sheikh Zayed Grand Mosque is located in the magnificent city of Abu Dhabi. The building is a magical sample of architectural design with some of the mosque most different features like being decorated with the world's biggest carpet and 24-carat gold chandelier, 82 domes carved out of white marble, and the capacity to hold around 40,000 followers for prayers, it makes the mosque a perfect destination for devotees. Dubai and Abu Dhabi have many mosques but the Grand Mosque Abu Dhabi is one of the most visited places in the world and is busy with visitors all year round. The city displays some of the finest Arabian art and culture found in numerous Abu Dhabi and Dubai tourist places. The dress code of the mosque is important that all visitors dressed accordingly. No shorts for men. Women are required to wear something that covers their full body. There are some rules visitors have to follow that rules.
Grand Mosque History
The Grand Mosque name was taken from the United Arab Emirates' 1st leader and the late Sheikh Zayed bin Sultan Al Nahyan, the king of Abu Dhabi, who visualizes the concept. He took architectural guidance of the design for the mosque with his wish that his body buried in that part mosque. In 2004 after his death, his body was buried in the mosque's patio. The impressive memorial was designed by architect Yousef Abdelky. Inspired by Mughal, Persian, and Moorish architecture, it was a truly international combination of around 3,000 professionals from 38 international construction associations.
Grand Mosque Location
Grand Mosque is located on Sheikh Rashid Bin Saeed St – Abu Dhabi 
Grand Mosque Opening Hours
The timings for Grand Mosque are from 9:00 AM and 10:00 PM. 
Grand Mosque Entry Fees
The mosque is free to visit. Or can take free complimentary 1 hour guided tours are worth it.
Dubai Frame, Dubai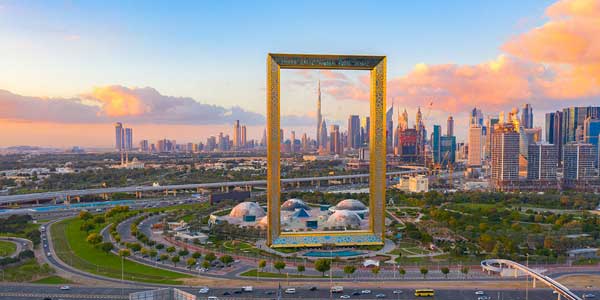 Image source: https://upload.touristvisaonline.com/
Dubai, the city of magnificent has added yet another feather to its wings. Dubai Frame is the world's bigges frame situated at Zabeel Park.  The tower presents a 360-degree view of Old Dubai and the developing modern new Dubai. Walk towards the panoramic elevators and enjoy the view of the city from both sides of the tower.   It has luxurious hotels, fine dining restaurants, and Cafés. Walking on the illuminated glass walkway at the Suspension Bridge will be the best experience. Dubai Frame Dubai can be accessed from Gate No. 4. You can refer to flamingo's website for Dubai and Abu Dhabi Packages.
Dubai Frame History
Dubai Frame tower was designed by Fernando Donis of DONIS Architects; the tower was built up by the Dubai Government. In January 2018, the frame was opened to visitors. The height of Dubai Frame is 150 meters and 95 meters wide. The rectangular shape of the Dubai Frame is inspired by the golden ratio, which many artists and architects trust is an ideal model of a tower. Elevators reach the flyover over 48 floors in 75 seconds.
Dubai Frame Location
Dubai Frame is located in Zabeel Park in Dubai
Dubai Frame Opening Hours
Monday to Sunday – 9 AM to 9 PM 
Dubai Frame Entry Fees
Adult – AUD 50 
Child – AUD 20
Under 3 years children are free.
Bollywood Parks Dubai, Dubai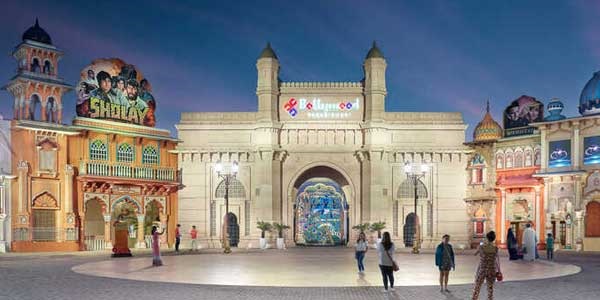 Image Source: https://cdn.getyourguide.com/
Enjoy the many glamorous Bollywood movies that at times, made you merry. The theme park is the first ever to be acquainted with the world that is devoted to Bollywood and its grace. The theme park is a favorite amongst Dubai tourist places. A tour to Bollywood Parks Dubai would leave you fascinated with its adventure, comedy, action, flavor, romance, emotions, and music. What more can one demand? Bollywood Parks Dubai reveres the grandeur of Mayanagari's illustrious film industry. Indicating its place amidst the world's biggest amusement parks, Bollywood Parks Dubai has got all the ingredients to subdue your agony. There are infinite shopping options, exciting rides, and dine-in options for your complete entertainment. 
Bollywood Parks Dubai History
Development history. The project of Dubai Parks and Resorts was declared in 2012 and construction began in 2014. The company came into agreements with Columbia Pictures, DreamWorks Animation, Merlin Entertainments, and several Bollywood studios in 2014 to bring favorite Hollywood and Bollywood characters to its theme parks.
The leftover components of Dubai Parks and Resorts floated in 2017 when both the Lapita Hotel and the Legoland Water Park unlocked on January 2 to paying visitors.
Bollywood Parks Dubai Location
Bollywood Parks Dubai Located in Dubai Parks and Resorts.
Bollywood Parks Dubai Opening Hours
Monday to Sunday 3-11 PM
Bollywood Parks Dubai Entry Fees
AED 275 per person or you can take a combo of two parks.
Legoland Waterpark, Dubai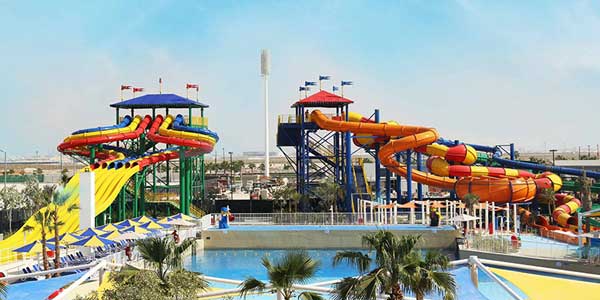 Image Source: https://whatson.ae/
The amusement park is divided into 2 parts, namely, the Legoland Waterpark and Legoland Theme Park. Legoland Dubai is an indoor amusement park solely devised for absolute family amusement. It is a unique entertainment park which has got all in all to fulfill the desire of your child. Legoland Water Park Dubai indicates a water park that is adjoining a Legoland theme park. Savor the tube slides and raft, many water slides, a baby play area; build your miniature boat, and the chance to personalize your own LEGO raft. It is the best Dubai Tourist Attraction for summer to beat the heat of Dubai.
Legoland Waterpark History
The Legoland Water Park was initially expected to start in 2011 as Legoland Dubailand, but was then postponed till 2016 and is presently known as Legoland Dubai and situated at Dubai Parks and Resorts. The park is a family theme park in Dubai city. 
Legoland Waterpark Location
Legoland Waterpark Located on Sheikh Zayed Rd, Abu Dhabi 
Legoland Waterpark Opening Hours
Monday to Sunday 11:00 AM to 07:00 PM 
Legoland Waterpark Entry Fees
AED 275 and less than 3 years the child is free, can take combo; Legoland Dubai offers single-day tickets, as well as annual tickets.
Conclusion:
A rich modern sky scraper city, famous amongst all Indian travelers, it is a haven for all type of travelers, be it theme parks, shopping, history, big desert and modern sky scrapers, and palaces, a traveler of any age group is definitely going to relish substantially. Check out the various options of Dubai travel packages on or take the assistance of expert destination specialists at Flamingo Transworld Private Limited, to have a holiday filled with fun and excitement.