Top 10 Luxury Resorts to Stay in Bali On Your Dreamy Bali Trip!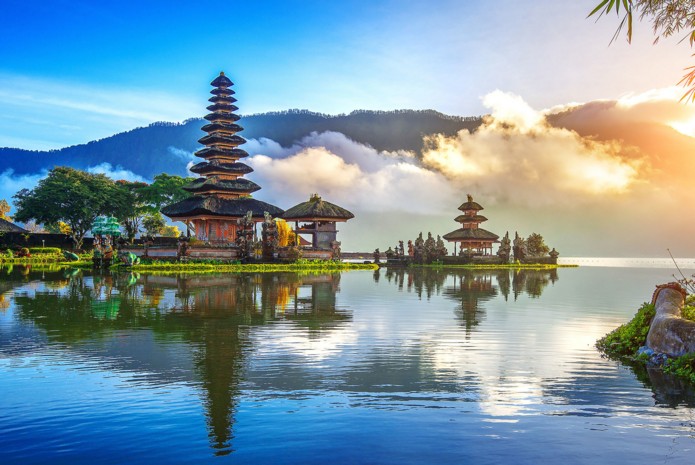 Ornately decorated temples, floral offerings, the aroma of incense, and crystal-clear beaches are just a few reasons; why this Indonesian island is famed as The Island of the Gods.
Bali evokes the image of a tropical island and beaches but, there is so much more to this country than its beach life. The villagers' smiles, proudly dressed in traditional costumes, are heartwarming in their charm and compassion.
Bali's vibrant, spiritual, and distinct culture competes for your Instagram attention with a diverse volcanic landscape of rugged cliffs, postcard-perfect beaches, and lush paddy fields.
Bali is one of the world's most beautiful places, with beautiful lakes and waterfalls, wildlife-filled jungles, sandy beaches, and crystal-clear warm water for excellent snorkeling and diving. While many romance seekers visit to enjoy its delights, it is also ideal for all types of travelers, from solos to families.
Bali, Indonesia's tropical island, is a bucket-list getaway that lives up to expectations. Bali exudes a sense of calm and devotion. One of the most crucial considerations is where you will stay in Bali. Spirit-lifting Bali can host you in eco-friendly bamboo tree houses just as well as it can host you in classic elegance.
Listed here is an assortment of the best-of-the-best accommodation options in Bali.  
The Anvaya Beach Resort Bali
Amankila Bali
Alila Seminyak
Four Seasons Resort Bali
Ayana Resort and Spa
Courtyard by Marriott Bali Seminyak Resort
Kupu Kupu Barong Villas and Tree Spa by L'Occitane
The Kayana Seminyak
Alaya Ubud
Conrad Bali

The Anvaya Beach Resort Bali


Kabupaten Badung, Bali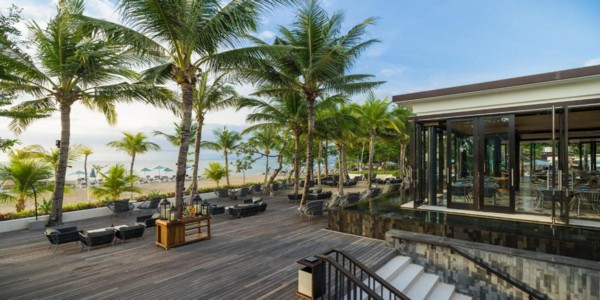 Image Source : https://t-cf.bstatic.com
The Anvaya Beach Resort highlights authentic, fashionable, contemporary Balinese architecture presenting a stunning connection between the eras of Hindu Bali, ancient Bali, and Modern Bali, with an ideal setting in busy Kuta and inspired by the grandeur of the Island of Gods.
The resort's Balinese heritage, coupled with the dazzling beach views of the enchanting Indian Ocean, elevates Bali above the ordinary.
The Anvaya Beach Resort Bali is one of the finest hotels in Kuta, with a combination of suites, rooms, and private villas. The hotel has vast, beautiful gardens, pools, and a private beach.
There's a spa on-site, Sand & Wine Cellar, which provides tapas-style cuisine, and dining facilities such as Kunyit Restaurant, which serves authentic Indonesian cuisine.
If you are on the hunt for where to stay in Bali, this is a fantastic alternative.
Amankila Bali


Kabupaten Karangasem, Bali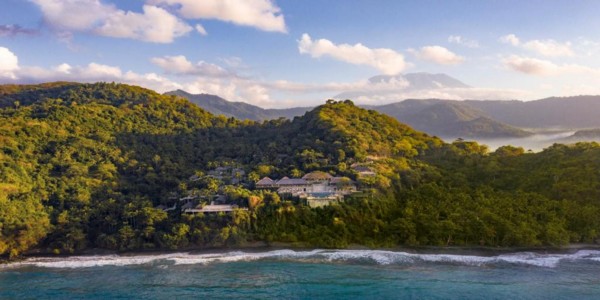 Image Source : https://t-cf.bstatic.com
The dream hideaway of Amankila is a property with rich tropical foliage, 180-degree sea views, a black sand beach, and a coconut grove. It radiates an aura of peace and serenity while being – nestled in one of Bali's most spectacular spots.
A volcano – Mount Agung, honored as a home for the gods by the locals, provides a stunning backdrop to this all-suite hotel. The 34 suites are nestled into lush vegetation around the property, with spectacular sea views.
The lobby is surrounded by fragrant frangipani trees and has stunning ocean views and views of the hotel's trademark three-tiered pool.
The Beach Club is tucked away beneath the property, away from the resort's private beach. It also offers various casual dining options serving Western and local delicacies and another pool to chill. The resort is a terrific spot to unwind and switch off, but it's also a popular base to explore Bali's quieter eastern coast. Guests can explore many activities like snorkeling, boat trips to nearby islands, visiting Balinese temples, riding through paddy fields, or enjoying complimentary yoga at the resort.
Alila Seminyak


Kabupaten Badung, Bali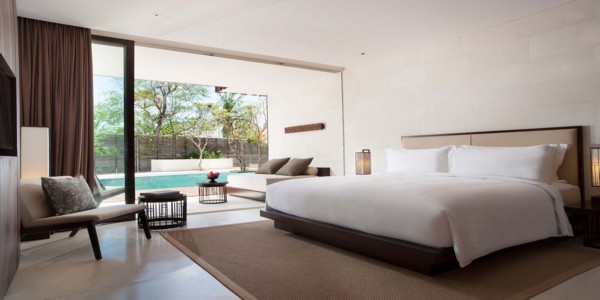 Image Source : https://1nsw6u.akamaized.net
On the southern coast of Bali – steps away from the Indian Ocean – lies the magnificent Alila Seminyak Bali. This eco-friendly resort, with views of the beach and a distinctive blend of contemporary style, is located on Bali's southern beaches, in the premium Seminyak resort region.
Alila Seminyak features stylish minimalist-style suites with lavish amenities like furnished balconies, magnificent marble bathrooms with ceiling-mounted rain showers, deep soaking tubs, etc. There are five infinity pools spread throughout the property. Relax on the sun terrace after swimming in one of the five infinity pools.
Spa Alila offers wellness therapies and soothing treatments using natural handmade products. There is an excellent 24-hour coffee shop, fitness center, beach bar, and restaurant serving dishes such as the catch-of-the-day.
Four Seasons Resort Bali


Badung Regency, Bali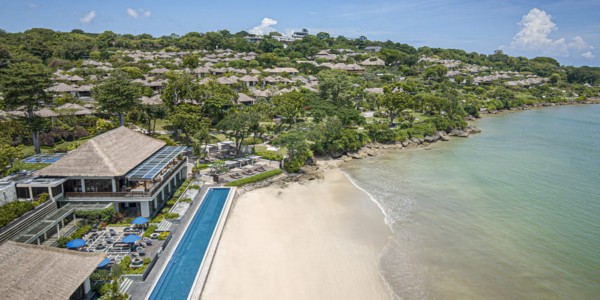 Image Source : https://www.fourseasons.com
The Four Seasons Resort Bali is on a long stretch of white sand beachfront in Bali's Beverly Hills, at Jimbaran Bay. Find Serenity and flawless opulence in this premier location.
Despite having all of the amenities of a top-tier luxury hotel, the Four Seasons Jimbaran is designed to look like a typical Balinese village. The Four Seasons Resort Bali is situated on a mountaintop with magnificent views of Jimbaran Bay and features meandering stone walkways leading to the beach. There are 147 spacious thatched-roof villas with private plunge pools at the resort. The only way to get to these villas is to walk through elaborate tropical gardens on steps and cobblestone roads. All are extraordinarily big and lavish, with subtle Balinese décor, beautiful baths, and windows with exquisite views of the Jimbaran Bay and its famed sunsets.
Ayana Resort and Spa


Badung Regency, Bali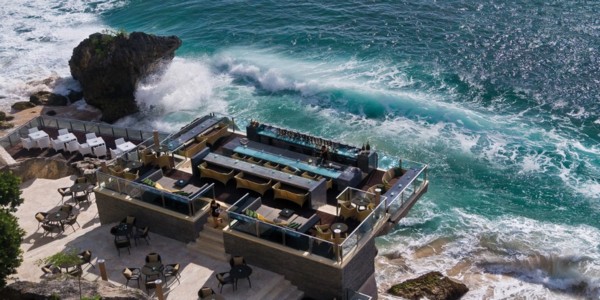 Image Source : https://cms-asset.ayana.com
Next on the list – is the award-winning Ayana Resort and Spa – on the southwest peninsula of Bali. The sprawling resort is set on 222 acres of private tropical forest above Jimbaran Bay. Ayana Resort and Spa is the only integrated resort with Rimba Bali. AYANA's stunning sunsets and shoreline views are enhanced by a white-sand beach and luxury facilities.
The Luxury Lifestyle Awards nominated the resort as one of the Top 20 Best Luxury Hotels in Bali, and it's easy to see why. Guess guests have access to a range of onsite amenities, including nineteen restaurants and bars and the resort shuttle, which runs every day.
It includes the beach club, Rock Bar, spa, twelve swimming pools, fitness center, and much more.
Courtyard by Marriott Bali Seminyak Resort


Badung Regency, Bali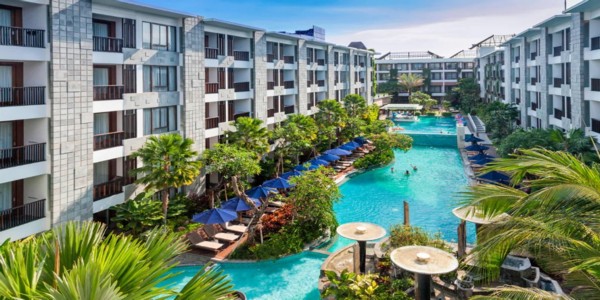 Image Source : https://cache.marriott.com
If you're on vacation in Bali, stop at Courtyard Bali Seminyak Resort for a tranquil getaway. The best part about this resort is that it is right in the center of the famous Seminyak, just a stone's throw away from the region's best entertainment and boutiques, and quite close to the beach.
All the rooms and suites are contemporary with a Balinese touch. All rooms and suites have rain showers, premium bedding, private terraces, or balconies with pool access and complimentary Wi-Fi. Enjoy local and international cuisines at the Courtyard by Marriott Bali Seminyak Resort's numerous dining options. The spa at this resort is ranked among the top spa by Tripadvisor members.
Check out their fully-equipped fitness center, take a dip in a three-tiered outdoor pool, explore the private beach area, or experience the famous Eat Street and nightlife of Seminyak. Discover the culture, hospitality, and adventure at Courtyard Bali Seminyak Resort.
Kupu Kupu Barong Villas and Tree Spa by L'Occitane


Gianyar Regency, Bali
Image Source : https://t-cf.bstatic.com
In 1987, the Kupu Kupu Barong Villas and Tree Spa by L'Occitane pioneered the concept of a Luxury Boutique resort in Ubud. It was one of the first hotels built in the Ubud area. It is located on a country road with beautiful views of the Ayung River and lush green rice fields. The resort is surrounded by lush foliage and intersecting valleys that gently slope down to a private beach with fine white sand.
All the rooms and suites at the property are set elegantly within canopied pavilions that reflect Bali's distinct culture. The beachside restaurant at Kupu Kupu serves a range of French and Southeast Asian cuisine. The in-house bar offers an extensive assortment of cocktails.
Built on the top branches of a giant mango tree, the spa center offers a selection of rejuvenating, exclusive therapies for the mind and the body. The resort also provides a romantic getaway with an exquisite and personalized lifestyle experience.
The Kayana Seminyak


Kabupaten Badung, Bali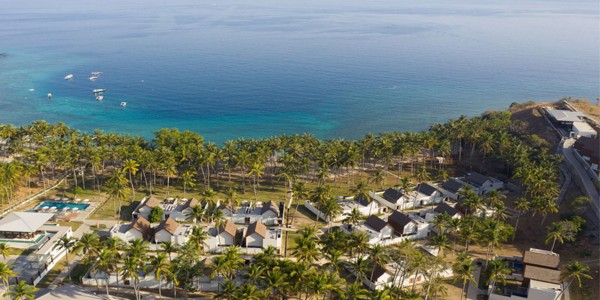 Image Source : https://cdn-5deba344f911cb0cdc3f0d72.closte.com
The Kayana is a tranquil interlude amid trendy Seminyak, with its thatched dome and Balinese Joglo. It's a serene boutique resort with elegantly thatched villas, a restaurant, a fitness center, and a spa.
The resort features contemporary interiors with en-suite bathrooms and king-size beds. Each villa has its pool and garden. Savor the tropical breakfast on a floating tray in your private pool before beginning your day. Experience the soothing treatments at the rejuvenating spa at the resort.
The Kayana Villas are a perfect fusion of Balinese hospitality, natural beauty, and today's essential amenities.
The Kayana Villas is assured to provide you with many wonderful Bali holiday memories to treasure in the future, whether you are here to rekindle the romance with your significant other or for a holiday of tranquility and seclusion.
Must Read : Discover The Trendy and Touristy Seminyak, Bali
Alaya Ubud


Kabupaten Gianyar, Bali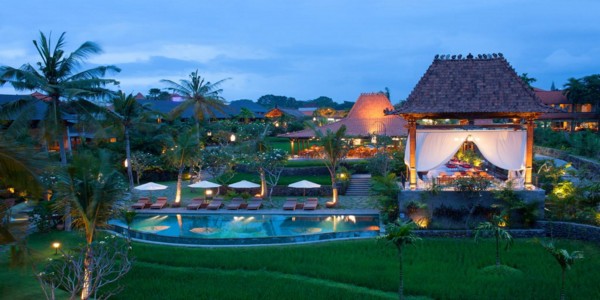 Image Source : http://alayahotels.com
Alaya Ubud – with its hundred and six rooms, is a sanctuary of sophistication and serenity in the culturally rich area of Ubud in Bali. The resort is designed considering the surrounding environment and rice terraces. This exotic boutique resort offers its guest a stylish stay option that reflects the region's unique artistry.
The rooms at Alaya Ubud offer a peaceful ambiance to unwind after exploring the sights of Ubud. The rooms feature en-suite bathrooms, elegant furnishings, and a private terrace or balcony. The dining options at the resort serve a menu based on seasonal specialties and island-fresh produce.
Alaya Ubud's Dala Spa is nestled in a tranquil area with a flowing river as a backdrop. This luxurious retreat was created to elevate the experience of Balinese relaxation to new heights. The spa offers beauty practices and local healing using indigenous products.
Conrad Bali


Kabupaten Badung, Bali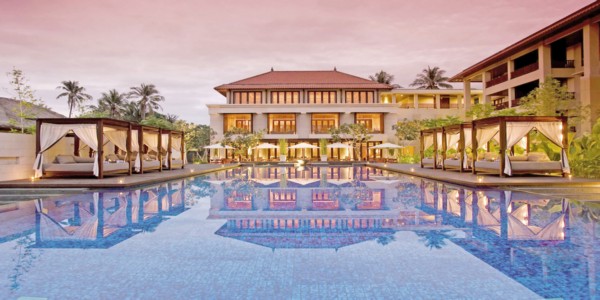 Image Source : https://www.hilton.com
The Conrad Bali spans hectares of manicured tropical gardens and lagoons, complete with flowing waterfalls and pools that softly cascade onto the hotel's long stretch of beach and protected harbor.
This luxury resort is on the southern coast of Bali – around 10km from the international airport and close to the Nusa Dua area. Conrad Bali, designed in an appealing E-shape structure, offers three wings, a retail village, an extensive Spa Centre, and a Conference Centre.
The spectacular drive up to the hotel entrance raises three floors, passing through a waterfall flowing from the open lobby of the hotel. The sunken Lobby Lounge, East, offers breathtaking views of the Indian Ocean as soon as you approach the hotel lobby.
Most rooms and suites at the resort offer stunning ocean views. Each room has an array of amenities. The recreation facilities at the resort include a jogging track with manicured gardens, a swimming pool, floodlit tennis courts, a business center, Jiwa Spa, Kura-Kura Club for children, and a fitness center.
Summing Up:
The exquisite and exotic island of Bali – is one of the most opted tourist destinations globally. Bali is not just a honeymooner's paradise; it is also a popular destination for groups, families with children, solo travelers, and visitors of all ages.
Whether you wish to soak in the pool in the beach villa, lounge on a hammock, enjoy a sightseeing tour or indulge in water sports, you name it, Bali has it all.
And to make your experience even more remarkable – destination experts at Flamingo Transworld – will assist you with resorts in Bali and curate a customized Bali Tour Package for you.
With so many great hotels in Bali to select from, start preparing your trip as soon as possible before the desired accommodations sell out!