Top 10 Sightseeing To Explore In Singapore – Flamingo Transworld
Singapore – is a country ahead of its time – a land with plenty of skyscrapers and futuristic marvels. With its blend of new and old, contemporary and colonial, this city-state is a true Southeast Asian marvel.
Imagine Singapore – and a flash of images runs through our mind. Luxury hotels, soaring skyscrapers, boulevards filled with air-conditioned malls, serene lush greenery, Instagrammable spots – Singapore certainly has it all.
We all know that Singapore is one of the world's most expensive cities, but it also has a long list of other accolades: cleanest, best-planned, greenest, and possibly most fascinating.
This Lion City is also home to the first safari park for nocturnal animals, the largest rooftop infinity pool, ancient temples, and of course, some of the lip-smacking dishes on the planet. Be amazed by the city's numerous shopping streets, immaculate gardens, China Town, Arab Quarter, Little India, and many other architectural marvels.
There are myriad attractions and stunning sightseeing to explore in Singapore which makes it daunting to know where to start with.
Singapore is one of the most Instagrammable countries in the world – and there is so much to do for all travelers – singles, couples, families, corporate groups, friends, etc.
So here's a quick ready-reckoner of the best Singapore attractions, as selected by our destination experts.
Jewel Changi Airport – a multi-faceted lifestyle destination in Singapore

Image Source : https://media.cntraveler.com/
Generally, when we are visiting an airport, it is either to depart or to arrive from some country. But have you ever thought of an airport that is one of the top attractions to visit? Changi Airport is more than just a gateway; it is also a destination for tourists.
Jewel Changi Airport is a contemporary entertainment, dining, and shopping complex inside Singapore's International Airport and is directly accessible from the passenger terminals.
Admire the iconic architecture, satiate your inner shopaholic, and explore the lush indoor gardens, all of this at Jewel Changi Airport. Being inside an air-conditioned garden enclosure is one of the most exciting things to do in Singapore and a unique experience in itself.
Discover this latest lifestyle concept. This transportation hub is also a dining, nature-themed shopping, and entertainment extravaganza. The highlights include the seven-story-tall indoor waterfall – the Rain Vortex, an indoor forest with suspended walkaways, and around 300 stores.
This airport is a game-changer for tourists on layovers. You would be surprised to know that it is so worth it and famous that several airlines allow their passengers to check in twenty-four hours in advance to maximize their time inside.
Gardens by the Bay – a masterpiece of garden artistry and horticulture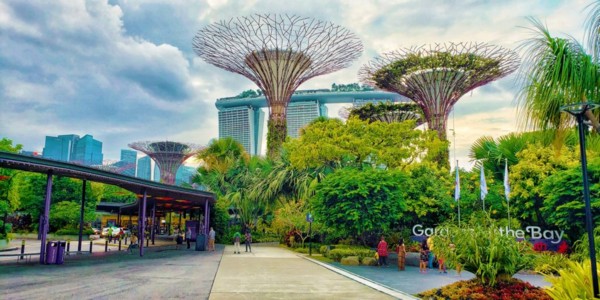 Image Source : https://pointmetotheplane.boardingarea.com/
It is a popular tourist attraction in Singapore, and for a good reason. It is one of the most stunning landscapes you will ever see! Trust me on this one – Gardens by the Bay is the only one of its kind in the world.
It is one of the rare sites where you can observe technology and nature interacting in the most harmonious way possible. The Gardens include everything from stone sculptures to supertrees, plant conservatories, and indoor waterfalls.
Out of the two conservatories – the Flower dome spans 1.2 hectares and is the largest column-less glasshouse globally. It imitates the Mediterranean dry climate and semi-arid tropical areas. The trails that go above and through the tree canopies are a reflection of the dome's outstanding architecture!
The second conservatory is the Cloud Forest.It spans 0.8 hectares – and is comparatively smaller but higher than the Flower Dome. The environment inside this conservatory replicates the moist and tropical climate. Cloud Mountain, which stands 42 meters tall, inspired the name of the conservatory. All of this is visible as you come down the circular path that passes in front of the waterfall—definitely a refreshing pause.
Nights at the Gardens by the Bay are especially stunning. Every evening – get mesmerized by the sound and light show – Garden Rhapsody and the supertree grove transforms into a spectacle of dazzling colors that blend into the night sky. The sight will captivate you and make you feel as if you are watching a scene from the film Avatar.
Aside from that, there's plenty more to see and do here. Explore the park from above from the OCBC Skywalk, learn more about the country at the Heritage Gardens, check out the Children's Garden, travel to the desert at the Sun Pavilion, and Spot Southeast Asian flora and fauna at the World of Plants, etc.
You can easily spend five-six hours exploring this magnificent landmark. Even though you are in Singapore, you will feel as if you have traveled across oceans!
Experience the Night Safari
Image Source : https://upload.wikimedia.org
The term Night Safari – you may feel that there must be some misunderstanding – a wildlife safari during the night? You read it right – indeed, it's a wildlife night safari in Singapore.
It is the first and most famous park dedicated to night wildlife. The management of this park is the same as that of the Singapore Zoo. These nocturnal safari park spans 86 acres and houses around 2500 nocturnal animals – most of them are endangered species.
Visitors can tour the whole park on complimentary trams with audio commentary. Although this tour covers seven geographically themed areas, not every animal sighting is guaranteed. If you make a reservation ahead of time, you might be able to see a live tiger feeding. Alternatively, if you wish and can, you may also opt to explore the region through fixed walking trails in the park – this will be quite an experience in itself.
Indulge in island fun @ Sentosa+ Universal Studios Singapore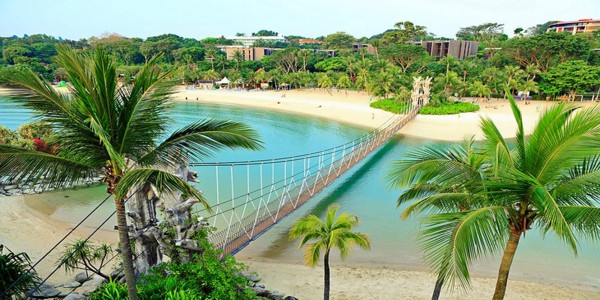 Image Source : https://www.planetware.com
When we decide what to see in Singapore, we are often perplexed because there are so many options. So, where are we going? Sentosa Island is one such incredible destination that offers everything from fun to food to entertainment.
Resorts World Sentosa is a destination in and of itself in Singapore. It is located on an island off Singapore's south coast and has hotels, restaurants, a casino, and theme parks – in short, something for everyone, no matter their age.
Now – here is a catch – Explore not just the famous Resort World Sentosa – but there are Universal Studios too on this island. Here you can explore two globally-renowned Singapore attractions in one go to attain an experience of a lifetime!
Explore all the seven zones with unique themes at Universal Studios. Zones like The Lost World, Sci-Fi City, Ancient Egypt, New York, Hollywood, and Far Away. You have to experience the Transformers Ride. Those who are thrill-seekers should try the Battlestar Galactica ride, families with kids should try rides like Madagascar, Sesame Street Spaghetti Chase, etc.
Aside from the Universal Studios, Sentosa Island also houses some quintessential landmarks like Madame Tussauds, SkyHelix Sentosa, Adventure Cove Waterpark, 4D Adventure land, SEA Aquarium, etc. Adventure enthusiasts have a plethora of possibilities to explore on this island. The best part is most rides are meant for families with kids – specially curated for the younger kids.
The above are just a few highlights of Sentosa Island – the location itself is a popular tourist destination in Singapore.
Siloso Beach is a great place to relax on the sand while admiring the city's skyscrapers. If you are looking for a spot to distress and relax, it is a great place to be.
 The Merlion, Singapore's famed statue, is also a must-see on Sentosa Island. Let us agree – a visit to Singapore – without a pic with the Merlion –will not be complete at all. We need to have our best click with the globally renowned landmark for our Instagram feeds.
Singapore Zoo – A chance to see wildlife in open enclosures

Image Source : https://i.pinimg.com
One of the prominent attractions of Singapore is Singapore Zoo. Here you will have an opportunity to observe the wildlife without any barriers in between. It is a paradise full of enchanting wildlife – a must-visit for all animal lovers.
The zoo was established in 1973, and since then, it has grown to become one of the top-ranking rainforest zoos internationally. The zoo features more than 2800 animals like white tigers, Malayan Tapirs, crocodiles, etc.
Singapore Zoo is felicitated with several local and international awards. Tripadvisor Traveler's Choice Awards rated Singapore Zoo as one of the top-ranking zoos in the world.
Singapore Zoo is the best rainforest zoo in the world, with eleven unique zones, landscaped grounds, and several conservation programs. Contrary to other zoos here, the animals are not kept inside the cage but in open enclosures.
Also – experience the River Safari, animal feeding sessions, Junior Zoo Keeper Camp, etc.
Clarke Quay – the most happening place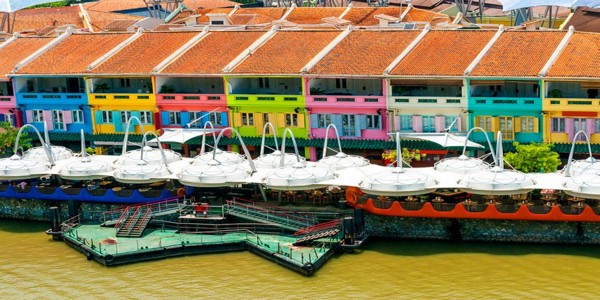 Image Source : https://www.planetware.com
The segment of Singapore's past that is still alive and kicking is the Clarke Quay. Singapore is not just for day tours and adventure activities; it is equally popular for its nightlife.
Clarke Quay is one such nightlife destination packed with pubs, exclusive boutiques, pushcart vendors, rooftop bars, high-spirited discotheques, trendy restaurants, and several other food joints serving international cuisines. This venue is brimming with craziness and fun, and many visitors and even residents consider it a great place to spend an evening.
Prepare to be dazzled by the neon lights, reflections of skyscrapers on the shimmering Singapore River, and delectable food as you meander around the bustling streets. This location guarantees that you will have a fantastic time in Singapore.
Singapore Flyer – watch the city from the top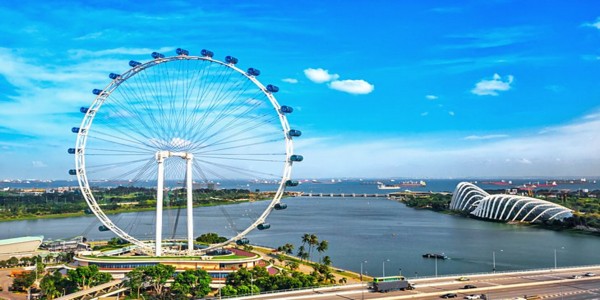 Image Source : https://www.planetware.com
Amidst the list of sightseeing to explore in Singapore – you also get a chance to check out the city from the top. Avail of a bird's eye view of Singapore – imagine the experience it would be. To grab this opportunity visit Singapore Flyer.
The Singapore Flyer is a One hundred and sixty-five meter-high observation wheel – Asia's largest giant wheel. Each car can accommodate around twenty-eight people. With prior intimation, disabled visitors in wheelchairs can also be accommodated in the Flyer.
The Singapore Flyer is on the Marina Bay – wherein the terminal has three floors of shops, restaurants, and other services. While you're here, you will not only get a bird's-eye view of the city, but you'll also get a glimpse into Singapore's evolution and history and a technological insight behind the wheel.
Singapore Flyer is often a part of the city tour. It overlooks the Gardens by the Bay, F1 track, Singaporean skyline, and on a clear day, you can also see parts of Indonesia and Malaysia.
Merlion – the landmark of Singapore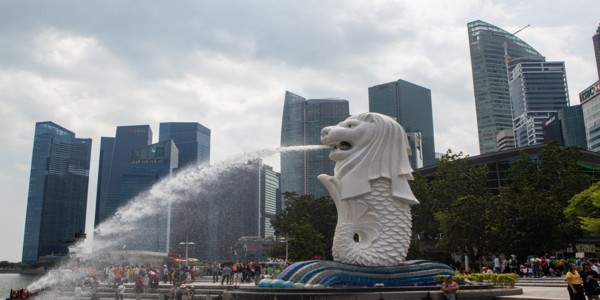 Image Source : https://d1ef7ke0x2i9g8.cloudfront.net
While in Singapore, and you have not clicked a Selfie with a Merlion backdrop – makes your Singapore holiday completely – incomplete!
The mythological Merlion statue is one of the most interesting Singapore sights to add to your itinerary. This 70-tonne-heavy, 8.6-meter-tall work of art was originally located at the mouth of the Singapore River but was later relocated to Merlion Park, which overlooks Marina Bay.
The legendary creature, which has the body of a fish and the head of a lion, is Singapore's national mascot. The fish represents the city's humble beginnings as a fishing village, while the lion embodies Singapura, the actual name of Singapore, which means Lion City.
The Merlion, which spouts water from its mouth, is a distinguished tourist attraction in Singapore. Visit Merlion Park to see this well-known icon – it's worth a picture to cherish for a lifetime.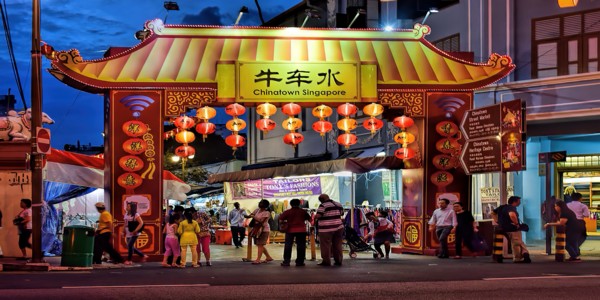 Image Source : https://assets-global.website-files.com
Previously a Chinese enclave in the city, Chinatown is now a bustling hub of activity. You can take a historical heritage walk through the quarter's markets, temples, and quaint souvenir shops.
When you are ready to take things to the next level, head to Ann Siang Hill and Club Street for outdoor meals and cocktails at one of the many bars along the area. Chinatown has much more to offer than what you see at first sight.
Do visit the Buddha Tooth Relic Temple in Chinatown. If you are an early riser and wake up around 0330 to 4000 hours, you will hear the morning drum ritual at this temple. Alternatively, you can visit the temple in the evening and check out the closing ceremony.
If you can see past the stylish stores, award-winning restaurants, bars, and flea markets; this historic neighborhood can provide you a peek at Singapore's past, from the country's oldest Hindu temple to heritage shophouses. This region is buzzing with activity, from local Chinese shops to bright red lanterns and authentic Chinese restaurants.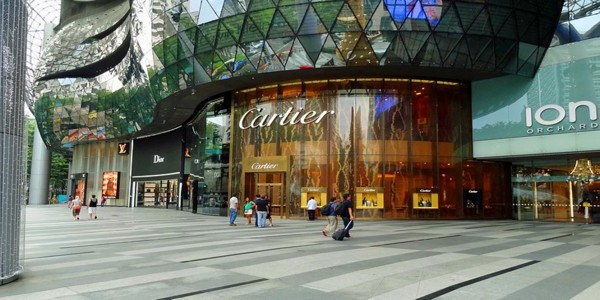 Image Source : https://www.planetware.com
Orchard Road – a name synonymous with shopping – is not just popular among Singaporeans; but also with tourists.
Orchard Route is flanked by numerous affluent restaurants, posh malls, cafés, hotels, and nightclubs. The route was well-known for the fruit orchards that once thrived in the area. The Istana, the President of Singapore's formal residence, is also located there.
You will not be surprised to know that they are tourists who visit Singapore purely for shopping, as Singapore is a world-class city for designer chic and style. There are high-end boutiques around every corner – Orchard Road is an excellent place to start a shopping spree. The area boasts six department stores and twenty-two shopping malls. Thus – make sure you have sufficient cash on hand to splurge.
There is also karaoke entertainment, Imax Cinema, and other movie theaters. Many restaurants in the vicinity serve international food if you get hungry after spending all that money.
Wrap Up
Singapore is a fantastic location for all – honeymooners, families with children, and even independent visitors. So what are you waiting for – add Singapore to your bucket list now!
We hope that this Singapore blog has given you some exciting ideas for your next vacation to Singapore. Visit Flamingo Transworld to help plan your trip to Singapore, where you can also check out several other options to book a package of your choice.
Be it a personalized Singapore Tour package or a group tour for Singapore – you name it, and we have it for you – so without much ado – pack your bags to explore this magical country.