NASA : A must visit in USA Tour Packages
FRONTIERS UNLIMITED: THE SPACE…
No other country is doing space research, as much as what America is doing. The best part is America has some of the tourists' attractions and school children teaching, Wherein they explain to common man the mysteries, findings and future vision of Space, And the Man's endeavor to know and conquer the space.
SO, USA HOLIDAY TOUR PACKAGE IS INCOMPLETE UNLESS YOU VISIT NASA. (National Aeronautics and Space Administration)

NASA is a major central Florida tourist destination and is approximately one hour's drive from the Orlando. NASA Education Technology team designs, develops, implements and evaluates the products and services that use technology to enhance the educational process for formal and informal education, as well as lifelong learning. NASA Visitor Complex, offers public tours, has a variety of exhibits, artifacts, displays and attractions on the history and future of human and robotic spaceflight. The complex also includes the separate Apollo Saturn V center in north of the Vehicle Assembly Building, and the USA Astronaut hall of fame.
Flamingo Transworld Pvt Ltd. gives u an opportunity to visit NASA Kennedy space center, an excellent place for both kids and adults and it offers below attractions:
1) NASA BUS TOUR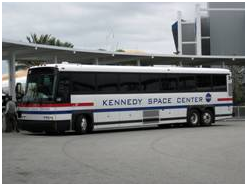 Take a bus tour of NASA and drive by the space shuttle launch pad and then experience the historic Apollo 8 launch site and marvel at a massive 363-foot-long Saturn V moon rocket at the Apollo/Saturn V Center.
2) SPACE SHUTTLE ATLANTIS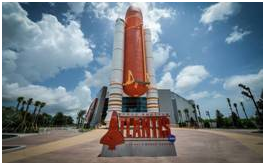 Space Shuttle Atlantis showcases is priceless, historic spacecraft that tells the incredible story of NASA's 30-year Space Shuttle Program. Space Shuttle Atlantis is displayed as only spacewalking astronauts have seen her before  rotated 43.21 degrees with payload doors open and its robotic arm extended make us feel, as it has just undocked from the International Space Station.
3) SHUTTLE LAUNCH EXPERIENCE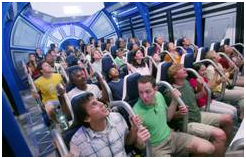 Shuttle Launch Experience is the simulation ride its  combines the detailed accounts of astronaut experiences with the expertise of premier design engineers to produce a true-to-life experience and it's  unique  attractions for the visitors around the world.  The technical highlights include an amazingly realistic simulation of the space shuttle's eight and a half-minute ascent into orbit, custom-designed crew cabins with unprecedented vertical range, high-definition audiovisual effects, and advanced seating effects to maximize the sense of realism.
4) IMAX THEATER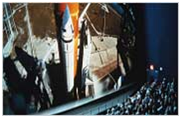 In two giant IMAX theaters, the dream of space flight comes alive with a wall of sound effects the five-story screen and realistic 3-D special effects. Dramatic footage shot by NASA astronauts during actual missions will make you feel like you're floating alongside them.
5) APOLLO/SATURN V CENTER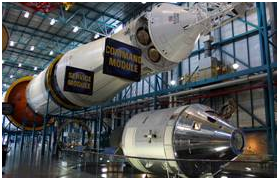 At the Apollo/Saturn V Center you can not only touch a moon rock but also stand under the largest rocket which had been to moon! Feel the space race come alive as you stand under the largest rocket ever made – the mighty Saturn V. This monumental 363-foot rocket was America's lunar transportation for 27 brave astronauts who traveled to the moon and back, fulfilling the dreams and imagination of people around the world. The same sense of awe still overwhelms visitors of today. 
6) ROCKET GARDEN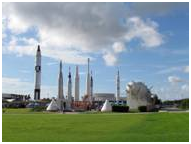 In rocket garden you can fill the thrill of early space flight, surrounded by the actual rockets of Mercury, Gemini and Apollo.
So, If you are going on USA Tour, NASA can be an amazing experience for you. For more information on our USA Tour Packages including NASA , Visit www.FlamingoTravels.co.in/USATour.