Top 20 UNESCO World Heritage sites in India – Flamingo Tranworld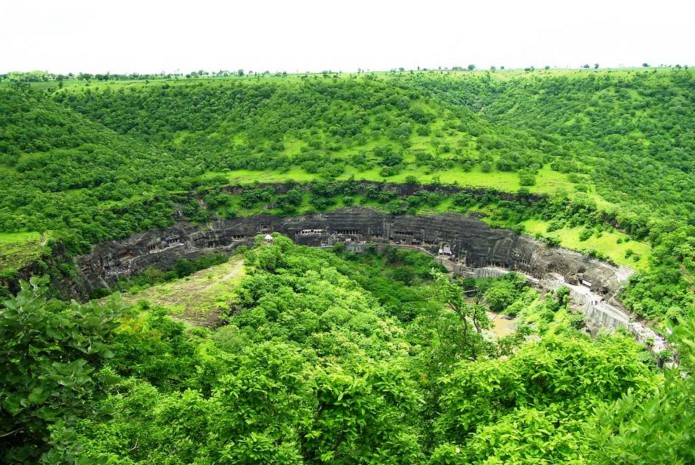 India is a distinct and enormous country with a 5000-year-old heritage, culture, and history. The splendor of India's past has resulted in an abundance of UNESCO World Heritage Sites.
For all those who are not aware of UNESCO World Heritage Sites, these are global sites designated by the United Nations Educational, Scientific, and Cultural Organization to preserve the global cultural and natural heritage. Any site with distinctive physical or cultural relevance, such as a forest, building, mountain, monument, lake, desert, or city, can be designated as a UNESCO World Heritage Site.
Now – this organization works closely with other countries to list and designate the site as a World Heritage Site. Okies .. So how is this done? To briefly explain it – this is done by rigorously analyzing each site about its status in history, culture, and humanity in general. Only when all of the standards and criteria are met does a site become a World Heritage Site.
Today, these stunning heritage sites and monuments in India stand quietly, narrating their stories of bravery, joy, sacrifice, and sorrow. India's cultural abundance and illustrious past attract millions of travelers to its heritage tourist destinations each year. The wide range of palaces, temples, forts, and monuments throughout India reflect the country's rich legacy. Remnants and legacies that display creative art, depict essential historical milestones or represent any civilization or culture are all given the status of World Heritage Sites by UNESCO.
Find out more about these UNESCO World Heritage Sites with a one–on–one conversation with our destination experts to curate a customized tour package including your preferred world heritage site.
Simultaneously, keep reading further to discover the top twenty UNESCO world heritage sites in our country.
Taj Mahal – Agra, Uttar Pradesh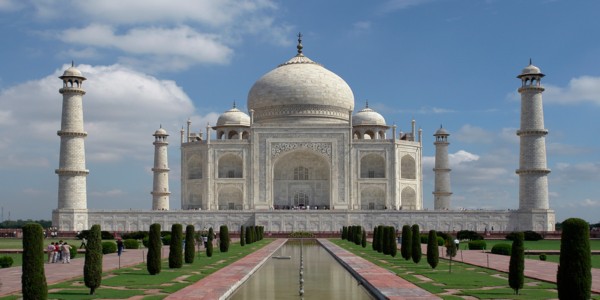 Image Source : https://upload.wikimedia.org
While listing the top UNESCO World Heritage Sites in India – it is apparent that the first one would be the Taj Mahal. Opt for our Uttar Pradesh tour packages including the Taj Mahal and other places in the state.
The Taj Mahal is a massive ivory-white marble mausoleum. Built-in Agra – near Yamuna River, around 1648 by the forlorn Mughal ruler Shah Jahan to house the burial place of his wife – Mumtaz Mahal. This spectacular monument was built by artisans, stonecutters, and painters from Iran and Central Asia. It represents the Muslim artwork in India.
Mountain Railway of India – Himachal Pradesh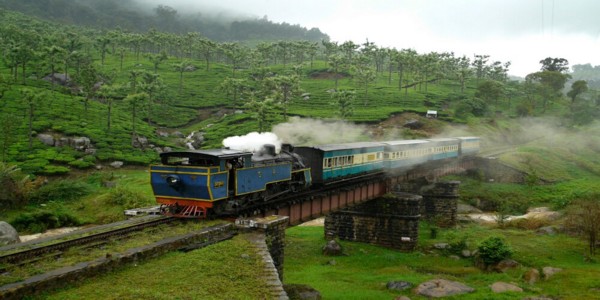 Image Source : https://whc.unesco.org
Millennials may not have experienced it much – but train rides are fun. Imagine a train ride, and even better, the one designated as a UNESCO World Heritage Site – it should be on your travel bucket list.
The Nilgiri Mountain the Kalka-Shimla, and the Darjeeling Himalayan Railway – are recognized as the Mountain Railways of India – UNESCO World Heritage Site. Choose our customized Himachal tour packages to enjoy this train ride. Take this train ride through the Tiger Hills, long tunnels, beautiful tea plantations, and more to have a magical experience.
Kaziranga National Park – Assam
Image Source : https://www.visittnt.com
Are you enticed by flora and fauna? If yes, then you must consider visiting this globally acclaimed park – Kaziranga National Park in Assam. The Kaziranga Park is a grassland noted for being the home of India's most famous wild animal, the one-horned rhinoceros. The elephant safari in the center area of the forest is the park's highlight. One of India's most beautiful and stunning national parks is known for preserving and managing the country's single largest population of one-horned rhinos.
Tigers, elephants, aquatic creatures, and wild water buffaloes are among the other animals present in the park. Consider our Fascinating Assam tour package to explore Kaziranga National Park and its surrounds.
Hampi Monuments – Karnataka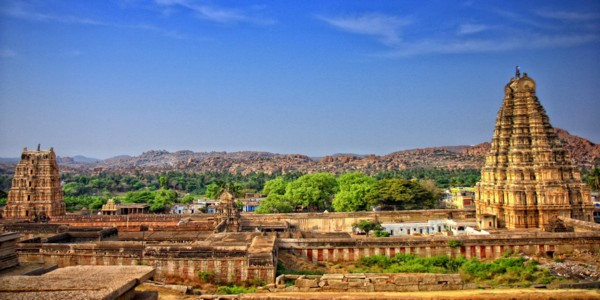 Image Source : https://upload.wikimedia.org
You won't be surprised to learn that Hampi is the most Googled tourist attraction in Karnataka. Find solace in the ruins of Vijaynagar's ancient kingdom at the Hampi group of monuments in Karnataka. Vittala Temple, Achyutaraya Temple, Lotus Mahal complex, Anegondi, and Zananas are other attractions to explore. Get fascinated by the Dravidian architectural style. Create a customized Karnataka tour package and explore these ancient ruins.
Ajanta Caves – Aurangabad, Maharashtra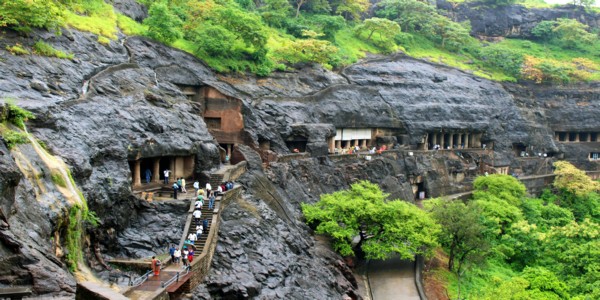 Image Source : https://img.itinari.com
The Ajanta Caves in Aurangabad, Maharashtra, are India's first and most renowned UNESCO World Heritage Site. Ajanta Caves, which date back to the second century BCE, contain the world's most rock-cut Buddhist caves, sculptures, and paintings.
This destination is a must-see for history lovers because it exemplifies Ajanta architecture and art's revolutionary impact on Indian architecture throughout history. Check out paintings displaying ancient life inspired by the Jataka Tales. Witness the Indian classical art through carvings and sculptures depicting the Buddhist lifestyle. Discuss your inclination to explore Ajanta Caves with our destination expert – to curate your customized Maharashtra tour package.
Sun Temple of Konark – Orissa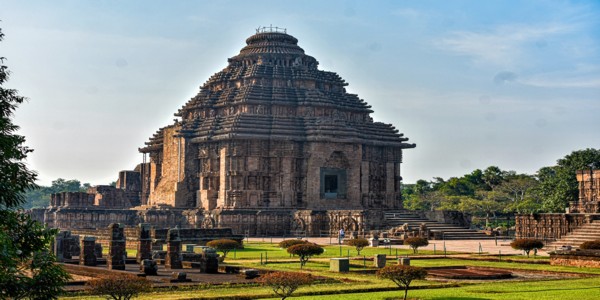 Image Source : https://upload.wikimedia.org
Sun Temple in Odisha, dedicated to Surya Devta, is another architectural marvel worth seeing. The entire temple is shaped like a chariot drawn by six massive stone horses. Each horse represents one of the country's six Brahmin sanctuaries. The location is a famous pilgrimage and tourist destination.
It's fascinating to learn that the temple is supported by 24 beautifully carved wheels used to tell time as sundials. To unravel this stunning ancient UNESCO World Heritage Site – opt for our Eastern Divine Connection package.
JANTAR MANTAR – JAIPUR, Rajasthan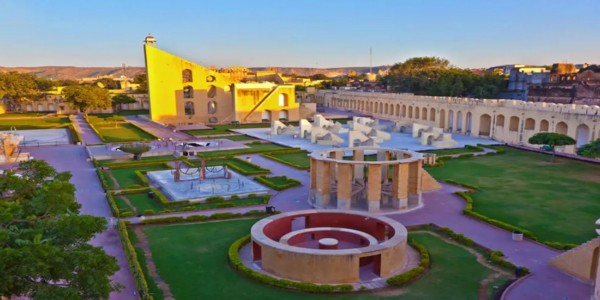 Image Source : https://assets.traveltriangle.com
Jantar Mantar is the oldest Architectural planetary observatory in Jaipur, Rajasthan, and was built in the eighteenth century by Rajput King Sawai Jai Singh. It is the world's largest stone Sundial and one of the most visited UNESCO World Heritage Sites in our country.
More than nineteen astral instruments are housed in this Observatory, which is used to determine several aspects of our planetary system.
Jantar Mantar is a Sanskrit word that translates to calculating instruments. Ensure that you include a visit to Jantar Mantar in your Jaipur tour packages.
Valley of Flowers National Park and Nanda Devi – Uttarakhand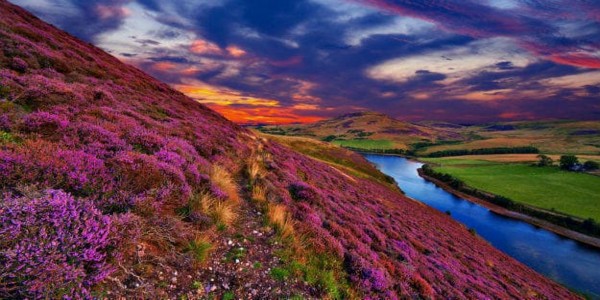 Image Source : https://static.india.com
You will find this renowned Valley of Flowers amidst the majestic Himalayan peaks with an ethereal view and experience. This park spans eighty-seven kilometers in the Chamoli district. This Valley of Flowers park along with the Nanda Devi National Park forms a Nanda Devi Biosphere Reserve.
Now – we all can easily assume that as the name suggests – this valley is a place where nature is in its full blossom, you must see it to believe it.
Exotic flowers such as poppies, orchids, primulas, daisies, and marigolds make for a stunning display. Explore this valley, which is also home to a few unique and rare wildlife species, by booking one of our Uttaranchal travel packages.
The City of Ahmedabad – Gujarat
Image Source : https://www.asparkholidays.com
UNESCO bestowed its honor on the first city in India – and without any doubt – it has to be – Ahmedabad. The city was designated as a UNESCO Site – the first city in the country in 2017.
Ahmedabad is home to nearly 25 ASI-protected structures. According to UNESCO, public wells, bird feeders, and religious organizations are crucial features of this urban city, comprising closely packed traditional houses along with gated traditional streets. This city thrived as the state capital of Gujarat for six centuries.
For centuries, Hindu, Muslim, and Jain populations have coexisted in this walled city on the banks of the Sabarmati River.
Khajuraho – Madhya Pradesh
Image Source : https://www.andbeyond.com
If you are intrigued by Indian temple art, you will surely be mesmerized by the Khajuraho group of temples. The sculptures in these temples depict human emotions in exquisite detail. There are approximately 20 temples dedicated to Hindu and Jain figures. If you're on a spiritual quest, you must visit the Kandariya Mahadeva Temple, one of India's four sacred Shiva worship locations.
Plus, there's more. The Nagara style symbolism and sexual sculptures in these temples are evidence of India's rich cultural legacy. So, book our Ancient & Historical MP tour package now.
Chola Temples – Tamil Nadu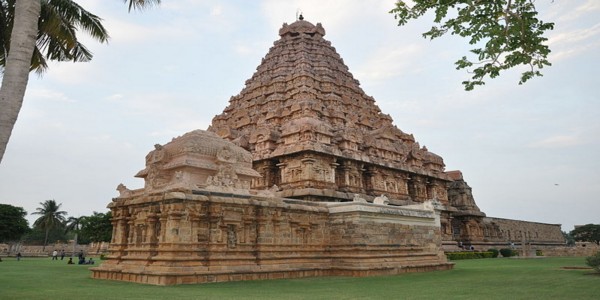 Image Source : https://upload.wikimedia.org
Everyone interested in history and ancient art should have Chola Temples in Tamil Nadu, on their bucket list. If you admire Indian cultural art, the temples' magnificent Chola art, sculptures, and architecture will not disappoint you.
The Chola Temple, which shows exquisite Chola architecture and bronze casting, was created by the Chola Dynasty. The city's main attractions include Airavatesvara Temple, Brihadisvara Temple, and other ancient architecture.
Hundreds of years later, these temples, which embody India's vast cultural past, are still celebrating ancient festivals and rites.
Rani Ki Vav – Patan, Gujarat
Image Source : https://upload.wikimedia.org
You will find a wonderful blend of architectural quality and spirituality at Rani Ki Vav. Due to its architectural magnificence and grandeur, It was formally categorized as a UNESCO World Heritage Site in 2014. The Well at Rani-Ki-Vav is famed for its Sculptures, Stepped Corridors, and Stone Carvings.
The figurines in the well show Lord Vishnu in one of his avatars, which symbolizes his revisit to the world. This Vav has a spiritual significance aside from being a location for water storage.
It is created as an inverted temple with seven tiers of wells, each with its unique significance according to the religious and mythical works described in contemporary literature.
Nalanda University – Bihar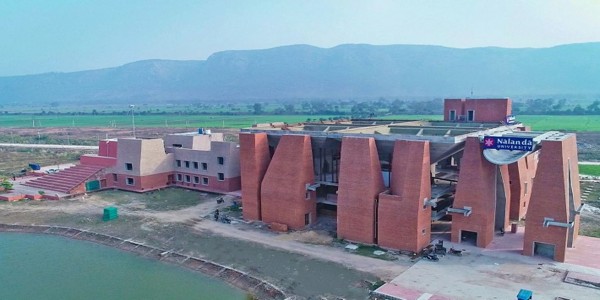 Image Source : https://feeds.abplive.com
The Nalanda Archaeological Site served as a research center and a Buddhist monastery from the third century BCE to the thirteenth century CE. Strolling around the university grounds, a symbol of a beautiful time, you may see the remnants of stupas, shrines, and viharas.
For 800 years, Nalanda vouched for the emergence of Buddhism as a religion and served as a center of learning. Scholars from Central Asia, China, and Tibet once attended the world's first residential university known for its institutionalized Vedic learning.
It is the second UNESCO-designated world historic site in Bihar, putting it even higher on the Indian tourism map.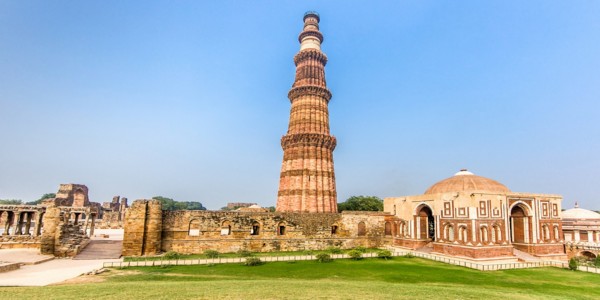 Image Source : https://www.thestatesman.com
The Qutub Minar, one of India's most famous World Heritage Sites, was completed in 1193 by Qutub-ud-din Aibak, Delhi's first Muslim king. The Qutub Minar, which takes center stage due to its height, is one of the many buildings that comprise the Qutub complex.
It stands 73 meters tall, with a base diameter of 15 meters and a top diameter of 2.5 meters. Aibak made it in honor of Qutbuddin Bakhtiar Kaki, a well-known Sufi saint.
The usage of sandstone and marble are two of the most vital elements. Beautiful calligraphic inscriptions can also be seen on the walls and balconies of this tower. Remember to visit this site while enjoying your tour to Delhi. Check our Delhi Tour Packages !
Fatehpur Sikri – Uttar Pradesh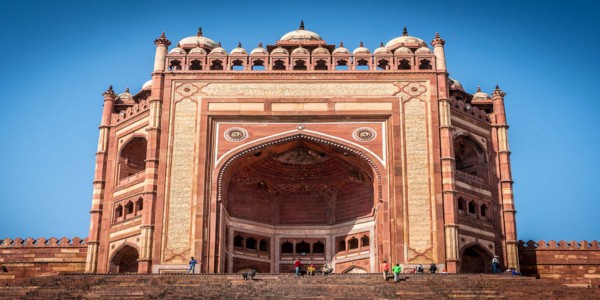 Image Source : https://www.tajmahal.gov.in
Akbar chose a beautiful location for his new capital, Fatehpur Sikri, to oversee a bigger and better empire. In this metropolis – he constructed countless palaces, structures, and monuments and shifted his entire reign to this region.
Due to a severe drought, the city's freshwater supply emptied away, forcing residents to migrate to a nearby area. This deserted city is now known for its collection of monuments, sculptures, and other architectural wonders.
Sanchi Stupa – Madhya Pradesh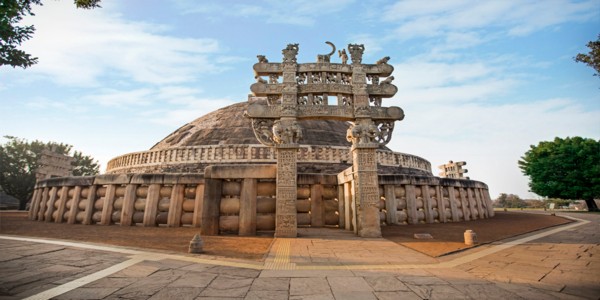 Image Source : https://www.mptourism.com
The Sanchi Stupa, said to be India's oldest stone structure, was built by Emperor Ashoka and houses Buddha relics. It has many historic Buddhist inscriptions and a lovely Buddha statue at the main gate's entrance. The Buddhist Monuments are a representation of India's cultural heritage.
Its core was a hemispherical brick building built atop Buddha's relics, adorned by the Chatra – a symbol of dignity.
Aside from the Sanchi stupa, there are temples, monolithic pillars, monasteries, and palaces to be found here. It was a famous Buddhist pilgrimage place until the 12th century AD – when the faith began to fade in prominence.
Sunderbans National Park – West Bangal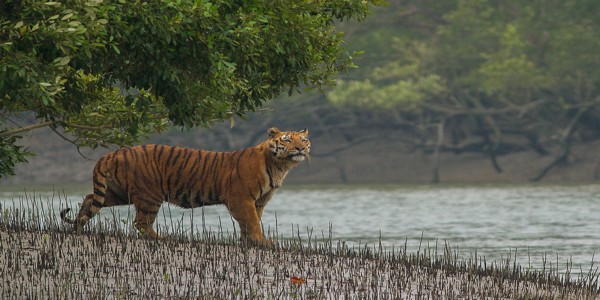 Image Source : https://upload.wikimedia.org
The Sunderban National Park in West Bengal is a renowned Biosphere Reserve known for its Royal Bengal Tigers. It is in the Bay of Bengal's Sunderban Deltas, formed by the Ganges River.
It is one of India's largest reserves covered in thick Mangrove forests. There are also other animal species, such as deer, mammals, amphibian species, wild boars, etc.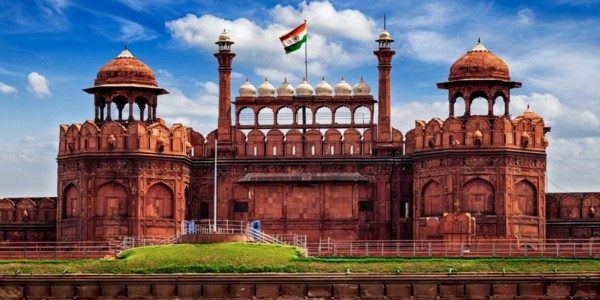 Image Source : https://assets-news.housing.com
This monument is well-known for its red-colored sandstone structure. The Red Fort served as the royals' official residence, while New Delhi served as the capital of the Mughal Empire. Red Fort was built to the current structure by Shah Jahan, the ruler who built the Taj Mahal.
The fort features Islamic, Persian, and Hindu architectural elements. It contains several smaller monuments and palaces, including the hall of private audience, hall of public audience, gardens, courtyards, mosques, and others.
While you're here, don't miss out on the Sound and Light Show, which is held every evening.
Monuments of Mahabalipuram – Tamilnadu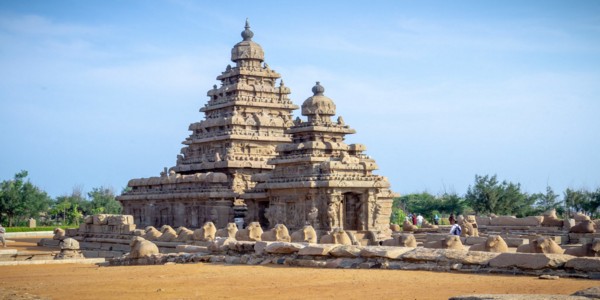 Image Source : https://farm2.staticflickr.com
Mahabalipuram was a major harbor in Southern India in ancient times. International merchants came to India to do business through Mahabalipuram. The rulers of various periods constructed beautiful temples, sculptures, and monuments to attract such merchants.
They are now known as Mahabalipuram's heritage site. The world's largest temples, rock-cut monuments, sculptures, cave temples, stone carvings, and much more can all be found in Mahabalipuram.
 This complex contains around 40 attractions and six cave monuments.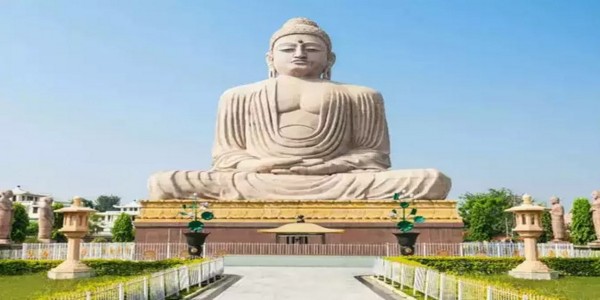 Image Source : https://static.langimg.com
Bodh Gaya is a Buddhist religious site and a significant historical landmark. Lord Buddha, according to mythology, attained enlightenment while meditating under the sacred Bodhi tree.
This location is home to the famous Mahabodhi Temple, built by Emperor Ashoka in 250 BC.
The temple complex houses the temple and six other significant locations related to Buddha's enlightenment. There are numerous stupas, structures, elaborate designs, and much more.
Conclusion:
India has a high number of UNESCO-designated World Heritage sites, which include everything from natural wonders to architectural marvels. These culturally significant landmarks feature carvings, sculptures, domes, and paintings depicting India's illustrious past.
Being acknowledged as a UNESCO World Heritage Site is an honor in and of itself. And with so many designated sites in our country – what are you waiting for? Pick the one you are most interested in – and discuss with our destination experts to curate the ideal India tour package for you to explore these globally renowned locations.