Things to do and places to see in Jaisalmer!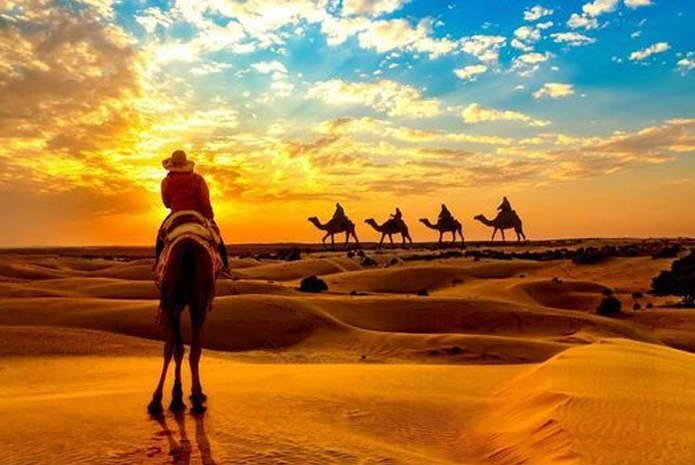 Some of the well-known cities in Rajasthan are known by their vibrant colors like Jaipur as Pink City, Jodhpur as Blue City, and Jaisalmer is known as Land of Sand or Golden city. The town of Jaisalmer sits on the yellowish sandstone with Jaisalmer Fort at the top and having a population of around 78,000. Jaisalmer city was founded in 1156 AD and is named after Rawal Jaisal, a Bhati ruler. One of the most visited places in Rajasthan Tourism by Indians and foreigners; this city lies in the heart of the Thar Desert that has all the potential to give you the experience that you could imagine in the deserted Arab countries.
The temperature here varies a lot from day to night with maximum temperature in summers can go up to 49°C and minimum temperature around 25°C while in winters maximum temperature is around 26°C and minimum is around 5°C.  So if you are planning to visit Jaisalmer in your Rajasthan tour packages then the weather will be the major factor in your decision there might be a lot of walking open air. The best time to travel to Jaisalmer is between November and March as the weather is cooler making it much easier to travel around. However, it is peak season as well due to honeymooners, Christmas and New Year holidays, and also because many tourists from abroad also visit this beautiful city. April to June is very hot and it is advised to avoid traveling in these months as the weather can take a toll on your body. Monsoon is very rare in Rajasthan and sometimes for years, there is no rain in Jaisalmer than other parts of Rajasthan. For cheaper rates, you can visit between July to September but you may have to compromise on few things if it rains like entertainment at tents and Safari at Thar desert because the sand will be wet and you will not the same feeling that you may get in peak season.

Get the cheapest flight rates online with Flamingo
Fly with Flamingo!
Places to see in Jaisalmer:
1. Explore Jaisalmer Fort: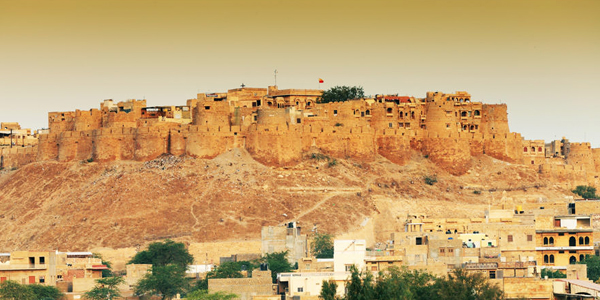 Image Source: www.rajasthandirect.com
This is the most popular tourist spot in Jaisalmer other than the Thar Desert. Due to golden sandstone walls, the fort is also called as Sonar Quila. Built on Trikuta hill this fort raises 250ft high, 1500 ft long, and 750ft wide. It has massive sandstone walls that look magical in honey-gold color when sunsets. Normally when you enter forts you will find guards and a ticket counter for an entry fee of around INR 800 per person but here you are free to take a walk around reason being 1/4th of the Jaisalmer population still stay inside the fort. You can find many houses, shops, and hotels once entered the gate and climb up the winding roads which is why you can say that it is one of the few living forts in the world. People inside are very helpful and always ready to help you guide the right path. Inside the fort, you can visit The Raj Mahal where the Maharawal of Jaisalmer used to live, Jain temples (7 Jain temples inside the fort), the Laxminath temple for worshipping Goddess Lakshmi and Lord Vishnu, take a walk through narrow gullies, and talk with locals. For the bird's eye, views of the city do visit the Badal Vilas as it is the tallest structure in town. The ideal time to visit is between 9 am to 5 pm and it takes around 2 to 4 hours depending on your walking speed and how much time you spend taking photos.
2. Mandir Palace: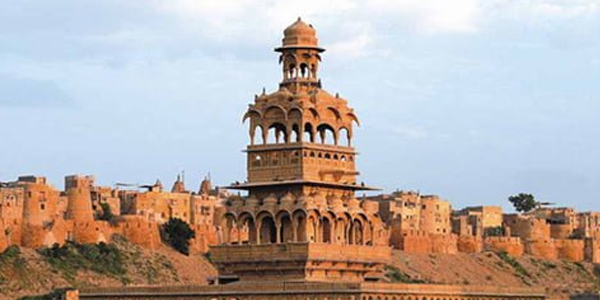 Image Source: https://rajasthanpackagetours.com/
This palace is a prominent landmark of the city and residence of rulers for over 2 centuries. It is a beautifully architected palace with one side is maintained as a museum for visitors where you can see centuries-old utensils and instruments that were used while on the other side is the heritage hotel operated by Welcome Heritage. The Badal Vilas is the main attraction here where you can also take some good clicks.
3. Checkout the architecture of havelis: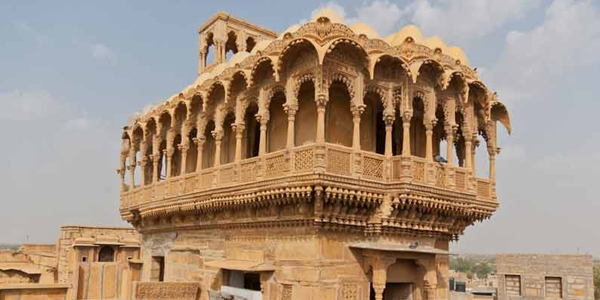 Image Source: https://optimatravels.com/
Visiting forts and Havelis is always a must on Rajasthan holiday tour package and in Jaisalmer you can find many in its narrow lanes. North of the fort you can visit Patwon Haveli, Nathmal Haveli, Salim Singh Haveli. These are located nearby so one can take a walk through these Havelis by paying 50Rs entry fees for each haveli. Patwon Haveli is the biggest of all which is a cluster of 5 mansions. Kothari Patwa Haveli is particularly very impressive with intricate stone and artwork that is converted into a museum.
4. Boating at Gadisar lake: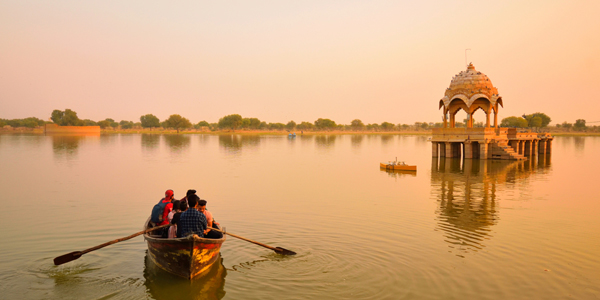 Image Source: https://i.postimg.cc/
This rainwater lake was built to meet the water needs of this dry land. People were heavily dependent on this conservation reservoir but currently, the lake gets it to water from Indira Gandhi Canal which is why it never dries. Boating is mostly enjoyed here but other main attraction of this lake is different species of birds that migrate from other places.
5. Akal Wood Fossil Park: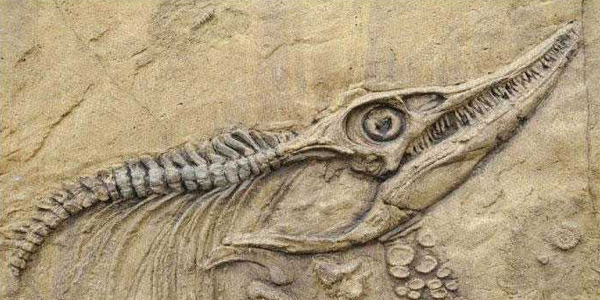 Image Source: https://www.holidify.com/
Extended over 21 hectares of land this park is a Biodiversity Heritage Site located in Akal village around 17 km from Jaisalmer. Fossils and footprints of pterosaurs have been found nearby the Thaiyat area. There are dozens of fossilized wood logs and 25 petrified tree trunks dated back 180 million years. It also houses petrophyllum, ptyllophyllum, equisetitis species from the early Jurrasic era. You can visit this site from 9 am to 5 pm by paying a nominal entrance fee and also take a look at the museum showcasing photos of fossils with descriptions.

Hotel deals like never before!
You Travel We Care!
6. Bada Bagh: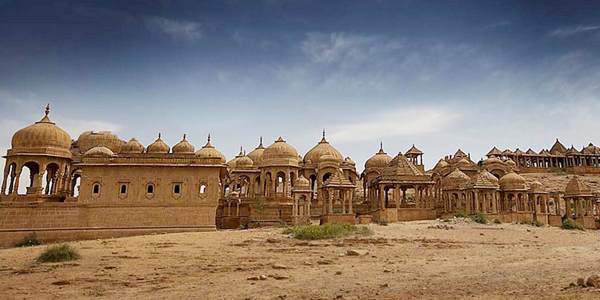 Image Source: https://jaisalmer.tourismindia.co.in/
Around 6 km north of Jaisalmer is Bada Bagh that houses similar-looking cenotaphs of Maharajas of Jaisalmer. Most interesting are the plaques on the cenotaphs that show both maharaja and maharani together suggesting that the queen committed sati. If you visit during sunrise or sunset then this garden offers a stunning view that you can't resist taking clicks.
7. Tanot Mata temple: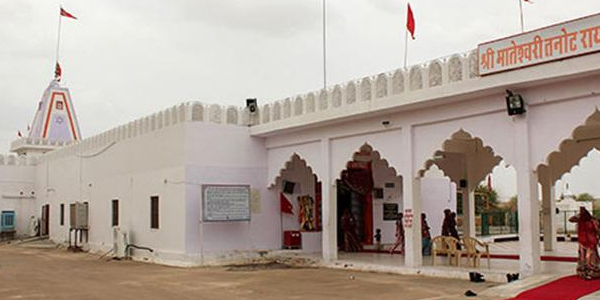 Image Source: https://im.indiatimes.in/
Although far from Jaisalmer town around 120 km many tourists visit this temple for 2 main reasons. First is to worship the goddess Hinglaj. There is also a story that during the Indo-Pak war in 1965 Tanot was heavily attacked with around 3000 bombs and shells as it is very close to the Pakistan border. However, none of them exploded due to which people's faith in the goddess increased thereafter. The temple is now managed by BSF and some of those shells are kept on display for visitors. Secondly, after taking blessings here, please head towards the Longewala War Memorial. This also becomes the stopping point after a long drive for travelers going towards Longewala.
8. Longewala War Memorial: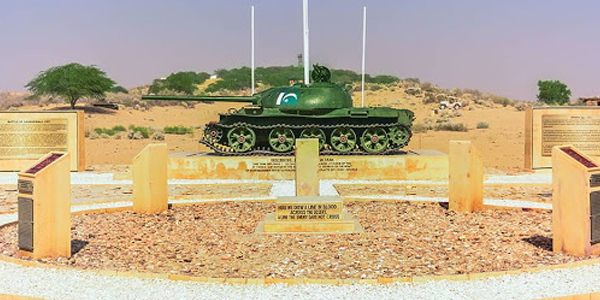 Image Source: https://lh3.googleusercontent.com/
The feeling of this place when you arrive is something different and makes you feel more proud of our Jawans because of whom we can sleep peacefully. This museum was established to honor our real heroes of the Battle of Longewala fought in the year 1971. There are 2 display areas one being a museum showcasing guns, tanks, and military vehicles and the other is an audio-visual hall describing what happened during the war and how our brave soldiers fought. You need to take an entry ticket to visit this audio-visual hall. Also, a Pakistani Army tank is kept on display which was captured by our soldiers during the war.
Apart from visiting these places are lots of things to do in Jaisalmer which should not be missed.
1. Stay at Tents near Sam sand dunes: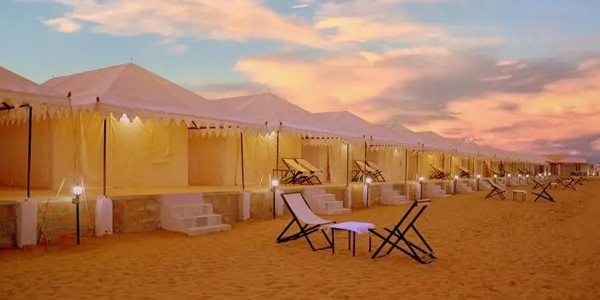 Image Source: https://img.traveltriangle.com/
Jaisalmer is the perfect place to experience life in the desert. You can spend a night at any of the camps at the Thar Desert managed by different companies, talk with locals to understand their daily activities. If you are staying in the hotel town side then even they can arrange for a night stay in the desert. Some provide accommodation with a meal in tents while some arrange to sleep under the sky with folk dance and music by local singers. We recommend that in your Rajasthan tour package for 1 night in Jaisalmer rather than staying in a lavish hotel stay in these tents for a unique experience that you might not get in any other tourist destination in India.
2. Safari ride at Sam sand dunes: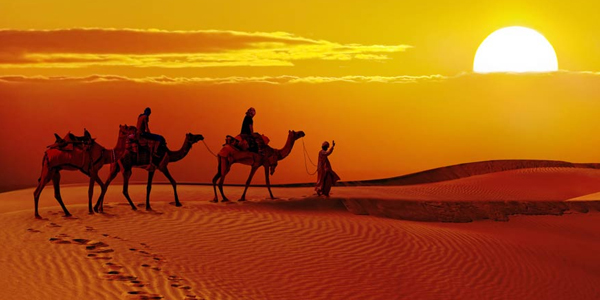 Image Source: https://www.holidayrahi.com/
Coming to the desert city then safari ride at the Thar Desert is a must for all ages. You will be given 2 options either camel ride or jeep ride. Camel ride is mostly complimentary if you are booking a night stay at the tent or booked a package from your hotel but if you need a 2nd ride then it needs to be paid. With a jeep ride, you need to pay extra around INR 750 per person for an hour ride but if you need thrill in your trip then it is worth it. You can stand on the Thar open 4×4 jeep and go on a bumpy ride up and down the desert. The drivers are experts in taking this kind of ride. After the ride take a walk in the desert and wait for sunset to take wonderful pictures. Camel Safari is also suggested to take during sunrise or sunset as the weather is pleasant and the view is spectacular.
3. Fly high through parasailing: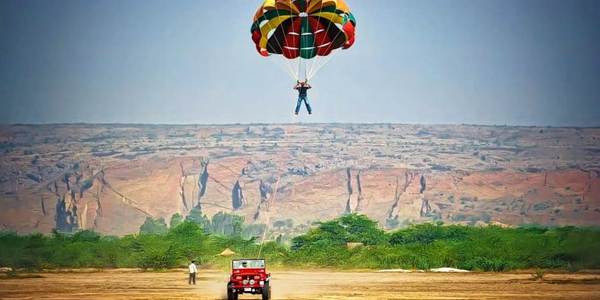 Image Source: https://images.thrillophilia.com/
If you need more excitement then you can also opt for parasailing at the Thar Desert. Parasailing is one of the safest aero sports conducted by qualified parasailing instructors. It is organized at the same place where you take the jeep safari. Parasailing lasts for around 30 minutes where you can see a mesmerizing view of the desert while you are high in the sky.
4. Go shopping at bazaars: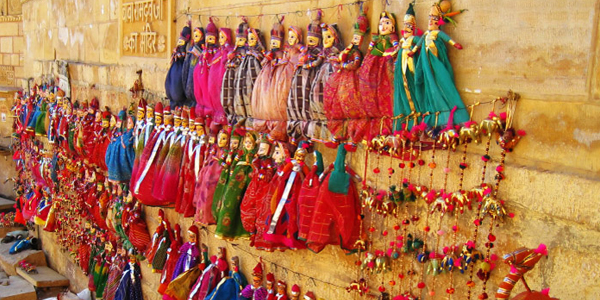 Image Source: https://www.makemytrip.com/
While Jaisalmer is not that popular for shopping but some bazaars will keep you interested for sure. Top things you can buy in Jaisalmer are Camel Leather products, Jaisalmer fossil stone, brassware, shawls, carpets, carved wooden boxes, and mirror work embroidery. Some of the main bazaars where you visit are Sadar bazaar, Pansari bazaar, Bhatia bazaar, Sonaronki baas, Seema gram, and Manak chowk.
5. Try some local delicacies: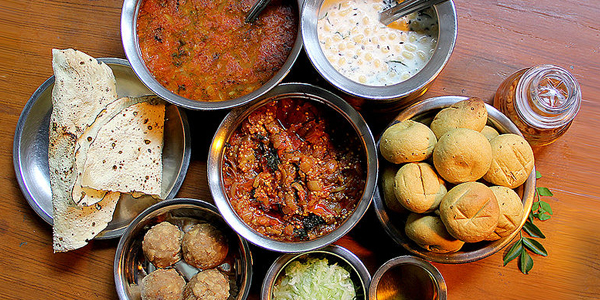 Image Source: https://cdn.theculturetrip.com/
In most parts of Rajasthan, you will find food being very spicy but they are delicious also a taste that you will not find outside Rajasthan. Local foods that you must try in Jaisalmer are Pyarkachori, Dal pakwaan, Ker Sangri, GattekaSaag, Bhang lassi, Makhanialassi, and sweets at DhanrajRanmal Bhatia. If you are a non-vegetarian then Laal maas is highly recommended.
One of the most awaited cultural events of Rajasthan is the Desert festival of Jaisalmer that is held in February every year. If you are planning a Rajasthan holiday tour package then this can be the perfect time to visit Jaisalmer even though you end up spending a little more as most of the prices are high during the festive period but it is truly worth it. It is the best time to visit during this festival to see the colorful true culture and lifestyle of Rajasthan. Next year Rajasthan tourism has planned to organize this festival from 7th February to 9th February 2021 and if all goes well with the Covid19 pandemic then it can be a good time to visit in February as chances of foreigners will be very less and it may not be that expensive next year. Major attractions during this festival are camel races, turban tying, Rajasthani folk songs and dance, Gair dance, mustache competition, and many more.
Some of the best restaurants in Jaisalmer:
The Trio
Café the Kaku
ZoyaKaZaika
Green Park Restaurant
Gaji's Restaurant
Pleasant Haveli
Some of the best hotels in Jaisalmer:
With gaining popularity among the tourist right now few airlines Spicejet, Trujet, and Zoomair are operating to Jaisalmer city from major cities in India like Mumbai, Delhi, Ahmedabad, Agra, Surat to name a few. Many airlines are planning to operate in this city from other parts of the country. Jaisalmer airport is around 17 km away from the town. So when are plan your Rajasthan tour package to this fascinating destination to experience the best of royalty and architecture.