Top 10 Beach destinations to consider for Holiday 2022-23 in India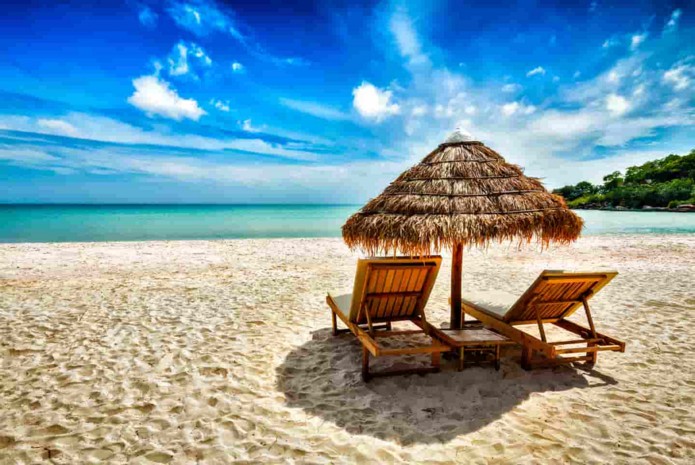 Let us play a mind game – what if I ask you to relax your mind and think about beaches. Now, without further ado, tell me which beach destination comes to mind. I am sure more than 90% of us would say Gooooaaaaaaaaaaaaaa!!
Although it may sound cliché, beaches are synonymous with Goa for most of us. There is no doubt – that Goa beaches are the most popular – but there are numerous equally spectacular beaches dotting the periphery of our country.
Much of India is surrounded by the ocean, with around seven thousand kilometers of shoreline.
Are you aware that the beaches are also rated and certified? The best beaches across the world that are safe, clean, and environment-friendly are awarded Blue Flag certification. The Danish Foundation for Environmental Education bestows this honor. Numerous beaches in India have received Blue Flag certification.
We all crave the perfect beach side vacation. Some of us may pine for beaches to find solace, have fun, or simply rejuvenate.
The vast sparkling ocean, the soft sand below your bare feet, the horizon, the sound of waves; all add to the beauty of beaches and make them naturally appealing. They compel visitors to escape the city chaos and listen to the whisper of these waves at some of the best beach destinations in India.
In case; you are all pepped up to treat yourself to a beach vacay – here is the list of the best beaches in India to consider for a holiday this year.
Radhanagar Beach – Beach in Andaman and Nicobar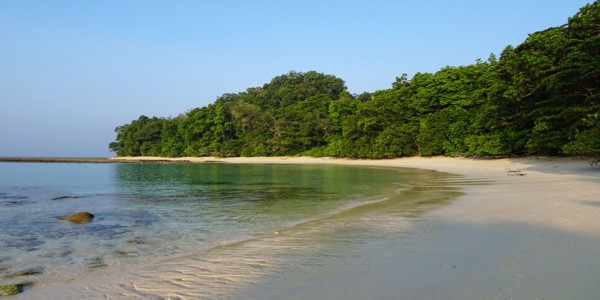 Image Source :https://www.worldbeachguide.com
Beaches at Andaman and Nicobar Islands; are reputed for their unspoiled natural beauty and pristine surroundings. Amongst the several beaches on these islands, the focus is on the Radhanagar beach on Havelock Island.
The famous Time Magazine has named Radhanagar Beach, popularly known as Beach Number Seven, the Best Beach in Asia. The beach is known for its serene waters and glittering white sand.
This exquisite virgin beach features turquoise blue water, white sand, and lots of solitude and serenity, making it a great place to go swimming and sunbathing. There is a sense of romance in the air, making it an ideal honeymoon beach destination.
Radhanagar beach is at par with the shores of Maldives. Despite its popularity, this beach offers enough space and solitude. November to April is the right time to enjoy this stunning beach.
Must Read :Best Hotels to stay in Andaman
Gokarna Beach -Beach destinations in Karnataka
Image Source :https://www.fabhotels.com
A small holy town in northern Karnataka, Gokarna – captivates both leisure travelers and pious pilgrims with equal zeal. Gokarna is a hippie retreat and a more tranquil, less commercial alternative to Goa's hustle and bustle.
The Gokarna beach is several kilometers long and located on the outskirts of town.
It is an excellent beach destination due to the pristine waters surrounded by white sands and lush greenery. The beach is trekking heaven for adventure seekers. Explore other beaches in the area accessible via hiking or a boat journey.
Make the most of your visit – experience spending time in a tent on the beach; spend the night at the beach soaking in the splendid night views. Sheer Bliss!
For long, Gokarna beach was a secret treasure visited only by locals. Even now, it is not as chaotic as many other more popular beaches, making it ideal for a quiet day out. October to March is the apt period to explore Gokarna beach.
This place offers an intriguing blend of spiritualism and beach pleasure while admiring azure oceans.
Tarkarli Beach – Queen Beach of Maharashtra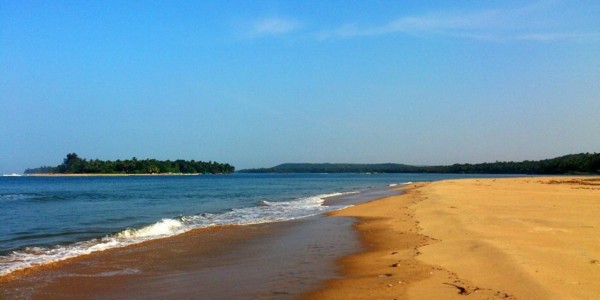 Image Source :https://dynamic-media-cdn.tripadvisor.com
Tarkarli Beach Malvan is a hidden treasure in the Sindhudurg district of Maharashtra, just gaining interest.
One of the most appealing aspects of Tarkarli Beach is its unspoiled natural beauty, which has its distinct charm.
The gently swaying palm trees along the coastline will mesmerize you into a state of relaxation, and you will wish to spend all of your time here. The beach has fluffy white sand and is one of the rare places where you can see for almost 20 feet straight through crystal clear waters.
The occasional sighting of turtles and dolphins on multiple occasions throughout the day makes the visit to the beach extremely spectacular.
Sunsets at Tarkarli Beach are breathtaking, and the beauty of the landscape; is enhanced by the diffused light that falls during dusk.
Tarkarli Beach, a paradise of natural peace and tranquility, is a perfect getaway in its own right. October to March is the apt period to explore Tarkarli beach.
Varkala Beach – Mini Goa of Kerala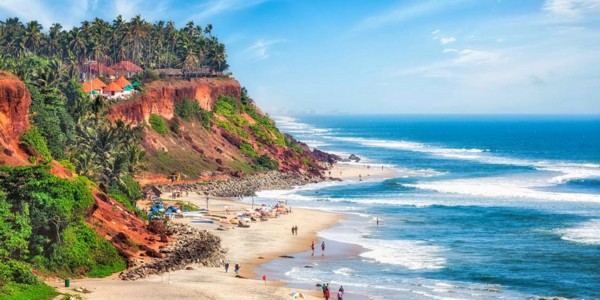 Image Source :https://images.thrillophilia.com
Varkala Beach in Kerala is a peaceful beach compared to the Kovalam beach. This picturesque beach features a long stretch of a cliff with a panoramic view of the Arabian Sea. A paved promenade, trendy shops, coconut palms, and beach shacks run the length of the cliff.
The expansive beach lies at the bottom of the cliff, accessible via steps leading down from the clifftop.
It's no wonder that Varkala consistently ranks as one of the best beaches in Kerala and all over India.
Varkala Beach water is believed to have therapeutic and medicinal properties. Immersion in the holy waters of Varkala; is believed to cleanse the body of sins and impurities. Hence this beach is also known as Papanasam Beach, which translates as the destroyer of sins.
There are many mineral springs, spas, and Ayurveda facilities on this beach, all of these provide the best treatments and therapies. The pretty vibrant surroundings and cliff-clad beaches create a joyful atmosphere that attracts honeymooners and beach lovers to spend a few days here.
Late December till March – is an apt time to explore Varkala Beach.
Puri Beach – Well Known Beach in Odisha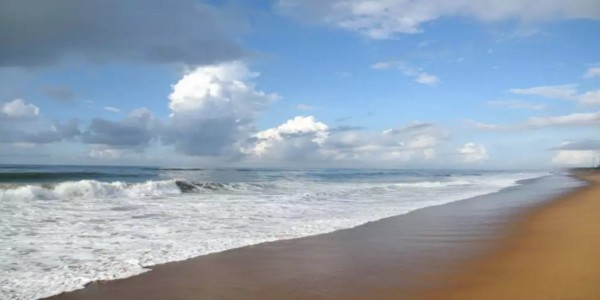 Image Source :https://static.toiimg.com
Bordering the Bay of Bengal, Puri Beach or the Golden beach is on one of the finest coastlines in Eastern India. This beach is around thirty-five kilometers from the Sun Temple. Puri Beach received an international Blue Flag accreditation recently.
Visitors are mesmerized by the roaring waters of the Bay of Bengal and the lovely sands of the beach. Devotees frequently flock to the beach for a purification dip to pay their respects to Lord Jagannath.
Remember the sand sculpture artist – Sudarshan Patnaik – who creates his beautiful sand sculptures at this beach. His sculptures are inspired by the mythological character or art on the walls of Puri Temple.
Experience the local life of Puri – as the beach is frequented both by tourists and locals. The local fishermen escort tourists on their boats out into the sea. You can also enjoy several watersport activities at this beach. The Chakratirtha stretch is pleasant and tranquil for those who wish to take a stroll.
Every November, the beach also hosts the annual Puri Beach Festival.
Palolem Beach – Best Beach in Goa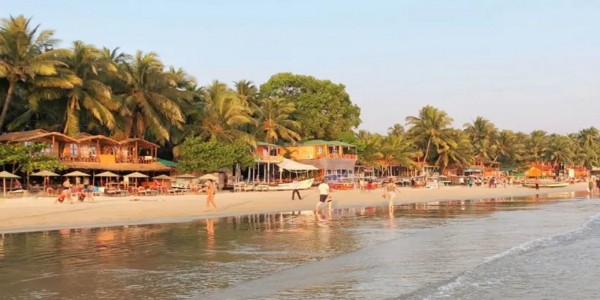 Image Source :https://www.tourmyindia.com
Goa is renowned as India's premier beach destination. The state is famous for its tourist beaches and chilled-out party vibes. There are many beaches in the state to choose from, but only a handful of them retain natural serenity, such as Palolem Beach in South Goa.
Palolem Beach, a white-sand paradise in South Goa, is about thirty-eight kilometers from Madgaon in Cancona.
Palolem is one of Goa's most picturesque beaches, with a gentle curve of palm-fringed sand facing a tranquil bay. It's still a fantastic place to visit, and it's popular with long-term visitors, backpackers, and families.
The protected bay is one of Goa's safest swimming spots, and you can opt for paddleboarding and kayaking for hours here. Other activities that you could enjoy here are Scuba Diving, Swimming, Dolphin Spotting, etc.
Visit Palolem for exciting activities, authentic culture, and well-deserved relaxation. The Silent Noise Parties in Palolem have become iconic.
Must Read :35 Leisure Beaches In South Goa!
Auroville Beach – Beaty of Pondicherry
Image Source :https://d3gw4aml0lneeh.cloudfront.net
Auroville Beach, or Auro Beach as known among locals, is one of the town's undiscovered beaches. This beach provides an unrivaled location with a tranquil and calm environment for people seeking solitude.
Auroville Beach welcomes visitors of all ages to unwind and revitalize in a laid-back setting while admiring the beautiful scenery. The beach is ideal for couples, solo travelers, and a group of friends.
It is a pleasant, clean, and well-maintained beach in South India, named after the renowned Auroville township. The beach has golden-colored soft black volcanic sand sprinkled all over it.
As soon as you arrive here, the serene beauty and tranquil surroundings of this beach will inspire you to meditate while the crystal-clear waters and blue color of the sea will lure you to click photos with a picture-perfect backdrop to make your visit to this beach memorable.
From soaking in the sun to relaxing on the hammocks, enjoying a fun-filled day with your loved ones, to taking a stroll along the beautiful coastline overlooking the magical sunrise and sunsets, there are numerous things to see and do while you are at Auro Beach.
The shallow waters at Auroville beach are best suited for surfers and swimmers. So if you are an adventure lover, you should give it a shot.
Jampore Beach – Beautiful Beach of Daman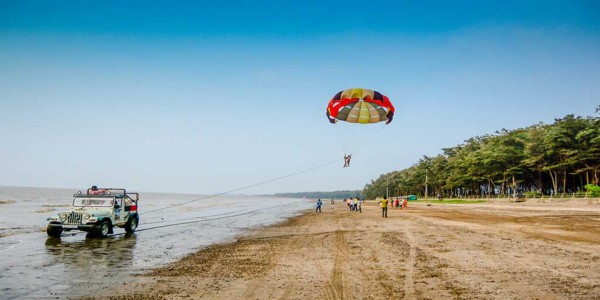 Image Source :https://www.holidify.com
Shift your focus towards the picturesque beaches of Daman, onto the western coast of the Indian peninsula. It is one of the most enthralling beaches in the state. The Jampore Beach is a classic blend of swaying coconut palms, a smooth expanse of sand, and ancient monuments.
The sandy expanse of Jampore Beach distinguishes it from several other beaches, especially when the sea is at low tide and the water recedes a long way down the shore. Visitors can collect shells, conches, and other maritime mementos while strolling through the wet, smooth, cushiony sand revealed by the retreating water.
It is an ideal setting for anyone seeking peace and seclusion. The beach is a great spot to relax because it's distant from the city's noise and commotion.
Marina Beach – Best Beach in Chennai
Image Source :https://www.makemytrip.com
A prominent icon of Chennai – Marina Beach, attracts local and international tourists. The beach is the country's longest and the world's second-largest natural urban beach with a thirteen-kilometer-long stretch.
It is also the most visited beach in India, with around thirty thousand visitors a day. The white sandy shores of Marina Beach seem to extend to infinity. Such a landscape is both serene and intriguing. Locals and frequent visitors alike enjoy strolling along the majestic beach.
Tourists also flock to the beach to catch a glimpse of the captivating dawn and dusk. One of the main attractions that children like the most are horseback riding.
The Aquarium, which houses a range of fish species, is another attraction along the shore. Swimming is strictly prohibited along the beach due to the turbulent surf and strong undercurrent, although there are two swimming pools beside the beach.
The beach is one of Chennai's most well-known open areas, hosting several important national and cultural events such as Independence Day and Republic Day parades.
Shivrajpur Beach – Famous Beach of Dwarka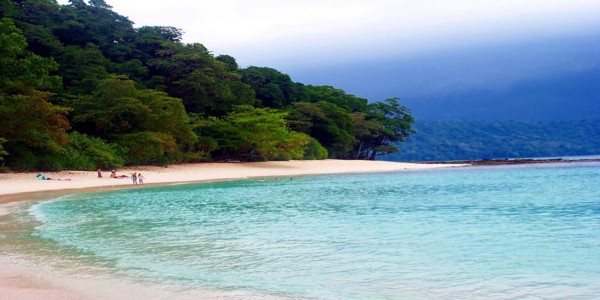 Image Source :https://gumlet.assettype.com
One of the recently discovered best beaches in Gujarat – is Shivrajpur Beach. If my word for it isn't sufficient to convince you, I'm sure the international Blue Flag Beach designation will entice you to visit this wonderful beach in Dwarka.
Shivrajpur Beach is on the Arabian Sea near Shivrajpur locality in the Dwarka district. Another USP of this beach which I would surely like to highlight here is that it is a disabled-friendly beach.
Explore and enjoy the sheer untamed beauty of this beach. You can also have fun with loads of beach activities such as swimming, scuba diving, snorkeling, boat rides, ATV rides, and jet skis.
Shivrajpur Beach is well-kept and comes as a pleasant surprise. There is a cost to enter, but it is well worth it. The water is clear and blue, beckoning everyone to take a dip. Shivrajpur Beach is one of the rare beaches that does not have a fishing settlement. Therefore you won't see fishing boats or that way of life, giving this a pure beach experience.
Must Read :15 Best Beaches to Visit in Gujarat!

Conclusion:
What could be better than admiring a sunset with your loved ones from a vantage point on the beach? A beach trip is incomplete unless you leave a footprint in the wet sand that will be washed away by a gentle wave.
If you're wondering which one should you opt for, look no further. Plan a trip to these beaches with your family and friends and have a fantastic time with your loved ones.
India specialists at Flamingo Transworld; will share their advice on choosing your beach vacay, considering beach location, activities, accommodation, and more. Our experts can assist in finding the perfect Indian beach holiday; that is just right for you.