Did Ahmedabad rock during Navratri in 2013?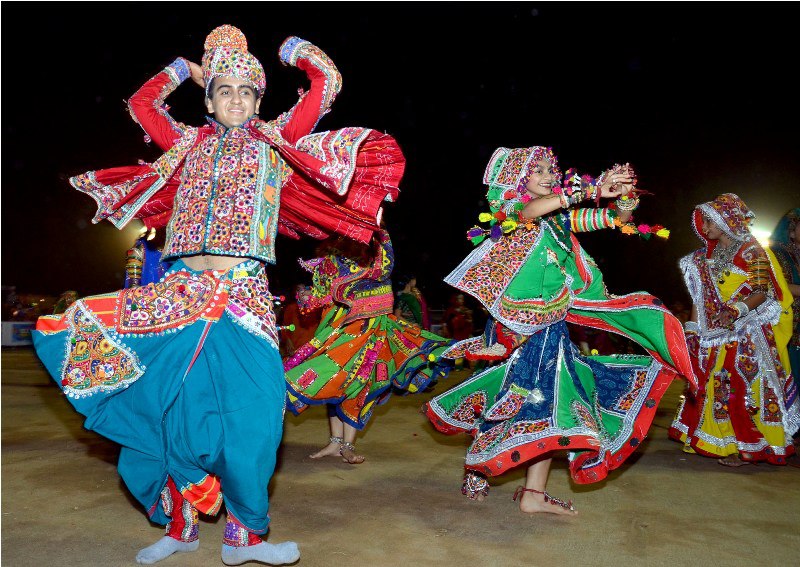 Navratri is a Gujarati word, which means festival of 9 nights. In Gujarat during the Navaratra festival a lamp is kept in an earthen pot with multiple holes as a symbol of 'MatruShakti' (mother energy) and worshipped. With the omission of the word 'Deep' from the word 'Deep Garbh' the symbol of fertility in female worshipped for 9 days, the word Garbh and later Garba is currently used.
If there is one thing that unites all Gujaratis on a common footing for enjoyment it is garba garba and garba. People from all strata know the swaying in this dance and can join on its beat without abandonment. No other music will bring them to dance floor but on a garba tune you will surely find everyone participating. We believe this to be the most important uniting factor anywhere in the world.
Although this festival is celebrated all over India, nowhere it is celebrated with more panache and fervor than in Gujarat. Every year, Navratri brings in innovation in music, choreography, costumes and is enthralled by beauty of tradition. Ahmedabad is Gujarat's most important city and a near perfect mix of modernity and culture. Ahmedabad derives much of its identity and customs from an incredibly rich past and is a haven for food lovers and history diggers. During these 9 days, Ahmedabad city dons the look of a bejewelled bride elated with festivities all around.
The garba fans start traditional dress and ornament shopping preparations months ahead of the festival. Most of the NRI's visit Ahmedabad to enjoy this festival. The days are quiet but as soon as first streetlight is switched on, young men and women dressed in their finest traditional outfits swarm the roads berserk with excitement. Almost everybody on the streets is seen heading to a nearby garba grounds.
People prefer to visit garba organised by professional singers and musicians. Many TV serial and Movie celebrities visit the garba functions as chief guest and enjoy garba with common public. The clubs, residential society and apartment grounds, college and school grounds etc. are filled with garba lovers. Many garba competitions are organized and the best garba dancers are awarded with prizes. The Garba festival is not limited to only Gujaratis, it is participated by people belonging all casts and creed. This symbolises the strong unity among the people.
In Ahmedabad, Manek Chowk, Bhadra Fort and Teen Darwaja are places in the 'Old City' where majority of Sheri Garba events are held. These events are not organised on a mass scale but the excitement of the garba is at its zenith here!
The GMDC ground has a mammoth stage from where the garba singers with their entourage sing devotional songs to which the thousands present at the venue dance to.The GMDC ground has capacity of over 15000 people.  Apart from the garba, the handicraft fair and a large food court surely grab everyone's attention.
Every year, Navratri brings in innovation in music, choreography, costumes and is enthralled by beauty of tradition. Even the heavy rains in Ahmedabad today, could not stop the garba lovers from enjoying the fun and folklore of the festival. So indeed Ahmedabad rocked during this Navratri.
For more interesting information on Travels and Tours, check out :www.FlamingoTravels.co.in