Golden Gate Bridge – An Iconic Symbol Of San Francisco
Golden Gate Bridge is second largest suspension bridge in United States. Located in San Francisco, Golden Gate Bridge stretch 1.7 mile long connecting San Francisco to Marin County. It is the entrance to San Francisco Bay from Pacific Ocean. After years of examination and fundraising construction of Bridge was started in 1933. The bridge was designed by Joseph Strauss, Irving Morrow and Charles Ellis and was ready just in four years i.e. by 1937.
Golden Gate Bridge is also famous for its color – International Orange; it was selected to complement its surroundings and also to make it visible in fog. It has total six lanes, 3 lanes towards northbound and 3 lanes towards south bound. Golden Gate Bridge is known as one of the wonders in Modern World. It is called to be the most beautiful photographed bridge of the world. Of 4200 ft., Golden Gate was the longest suspension Bridge until 1964. Ferry was the only source of transportation between San Francisco & Marin County before the bridge was built.
Some Interesting Facts:
The bridge it around 220 feet above & its towers are 746 above the water level
Total steel used for bridge is approx 88,000 tons.
The weight of the bridge is 8,87,000 tons.
Only 11 workers died in total construction of the bridge which was the new safety record of the time.
Total 128 lights & 250 lamps have been installed on the roadway of the bridge.
There are total 6 lakhs rivets in each tower
Golden Gate is the toll bridge, it cost $6 per passing vehicle
Over 2 lakhs people walked on bridge to celebrate its opening lasted for one week.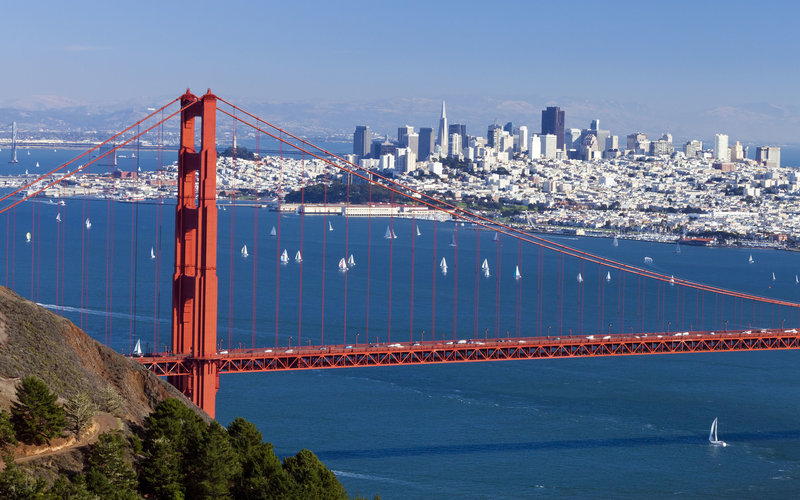 Many Hollywood & Bollywood movies were shot on Golden Gate Bridge like 'Inside out', 'Hulk' 'Godzilla', 'Happy Ending', 'Biwi No.1 and many more..  Golden Gate bridge is one of the must visit attraction in San Francisco, one can pass by the bridge or can also enjoy its marvelous views from famous Bay Cruise which pass under the bridge. USA tour packages will be perfect for your much awaited holiday break!