Top Ten National Parks in the USA!
Over the years, National parks all across the globe have received incredible recognition. To understand it, National Parks are substantial areas of land that may be remote or may have wide-open spaces that are big enough to offer public outdoor recreation opportunities. These parks are designated based on their wildlife, landscape, and recreational resources. National Parks are indispensable for species richness and Earth's biodiversity.
National Parks across all over the world create areas to experience nature closely for scientific and educational projects. They also add to the charm of the region and play a crucial part in the economic development of the area.
The world's biggest country, the United States of America has abundant national parks. USA tourism actively promotes this natural treasure across all travel products. The USA has some of the most astonishing parks in the world. These national parks are perfect for camping, sightseeing, hiking, learning about natural history and cultures, or just simply admiring the wonders of the world.
While crafting the USA tour packages, destination experts at Flamingo Transworld ensure that they don't miss adding the famous National Parks to your itinerary.
Let us check out the top 10 national parks in the USA are as below:
Yosemite National Park
Yellowstone National Park
Glacier National Park
Grand Canyon National Park
Zion National Park
Sequoia & Kings Canyon National Park
Bryce Canyon National Park
Rocky Mountain National Park
Great Smoky Mountains National Park
Arches National Park
1. Yosemite National Park :
Image Source: https://images.unsplash.com
Yosemite National Park is well renowned for its massive sequoia trees, granite cliffs, and striking waterfalls. It is a vast wilderness having thousands of species of plants and wildlife. The park is located in Northern California. The park also boasts around 455 km of scenic roads and 1290 km of hiking trails; it has something to offer to all genres of travelers.
Explore the park by driving through the beautiful landscapes; hiking is one of the best ways to do so. Do not miss the views from Glacier Point, El Capitan, Yosemite Falls, Mariposa Grove, and the scenic Tioga Road. Yosemite National Park is a paradise for adventure enthusiasts. During the summer months, one can enjoy biking, fishing, hiking, backpacking, rock climbing, rafting, and horseback riding. Wildlife lovers would have a gala time by watching several species of different wildlife. During the winter months, one can opt for cross-country skiing, snowshoeing trails, hiking, ice-skating, and snow tubing. The best time to visit this park is during early autumn and summer.
2. Yellowstone National Park :
Image Source: https://images.unsplash.com
Yellowstone National Park one of the unique places on the planet Earth, is one of the oldest and first-ever national parks. Visit the park to marvel at the spouting geysers, incredible geothermal features, and hot springs. Explore waterfalls, vast landscapes, rivers, forests, mountains, canyons, and lakes. The park spread across 2 million acres of land accommodating abundant wildlife. The spellbound features of this park are portrayed in several paintings and photographs all over the world.
Discover the park by hiking, boating, cycling, snowshoeing, skiing, or just bask in the wonder of the iconic sites like Grand Prismatic Spring, Old Faithful geyser, the Grand Canyon, and mammoth hot springs. The beautiful landscapes and the history of this place make this park one of the best destinations for a memorable US tour.
3. Glacier National Park :
Image Source: https://www.doi.gov
The park is on the Canadian-US border and is referred to as the crown of the continent. The park covers around 1000 square miles of mountain ranges and pure wilderness. It features deep forests, alpine meadows, waterfalls, sparkling lakes, and glistening glaciers.
Glacier National Park holds four major titles as a World Heritage Site, a biosphere reserve, an international peace park, and a renowned US National Park. The landscape offers breathtaking views of foothills covered with colorful tundra flowers, valleys, and glacier-carved peaks.  There are several activities to enjoy at this park by hiking, boating, backcountry camping, white-water rafting, and not-to-be-missed scenic drive at Going-to-the-Sun Road.  The park is huge, so plan your USA tour itinerary and the number of hours and days to explore the Glacier National Park. Seek the expert assistance of travel consultants at Flamingo Transworld.
4. Grand Canyon National Park :
Image Source: https://peakvisor.com
Grand Canyon National Park, formed by the twist and turns of the River Colorado, is one of the most unique and beautiful canyons in the world. Located in Arizona, it has a geological history of 6 million years. The complexity and sheer size of the canyon flout description. The canyon is enormous with a size of around one million acres. One of the prominent places to hike and see the beautiful viewpoints is the South Rim of the Grand Canyon. Another famous spot is at Grand Canyon West is the Grand Canyon Skywalk, which is around 210 Km from Las Vegas. An extravagant way to explore this stunning Grand Canyon National Park is by opting for a helicopter flight. This national park has the highest footfall to view the famous natural wonder of the world.
5. Zion National Park :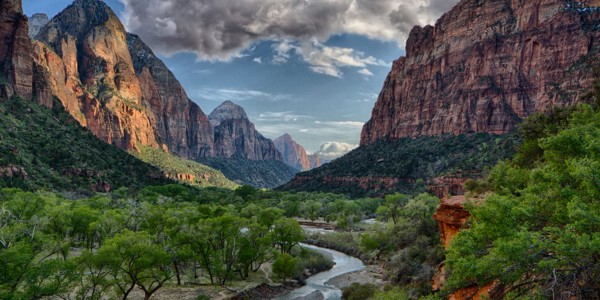 Image Source: https://www.doi.gov
Zion National Park is located near Springdale city, in the southwest of Utah. It is one of the most distinctive landscapes in the world. The landscape is unique and diverse with enormous waterfalls, narrow canyons, sheer cliff walls, and the Virgin River. It is one of the most visited and oldest national parks visited annually by 3 million visitors. California condor, one of the biggest flying birds in North America, resides in Zion National Park.
Explore the entire park by opting for a range of hikes suitable for everyone. At the same time, you can also try your hand at canyoneering, horseback riding, bicycling, and rock climbing. Spending a day in Zion Park would not be enough, it's recommended to spend around 2 to 3 days at this park.
6. Sequoia Canyon National Park :
Image Source : https://www.doi.gov
As the name suggests, Sequoia Canyon National Park is home to one of the largest and oldest trees in the world, the Giant Sequoia trees. They are known as skyscrapers of Mother Nature. The Sequoia National park is in California in the southern Sierra Nevada region. It was the first park ever created to safeguard a living organism.
This park is unique from other parks, as other parks are known for their camping and hiking options, but Sequoia national park is renowned for its 3200-year-old giant sequoia tree. The landscape here depicts that nature once ruled the planet.  Sequoia trees grow in only some selected regions of the world however, the best and the biggest collection is in the USA.
Apart from the sequoia trees, rugged foothills, sunny and hot canyons, royal mountains with alpine peaks, and vast caverns add to the beauty of this dramatic landscape. The park offers a topographic diversity having around 315 different species of animals and 1200 species of plants at different elevation zones.
7. Bryce Canyon National Park :
Image Source: https://upload.wikimedia.org
Unlike other US National Parks, Bryce Canyon National Park, located in southern Utah, is renowned for its distinctive landscape. Over time, wind and water have eroded the rocks, thus making it the planet's biggest collection of differently-shaped, orange-red-pink sandstone pillars known as hoodoos. The marvelous landscapes of this park create new scenery each time depending on the light conditions and seasons of the year. It also has around 1000 plant species, several species of birds, and a dozen mammals.
The beauty of this park is unmatched; watch the magical views of sunsets and sunrises as you stroll through the park. Explore the park by hiking through it; you can also opt for horseback riding or snowshoeing, or skiing during winters. Visit this park during May to September months. There are numerous activities to be enjoyed at this park and plan your USA tour itinerary, including all adventurous activities with the assistance of travel consultants at Flamingo Transworld.
8. Rocky Mountain National Park :
Image Source: https://www.outsideonline.com
Rocky Mountain National Park, located in Colorado, is one of the highest national parks in the country. It has an elevation between 7000 to 15000 feet. It has over 100 peaks, Longs Peak being the highest peak amongst others with an elevation of around 14259 feet. Just one and half hours from downtown Denver, you will reach this park. Rocky Mountain National Park is visited by most travelers and is denoted as the Unesco World Biosphere Reserve.
The beautiful scenery varies with the seasons and the elevation of the mountain. It has around 871 km of hiking trails of different levels. Hike and explore the park. Hike the Trail Ridge Road; it is one of the most popular trails situated between Grand Lake and Estes Park. It will give access to stunning panoramas and around 12000 feet of elevation. Apart from hiking, one can try other activities like wildlife safari tours, bicycling, rock-climbing, and fishing. During winters, one can enjoy sledding, cross-country skiing, and snowshoe hiking. There is abundant wildlife, such as elk, moose, deer, marmots, and bighorn sheep. Visit the park from June to September.
9. Great Smoky Mountains National Park :
Image Source: https://images2.minutemediacdn.com
Great Smoky Mountains National Park is renowned across the world for its mountains, diversity of animal and plant life, and the remnants of Southern Appalachian culture. Straddling between Tennessee and North Carolina, Great Smoky Mountains National Park is one of the most stunning national parks in the USA. Being the most visited national park in the USA, it welcomes millions of tourists each year.
One of the most safeguarded areas, the Great Smoky Mountains National Park is spread across 500,000 acres of earth. Great Smoky Mountains National Park has immense natural beauty and is steeped in history and rich culture. Hike around the park, follow the mountain streams, and check out the cascading waterfalls. Visiting Great Smoky Mountains National Park would be a treat. To plan Smoky Mountain National Park into your USA holidays, do seek suggestions and guidance from expert travel agents at Flamingo Transworld.
10. Arches National Park :
Image Source: https://www.teahub.io
Arches National Park is located outside of Moab, in eastern Utah, adjacent to the River Colorado, and consists of more than 1000 acres of land. The park has a marvelous collection of around 2000 natural sandstone arches. Out of these 2000 arches, the renowned one is the Delicate Arch. It has distinctive geological formations. Explore the colorful landscape consisting of balanced rocks, fins, pinnacles, and other geological formations. The natives of Utah believe God as a stonemason and Arches as a collection of the most daring and unique art pieces created by Him.
Engage in outdoor activities set against the beautiful backdrop of awe-inspiring stone arches, and giant rocks. Explore the park by driving through its scenic drives, hike around, and check out all the wonderful viewpoints such as the Park Avenue Viewpoint, Balanced Rock, and Delicate Arch Viewpoint. Apart from hiking, you can also explore the park by opting for a 4×4 tour and an option for a scenic airplane tour. It is recommended to visit this park during the spring season to explore the park to the fullest.
Conclusion :
It might be overwhelming to decide which park to visit as each of them has something exclusive. Most of the national parks in the States are easily accessible for tourists. Most of the parks are within driving distance from major cities of the USA. So if you are pondering which one would be the best to visit and how to plan it, the best way is to consult a destination expert at Flamingo Transworld Pvt. Ltd.