Ultimate Guide to Planning the Perfect Sikkim Tour Post COVID-19
Sikkim is a god gifted place, located in the north-eastern part of India. The state shares its borders with Nepal, Tibet, West Bengal, and Bhutan respectively. Tourism in Sikkim is known for many things such as beautiful landscapes, scenic flower valleys, snow-capped Himalayan ranges, glaciers, and hiking trails. This wonderland is also known for its great flora and fauna, five different climate zones, humble people offering the best hospitality, and rich heritage and culture.
You must be wondering why to choose the Sikkim tour? The reason goes like this- being the smallest part of our country, Sikkim has an immense natural beauty to offer. Sikkim tour packages can be full of adventure, religious places, scenic mountain peaks and waterfalls, and adventurous hiking trails. The world's third-largest mountain peak is located in Sikkim- Kanchenjunga Mt. peak. These all reasons force us to plan a Sikkim holiday for 2021.
Let's go ahead with the blog and know some of the highlighting points for your Sikkim holiday. The points covered will be as below:
Things to Keep in Mind on Your Post COVID-19 Sikkim Trip;
Best time to visit Sikkim;
Amazing Places to must visit in Sikkim;
Amazing Places to Stay in Sikkim by Flamingo Travels;
Things to do on your Sikkim trip;
Explore the Top Foods of Sikkim;
Frequently Asked Questions About Post – COVID Trip to Sikkim;
 1. Things to Keep in Mind on Your Post COVID-19 Sikkim Trip
If you are planning a trip to Sikkim, it is compulsory to take note of the below-listed travel tips to Sikkim for happy and wonderful vacation days. Taking into action all the precautionary measures for the locals as well as tourists, Sikkim tourism will be back to base in a systematic manner. Find the below state-issued SOPs to be compulsorily adhered to by everyone planning a visit here:
The state is opened for tourism only for domestic and foreign national residing in India;
It is compulsory to present a negative COVD-19 certificate which should be not older than 3 days of your arrival time;
Each traveller should get themselves registered on the Sikkim Tourism Web Portal and they will issue them a "Travel Card". This travel card should be carried wherever they travel within the state;
All the tourists must also ensure safety by wearing face masks in public places, keep sanitising your hands and carry a sanitiser, and keep social distancing;
People above 65 years of age and children below 10 years are prohibited to enter Sikkim;
Tourists are strictly restricted from going to the containment zones in Sikkim;
It is also advisable to opt for digital transactions for a contactless mode of the transaction;
The hotels in the containment zones should not be considered for reservations;
Hotels should not accept reservations of the tourists not registered on the government web portal;
2. Best time to visit Sikkim
Sikkim experiences five different climates in the whole year so there is no specific time to visit but if you love to watch snow-covered mountains enjoy ice skiing and beautiful green lush then winter is the right time, starting from October month to December.
However, if you are looking for trekking, freshest flowers, and orchids then summer is the best time to visit Sikkim.
Monsoon is not so brutal but if you want to enjoy the rainfall then you should book a holiday tour package to Sikkim during the July – August months.
3. Amazing Places to must visit in Sikkim
Sikkim is a heaven of India, located in the north-eastern part offering great views of Himalaya ranges. There are many places to visit in Sikkim which should not be missed at all. Though a small state but has wonders to offer with snow-capped mountains, beautiful meadows, and the vibrant Sikkimese culture. Let's check some of the best places to be included in the Sikkim tour:
Opting to go to Yumthang valley is one of the best decisions. This valley is located at an elevation of 3,500 metres and serves as a home to exotic flower species. A visit to this valley will be one of the most colourful and pleasant experiences of your whole life.
And, by chance, if you are here in the monsoon, trust us there are no other beautiful and colourful valleys than the Yumthang in the whole world. You can find some of the exotic species here such as cinquefoils, louseworts, primrose, and cobra-lilies.
The capital city and most populated place in Sikkim offers a wide range of options to explore. Some of the important places to visit in Gangtok are the Ganesha temple, Tashi viewpoint, Nathula border, and Ban Jhakri waterfalls. Also, Gangtok serves as a home to the known Buddhist monasteries like Enchey and Rumtek. Make sure to include this place in your Sikkim tour package for a wave of complete peace and serenity.
Zuluk is one of the off-beat tourist destinations in Sikkim and doesn't fail to give some of the great views of the surrounding mountains. You can also choose to visit the Nag temple devoted to Nag Devta. Other famous points of interests are Thambi View Point and snow-covered Mt. Kanchenjunga. This place should be definitely on your list of places to be enjoyed in Sikkim.
4. Amazing Places to Stay in Sikkim by Flamingo Travels
This tiny state of India has some of the best hotels to offer to tourists. Check out the below few options for places to stay in Sikkim and make sure to consider them while planning for a vacation to this paradise.
Orange Village Resort, Gangtok
Orange Village Resort is located in Gangtok and one of the luxurious resorts. The location is in mid of the Himalayan ranges and is 5 km from the Saramsa Garden and 13 km from the Rumtek Buddhist Monastery.
The rooms are nicely decorated with teak wood floor, terraces with beautiful views, perfectly done furnishings with all the modern amenities. Other facilities available here are a lounge and a bar, fine-dine restaurant, orchid garden, gym, option for trekking, and a disco. A stay in this resort will be truly a memorable one.
Yangthang Heritage, Gangtok
If you are in search of a 4-star category hotel option, then Yangthang Heritage in Gangtok is one of the most suitable options. With friendly staff and management, the hotel is also known for a smooth check-in and check-out procedures. You can select from four different categories of the room- Deluxe, Premium Deluxe, Suite, Executive Suite rooms, and even get options to choose the meal plans.
The rooms are nicely furnished with all the necessary amenities. This hotel will provide all the top-class services.
Delight Hotels the Fortuna, Gangtok
Delight Hotels the Fortuna, Gangtok is for the tourists who are looking for some cost-effective hotel options. This is very popular among the budgeted category hotels with warm and friendly hospitality, and easy check-in and check-out procedures.
Many rooms also provide stunning views of the surrounding mountain ranges.
5. Things to do on your Sikkim trip
This state is one of the energising, soothing, and beautiful with rich Buddhist culture, stunning mountainous ranges, and lots of adventurous and playful things to do on your Sikkim vacation. Don't miss the top-most tourist attraction in Sikkim such as Buddhist monasteries, wildlife sanctuaries, river rafting, and much more.
Photograph rhododendrons in Yumthang Valley
Rhododendrons are the rarest species of flowers and you will be amazed to find them at the Yumthang valley in Sikkim. Once you enter this valley, you will be surprised by the spectacular views of the surroundings that include a flowing valley, lush green mountain ranges, serene river, and valley of flowers. One of the most photogenic places one can find in Sikkim. Also, you get to see different exotic species of flowers here that add more excitement to your trip. The best time to have the views of these flowers is in the summer season, so plan your visit accordingly.
Experience nightlife & Shopping at MG Marg
One of the local ways to explore Sikkim is to consider spending a night or Shopping in MG Marg. Live a local life when you are here, enjoy the lip-smacking momos, interact with the locals, try the cheese fountain, just stroll around the marketplace, or go shopping the local handicrafts of Sikkim. At night, you can choose to go to a vibrant lounge, pubs, or just have a casual dinner at one of the restaurants there. This would be an incredible experience altogether.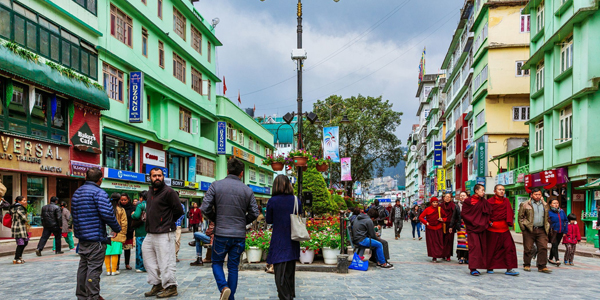 Image Source: https://i.pinimg.com
Take a road trip to Nathula Pass and Zero Point
And, one of the most adventurous things to do in Sikkim is visiting the Nathula Pass and Zero Point. You can opt to take a road trip to reach these two points with awe-inspiring views, windy routes with turning at the mountainous routes. You need a special permit for the nathula pass to be applied before your visit due to political reasons. Enroute, you can explore different viewpoints and enjoy stunning views of the Himalayan ranges. And, at Zero point you can enjoy the attractions such as Gurudongmar Lake, Seven Sisters waterfall, hot springs, Katao mountain peak.
6. Explore the Top Foods of Sikkim
Sikkimese cuisine has subtle and basic flavours using cumin, garlic, onions, turmeric, and chillies. Also, the famous food in Sikkim is generally fermented foods and drinks because of its cool climate. The food here is influenced by the bordering countries namely, Tibet, Bhutan, and Nepal. Let's check the food that should not be missed on your Sikkim vacation.
Kinema curry is one of the famous vegetarian food options in Sikkim. This dish is made up of fermented soya beans, which are equally healthy and delicious. You can enjoy this unique dish with rice.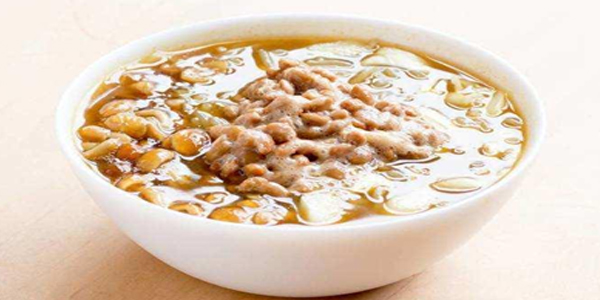 Image Source: https://static.toiimg.com
One of the popular dishes in Sikkim, Kodo Ko roti is inspired by Nepal and is a Nepali bread. To make this bread, finger millet flour or Kodo is used and is spread on a banana leaf. The bread is then nicely baked on a pan.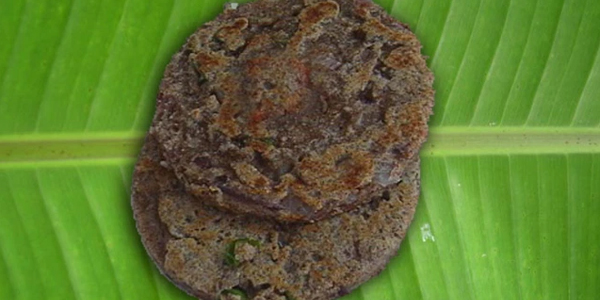 Image Source: https://static.toiimg.com
Gundruk is again one of the fermented dishes of Sikkim. It is made up of cauliflower and radish leaves. You can enjoy it with curries, soups, or just have it as it is.
Sinki is somewhat similar to the above. The only difference is to prepare this, radish root tap or bamboo is fermented. The fermenting process for this dish is interesting.
So are you ready for a chilly vacation to Sikkim this summer season? Start planning now for some great advantages on the hotel and flight booking. And, you can also check Flamingo Transworld Pvt. Ltd website for different Sikkim tour packages which will be of great help for framing your dream holiday.
Frequently Asked Questions About Post – COVID Trip to Sikkim
1. Is Sikkim open for tourists in 2021?
Yes, Sikkim is now opened for tourists but at the same time, you need to follow the state's rules and regulations.
2. Which is the best time to visit Sikkim?
The best time to visit Sikkim is during the summer season when the sky is crystal-clear and you can have a clear view of the Himalayas ranges and if you wish to experience the snow plan a visit during the winter months.
3. How to Reach Sikkim?
There are different ways to reach Sikkim. Sikkim does not have its airport so almost all the national and international flights land at the Bagdodra airport in West Bengal from where you can take a taxi, bus, or train. Gangtok is approximately 124 kilometres from Bagdogra.
If you are traveling from any other city in India like Mumbai, Delhi, or Jaipur then the best way is to take a train to Siliguri station. If you are in the northeastern region, then you can also take the cab from Darjeeling or Siliguri to Gangtok.
4. Which part of Sikkim is most beautiful?
The whole of Sikkim is beautiful and places such as Gangtok, Pelling, Namchi, Ravangla, Zuluk, Uttarey, Kaluk, Rinchenpong, Yumthang Valley, Tsomgo Lake, Nathula Pass, and Baba Mandir should be visited without giving a second thought. And, it is said that Yumthang valley is one of the most beautiful places on the earth.
5. What is the most popular food of Sikkim?
The most popular food of Sikkim is Kodo Ko Roti, Sael Roti, Gundruk and Sinki, Chhurpi, Chaang, and many more.