Festivals in Singapore: What's on in 2020?
Singapore is one of the most happening tourist places in Southeast Asia, which can be explored with lucrative and budget-friendly Singapore tour packages. The modern city is home to a wide range of cultures, religions and the food fiestas and enjoys the similar dynamics when it comes to festival celebrations. Here, check out the top 10 festivals in Singapore that one must witness in 2020.
1. Pongal Festival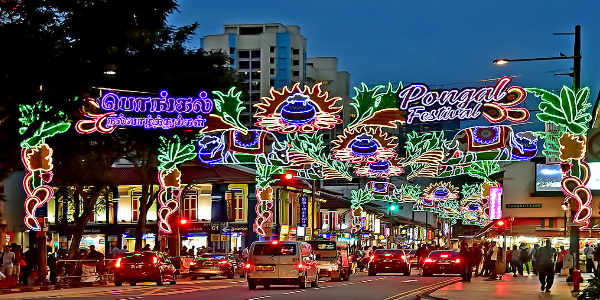 The Pongal or Makar Sankranti is a four-days long Hindu festival that signifies the harvest and importance of cows. It indicates the end of autumn and the beginning of Spring. The Hindus in Singapore do celebrate them with great respect to the sun god and offer the first produce as sweet boiled rice. This is a national holiday too. The Hindus paint their homes, decorate with the sugar cane stems and put kolam or chalk drawing in front of their home.
When: 14th to 17th January 2020
What to Experience: Pongal related cultural, colorful Kolam, sweet Pongal, and Surya Namaskaram
2. Chinese New Year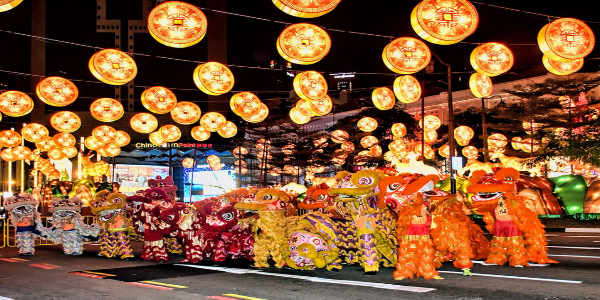 The Chinese communities in Singapore do celebrate their new year as they welcome the spring season. You can find a busy purchase rush in Chinatown. They buy new clothes, gifts, and sweet items to distribute to others. They lit Chinese lanterns during the night. It will be a full glory to see the dragon flying in the main city.
When: 25th to 26th January 2020
What to Experience: Dragon Dance, Chinese lanterns, Chinese market, and temple visit
3. Thai Poosam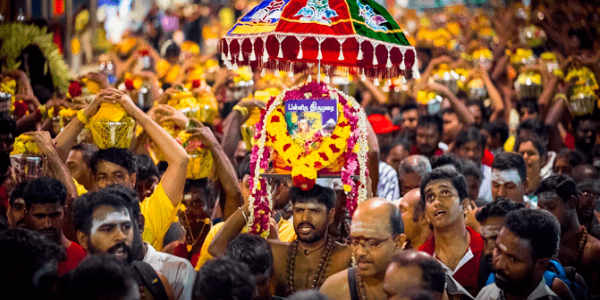 Thai Poosam is a religious festival in Singapore. You must be at Sri Srinivasa Perumal Temple and Sri Thendayuthapani Temple to witness the vibrant colors and sacrifice on this fiesta. The Hindus take a procession by carrying kavadis (altars) and reach the temple site. They do sacrifice the goat or chicken as an offering. They wear a yellow dress to appease the gods. This is a 2-day celebration where they give offering to god and distribute the prasadam or sweets and snacks to others. You may enjoy this festival by booking Singapore tour packages from Ahmedabad.
When: 8th February 2020
What to Experience: Colorful Kavadis, temple festival, carnival
4. Vesak Day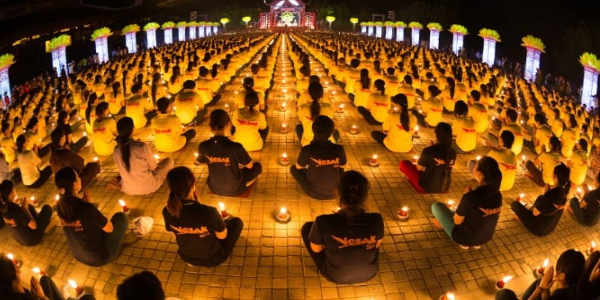 This is an annual Buddhist festival in Singapore that is celebrated in honor of the enlightenment of Buddha. Singaporeans visit nearby temples for meditation, engage in charity work on this fiesta occasion in Singapore.
When: 7th May 2020
What to Experience: Buddhist culture
5. Singapore Art Festival
The visual arts performers gather in Singapore City during this fiesta to showcase their talent in various art forms. Most of the event happens after the sunset. Yet, you can hear music bands displaying their talent during the day. Various film screenings do take place in indoor venues. It is a great platform for Singaporeans to show their talent.
When: 15th to 31st May 2020
What to Experience: Visual arts, music, and dance
6. Duanwu Festival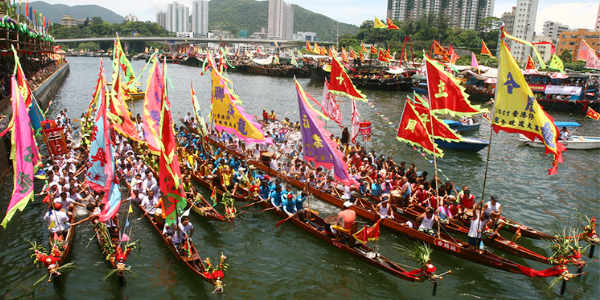 Duanwu Festival or Dragon Boat Festival is an enthralling boat race fiesta in Singapore. You must visit Bedok Reservoir to witness this thrilling boat race. You can bet and win a fortune at this venue. You can get wine and rice dumplings at the boat race venue. You can also see this race in DBS Marina Regatta too.
When: 25th June 2020
What to Experience: Culture
7. Singapore Food Festival
This is an important food festival, which is organized by the Singapore tourism department. It encourages local or Singaporean cuisines and multi-national cuisines. Renowned chefs from across the globe take part in various food competitions held here. This fiesta is also a delicious feast for foodies.
When: 17th to 24th July 2020
What to Experience: Culinary workshop
8. Singapore National Day
This is a national holiday and the Singaporeans rejoice the freedom, in the streets. You can find a parade, procession, and cultural happenings in the main street in the day hours. You must come to Marina Bay to witness the spectacular fireworks during the night.
When: 9th August 2020
What to Experience: Colorful fireworks
9. Deepavali Festival
This is a Hindu religious festival, which is celebrated with lights and crackers. They decorate their home and compound it with oil-lit clay lamps. This is a week-long festival in Singapore. Here, the Hindus paint their house, buy new clothes, and prepare sweets and savories at home. They burn crackers during the night and lit up the night sky with colors. They distribute the sweets and gifts to their neighbors after prayer.
When: 14th November 2020
What to Experience: Fireworks
10. Mid-Autumn Festival in Singapore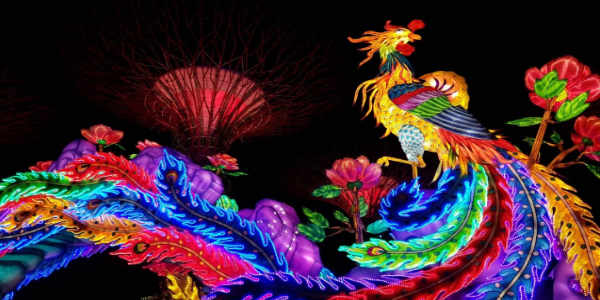 This is a spectacular lantern festival in Singapore. There is a myth behind this fiesta. As per the legends, the Chang Er is the woman who made the moon her abode after drinking an elixir. The Singaporeans celebrate this with colorful lanterns. It will be eye-soothing to see those lanterns during the night.
When: 1st October 2020
What to Experience: Cultural activities like folk dance and music
All-inclusive Singapore Malaysia Thailand tour packages are the best to book in the festival seasons in 2020.