Quarantined? Watch These Top Travel Movies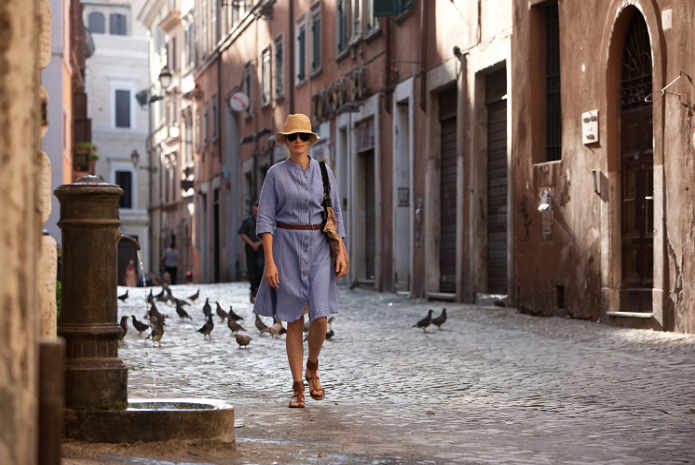 As there is a quote "To Travel, Is to Live". Travelling is the only way to enhance your mind and soul. You meet different people throughout your journey, experience their culture and come back with wonderful memories. Looking at the current scenario we understand you cannot travel and full fill desires but you can do it virtually. Films act as a gateway to travel virtually. It makes you feel you are just one of it in the movie and it takes you back in time.
Here we have selected few movies which would make you definitely want to travel right after things get back to normal.
1. Eat, Pray, Love (English)
Eat, pray, love is a romantic drama starring Julia Robets and Elizabeth Gilbert. Elizabeth, despite of having everything in her life that a woman would want is a husband, a good house but still remains confused searching for a true self. She is not satisfied with her current life wants to explore the world to find her true self. She steps out of her comfort zone and decides to travel the world on discovering herself by Eating in Italy, praying in India and Falling in love and finding her inner peace in Indonesia. The movie is based on how she finds inner peace during her travel.
2. Into the Wild (English)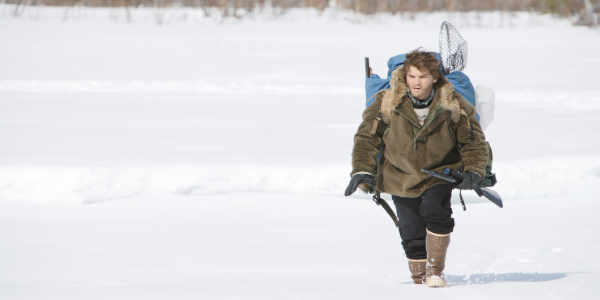 The movie is based on a true story of Christopher who finishes his graduation from the top college but leaves all his money behind for charity. He decides to go on hitchhikes to Alaska wildness with his gum boots and The Magic Bus. On his journey of travel, he comes across many such experiences which changes his aspect towards life. He plans his journey in the bus and comes across various experiences which makes him prepare for a new life.
3. Up in the Air (English)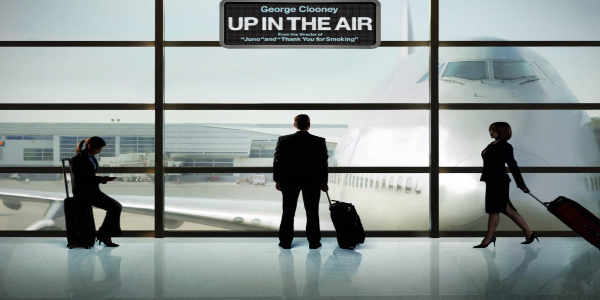 Ryan a frequent traveller who travels from one place to another all the time is an obsessive frequent flyer for his work. Most of his time is spent in travelling across the country. With his constant travelling Ryan is on a goal to reach one million miles. Things change in his life when a girl arrives in his life with whom he falls in love. He gets in a gist in maintaining his relationship and work life. All this makes him realise is the miles are really worth compared to his relationship?
4. Midnight in Paris (English)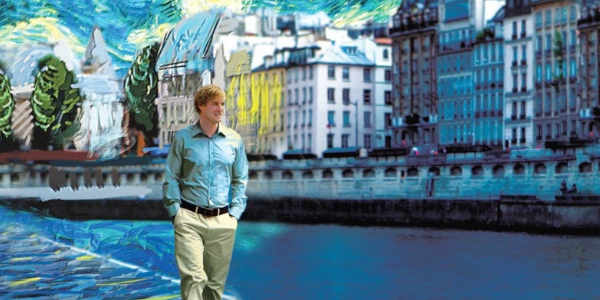 Midnight in Paris is based on story of a screenwriter who visits Paris with his fiancé and her family. He takes a tour on Paris on this own and on one such might night he goes back to 1920's. Gil experiences strangers but still familiar faces who take him back in time with some Jazz music, art and literature. The more he experiences such mid nights which are unrealistic he becomes more dissatisfied with his current life. The movie gives you a feel of nostalgic memories.
5. Zindagi Na Milegi Dobara (Hindi)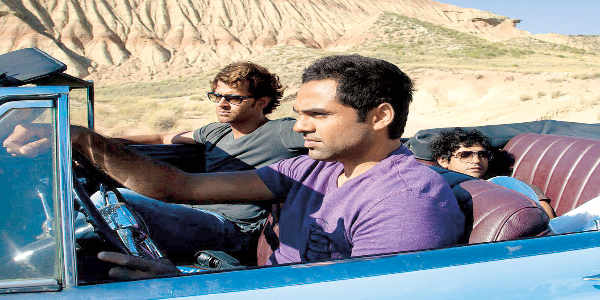 ZNMD is an all-time favourite film of all us Indians. The movie features about 3 friends who decide to go on an adventure trip to beautiful Spain and they experience some fun and adventure activities like road trips, Tomatina festival, Bull fights festival, Sky diving, under water diving and many more. This movie definitely would want you to travel Spain at least once in your lifetime.
6. Yeh Jawaani Hai Deewani (Hindi)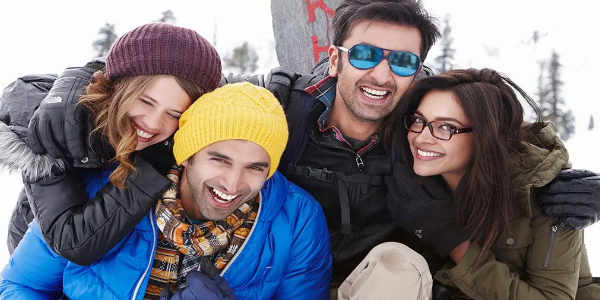 Surrounded by thick forests and shining in their white magnificence, Gulmarg's snow-clad mountains are simply amazing. A guy with a gypsee soul doesn't want to live an ordinary life and wants to explore the whole world, goes on hunting his career as a travel photographer and travels the world. Despite the fact that Gulmarg was made look like Manali in the film, the film inspired back-packers to leave everything aside and go on a trek with companions.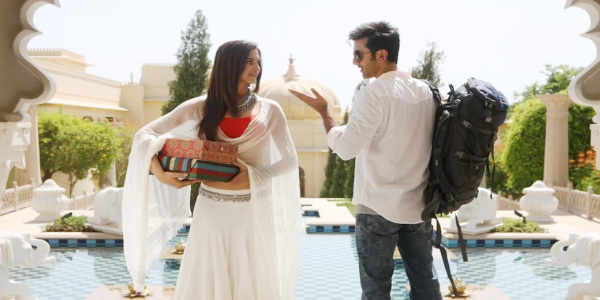 The film's second half catches the lovely royal residences and landmarks of Rajasthan. The theme wedding in Udaipur showed that Rajasthan is so much more than just deserts. The movie not only highlights foreign locations but also shows the true beauty of India.
7. Once Upon a Time…in Hollywood (English)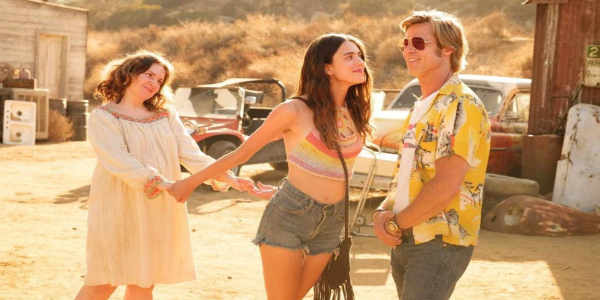 This is a mega movie featuring all Hollywood super stars like Leonardo Decaprio and Brad pitt, the movie is filmed in Los Angeles. The film features on the struggling actor who comes to LA for making up his dyeing career. It's a old fashioned Hollywood style movie. The movie is based on the journey on how the actor makes his journey to enter Hollywood.
8. Under the Tuscan sun (English)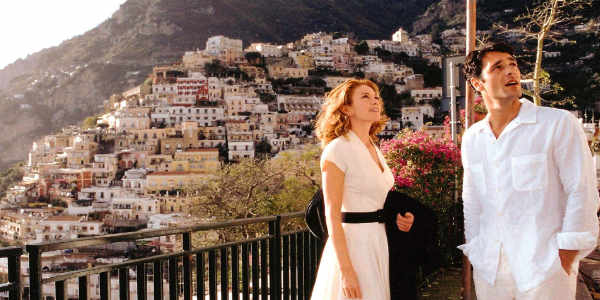 A San Francisco based lady after her marriage breaks and gets divorced and in order to get out depression her friends suggest her to take a break and go on a vacation to Italy.  She decides to buy a rural Tuscan villa in Tuscany and starts living there. During her stay she comes across various people in her life who change her life and falls in love with the place. She also finds her love there. This movie is indeed romantic and makes you want to take up all the challenge and move out of the box to explore life.
9. Dil Chahta Hai (Hindi)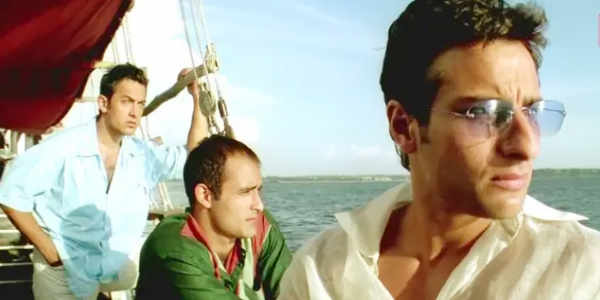 This movie will give you major travel goals especially for Goa and beach lovers. The movie is related to three friends who travel to Goa to have fun filled holiday and memories. From partying, visiting forts, to chilling in the beaches they indeed have a fun filled vacation. After this movie goa became a famous holiday destination for all the youngsters.
10. The Motorcycle Diaries (English)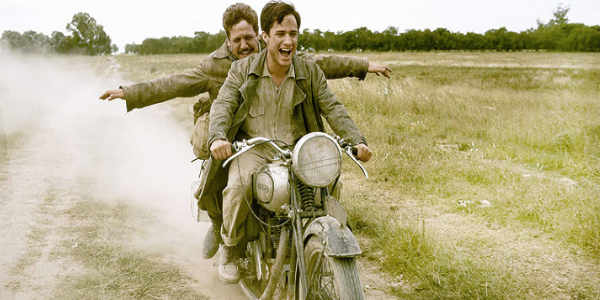 A young student during a break of his medical school is keen to travel and decides to go on a journey to South America with his friend from Brazil to Peru on a Motorcycle. During his journey, he sees the South America how the workers are exploited by the wealthy people. When they reach Peru he decides how much his life has changes and decides to do his part of share to her the labors.
So stay indoors and spend time watching these exciting travel movies and then start planning your next holiday package. Watching these movies is definitely going to be a good therapy.