A Gastronomic Journey: Top 10 Dining Experiences in Kerala
Kerala is beautiful not just because of its coastal strip, the scenic views, hills like Munnar and the enchanting backwaters but it is beautiful in the way it has its grip over its fascinating culture, the way it gracefully wears the past and the present and welcomes the future. The ever green and serene Kerala offers so much to those who live there and those who visit. If you've booked a Kerala tour package then expect the back waters, the house boats, the serenity in the air when visiting spice- and tea-covered hills of the Western Ghats, the world renowned Ayurvedic treatments and delicacies with proportionally added spices and herbs which you would have never heard of, leaving a tingling, tangy and spicy taste long after you've finished your meal. Kerala offers so much that it can overwhelm someone during their first visit. If this is your first Kerala tour then be prepared to enter a world of culture, delicacies, rituals and beauty which is still simple and uncomplicated in its ultimate nature.
Amongst other things such as a fiercely protected wildlife, classical music, folk dances, temples and snake-boat races Kerala offers a variety of food options. The cuisine here is extremely varied, healthy and goes back to its originality as much as possible. Few important ingredients that you will notice in a proper South Indian spicy meal would be coconut oil, mustard seeds, spices, curry leaves, tamarind and asafetida. If you are trying authentic south Indian food for the first time you must know that rice is given a very special place in the kitchen and on the plate. Almost no meal is complete without rice. Vegetarian or not, Kerala will not disappoint you with its food options.
Food beyond taste: Experiences count
Some most popular dishes of Kerala are Appam, rasam, and payasum . Every person has a different experience when it comes to eating in Kerala because the culture, the food habits and the food itself takes you into a whole new world and there is so much to explore and understand when eating in South Of India that this goes beyond just food taste. Right from how your plate is set to the way you eat a specific dish everything is different and some may call it exotic as well. Food in Kerala can be overwhelming for some, crazy good for some and some may just stick to the regulars but in no way will you find it boring. If you have booked a Kerala holiday package and looking for good restaurants to try there then here is a list of top restaurants with best food and service in Kerala
Top Restaurants with the best food and service in Kerala.
1. Kashi Art Café, Kochi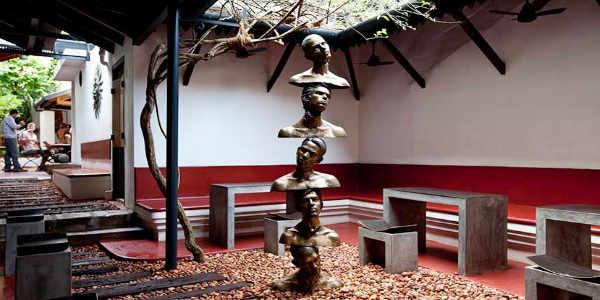 Housed in one of Fort Kochi's heritage buildings Kashi Art Café is trending on social media for its lovely interiors and perfect artsy views. It attracts the locals and tourists just the same and is one of the loveliest cafes in the city. Indian and overseas tourists are most commonly found extending their breakfast here as it keeps one wanting for more. If you've seen the café you'll know why to visit it again and if not then you'll have to visit it to know why people visit it again and again, under any circumstances, Kashi Art Café is a must visit.
2. Rice Boat, Taj Malabar Resort and Spa, Kochi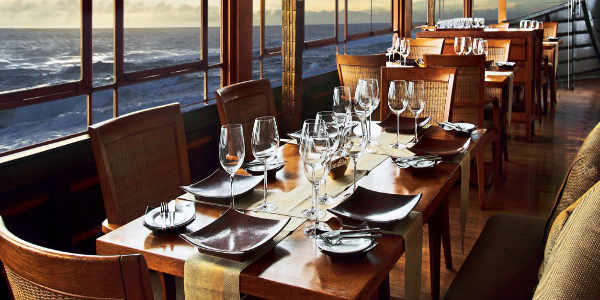 If you want the merger of your world and the South Indian world then consider this, eating authentic South Indian cuisine in fine dining. Rice Boat, Taj Malabar Resort and Spa in Kochi serves the delicious South Indian cuisine in a luxury huge boat which boasts about the fresh catches in the menu every day. The restaurant offers a unique experience of eating what you catch from the sea, meaning the guests staying at the hotel can fish and the hooked fish will be made for them in whichever way they'd like it to be.
3. Villa Maya, Trivandrum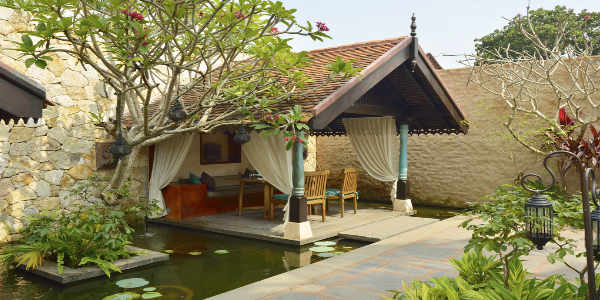 It isn't for nothing that Villa Maya has earned the reputation of one of the best cafes in Asia for its ambience and theme. The ambience here is to die for; it is as good as dining in an 18th Century Dutch mansion with perfect service and delicious food. Villa Maya is an experience in its own self which no tourist should miss out on. With a lovely courtyard garden and private curtained alcoves, this place is will take you back in time of grace, sophistication and royalties. Don't miss out on the Pineapple Shikanji here.
4. Dhe Puttu, Kochi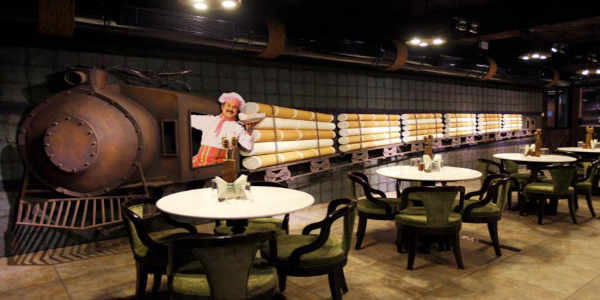 A themed restaurant is common, a colored café is common but what is uncommon is dedicating an entire restaurant to one single dish. That's right, Dhe Puttu in Kochi is dedicated to Kerala's quintessential breakfast dish – Puttu. Thanks to the Malayalam superstar – Dileep, Dhe Puttu elevates a simple dish as Puttu to a luxury gourmet experience. Needless to say you'll be able to enjoy Puttu in every form that you can think of and every combination that you can't even think of in your wildest dreams. Chocolate Puttu is said to be amongst the restaurant's most delicious dish.
5. Indian Coffee House, Trivandrum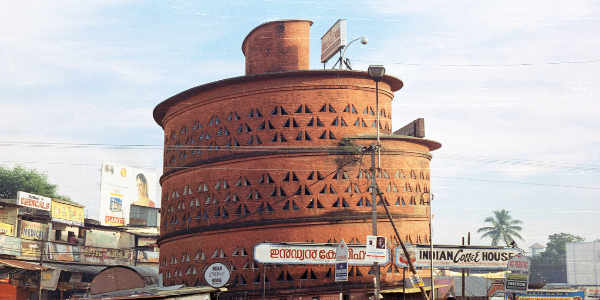 If you've booked your Kerala tour package from Mumbai then you'll understand what a crime is it for a foodie to go to Mumbai and not have Bombay vada pav, in the same way to go to Trivandrum and not enjoy the typical local lifestyle with a filter coffee and dosa by the side from Indian Coffee House is another crime no food enthusiast should commit. Located in a red brick building, Indian Coffee House in the central station road of Trivandrum is a must visit for a lot of locals, it is what starbucks is to America, so enjoy a cup of filter coffee from oldest and the biggest chain of restaurant in all of Kerala.
6. Thai Soul, Grand Hyatt Kochi Bolgatty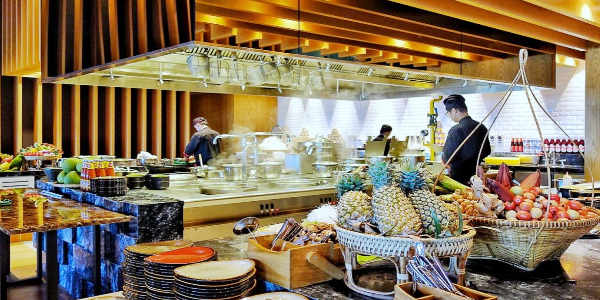 Thai Soul is Kochi's first Thai restaurant which focuses on bringing the street food from five broad culinary regions to luxury dining. Gai Hor Bai Toey is one of Thai Soul's finest made dishes and an absolute must try besides their pomelo salad and curries.
7. Hotel Annapoorna, Perumbavoor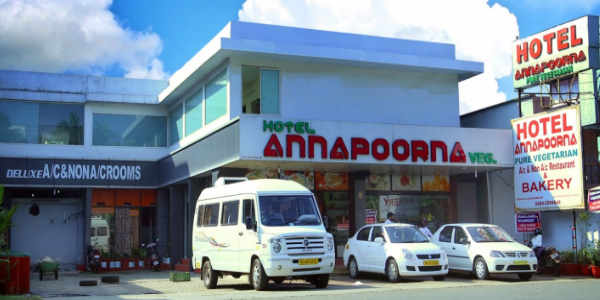 If you are a vegetarian who can't stand the sight of meat but wants to enjoy authentic south Indian food then Hotel Annapoorna is a good option to consider. Named after the goddess of food, Hotel Annaporna serves pure vegetarian authentic Mallu breakfast and other traditional food.
8. Hotel Sapphire, Thrissur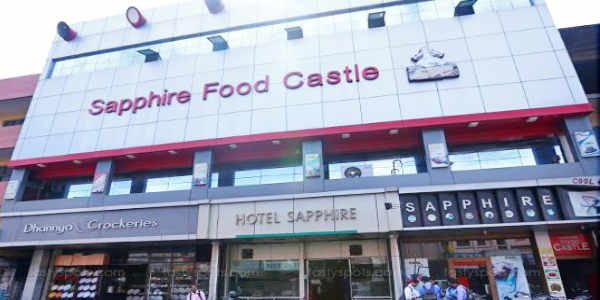 If you are visiting Thrissur and love Biryanis then don't think twice before going to this 36 year old restaurant which specializes in Briyanis and has been able of maintain their original taste and quality of food since 1972.
9. Saravana Bhawan, Kochi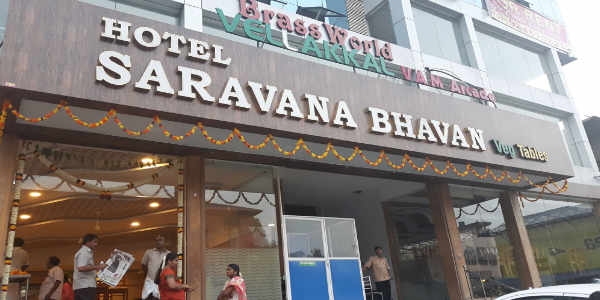 A heaven for vegetarians Saravana Bhawan has more than 100 branches in India alone. This premium top notch restaurant is known for its authentic food and good service. It is hard to miss out on this one, given the number of branches it has all around.
10. Paragon Hotel, Calicut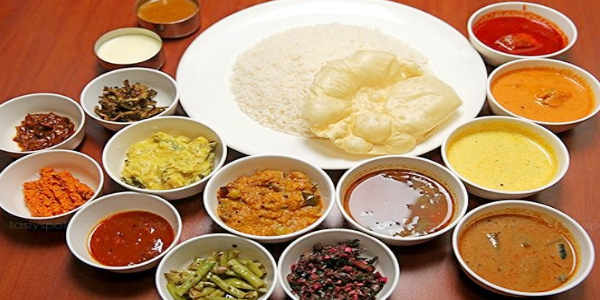 To eat the best Malabar food in town, you may have to stand in the queue but it will be worth every minute of your time, Paragon Hotel in Calicut serves perfect biryani in the perfect ambience. Don't be surprised if you see a queue on a weekday here, the food here deserves more attention than anywhere else around. The restaurant has branches in Dubai and Sharjah as well and you've got to try it once before you ask why.
Booking your Kerala Tour package is all the more fun when you know exactly the kind of food you are going to enjoy on your trip. The more information about delicacies means more space in the stomach for them.