20 Gujarati Lip Smacking Dishes To Try When In Gujarat!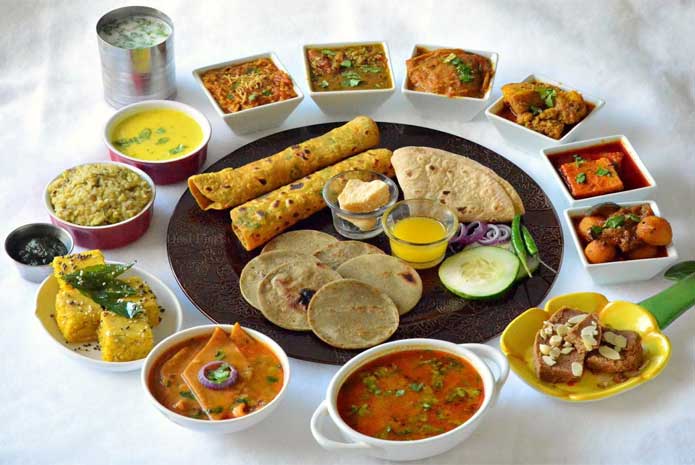 From the beginning, travel has always been associated with food, shelter, and in search of a better place to stay. Time passed and the concept of Travel changed. Now people travel to different places for leisure, adventure, and other purposes. We have to be true to ourselves that whenever anyone plans a trip, one thing they surely check is the local food of that place. Traveling gives us the experience to feel the essence of any place whereas food allows tasting the culture of that place. So let's go to the vibrant land of Gujarat and we take you through the dishes that one needs to try on their Gujarat tour package for a memorable experience!
Gujarat and her people are known to be a foodie and their love for food can be seen from the variety of ingredients they use in the food. Gujarati food or cuisine can be divided into many sub-categories such as North Gujarat, Surti, Kathiyawadi (Saurashtra), Farshan, and Gujarati Sweets. The dominance of vegetarianism can be seen from the street to fine dine restaurants as the state's majority population is Veg! No wonder that the famous Pizza chain Dominoes had to rethink their strategy and change the menu to the 'Only Veg' in the state of Gujarat.  On your next trip, do try the colorful Gujarati dishes & relish the culinary delights from the land of Gandhi!
1. Kathiyawadi Food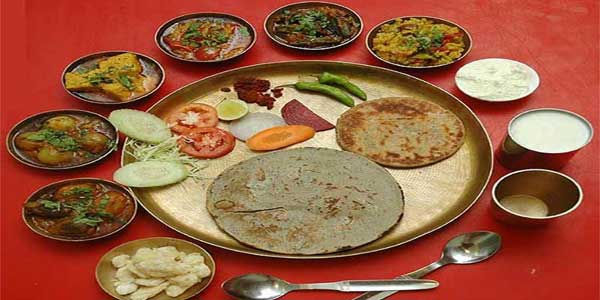 Image source: https://vegkhanakhazana.in/wpcontent/uploads/2016/07/KathiyawadiThali.jpg
One of the most sought after cuisines in Gujarat is from Kathiyawad or Saurashtra; some of the major cities that form Saurashtra are Rajkot, Jamnagar, Bhavnagar, Porbandar, and Junagadh. Rajasthani influence can be found in Kathiyawadi food, due to its proximity to Rajasthan. Kathiyawadi food is more spicy than the rest of Gujarati Food. Some of the famous are Sev Tomato sabzi, Ringana no oroh (Eggplant) where eggplant is roasted, then peeled and mixed with a lot of spices. Kathiyawadi offers varieties of Bread – Bajara no Rotlo, Bhakri, Thepla, Phulka Roti. Shaak or Sabji (Vegetables Curry) are a lot spicier and lip-smacking – Ghuto, Chole, Gathiya nu Saak, Shuki bhazi. No meal is complete without Farsan in Kathiyawadi – Bhajiya, Kachori, Ghughra. The rice can be mixed with curd or dal and comes in different options – Khichdi, Vagharela Bhat (Fried Rice), Rasavala Bhat. Get all the above food in Kathiyawadi Thali!
2. Surti Food
Image source: https://www.cityshor.com/uploads/article/06_2017/1498145788_unnamed_7_.jpg
Surtis (People from Surat) are known for their appetite from fine-dine to street food! Undhiyu is the most popular food in Surat! Undhiyu is a seasonal dish that people eat during the wintertime and is a star food during Uttarayan (Kite Flying Festival). Idra (Variant of White Dhokla) is the morning breakfast of Surtis, it is made from rice batter then it's steamed. It is eaten with red or green chili chutney. Another morning breakfast delicacy is Locho, Surtis love their locho! It's made from gram flour. It's steamed and then served with ginger, garlic, chili chutneys.
Surtis are known for their sweet tooth, ready to get bombarded with the sugar rush of Ghaari. Made from gram flour with mawa, dry fruits, and lots of sugar, it is deep-fried in ghee. After it's cooled, they are again dipped into ghee to form a thick layer around it.
3. Amdavadi Cuisine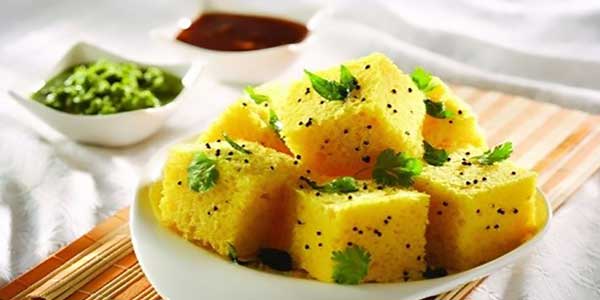 Image source:https://pulses.org/images/com_yoorecipe/cropped-khaman.jpg
Welcome to Aapnu Amdavad! Gujarat's biggest and UNESCO Heritage City is host to a lot of food cuisines, among them is the Street Food culture which is quite a hit and popular among Amdavadis. They love their food to be extremely sweet or spicy. If you happened to be in the city then do visit the local favorite food joints along with other famous Gujarati Food!
1. Lucky Ni Chai: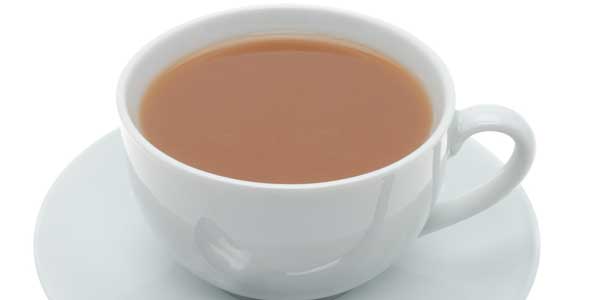 Image Source:
https://cdn-a.william-reed.com/var/wrbm_gb_food_pharma/storage/images/publications/food-beverage-nutrition/beveragedaily.com/article/2020/01/31/what-next-for-lipton-and-pg-tips-unilever-s-strategic-tea-review/10657232-5-eng-GB/What-next-for-Lipton-and-PG-Tips-Unilever-s-strategic-tea-review.jpg
Visit the famous Gujarati restaurant – the famous chai place and sip your tea next to a grave! Legendary painter MF Hussain used to drink tea here and there is also a painting gifted from the artist himself.
2.Irani Café – Travel back in time and relish the authentic white maska and bun in this antique café. Right from the interior to the dish is kept original and the recipes are handed down from the family generation.
3.Agashiye House of MG: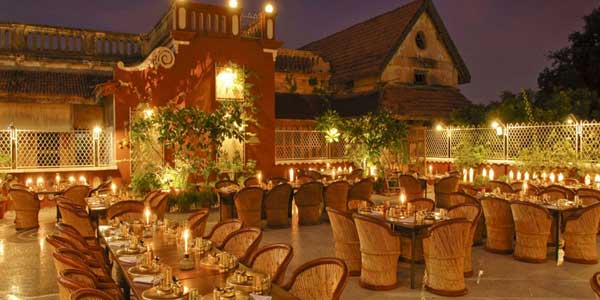 Image Source: https://www.indiaunbound.com.au/wp-content/uploads/2015/11/Agashiye-Open-Terrace-1-1015×450.jpg
Agashiye means on the terrace in Gujarati. The restaurant is placed in a Baroque styled 1924 home. And is the only boutique category hotel in Ahmedabad. They are well-known across India for serving one of the best Gujarati Thali. They will take you on a journey about how the Gujarati family eats at home. The food is served on the Bronze plate which has medicinal benefits.
4.Khaman & Dhokla:
Gujaratis are known for their love for Khaman & Dhokla and is considered one of the traditional foods of Gujarat! Khaman is made from gram flour similar to locho but is perfectly steamed to be made into cake shape. Whereas Dhokla is made from rice or gram flour and is usually slimmer in size than Khaman. Both are served hot and with red, green chutney.
5.Thepla: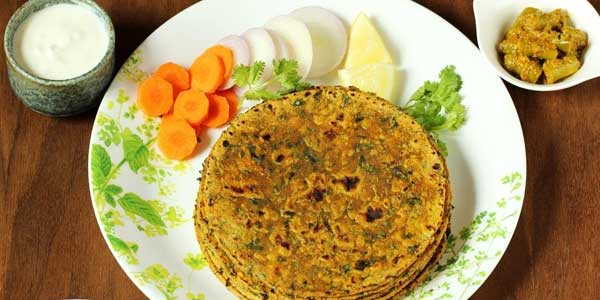 Image Source: https://i.ytimg.com/vi/SdCegmuafuo/maxresdefault.jpg
Gujarati & Thepla are inseparable! You heard it right; both are made for Ek Duje K Liye! Anytime Gujaratis travel, they make sure to pack Thepla! Thepla stays fresh for days and is a good source of energy! The paratha shaped Thepla is made from Fenugreek leaves, spices, and Wheat which is then mixed well to make the dough. Thepla can be eaten with ghee, butter, chutney, pickle, sev tomato sabji, tea, coffee, or just about anything the heart says to mix it with!
6.Handvo – An all-time star for Gujarati Food! A true Gujju will have Handvo any given time of the day! It is closely associated with the Dhokla family. It is a single thick layered made in a pan or Handvo cooker. There are about anything and everything you can add in making Handvo along with cumin seeds, mustard, curry leaves, peas, ginger, garlic, green chili, coriander in gram flour. Have it with tomato sauce or chutney!
7.Undhiyu: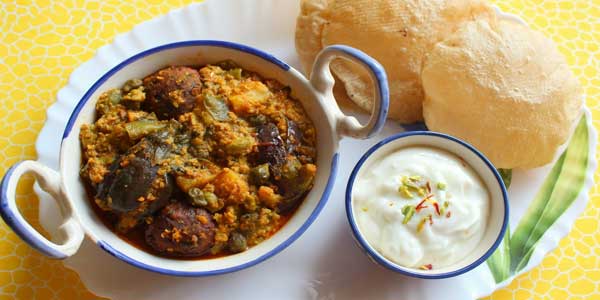 Image Source:
https://1.bp.blogspot.com/-hvFHQzLucYY/XDoeKLS4IXI/AAAAAAAAcgc/OIPKu0GtCvc-wBqiBmz4CuCZ89SMut-qwCLcBGAs/s1600/IMG_4647.JPG
As mentioned earlier Undhiyu is from Surat. You can try this dish anywhere in Gujarat during wintertime or to be specific during the Kite Flying Festival!
8.Ringan No Oroh – From the house of Kathiyawadi, this delicacy is best taken with Rotlo (Made from Maize or Millet). Best time to have it is during the winter.
9.Khichdi: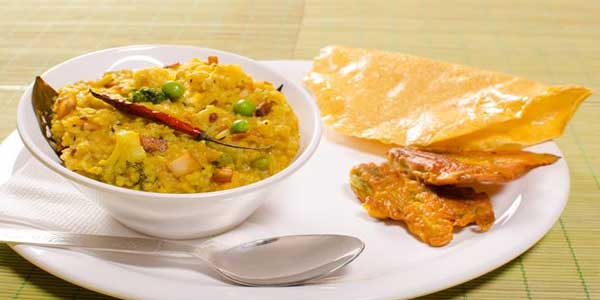 Image Source: https://images.indianexpress.com/2017/11/khichdi.jpg
Healthy food can be expensive, said someone who never had Khichdi! It is one of the healthiest and light food out there! Gujarati Food is incomplete without mention of Khichdi, Gujjus cook this at least 3 times a week and all you need is cereals, rice, and vegetables. Unlike any other cuisine, Gujarati Food gives a great deal of flexibility! You have Khichdi with Curd, milk, pickle, Dal, fried, or just Khichdi alone. Either way, it is going to touch your soul!
10.Sev Usal – It's Spicy, It's Tangy, It's Peppery. Yes, it's Sev Usal! One of the most sought after street foods. The curry is made with peas, garlic, and lots of chilli served with Pav and Onion, Gathiya on the side! Have this spicy treat on your next stop to Gujarat!
11.Khandvi: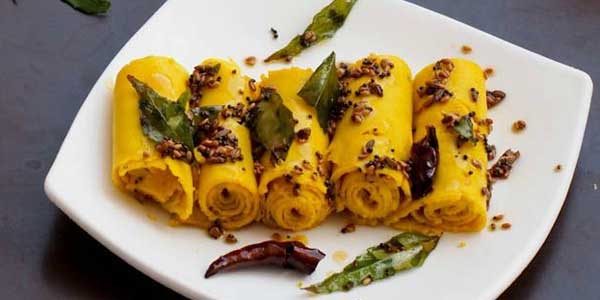 Image Source: https://rosesunshine1314.files.wordpress.com/2018/06/ret.png?w=760
Coming to a notch down on the spice level and light on the stomach as well, and we have Khandvi! As with most of the snacks of Gujarati Food, it is made from gram flour as well along with curd. This beautifully rolled Khandvi's can be relished as it is or most used green chutney!
12. Khakhra:
Gujjus morning partner in crime with Tea or Coffee is none other than Gujarati snacks – Khakhra! Thin crust like round shaped Khakhra can be made from pretty much anything! When a Gujarati likes something they experiment and bring different flavors on the table. Initially, Khakhra was available in Masala, Meethi (Fenugreek), and Jeera; however now new flavors such as Pani Puri, Lemon & Spicy, Lemon, Ginger, Chocolate, Pizza and many more. So do stop by one of the Farsan stores in Gujarat and buy yourself some delicious Khakhra!
13. Fafda & Jalebi: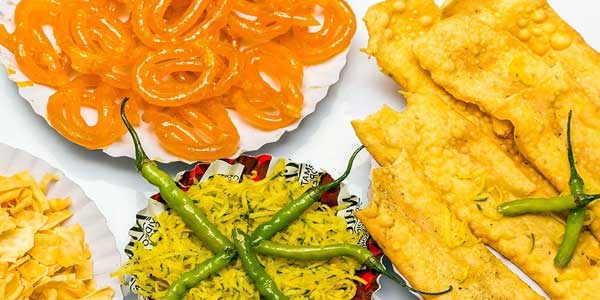 Image Source: https://foodmantic.com/images/home-img/bg-img/slide-7.jpg
Long, Crunchy, and found in the early mornings with Tea at pretty much every city in Gujarati! Yes, we are talking about Fafda & Jalebi. Fafda is again made from gram flour and long in shape. They are served hot with fried chilli and onions. Jalebi is made from Maida flour and is circular. Usually, people eat Fafda & Jalebi in the morning with Tea/Coffee. On the day of Dussehra, people line up to buy both in bulk and the morning meal is Fafda & Jalebi.
14. Gujarati Kadhi: 
India has amazing varieties of Dal! Gujarat has her own Gujarati Kadi, it is made from again Gram Flour (Apparently Gujjus are in love with Gram Flour)
15. Mohan Thal: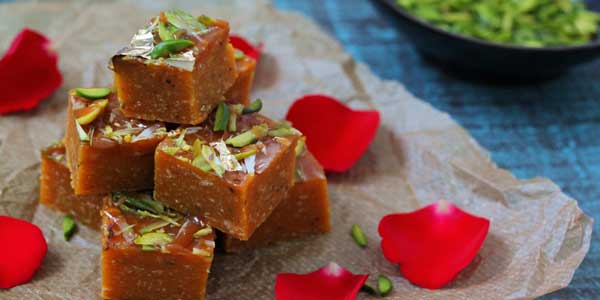 Image Source:
https://www.sanjanafeasts.co.uk/blog/wp-content/uploads/2018/08/Salted-Caramel-Mohanthal-1568×1045.jpg
Legends has it that Mohan Thal is the favorite dessert of Lord Krishna! And when God likes something it's always good! It is mostly bought during Janmashtami, however nowadays for any celebration people opt for Mohan Thal!
16. Fada Lapsi – Sticky and sweet are the words that come to mind when we think of Fada Lapsi. It is made from Ghee, Fada (Ground Wheat), and Sugar. Any special occasion or festival this treat is a must!
17. Dal Wada: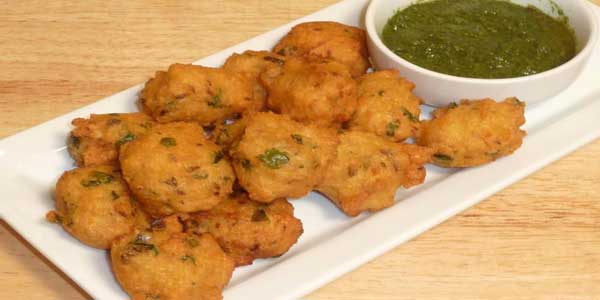 Image Source: https://www.manjulaskitchen.com/wp-content/uploads/moong_dal_vada.jpg
Made from Moong Dal, it is a must-have feast during the rainy season with green chilly and onions. Every Gujarati whether at home or office wants to order Dal Wada when it rains!
18. Sev – Khamani – Again the love for Chana Dal is evident! Sev-Khamani is made from chana dal, sev, green chili, garlic, ginger, and spices. Coming from Surat, this dish is light for the stomach and good for health!
19. Patra: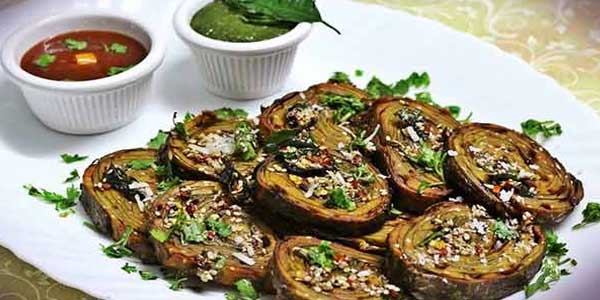 Image Source: https://img.maalaimalar.com/InlineImage/201902141502439242_1_patra._L_styvpf.jpg
Colocasia leaves are mixed with gram flour along with other spices and rolled before they are steamed. People have it two ways, boiled and fried. Either way, both taste good with some chutney!
20.Gathiya – Sunday ho ya Monday roj khaye Gathiya, is the vibe in Gujarat! Mornings at home or on the street usually start with Gathiya and Chai. And if you happened to be in Rajkot then do try the Meethi Chutney and fried chilies that will shake you to the core!
Heavy or light, pocket-friendly, or fine dining – famous food of Gujarat has everything that you can look forward to. The diversity of the region speaks louder in the food than anything else. There is a story behind every food that comes out and Gujarati cuisine happens to offer a lot! So don't miss out to try from the above list of food on your next trip to Gujarat!