Top 10 scuba diving sites in India!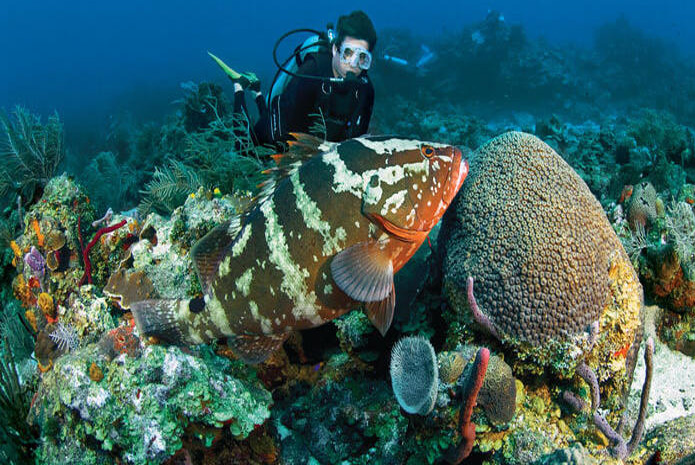 When we watched the film 'Zindagi Na Milegi Dobara' for the first time, one of the sport from the movie which we really wanted to indulge in was scuba diving. Hrithik very convincingly made us all believe that just one dive into the sea can be life changing. Well it is correct to quite an extent. In this fast-paced world, we are all looking for an opportunity to take a break from this rush and find peace. And there is nothing more peaceful than floating meters below the surface of the sea. Though our dearest Bollywood usually showcases this activity in various fancy countries of the world, we often miss out on the fact that numerous places in India are certified scuba diving sites. Which is why we have put together a list of the same with all the necessary details.
1. Havelock Islands: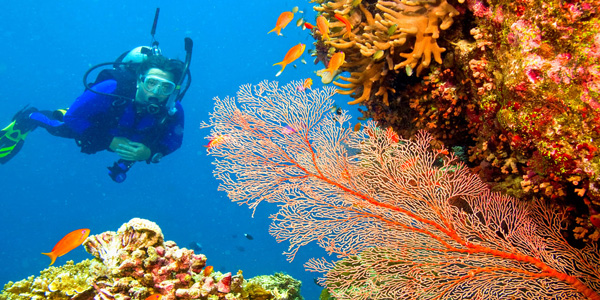 Image Source: images.thrillophilia.com
Due to its geographical location being a little off from the rest of our country, Andaman doesn't usually get the credit it deserves. This island is a natural beauty in the most literal manner with deep blue waters all around and lush greenery crawling on the land. The most popular islands over here is the Havelock islands.  You can get over here with a help of a ferry ride from Port Blair, the duration of which is around two and a half hours. This island is ideal as you will be able to find a dozen scuba dive sites over here.
Best time to visit: It is advisable to visit this island between the months of October and April as during the rest of the year, the currents can be really high.
Price per person: Packages range from Rs. 4500 to Rs. 6000 but do carry a medical certificate to prove you're healthy.
2. Netrani Island: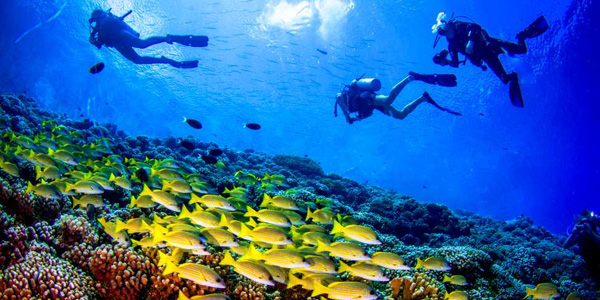 Image Source: shutterstock.com
Fondly referred to as Pigeon Island, this island comes under the territory of the Bhatkal Taluk in the state of Karnataka. This island is situated around ten nautical miles away from the Mudreshwar town in this district.  As this island is in the shape of a heart, it is metaphorically known as the 'heart of diving' in India. Netrani is majorly a coral island which offers a coral reef consisting of various kinds of shrimps, butterfly fish, eels, parrot fish, and of course, coral. As this island is steep, you can't live here but go diving with the help of a boat.
Best time to visit: Apart from the months of December and January, the current is high here during the rest of the year hence only these two months are favorable.
Price per person: Ranges from Rs. 5500 to Rs. 6000 per person.
3. Neil Islands: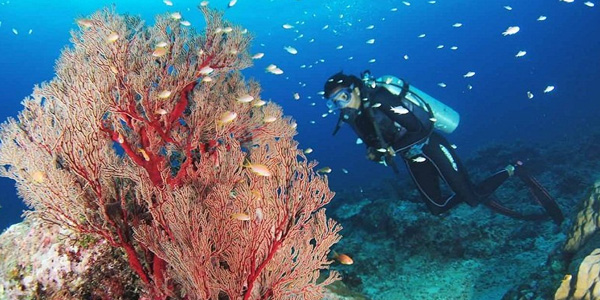 Image Source: www.trawell.in
Another place which is a part of the marvelous Andaman & Nicobar Islands, the Neil Islands are just as beautiful as the Havelock islands but is not as commercial as them. Hence the natural beauty of the place stays intact as the coral reef found here can be considered untouched to quite an extent. As less number of people visit this island, the creatures of the sea wander closer to the shore than the other islands.
Best time to visit: The ideal time to visit this island is between December to May as the rest of the months experience rough weather.
Price per person: On an average, it can cost you Rs. 3500 to Rs. 6000 per person.
4. Port Blair: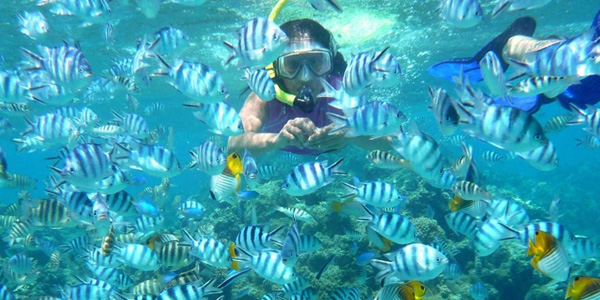 Image Source: gvaquaworld.s3.us-west-2.amazonaws.com
If you are planning to visit the Andaman & Nicobar Islands, then a stop at Port Blair is inevitable as it is the capital city of this union territory.  As you are going to visit this place, might as well make the most of the scuba diving opportunities offered here as well. Port Blair is the host of the Mahatma Gandhi Marine National Park that is solely dedicated to reserving the flora and fauna of the sea. Hence on your scuba dive here, you will not only find sea creatures but also witness beautiful flowers here. The corals spotted here are of more than 50 types.
Best time to visit: December to April is the right time to visit as the weather is usually calm then.
Price per person: The cost will come to around Rs. 3500 to Rs. 6000 per person.
5. Corruption Rock: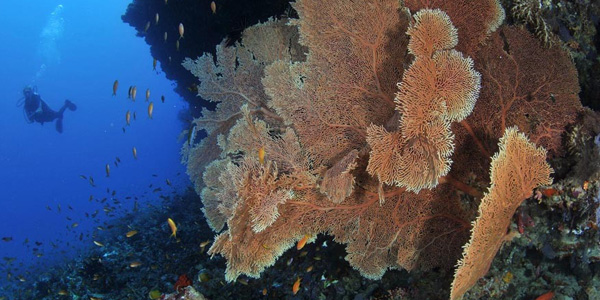 Image Source: cdn.tribloo.com
Apart from being a good dive spot, the Corruption Rock is also known for its exquisite natural beauty. Situated in between Chidiyatappu and the Rutland Island, this is mainly a rock which is approximately 30 meters in height. A part of this rock sticks above the surface of the water which has made it a landmark in the sea. The location of this rock is such that the current channel here is quite strong which results in a vast variety of flora and fauna found here. This region is particularly famous for rare creatures like eagle rays, Napoleon, unicorn fishes, etc.
Best time to visit: There is less rush here in the duration of December to March.
Price per person: Ranges from Rs. 3500 to Rs. 6000.
6. Grand Island: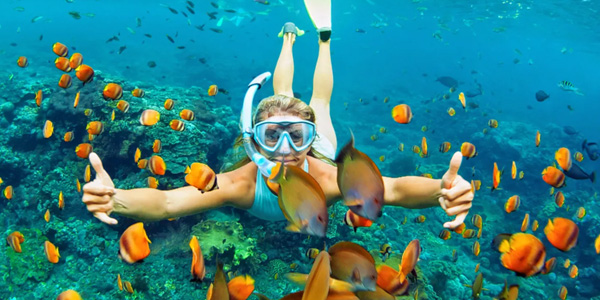 Image Source: images.thrillophilia.com
The Grand Island comes under the jurisdiction of the state of Goa. When we talk about Goa, there are flashes of beach parties, vibrant shacks, and the Sunburn festival pop into our heads. But thanks to the geographical location of this state, it also offers locations meant for scuba diving. Grand Island in particular is extremely famous among adventure enthusiasts from across the globe. This island has something to offer to beginners who are trying their hand for the first time and even for the diving junkies who need strong current to add to their thrill. Somewhere in the 1930s, a British ship had sunk somewhere here which can still be spotted at the bed of the sea.
Best time to visit: If you want to visit in the right weather, go between the months of November and March.
Price per person: Rs. 4000 for one individual.
7. Kovalam: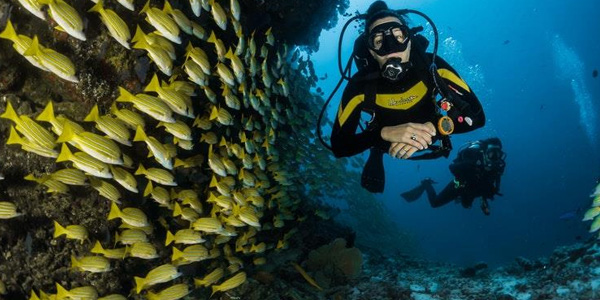 Image Source: www.indiastudychannel.com
At approximately a distance of around 16 kilometers from the city of Thiruvananthapuram which comes under the state of Kerala, Kovalam is much more than a tourist spot. If you wish to have the most unique experience of scuba diving in India, then don't think twice before heading here. You won't be given the usual diving gear here, but are given a 'bond submarine' which in simpler words means an underwater scooter. Thus you can be assured that your experience here will be nothing ordinary.
Best time to visit: The time from December to January has weather conditions favorable for a dive.
Price per person: The costs here can go up to Rs. 20,000 per person.
8. Bangaram: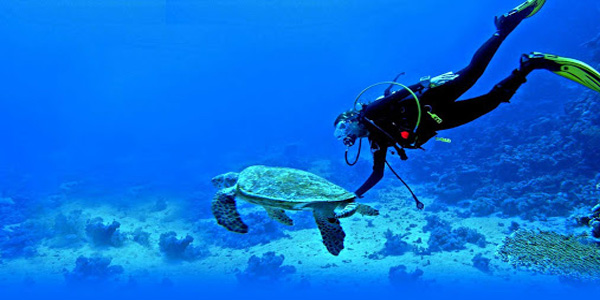 Image Source: lh3.googleusercontent.com
A part of the Lakshadweep Islands, this place is apparently the pride of India in terms of coral beauty. Not only is the destination above the water's surface serene and beautiful, but the underwater scenario is such that you will be stunned to see the continuous stretch of coral reef. The beauty of this diving site is considered to be at par with that of tropical countries such as Mauritius and Maldives.
Best time to visit: It is advisable to visit Bangaram somewhere between October and March as the seas are comparatively calm then.
Price per person: The price varies from Rs. 4000 to Rs. 7000 per person.
9. Kadmat Islands: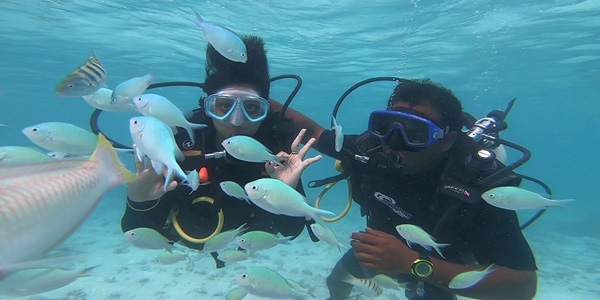 Image Source: i.ytimg.com
Synonymously referred to as the Cardamom Islands, this one also belong to Lakshadweep. This island is particularly known as the home of some of the most exotic species of the marine creatures. You can also find a great variety of live coral species here. If luck is in your favor, you might find yourself swimming next to marine turtles as well. The white sands submerging with turquoise waters seems like a scenic painting which has come to life right in front of your eyes.
Best time to visit: The sea is quite calm during the span from November to March.
Price per person: It might approximately cost you Rs. 6000 per person.
10. The Aravind Wall: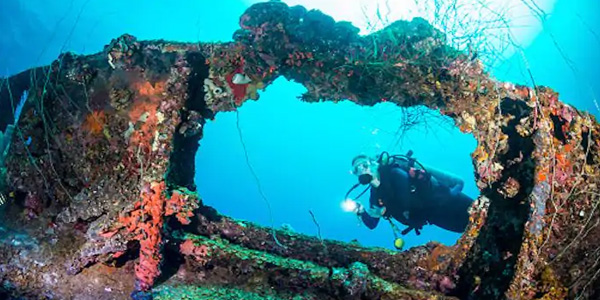 Image Source: s3.india.com
This is believed to be one of the most popular scuba diving sites in all of India. The Aravind Wall situated in the union territory of Pondicherry is one of those places where you will be able to spot numerous unique sea creatures during your scuba dive. Located around 15 kilometers offshore, you can experience a variety of sea snakes, butterfly fish, and lion fish right here. If you're fortunate enough, you might also be able to spot the Honeycomb Moray Eel in the Aravind Wall itself.
Best time to visit: Taking into consideration the appropriate temperature for diving and relatively calm seas, plan a visit between the months of December and March.
Price per person: Ranges from Rs. 3500 to Rs. 6000 for one individual.
Did you ever know that India has so many destinations offering an exciting adventure activity like Scuba Diving? Plan your domestic tour package with Flamingo soon and don't miss out on the fun adventure activties.