Most Stunning And Archaeologically Rich Stepwells Of Gujarat!
Gujarat has always faced hardship of water shortage due to its climatic and geographic conditions. The state is known for its culture and history, and the stepwells are one of the perfect example of that. Stepwells were made as a remedy of water shortage. So the rulers and kings through centuries constructed stepwell in Gujarat. However, over the time, the value of stepwells increased due to its intricate carvings and architecture. And did you know? In Gujarati, a stepwell is called a 'Vav' and is a must explore on Gujarat holiday packages to experience best of the state.
The purpose of these stepwells was to supply water in the times of drought. Stepwells thus represent a unique and historical place which is a good combination of architecture, technology, and art of the subcontinent. One of the most intriguing feature of the stepwells is that sunrays cannot invade the well and so the water evaporation is controlled. Another such interesting feature is the water in the stepwell gets filtered and remains fresh due to the natural floor. Gujarat state has got many such stunning step-wells that attract and give a boom to Gujarat Tourism. These stepwells are constructed in such a way that they can resist 7.6 Richter scale earthquakes.
1. Rani Ki Vav, Patan: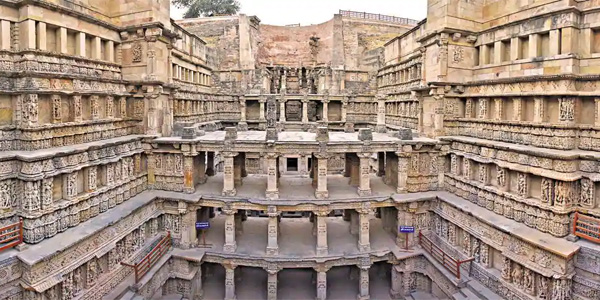 Image Source: www.hindustantimes.com
Rani Ki Vav is also known as Queen's Stepwell is undoubtedly India's most awe-inspiring step well and this is a UNESCO World Heritage Site. If you had to pick just one of the many step wells in Gujarat, it has to be Rani Ki Vav. It was constructed in the 11th-century, in the memory of King Bhimdev by his widow, Queen Udayamati, this stepwell was excavated in the late 1980s, by the Archaeological Survey of India. Years back Patan was the leading city and the capital of the state. It is believed by many that Ahmedabad's 'teen darwaja' and its walls are inspired by Patan's "teen darwaja". It showcases incredible example of architecture of olden times. Interestingly, Rani-Ki-Vaav is multi-storied. The highlight of this place is its ornately carved steps, with various forms of gods and goddesses. These carvings are related to Lord Vishnu and other divine mythical forms such as the Vishkanyas and Apsaras. The last step of the well is not allowed to enter as it is blocked by stones and sand. It actually leads to a small gate which is the entrance to a 30 kilometre long tunnel, used to escape during the war.
Address: Mohan Nagar Society, Mohan Nagar Society, Patan, Gujarat 384265
Timings: 08:30 AM – 07:00 PM (Monday – Sunday)
Entry Ticket: INR. 5.00 (Indians), INR. 100 (Foreigners)
Nearest Railway Station: Mehsana (52 Kms)
Nearest Airport: Ahmedabad (124 Kms)
 2. The Adalaj Stepwell: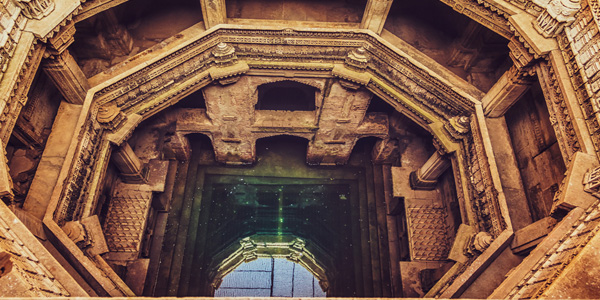 Image Source: www.outlookindia.com
Adalaj Stepwell is located in Adalaj Village near Gandhinagar, the State Capital. It was built in 1499 by the wife of the Vaghela chief Veersinh, Queen Rudabai. The stepwell is five storey's deep and has beautiful carvings of flowers and sculptures of deities. Rana Veer Singh, of the Vaghela dynasty, started constructing the stepwell in 1498 for his beautiful wife Rani Roopba. However, he was killed in war by invading King Muḥammad and the well was left incomplete. King Muḥammad convinced the widowed Rani Roopba to marry him, on the condition that he'd finish the well. After the stepwell was built, she committed suicide by jumping into it. The temperature inside is six degrees cooler than on the outside. Designed in Indo-Islamic architecture, there are intricate floral designs on the walls beautifully merging with the Jain and Hindu symbolism. The Adalaj ni Vav is one of the must explore sightseeing on Ahmedabad tour. You will come across a lot of locals, photographers and couples getting clicked for their pre-wedding moments.
Address: Adalaj Rd, Adalaj, Gujarat 382421
Timings: 06:00 AM – 06:00 PM (Monday – Sunday)
Entry Ticket: Free for All
Nearest Railway Station: Ahmedabad (20 Kms)
Nearest Airport: Ahmedabad (16 Kms)
3. Dada Harir Vav: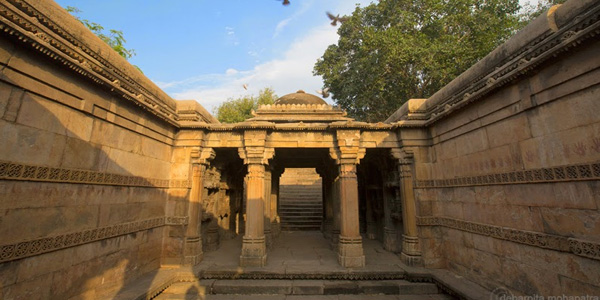 Image Source: 3.bp.blogspot.com
Dada Harir Vav is located on the eastern side of the Old City in Asarva is the octagonal-shaped.
It was built around 500 years back during the rule of Sultan Mahmud Begada. One can enjoy intricately carved walls, columns, floral sculptures, and beautiful carvings in its seven-story structural display. Sunlight filters through its various areas to create an amazing look within the step-well. Dada Hari ni Vav gives the feeling of Hindu and Muslim architectures along with Arabic and Sanskrit scriptures. It was built by Bai Harir Sultani who was the household lady of Mahmud Begada and she use to look after the Royal Harem as well. Behind Dada Hari ni Vav is here tomb in the Sultani Mosque. Back then the construction costed some 3,29,000 mahmudis which in today's world is more than 1 Lac Indian rupees.
Address: Hanumansingh Rd, Haripura, Asarwa, Ahmedabad, Gujarat 380016
Timings: 09:00 AM – 05:00 PM (Monday – Sunday)
Entry Ticket: Free for All
Nearest Railway Station: Ahmedabad Railway Station (3 Kms)
Nearest Airport: Ahmedabad Airport (08 Kms)
4. Navlakhi Vav, Vadodara: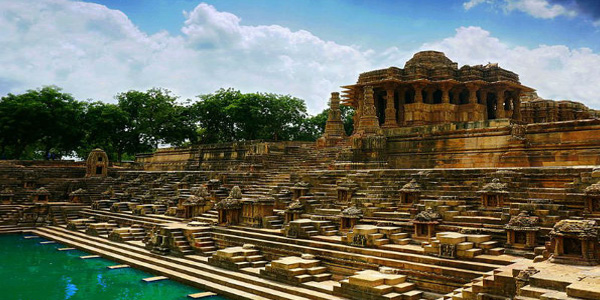 Image Source: www.nativeplanet.com
The most beautiful Laxmi Vilas Palace is home to the 15th century Navlakhi Vav.  It is believed that Nine lakh gold coins were spent to create this stunning structure. It was used to store and serve water to the Laxmi Vilas Palace. When the palace use to be attacked by the opposite army, the local army use to hide in the stepwell and led the defence. While earlier, it provided water to the entire Laxmi Vilas Palace, now it helps in the irrigation of the golf course which is next to it.
Address: Sevasi, Vadodara, Gujarat 391101|
Entry Ticket: Free for All
Nearest Railway Station: Vadodara Railway Station (08 Kms)
Nearest Airport: Vadodara Airport (12 Kms)
5. Surya Kund: Modhera Stepwell: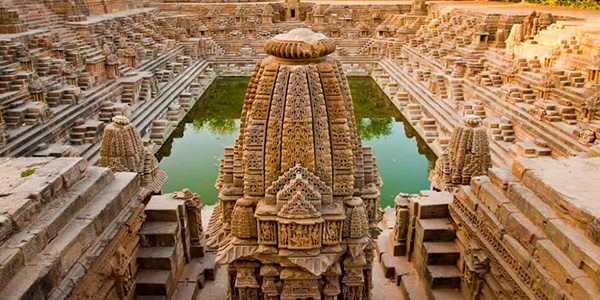 Image Source: i1.wp.com
Surya Kund is located in Modhera Village of Mehsana District, Gujarat. The Modhera Sun Temple is a unique temple in Gujarat dedicated to the God Sun. Just opposite Modhera temple is a huge stepwell called the Surya Kund (stepwell dedicated to the Sun God). It characterizes the usage of a stepwell for more than just water storage, which was used for religious ablutions before praying to the Sun God. The stepwell is not very much in-depth but quite wide and consists of 108 miniature shrines carved on the steps. The number '108' is considered an auspicious one for the Hindus.
Address: On Becharaji, Highway, Modhera, Gujarat 384212
Timings: 08:00 AM – 06:00 PM (All Days)
Entry Ticket: INR. 25 (Indian, SAARC, and BIMSTEC), INR. 300 ( Foreigners ), Child Below 15 Years Free
Nearest Railway Station: Mehsana Railway Station (28 Kms)
Nearest Airport: Ahmedabad Airport (95 Kms)
6. Ramkund Stepwell, Bhuj: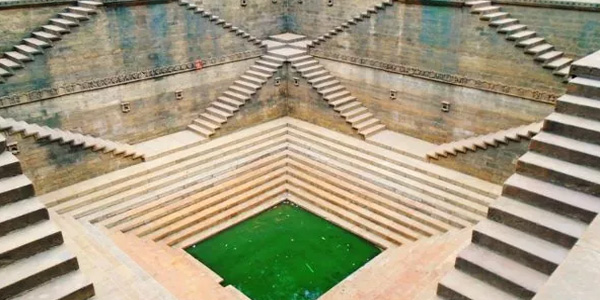 Image Source: rannutsavgujarat.in
Kutch district is famous for its ancient attractions. This district was in existence in ancient times of Ramayana and Mahabharat. Ramkund stepwell is the ultimate proof that Kutch existed at that time. Ram Kund is surrounded by sculptures of characters of Lord Rama, Site, Lakhshman and Lord Hanuman from the Ramayana at the distance of 56 feet on each side. If you notice well you will get to see 10 incarnations of Lord Vishnu spread through the walls.  Ramkund is located next to the Kutch Museum and behind the Ram Dhun Temple.
Address: Bhuj, Gujarat 370001
Entry Ticket: Free
Nearest Railway Station: Bhuj Railway Station (4 Kms)
Nearest Airport: Bhuj Airport (5 Kms)
7. Adi-Kadi Vaav, Junagadh: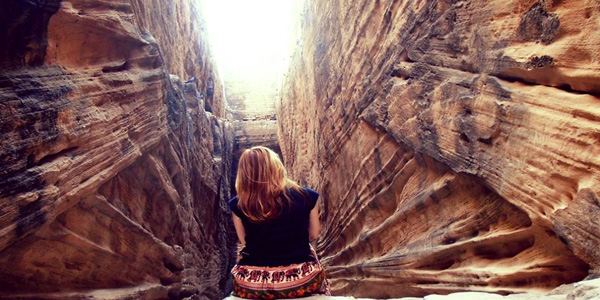 Image Source: www.indiapalette.com
Adi Kadi Vav was built in the 15th century, is entirely carved out of the hard rock. A lean path of 120 stairs goes down through the stone to meet the other side in the stone. The stepwell has two mythological stories for its name. One story states that the king demanded to make a stepwell and so the workers excavated down into this hard stone, but unfortunately water was not found. The priest mentioned that the water will be found only if two unmarried girls of the village were sacrificed. Girls named Adi and Kadi were the unlucky ones who were chosen to be sacrificed and so later the water was found. The second story, is more reasonable, claiming that Adi and Kadi were the royal servant girls who use to get water from the well on regular basis.
Address: Uparkot, Gujarat 362001
Entry Ticket: Free
Nearest Railway Station: Junagadh Railway Station (3 Kms)
Nearest Airport: Rajkot Airport (110 Kms)
8. Helical Stepwell, Champaner: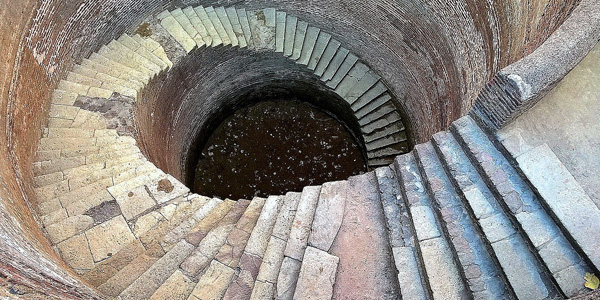 Image Source: upload.wikimedia.org
This Helical stepwell is situated in the outskirts of Champaner, towards Vadodara and was made in the 16th century CE. It boasts a spiral staircase which is 1.2 meter wide which are narrower to the centre and wider towards the wall. These steps are made of stones and the wall is make of bricks. There are also several places where people can take rest. It is a very unique structure as it has circular staircase leading down to the water. The Pavagadh hills which is very close to Champaner and is overlooking the city boasts number of pools and ponds and so it is also known as 'the hills of a hundred pools'.
Gujarat boasts more than 500 step wells, out of which most were constructed way back in 600 AD. Helical Stepwell is located on the Halol – Pavagadh road, and probably it is the only one built during the 16th century AD.
A picturesque garden surrounds the interesting structure. The spiral staircase winds down the 50 feet well. With the Pavagadh hill serving as a backdrop, it would be the perfect start to exploring the historical area.
Address: Champaner, Gujarat 389360
Entry Ticket: Free
Nearest Railway Station: Vadodara Railway Station (50 Kms)
Nearest Airport: Vadodara Airport (45 Kms)
Number of stepwells dotting the landscape of Gujarat are endless, and some of them known and visited while some are so obscure that even the local people do not know about their existence. As per the history of India, from 500 AD to 1100 AD, the Hindu kings use to take interest in construction of stepwells as it was the source of water for local people. Boost of construction was witnessed in the 14th and 15th centuries and these stepwells were not only made by Hindus but also by the Muslims due to the purpose of serving water. Stepwells have served its purpose and now are one of the most important symbol of Gujarat's culture and architecture. So do not miss out on exploring these beautiful stepwell on you Gujarat tour package, as they are surely worth your time.