Kutch Nahi Dekha Toh Kuch Nahi Dekha: Top Places to Visit
Kutch region has an impression of being a particular land. It is an area that contrasts in commending thriving on an excellent boundary. Great Rann of Kutch and Little Rann of Kutch are the two main sub parts of the Kutch region; this historical destination is one of the best holiday option selected. Visiting here would intend to ship oneself to inside and out in another world, where a wide expanse of salt encompasses one and not all that high Aravalli make an entrancing scenery.
Kutch is a magnificent and hypnotizing destination in Gujarat honoured by the Gujarat Tourism, and is the most popular for facilitating the Rann Festival from November to February. As the biggest area of India, Kutch shows some of the awesome scenes, mind blowing social characteristics, and dazzling history.
The climate in Kutch during these month is alleviating and comfortable and the yearly Rann Mahotsav composed as of now makes the occasion considerably all the more entrancing. To make your holiday hassle-free and to know about the things to do and see, go through the below listedplaces to visit in Kutch. Trust us, you will return with a heart brimming with extraordinary recollections.
How to reach Kutch?

Get the cheapest flight rates online with Flamingo
Fly with Flamingo!
By Air – Bhuj Airport is the closest airport to Kutch and it's about 70km of distance from the city.Once you reach you can take a cab directly from the location or else pre-book in advance. But the airport doesn't have very good connections with major metro cities like Mumbai & Delhi. There are regular flights from Sardar Vallabhbhai Patel International Airport, Ahmedabad.
By Train – Bhuj Railway Station is the closest and is considered to be one of the best way to reach Kutch as the bus has a good connectivity to all the major metro cities like Pune, Mumbai, Kolkata, Jaipur and Ahmedabad.
By Bus – If you are comfortable with long sleepover road journeys, then you can opt for this option all. All the roads are very well connected with regular bus services from all the big cities like Surat, Baroda, Ahmedabad and Mumbai. You can get an option of both NON-AC and AC buses.
Best Places to Visit in Kutch
Such a large number of numerous spots to explore in this energetic land of Kutch, knowing in advance where all you should go to will enable you to better. Look at this big list to know more about the must explore places in Kutch on your Gujarat tour package.
Great Rann of Kutch
Topansar Lake
Kandla Port
Kalo Dungar
Mandvi Beach
Kutch Museum
Aina Mahal
Roha Fort
Prag Mahal
Vijay Villas Palace
Indian Wild Ass Sanctuary
Kutch Great Indian Bustard Sanctuary
Dholavira
Siyot Caves
Bhadreshwar Jain Temple
Marine National Park
Kutch Desert Wildlife Sanctuary
Narayan Sarovar
Lakhpat Fort
Kanthkot Fort
1. Great Rann of Kutch: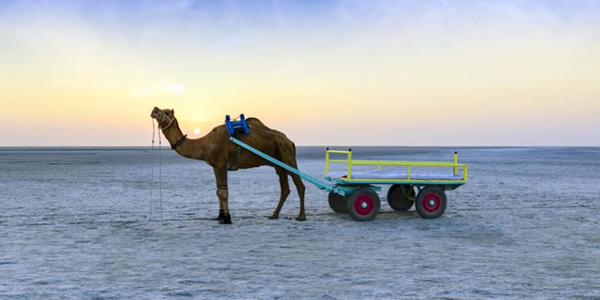 Image Source: https://dynaimage.cdn.cnn.com/
Rann of Kutch is a riveting sensation of sand and salt with the Arabian sea on one side and the Thar Desert on your other side- "A very rare combination". This is one of the most famous attractions in Kutch, especially during the winter months. During the full moon time, the sand of the Thar Desert shines and twinkles and provides some magnificent views.
The Rann Utsav is organised by Gujarat Tourism during the winter season and you can find many tourists during this time spending a quality time here. During your visit don't miss the activities like – camel safaris, camping in the tents, desert safari, cultural performances, hot air balloon ride and Rann Mahotsav.
You also get many options for a pleasant stay like Rann Resort Dholavira, White Rann Resort, and Rann Village Resort.
2. Topansar Lake: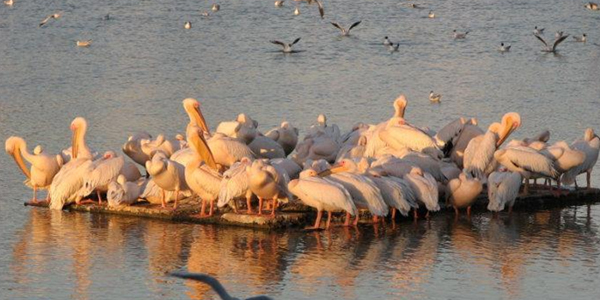 Image Source: http://photos.wikimapia.org
Topansar Lake is set in the heart of the Mandvi city, and is one of the captivating tourist spots in Kutch. This is one of the best picnic spots for the locals and the most relaxing place for walking and jogging. You can also spot hundreds of migratory birds during winters and don't forget to spot the brown-headed and black-headed gulls.

Hotel deals like never before!
You Travel We Care!
3. Kandla Port: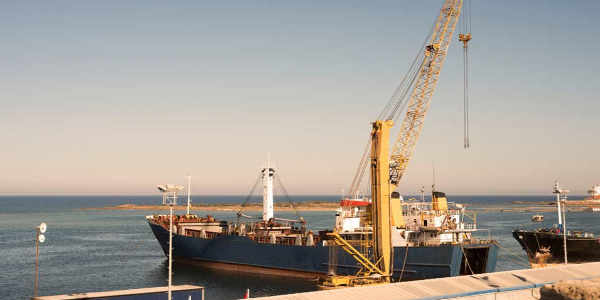 Image Source: https://seoimgak.mmtcdn.com/blog/sites/default/files/images/port.jpg
The Kandla Port is a commercialised place in Kutch and offers some of the startling views of the Arabian Sea. This port is considered as the most important port on the western coast of India and is engaged into trading of iron, steel, chemicals, salt, food grains and textiles.
During the winter times, especially in the month of December, this port offers the best, clear and most romantic view of the sea.
4. Kalo Dungar: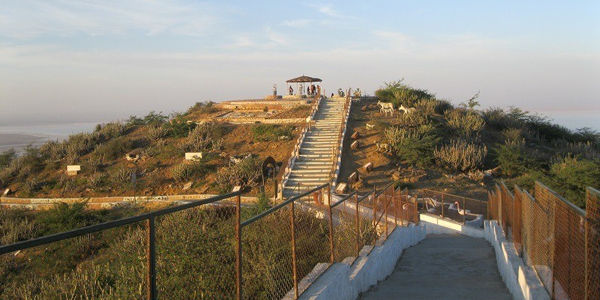 Image Source: www.trawell.in
Kalo Dungar is the highest viewing point in Kutch and offers some of the jaw-dropping views. This hill is located 25kms away from Khadva. For adventure lovers and trekkers, this is one of the preferred trekking spots. This viewing point is one of the notable tourist spot among the visitors and can be reached be reached by jeeps or buses from Khadva. The breath-taking views of Indo Pakistan Border and the Rann of Kutch is the key highlight especially in December month making your stay unforgettable.
5. Mandvi Beach: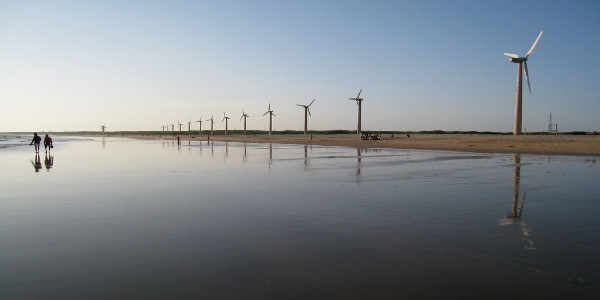 Image Source: Flicker
If you are a beach lover, enjoying making sand castles and sunbathing, definitely plan a visit to Mandvi beach. This is one of the clean and peaceful beach offering some of the best views of the shoreline and sea. Go for camel and horse riding during your visit here. One of the perfect weekend getaway from Kutch. And while you have a walk at the beach, do click some pictures of the pelicans strolling at the beach.
6. Kutch Museum: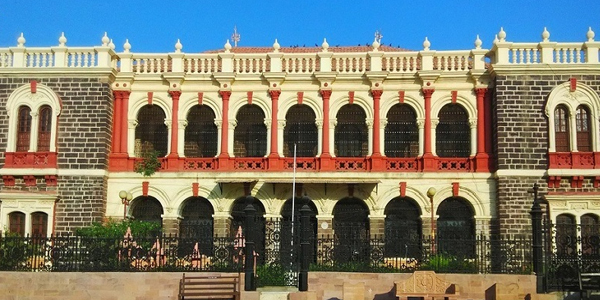 Image Source: tds.indianeagle.com
In 1877, Kutch museum was founded Maharao Khengarji and said to be one of oldest museum in Kutch. If you are someone who enjoys history, then this museum is for you. The museum is an awesome collection of ancient coins and Kutchi scripts. Along with this you can also find many tribal artifacts and also many other objects like paintings, arms, embroidery, musical instruments, precious metals and sculptures.
7. Aaina Mahal: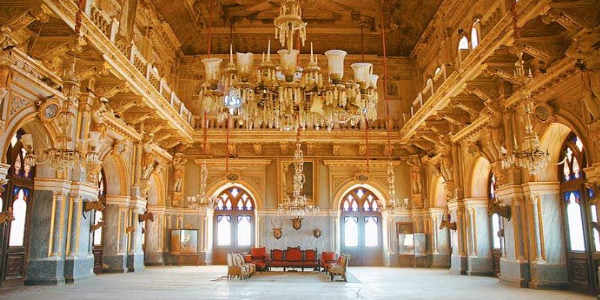 Image Source: https://i.pinimg.com/
Aaina Mahal was built in the 18th century and was built during the rule of Lakhpatji. Today, the Aaina Mahal is also known as the Palace of Mirrors as the palace has different types of mirror work and is a perfect combination of marbles, Venetian mirror and the mirror is duly connected with by reflective lighting and dusted jewellery. Extensively the palace is decorated with giant mirrors, chandeliers and precious and semi-precious stones with a Hindu temple in the backyard making the palace a religious place also.  To make your Kutch trip the best one, do visit the Aaina Mahal.
8. Roha Fort: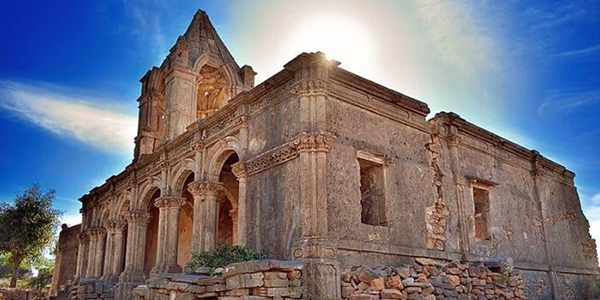 Image Source: https://img.traveltriangle.com
Renowned place since the rule of Britishers and was converted into a jail during those times. Being an archaeological site since that era, the fort is also associated with many rumours and legends. Many say this place is a haunted one, and due to this many prefer to visit, for some adventure and thrill. And many visitors visit here to just appreciate the charm and beauty of this fort. A photographer's paradise, this was a residential place for "Chavda Vansh of Rajput community". Do visit this fort if you love to click beautified pictures, or just love to see the marvellous architecture.
9. Prag Mahal: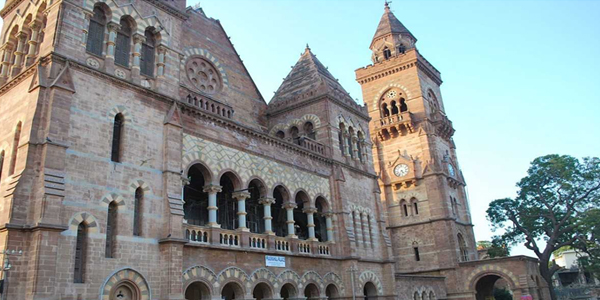 Image Source: https://www.holidify.com
One of the oldest place in Bhuj and a famous tourist spot. This fort was constructed in 18th century and is known for its magnificent architectural designs. Go to the highest point of the mahal and witness the spectacular panoramic views of the Bhuj city. Some areas of the palace are transferred into a museum with displaying the ancient items of the Royal family residing there. The palace is also a favourite spots for Bollywood films and many film shooting have been taken place here like Hum Dil De Chuke Sanam, Lagaan and several other Gujarati movies. Come and witness the beauty of the oldest monument of Bhuj during your visit here.
10. Vijay Villas Palace: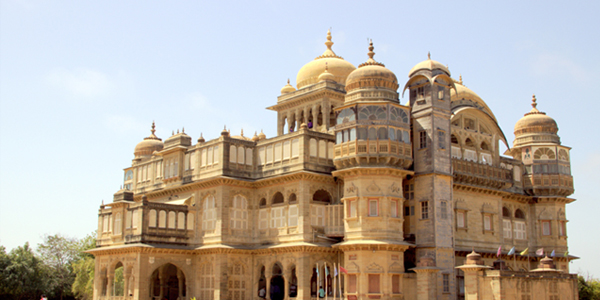 Image Source: https://k6u8v6y8.stackpathcdn.com/
Now being one of the popular tourist place, the Vijay Villas Palace was the summer vacation spot for the Jadejas Rajas of Kutch. The palace is just few metres away from the Mandvi beach and is surrounded by lush green gardens. Come here and have a walk at beach, admire the precise detailing of the architecture, the dome-shaped ceilings and the huge halls, making the palace the most visited during your trip to Kutch.
11. Indian Wild Ass Sanctuary: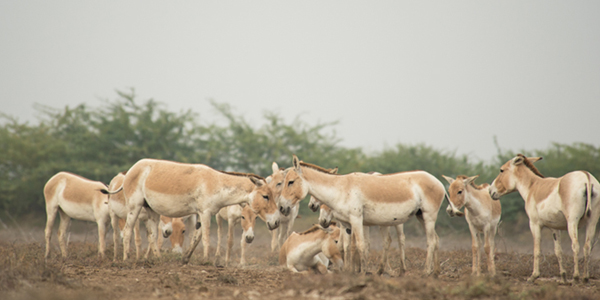 Image Source: https://k6u8v6y8.stackpathcdn.com
If you wish to witness the Indian Ass or Ghudkar, then this is only the place which still inhabits the Indian wild ass till date. Indian Wild Ass Sanctuary is located in Little Kutch and is the home for about 32 species and a breeding place for birds. You can also spot species like hedgehog, chinkara, desert cats, fox, jackal, jungle cats, blue bulls, and wolf. An ideal spot for people who are wildlife lovers and enjoy the nature.
12. Kutch Great Indian Bustard Sanctuary: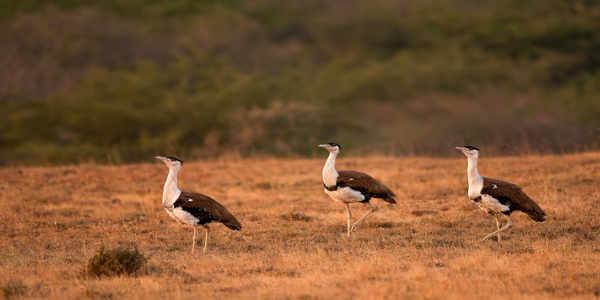 Image Source: https://forests.gujarat.gov.in/
This sanctuary is located in Jakhau village of Gujarat. This sanctuary is solely responsible to guard the Great Indian Bustard and save them from getting extinct.You can find the three different types of Bustards and these are the endangered bird species and are also called as Ghorad in Gujarat.
You can go for jungle safari here and spot animals and birds' species like jungle cats, black and grey francolin, nilgai,Stoliczka's bushchat, chinkaras, harriers,spotted Indian sandgrouse,herons, egrets, black partridges, cranes, sand grouses, quails, larks, shrikes, coursers, plovers, white-naped tit, flamingos, sandpipers.
13. Dholavira: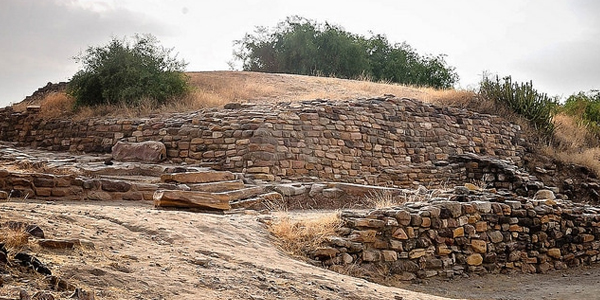 Image Source: https://www.transindiatravels.com
One of the most magnificent archaeological sites. This is the only site preserved from the Harappan civilization and is around 5,000 years old site here. This is located adjacent to the Sabarmati river and this place will certainly apprise you as this is the place where the humans were evolved. One of the offbeat place in Kutch and favourite place for students and history buffs.
14.Siyot Caves: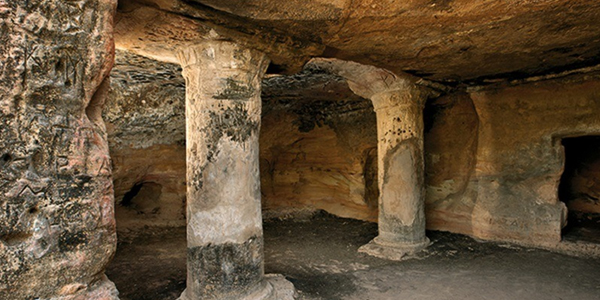 Image Source: https://www.trawell.in
Also famously known as the Kateshwar Buddhist cave and is a Hindu and Buddhist attraction in Kutch. You can find the images of Lord Buddha in various different mudras drawn on the rocks in this five rock cut caves. You can see many paintings, sculptures and cave carvings which depict the migration of Chinese to India. The historical values of the caves pull the archaeologists and historic lovers to this caves.
15. Bhadreshwar Jain Temple: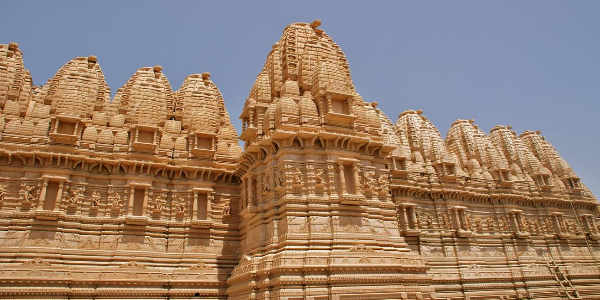 Image Source: https://www.gujarattourism.com/
This Jain temple is located in the Bhadreshwar village of Mundra district. One of the oldest Jain temples in the country since the 11th century and is famous for marvellous designs, mind-blowing carved architecture and the in-depth history. Today this temple is recently renovated with a new architecture with the main area constructed with all white marble. During your visit, donot miss out the 500 BC old Parshwanath idol. The temple is closed on Saturdays, so plan your visit accordingly.
16. Marine National Park: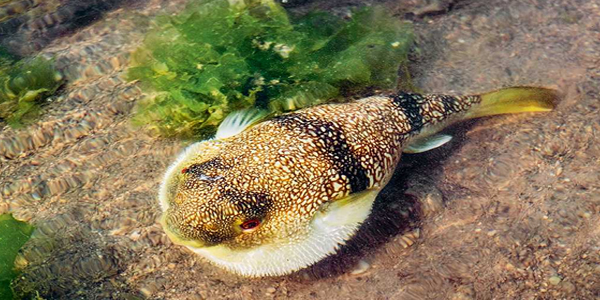 Image Source: https://www.holidify.com
Located in the southern coast of the Kutch, this Marine National Park is among the first marine reserve of India. The national park has many different types of marine species like phalaropes, osprey, avocets, darter and black-necked Ibis, terns gangetic dolphins, crabs, storks and giant leatherback turtles. The marine park features salty grasslands, swamps with muddy shores and rocky mud beds and estuaries.
17. Kutch Desert Wildlife Sanctuary: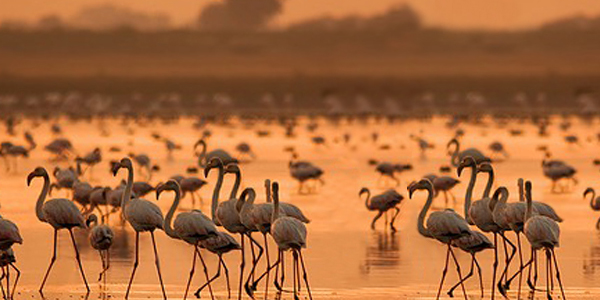 Image Source: www.toranresortkutch.com
This sanctuary is one of the reasons for the wildlife lovers to visit the Rann of Kutch. This sanctuary is located 100 kms away from the Bhuj city and one of the largest salty wetlands in the world. The area of the sanctuary is spread across 7505.22 sq. km and is a natural habitat for the endangered species like wild boar, porcupine, desert fox, chinkara, jackals and the spiny-tailed lizards. The most unique feature of this sanctuary is the excessive deposits of salt making the surface a pure white one.
18. Narayan Sarovar: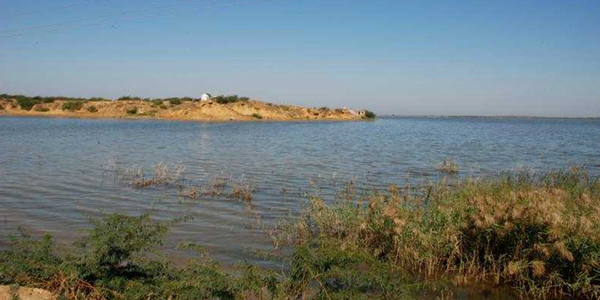 Image Source: https://www.holidify.com/
At a distance of 125km from Bhuj, this sanctuary is a unique eco-system in Kutch, and serves home to many mammals' like wildcats, Indian wolf, foxes, wild boar and badger. The sanctuary features mangrove forests, water reservoirs and two-transitory streams- Kali and Kapurasi that flows through the sanctuary. Do carry your cameras to spot some flora species and click pictures of cheetahs and chinkaras.
19. Lakhpat Fort:
Image Source: https://www.gujarattourism.com/
The renowned Lakhpat town in Gujarat has a gigantic exceptional stronghold wall guarding it and these are of the lofty Lakhpat Fort that draws the attention of the guests. While one may essentially visit this town for all the renowned stories related with it, others like to observe this goliath structure first-hand. Implicit the eighteenth century, the 7 km fortress dividers represent themselves with regards to the loftiness of this last town of Indian outskirt.
20. Kanthkot Fort: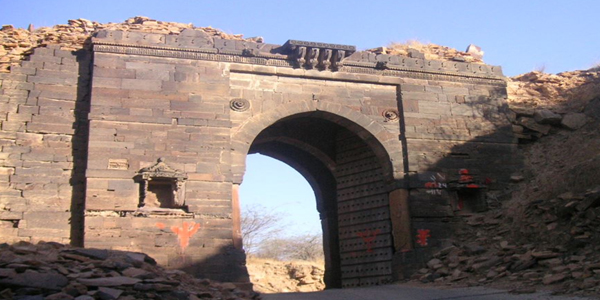 Image Source: https://www.megalithic.co.uk/
This enchanting fort is arranged on a concealed steep slope and is viewed as perhaps the most established stronghold in Kutch and also can be said the most established in the nation as well! Developed even before the eighth century, this spot has seen numerous incredible occasions and changing realms over some stretch of time. The primary rulers incorporate Jadeja's who were all the while administering this spot till the hour of freedom.
Now that you know about the top places to visit in Kutch, don't wait and check the Gujarat tour packages and plan a trip to Gujarat. Kutch is said to be an offbeat location and will surely promise you to give a bag full of memories and experiences. If you are a history buff and you have real passion to explore your own country, then Kutch should be the top most in your list.