15 Best Weekend Getaways from Udaipur!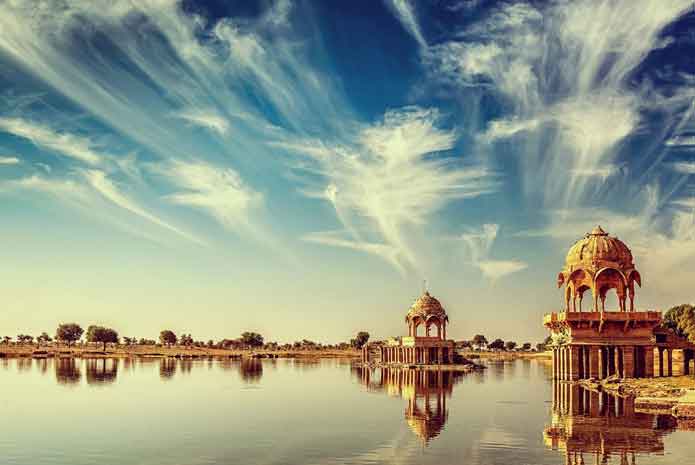 Udaipur, the City of Lakes, delights its tourists with magnificent palaces, lakes bathed in azure waters, and a numerous beautiful places to visit near Udaipur assuring a jorney to remember for life. The town is surrounded by the Aravalli mountain ranges filled with lush greenery and these mountain ranges are home to many flora and fauna species.This city's neighboring villages are home to a variety of ancient temples, royal forts, magnificent palaces, wildlife safaris, dams, and reservoirs that create breathtaking tourist spots in Udaipur. The sanctuaries in the mountain towns around Udaipur convey a fanciful centrality and these sanctuaries' emotional traveling trails are the enjoyment of an undertaking searcher. The places mentioned below are undoubtedly some of the best places to explore on Rajasthan tour packages, offering memorable experiences.

Hotel deals like never before!
You Travel We Care!
Here are a few of the best places near Udaipur to visit:
 1. Mount Abu: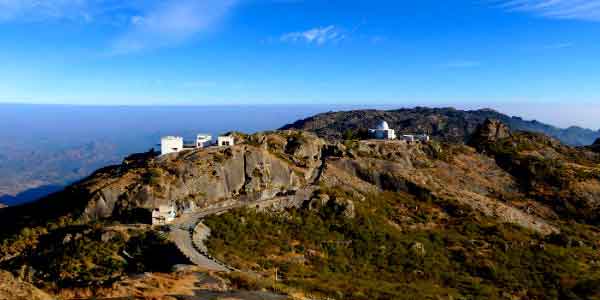 Image Source: boostthyself.com
On the Gujarat and Rajasthan border, flanked between the Aravalli Ranges, there is a Mount Abu hill station among the Rajasthan's dry desserts. Especially in summers, you can visit this hill station, and enjoy trekking and sightseeing in the nearby areas. It has temples and portrays a deep ancient Hindu and Jain community. You can go trekking in the wooded areas near the Aravalli Mountains. If you go on adventure, bike tours and walks in the hilly areas and camping sites of Mount Abu, you can get a spiritual retreat and fall in love with nature. Experience the food and drinks, handicraft shopping, and outdoor activities at various Mount Abu locations. It is a serene and scenic Rajasthan hill station. When you visit that area, you will find a distinct culture and taste. Several archeological and medieval sites are also to be found in Mount Abu, for which it has always been originally famous. On these buildings and paintings, you can look at the carvings which denote an age of the Rajputs and Kings who ruled this place.
2. Kumbhalgarh: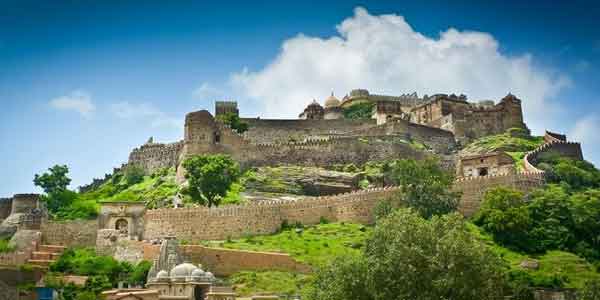 Image Source: https://www.rajasthantourplanner.com/
Kumbhalgarh is renowned for the temples and forts of its heritage. It is a humble community supported in the lap of the Aravalli Hills and is an ideal spot to investigate with regards to Rajasthan weekend getaways. There are various fine Jain sanctuaries with perplexing carvings and wall paintings in broadly utilized marble. There are additionally a few celebrations where individuals meet up with bliss to be a piece of and create elation. Kumbhalgarh fortress, worked in the fifteenth century and seeing various wars between the Mauryas and Mughals, is the city's principal fascination. The stronghold takes on a nostalgic essentialness as it is the origination of the incredible ruler MaharanaPratap. There are several temples designed by the Mauryas, providing a clear view of the surrounding area. Since The Great Wall Of China, the fort has been known as the world's second-largest wall. Kumbhalgarh asylum is a significant fascination as it houses an assortment of jeopardized creatures, for example, Nilgai, jackals, sloths, hyenas, and substantially more. You can enjoy some lavish experiences at hotels and resorts like Mahua Bagh Resort, Kanj the Haveli Resort, The KumbhaBagh Resort and many more.
3. Nathdwara: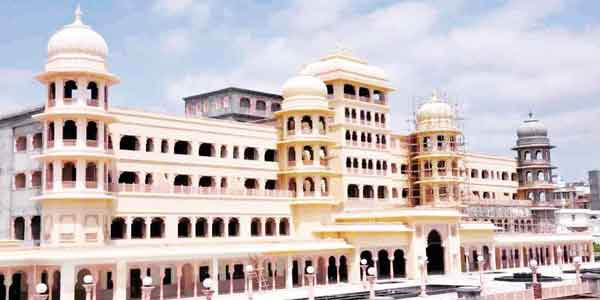 Image Source: magarticles.magzter.com
A well-known town in the western heart of Rajasthan, along with the gurgling Banas River, Nathdwara enjoys the company of the beautiful Aravallis. Located 48 km from Udaipur, Nathdwara is revered for the magnificent temple dedicated to Lord Krishna's Shrinathji incarnation. One of the most religious spots to visit in the Udaipur area, the modest community is thriving as a vacation goal, inferable from the various asylums that have developed. Nathdwara's best ideal opportunity to visit is during winters-September to February.
Click here to Experience TheRoyalness: Top Resorts In Rajasthan
4. Ranakpur: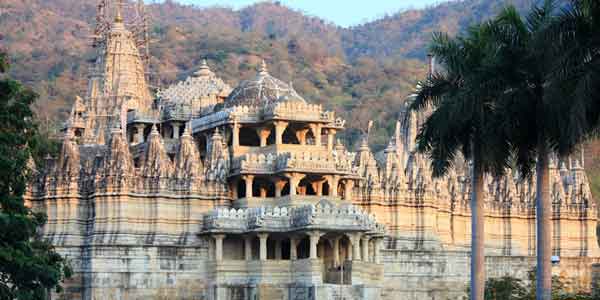 Image Source: www.transindiatravels.com
Ranakpur is a pleasant town arranged on the western side of the Aravalli go, in a valley. The town is especially prestigious for its delightfully wonderful Jain Temple, fabricated altogether of white marble and several complicatedly cut columns. Ranakpur Dam is encircled by lavish woods and is an ideal photography spot. Picture takers and nature fans will make a beeline for the Evergreen Wildlife Safari to see the area's rich widely varied vegetation. There's another large draw here, ParshuramMahadev Temple. Ranakpur's position among Jodhpur and Udaipur makes it head of the places to visit list on a Rajasthan holiday tour package.
5. Pushkar: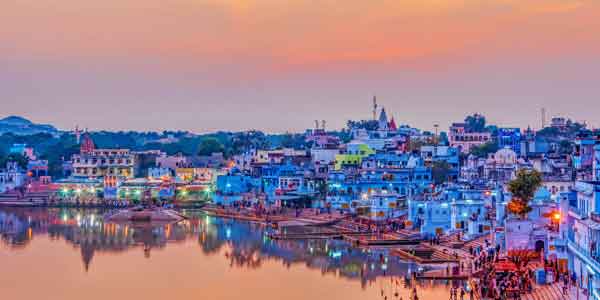 Image Source: images.thrillophilia.com
Pushkar is brimming with hues, music, solace, and euphoria! Possibly the brilliant avenues fixed with little shops and cheerful appearances are the primary thing that attracts one to Pushkar. The street from Ajmer to Pushkar is phenomenal, and as opposed to some other street in Rajasthan. It's uneven, and stunning thusly. Pushkar tourism boasts an exceptionally modest community and its first impression is incredible for first-time guests who anticipate a major city. The town is renowned for its numerous sanctuaries, peaceful lake, and delightful market. During the nights, do visit Pushkar Lake, as evenings here are dry, except if you visit during top winters. There is additionally a little sanctuary close to the lake and keeping in mind that the sanctuary is grand, it is hard for the clerics here to sit in harmony. It's amusing to visit the market close to the sanctuary and lake and there are vibrant items you can purchase including bangles, bandhani sarees and dupattas, palazzos, and excellent silver gems. Remember to have the kachoris close to the sanctuary as they're presumably the best you'll get in Pushkar. Coming to Pushkar is a comfortable journey as there are a lot of transports moving from and to significant urban areas and combining Ajmer and Pushkar in one excursion will be ideal.
6. Jodhpur: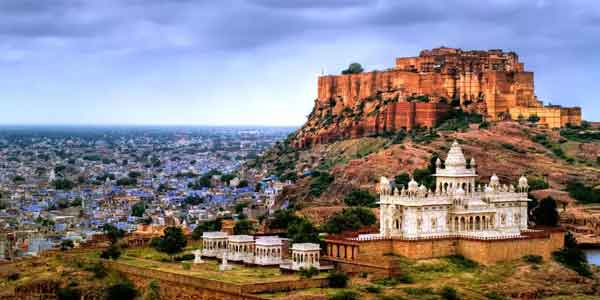 Image Source: static.toiimg.com
Otherwise called "The Blue City," "Sun City," and "Section to Thar", Jodhpur is the second biggest city in Rajasthan. In any case, Mehrangarh Fort wins the race, the vacation spots here are uncountable. This marvel of the fifteenth century roosted on a stone is presently a gallery with a fortunate cluster of imperial arms, delightful works of art, and terrific carts utilized by the sovereigns. Significant occasion spots are UmaidBhawan Palace, JaswantThada, Kalyan Lake, Balsamand Lake, and Mandore Garden. Jodhpur is a customer's heaven and the dynamic markets, for example, Mochi Bazaar, UmaidBhawan Palace Market, Kapraa Bazaar and Sarafa Bazaar are fixed with lines of shops selling bright Bandhej suits, Jodhpurijuttis, Rajasthani silver gems, wooden painstaking work, metal pieces, Colorful gems, metal seats, marble sculptures and numerous different things ideal for shopping trinkets. Stay at extraordinary hotels and resorts like Taj Umaid Bhawan Palace, Indana Palace, The Ajit Bhawan Palace etc. for an experience like never before.
7. Jaipur: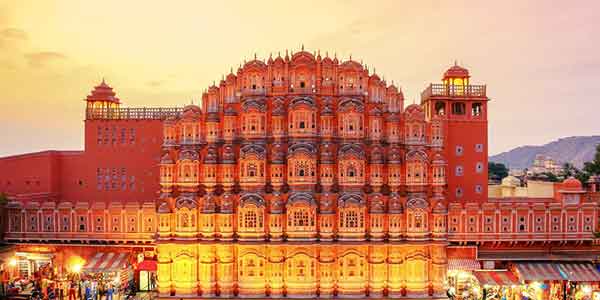 Image Source: www.rajasthantour.com
Jaipur is Rajasthan's capital city and is popular with many tourist attractions as a family destination. Jaipur also has several historic monuments. It is also known as India's Pink City and is one of the most popular weekend getaways in Rajasthan. It is well known for its aesthetically stunning housing backdrop. Jaipur is a blend of old and modern, reflecting the exquisite coexistence of two opposing cultures. Hawa Mahal, JantarMantar, City Palace, Jal Mahal, Jaigarh Fort, Birla Mandir, Sheesh Mahal, Mubarak Mahal, Nahargarh Fort, Amer Fort and so on are a portion of the significant places of interest here. Jaipur also boasts some royal hotels like ITC Rajputana, Jai Mahal Palace, Shiv Villas Resort, Oberoi Rajvilas Resort and more.

Get the cheapest flight rates online with Flamingo
Fly with Flamingo!
8. Ajmer: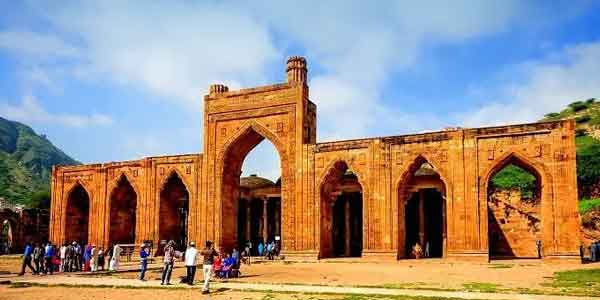 Image Source: amp.thenational.ae
Ajmer is a busy city and one of the must explore places to visit near Udaipur, situated at a distance of about 262 km from Udaipur. Ajmer fascinates every tourist with its architecturally stunning monuments such as palaces, forts, Islamic shrines and graves designed by the emperors of the imperial Mughal. The vital attractions in the city are Adhai Din KaJhonpra, Ajmer Sharif Dargah, Akbari Fort and Museum, Maqbara Shaikh Husain, Taragarh Fort, Anasagar Dam, Nareli Jain Temple, Nasiyan Jain Temple, Rangji Temple, BulandDarwaza, PrithvirajSmarak Monument. Visit Chudi Bazaar for shining bangles, Madar Gate for collectibles and handcrafted pieces, and Dargah Bazaar for looking for knickknacks.
9. Ranthambore: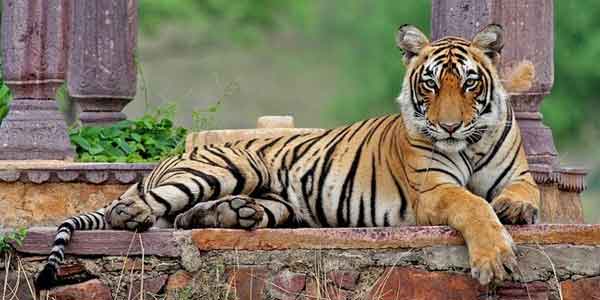 Image Source: media.tacdn.com
Rajasthan isn't just about posts and landmarks yet more. National park Ranthambore is considered as one of Udaipur's best long end of the week excursions. Drawing in all the admirers of nature and untamed life, this spot gives probably the best journey among the brutes of nature. This national park is home to many imperiled and uncommon creatures, including greenery, including regal tigers from Bengal, wild pigs, and significantly more.
10. Ujjain: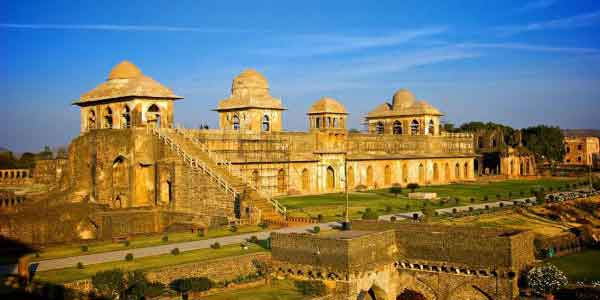 Image Source: www.skymetweather.com
Located on the banks of the Shipra River, Ujjain is a town renowned for its many temples and religious centers. Ujjain's Ram Mandir Ghat is the site for the world-renowned KumbhMela, which is one of the country's largest gatherings. It's believed that this ghat's calm and cool water purifies those who take a dip of their sins. Another most popular tourist sites is the Mahakaleshwar Temple which is one of India's 12 jyotirlingas. The elaborate temple building is in itself an architectural wonder. The KalBhairav temple, considered to be the most important among Lord Shiva's eight Bhairavas, is another choice for sightseeing in Ujjain. The Ved Shala Observatory, where scholars and astronomers will convene and uncover the many mysteries of their disciplines, will maybe be the most important educational destination of ancient Ujjain. In terms of architecture fairly simple, this spot is a must-visit. The cuisine is mainly Indian, with a majority of tourists preferring Punjabi cuisine and Rajasthani thalis. New Sudama, Shivam Restaurant, and Aarti Restaurant are among the best restaurants in Ujjain. Here hotels are easy to find and you can easily find one that fits your budget and taste. The city's aura promises to swallow you up. Visit Ujjain to immerse yourself in and witness India's sanctity.
11. Kota: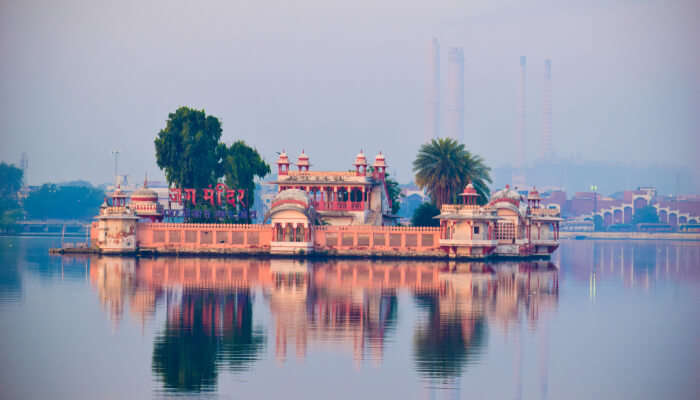 Image Source: amp.thenational.ae
Consistent with the energetic culture and inviting individuals of Rajasthan, Kota is a stunning spot to spend a reviving occasion. The individuals are inviting and steady and in case you're here just because, you can believe local people to flaunt their glad places of interest. Jagmandir Palace, Kishore Sagar, Chambal Gardens, and Gaipernath Waterfalls are among the most well-known spots ought to positively be a piece of your schedule. The Seven Wonders Park is home to all the copies of the World's Seven Wonders including the Pisa's Leaning Tower and Egypt's Pyramids. The lake behind the structures adds to the place of interest's allure obviously and is the perfect spot to go through your night. Do incorporate a food tour, in case you pass up a portion of Rajasthan's most pleasant luxuries. Dal Battichurma, pyaaskikachori, and Kota kachori aresome delicacies that cannot be missed and can be found easily.
12. Jaisalmer: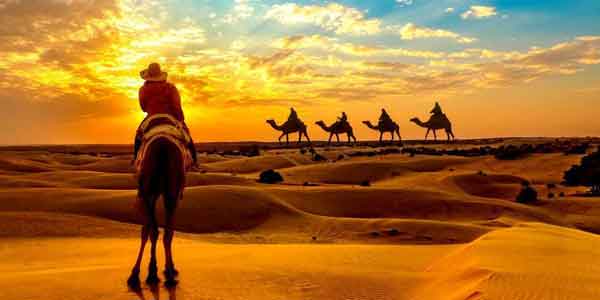 Image Source: www.holidify.com
Prevalently known as the door to the Thar Desert, Jaisalmer is an interesting city that mirrors Rajasthan's rusted past. This spot is particularly popular for its yellow stone design just as the Jaisalmer post that draws sightseers throughout the entire year. Due to its lavish culture, the city has kept its unique place, and also the very friendly locals. Jaisalmer also called India's golden city, represents a stunning mix of historical architecture and natural wonders. For relaxing accommodation options you can plan you stay at hotels and resorts like Jaisalmer Marriot Resort and Spa, Suryagarh Palace, Fort Rajwada Resort, Gorbandh Palace Resort and more.
13. Bikaner: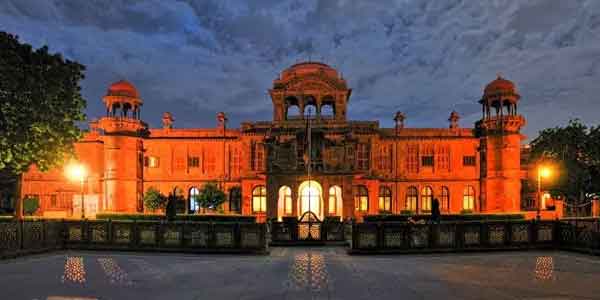 Image Source: amp.thenational.ae
This city is not only a paradise for snacks but also a paradise for historians. Bikaner represents the city's beautiful architecture and rich heritage and is one of Udaipur's best weekend getaways. After walking down the narrow lanes one can see the unreal beauty of this territory of Rajputana. There are forts, temples, and museums that offer royalty a beautiful perspective that still prevails after so many years.
14. Haldighati: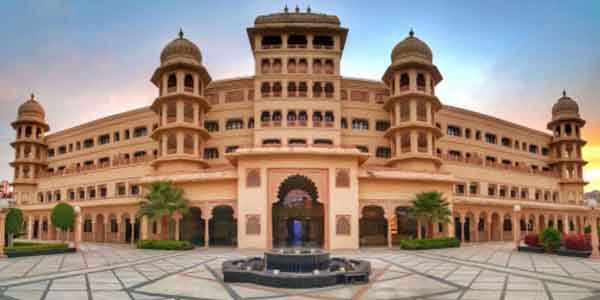 Image Source: content.jdmagicbox.com
Haldighati lies among the AravaliMountains, a stunning mountain pass cradled by Khamnor on one side and Bagicha village on the other. Linking Rajsamand and Pali districts, Haldighati sits about 53 km from the city of Udaipur. One of the most well-known spots to visit close Udaipur is Haldighati as well. The spot denotes the incredible skirmish of 1576, battled between Rana Pratap Singh and Raja Man Singh, which is a site of recorded noteworthiness. It was a grisly fight and, right up 'til today, the war zone is sending a chill down the sightseers' spine. It is celebrated as where MaharanaPratap, with his devoted partner Chetak, next to him, inhaled his last. This spot is an absolute must visit, in case you're a history lover.
15. Bundi: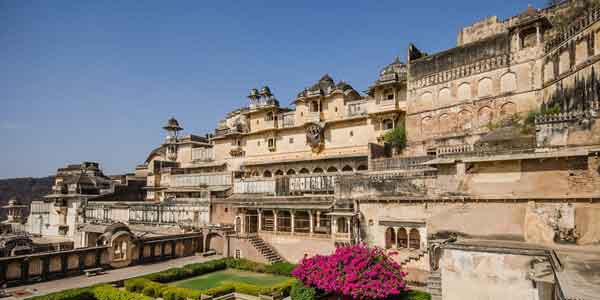 Image Source: cdn1.goibibo.com
Bundihas of great historical importance as the place has seen many legendary stories of bravery and wars. Bundi has natural beauty along with beautiful river and lake patterns and some major waterfalls. The area's lush green landscape is home to an abundance of flora and fauna. Bundi's picturesque view has provided artistic inspiration to a great many authors and artists. It is surrounded on three sides by the Aravalli Range and lies close to a narrow gorge. A large wall surrounds the town with four gateways. Some of Bundi's popular tourist attractions include Taragarh Fort, Moti Mahal, Badal Mahal, Garh Palace, Sukh Mahal, NawalSagar Lake, Chhatra Mahal, Phool Mahal, and more.
Here are some frequently asked questions:
1. How many days' exploring Udaipur are enough?
Two to three days is more than enough to let Udaipur's beauty engulf you.
2. What to do for 3 days in Udaipur?
You can visit below listed places in Udaipur within 3 days-
Badi Lake
Vintage & Classic Car Musuem
SaheliyonkiBadi
Bagoreki Haveli
GangaurGhat.
Monsoon Palace
AmbraiGhat
3. What time is ideal to visit Udaipur?
Winter season is the best time to visit Udaipur. The temperature remains pleasant and is appropriate for visiting the landmarks of Udaipur and different spots of intrigue. The greatest months to visit include September, October, November, December, February, and March.
4. Where to stay in Udaipur?
Below are a list of few hotels ideally fit for staying in Udaipur:
Bamboo Saa Resort & Spa
Kanj Ayaan Spa
Rajputana Hotel
Ramada Udaipur Resort & Spa
Trident Udaipur
Taj Aravali Resort & Spa
Vantara Spa & Resort
The Leela Palace Udaipur