Destinations to explore in Diwali 2020!
Diwali is one of the most popular & important festivals in India. It can be said that its festival of sweets, colours, crackers, family gatherings, fun, lights, & most importantly it the festival for a family vacation. From the whole year, these 10-15 days of Diwali vacation are the peak ones from the tourism viewpoint. Each & every one of us wants to plan a vacation, be it a long or a short or even a day trip. And this is the time, when everyone is in a holiday mood & plans for a Diwali vacation, hence, many destinations are pretty crowded during the Diwali time.
Many of you might be thinking that Diwali holiday due to the Covid-19 pandemic, you might not be able to plan anything, but it feels so wonderful to let you know there are many India tour packages, which you can without any thought opt for & have a great family getaway.
This year we will be celebrating Diwali in November month, which is one of the most preferred months for many destinations be it a beach holiday, a hill station, for wildlife & adventure, to enjoy chilled winters & snow & much more beyond your imagination.
Let's discuss some of the worth-visiting destinations which one can consider while planning Diwali tour packages.

Hotel deals like never before!
You Travel We Care!
1. Udaipur: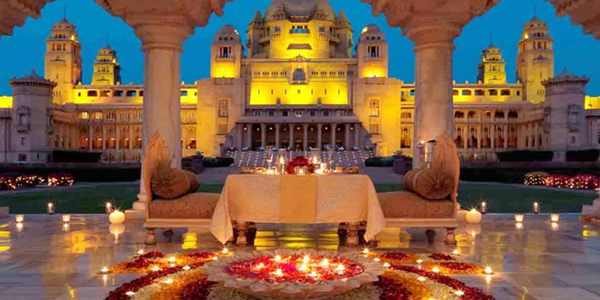 Image Source: https://www.revv.co.in
This city is one of the most happening & royal one to enjoy your vacation with your loved ones. If you opt to visit here in Diwali, you won't just have a list of attractions to enjoy, but at the same will be mesmerised with the lightings at the roofs & top of each building, and the highlight of these lightings is their reflection which you can witness in the Lake Pichola. And also can enjoy the yummilicious Marwari cuisine sweets & desserts. Udaipur will be one of the most preferred destination to enjoy in Diwali.
Places to Visit: Lake Pichola, FatehSagar Lake, JagdishTemple, Ambrai Restaurant
Hotel Options: The Ananta Resort, Taj Aravalli Resort & Spa, Bamboo Saa Resort & Spa, Tree of Life Vantara Resorts, Trident Udaipur
No. of Days Required: 3-4 days
2. Jawai: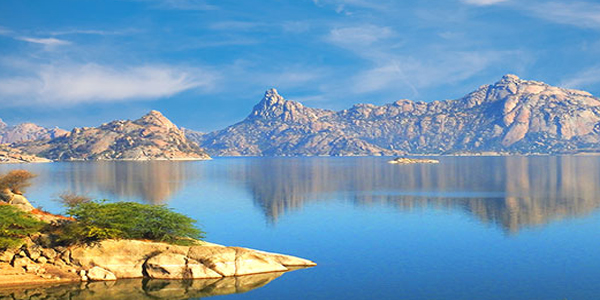 Image Source: https://www.thournatureresorts.com
If you want a break from the hustle & bustle life of the city, then planning to enjoy in Jawai will one of the best decision taken. This place is a small village, is now growing as a tourist attraction and is named after a river. This village is located at the embankment, & so without any doubt you will amazed by the wonderful views of the river.
The whole area is surrounded with granite rocks & hills making it more beautiful one. Along with this, Jawai also houses many sanctuaries & is a paradise for migratory birds in the winter months.

Get the cheapest flight rates online with Flamingo
Fly with Flamingo!
Some of the best places to visit here are:
Jawai Bandh- This Dam serves as the perfect spot for viewing the river & the wildlife around it;
Dev Giri Temple- This temple built in dedication to the Ashapuri Mataji & is surrounded by hills and there are beliefs that this temple protects the village from any calamities or destruction.
Tribal Excursion- Take an excursion tour to the tribal natives of this village, know about their lifestyle, food habits, their living place & much more interesting
Jawai Hills- formed million years ago by Lava, serves as home to many villagers & animals; and the best part here is you can get some amazing photo clicks of the entire village
KambeshwarMahadev Temple
AbhinavMahavirDham
Wildlife Sanctuaries- You can easily spot leopards here, & for a change leopards are quite friendly with the villagers here, and many a times you may see them roaming near their houses itself.
You can also spot many crocodiles at the river banks, searching a prey for a hunt;
And not to forget, this is one of the best place where you can enjoy bird-watching specially during winters as more than 1,000 different species of birds migrate here.
Required Days of Stay: 2-3 nights
3. Jaisalmer: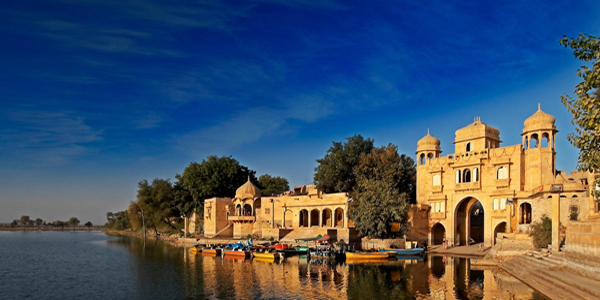 Image Source: http://www.tourism.rajasthan.gov.in
Known as the Golden city, as it is located in the Thar desert & is one of the famous tourist spots. Jaisalmer is known for the old havelis, lagoons & the temples. Apart from these attractions, this place is also famous for the desert experience like sand dune bashing, stay in the tents with several other adventure & exciting activities, & lots of shopping experiences. Truly, a memorable destination to visit.
Things to do here: Visit BadaBagh, Watch the Sunset at Vyas Chhatri, Eat Breakfast with Peacocks at Khaba Fort, Sand Dunes and Desert National Park, Camel Ride, Walk Through Havelis, Visit the Jain Temples, Explore Jaisalmer Fort and Palace Museum, paddle a Boat at Gadsisar Lake, Dine at Rooftop Restaurants.
Total no. of days required: 2-3 days
The best time to visit Jaisalmer is post September month that is during winters when the climate is cool.
4. Goa: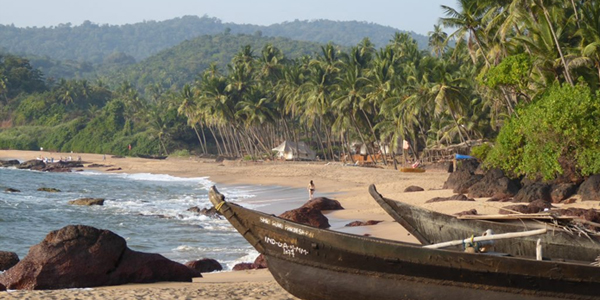 Image Source: https://www.global-gallivanting.com
Sometimes it's just a name that brings a smile on our faces, and, Goa is for sure one of them. With flowing palm trees, scenic blue water beaches, vibrant shacks, the hippie culture, best restaurants, Goa is a go to place for each one of us. Goa tourism offers something for every age group- from night life to water sports activities, from Portuguese styled restaurants to luxurious hotels, from strolling on the beach to viewing a sunset from Fort Aguada, name it and you have here. And with this there goes a saying, if in a doubt, book a ticket to Goa.
Things to do:Dudhsagar Falls, Basilica of Bom Jesus, Sahakari Spice Farm, Vagator Beach, Se Cathedral, Anjuna Flea Market, Aguaga Fort, water sports activities
You need 4-5 days to have a pleasant stay in Goa & post September it is the best time to visit & you can till March.
5. Gir National Park: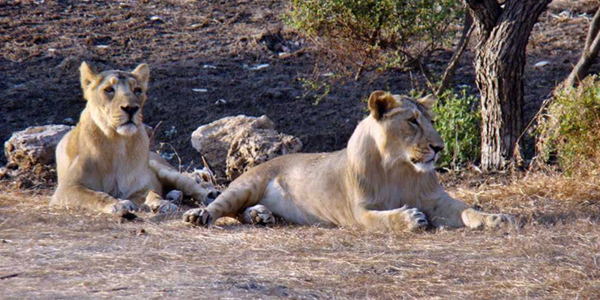 Image Source: https://www.holidify.com
Internationally, to checkout King of the Jungle, Africa is one of the best place, but in this Covid times, the Gir National Park is no less than the safaris of South Africa. And beyond this, after South Africa, Gir is the only place where you can enjoy watching Lions carrying out their day to day activities in their natural habitat. This national park is around 350 kms away from Ahmedabad, you can also club Diu with this.
Here you can opt to take the morning & evening safaris to spot the different animals roaming here. It is generally said that the safaris in the mornings are the best, as during this hour, the lions are more in action whereas during day times, they are mostly sleeping & don't roam much.
You need to issue an e-permit for each vehicle entering the park, & each vehicle should only have 6 members or less.
The best time to plan a vacation here can start from December month till March.
Things to do: Enjoy Tribal Festivals, Bird-watching, Jungle Safari, Visit Crocodile Breeding Centre, Nature Walk, and Shopping.
No of Days required: 2-3 days
6. Diu: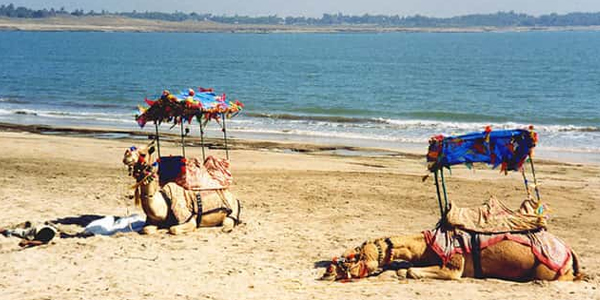 Image Source: https://www.treebo.com/
Located on the western part of India & being one of the Union Territory, Diu is one of the best beach destination in Gujarat. This destination is a combination of Indian & Portuguese culture, & is one of a clean & quite destination. The life here starts 5am and sleeps at 9pm, & the streets are silent post night.
One of the best way to explore Diu at a very reasonable cost is to rent a bile or bicycle & explore the streets on your own & in your own way.
Places to visit:Ghogla Beach, Nagoa Beach, St. Paul's Church, GangeshwarMahadev Temple, Diu Fort, Panikota Fort, Naida Caves.
No. of Nights required: 3-4 nights' minimum
The best time to visit Diu is in winters is from November to March & during monsoon times.
7. Maldives: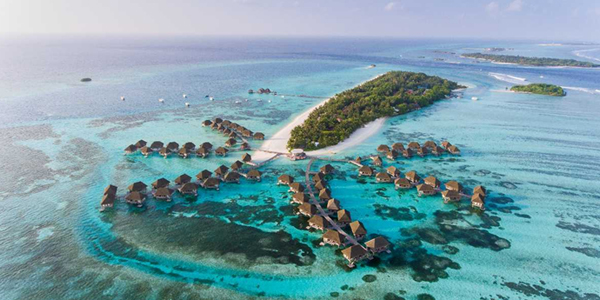 Image Source: https://www.holidify.com
A tiny country with 1,000 small islands, & each property is built on these islands, meaning during your stay at that property, you own the whole island. Isn't it just amazing! And, obviously it is just a myth, that Maldives is just meant for honeymooners or you just have to enjoy & relax at the hotel. But that's definitely not a correct thing, this paradise place is meant for all age groups, as there many things to enjoy here. From relaxation at the resort to spa & massages, from water sports activities to strolling the beaches, from island hopping tours to walking tour of the city & much more exciting activities. So, if you are looking for a place that soothes your eyes, go for Maldives.
Things to do: Spa & Massages, Scuba diving, fishing, parasailing, island hopping tours, dolphin watching, paddle boarding, sunset romantic dinner cruise, surfing, scenic helicopter ride, snorkelling.
No of nights required: 3-4 nights required.
Best time to visit: December to march is the best time to enjoy here.
8. Polo Forest: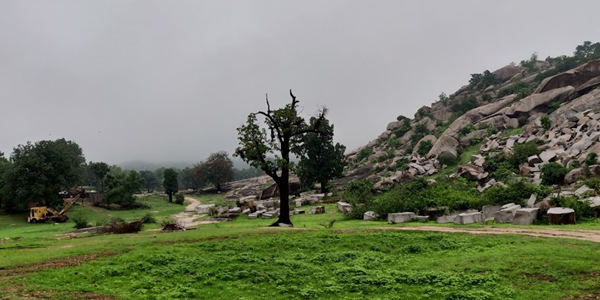 Image Source: https://www.akshartours.com
Are you're an adventure lover? Need some natural air? Then, don't think much and book a tour package to this eco-friendly place. Polo Forest is meant for the ones who love being with nature & admire nature. And this place is not limited to only nature, but also house many historical sites worth visiting, rivers & dams, temples & just one of the best picnic spots at a nearby distance.
Things to do: Bird watching, stay in tents, Shiv temple at Sharneshwar, Lakhena temple, Harnav Dam, Jain Temple, Adventure activities like Rock climbing, Trekking, Cycling/bike rides, star gazing, tours to the villages & farms.
Best time to Visit: During monsoons & winter months
No. of nights required: 1-2 nights.
9. Jodhpur: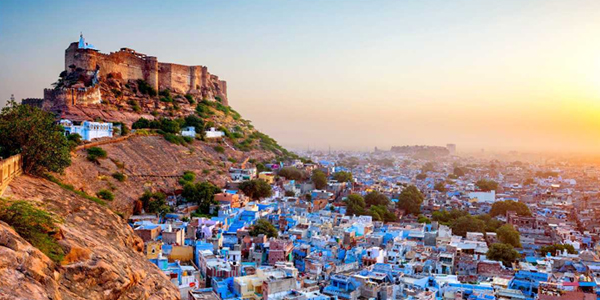 Image Source: https://www.holidify.com
This blue city & the second largest city displays the true culture & tradition of the historical state of Rajasthan. Ever wondered, why is this city known as the Blue City? For this, you need to book a tour here & know the interesting fact behind this. It is also said that a sunset enjoyed from the Mehrangarh fort, is one of the "paisa vasool" things to do here. Apart from this, you can also enjoy the famous Marwari dishes here, temples, lakes or just stroll the old city & have the fun in shopping.
Things to do here:Mehrangarh Fort, Jaswant Tada, UmaidBhawan Palace, Khejarla Fort, Moti Mahal, Phool Mahal, Sheesh Mahal, ChamundaMataji Temple, GhantaGhar
No of nights required: 2-3 nights
The best time to visit here in the winter season.
10. Kumbhalgarh: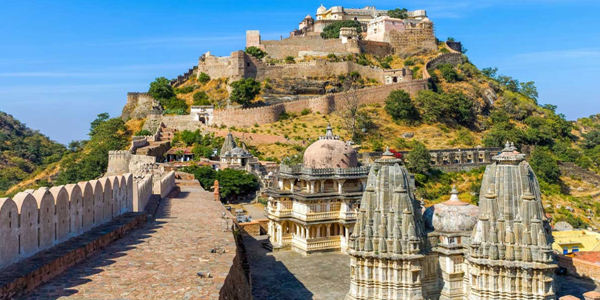 Image Source: https://www.rajasthantourplanner.com
We all are aware about the facts, that the State of Rajasthan is all about princely royal palaces & forts. Again this place is for the ones who are history buffs with also boasting a UNESCO World Heritage Site- Kumbhalgarh Fort & many other palaces, historical buildings & forts. Also, you can enjoy the wildlife sanctuary here, visit the popular spot of the battle fought – the HaldiGhat, or just sit and admire the city at the lake area. You can also club Udaipur with this historic city & have the best holiday.
Things to do:Kumbhalgarh Fort, Badal Palace, Vedi Temple, Kumbhalgarh Wildlife Sanctuary, NeelkanthMahadev Temple, Mammadev Temple.
No. of nights required: 2-3 nights.
The summer season is too hot here, so the best option is to enjoy here in the months of winter season.
Hope, you have got a greater picture now and your confusion is reduced with this blog of where to spend your Diwali vacations after this boring pandemic. Checkout some of the exciting India tour packages listed on our website & let us know what have your thought during your Diwali Holidays.
Happy Holidaying People!