Sri Lanka vs Maldives: The Two Jewels of India Ocean
This blog is about 2 beautiful countries Sri Lanka and Maldives, which are loved by many people from across the world for different reasons to spend their holiday. These are island neighboring countries and two of the most well-known tropical destinations in the world. Whenever people plan for holiday packages they often think about which country to go for as both are beach destinations surrounded by water, ideal for a relaxed tour but still they are different. Here we will compare both the countries: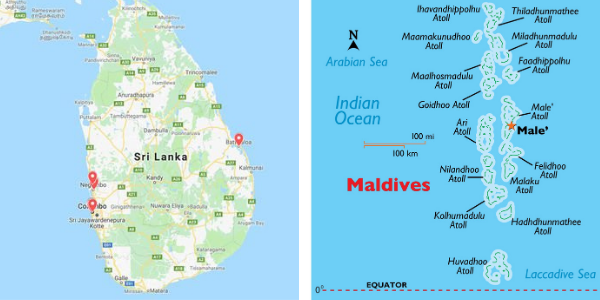 Maldives consists of more than 1190 islands and the size of its land is 290 sq. km.Located in the southwest of Sri Lanka, it is the smallest Asian country. Sri Lanka on the other hand is an island with a total land area of 65,610 sq km. Both island countries are located in the Indian Ocean and can be reached by air from most of the countries. You can travel between these two countries by taking one hour flight.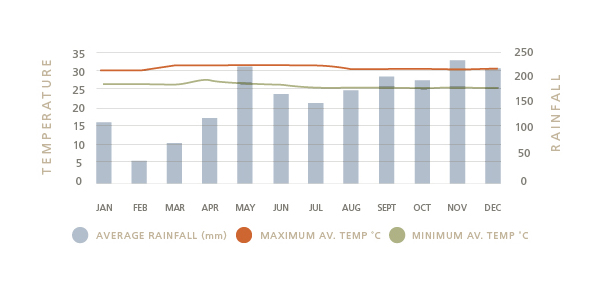 Image Source: www.themaldivesexpert.com
The climate in Sri Lanka is usually around 30-35 degrees Celsius with the mostly dry and wet season. In the coastal areas mostly weather will be cool with the breeze from the ocean. Between April and August is the hottest month while December and January are the coolest. The best time to visit Sri Lanka is from December to April. Maldives on the other side is hot with a tropical climate year-round having temperature around 30-35 degrees but in January pleasant weather can be experienced. The best time to visit Maldives will be from November to April that also makes it one of the most popular destinations for honeymooners.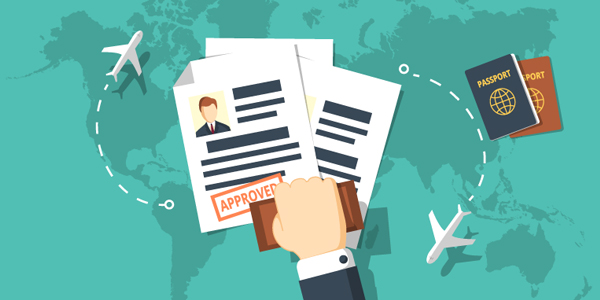 Image Source: www.themaldivesexpert.com
For Indian citizens getting a visa to both the countries is very easy. For Sri Lanka, you can apply online for an Electronic Travel Authorization (ETA) where you will be allowed to stay for a total of 30 days in the country. This will cost you USD 20 and your visa will be processed within 24 hours. The only document that you need to submit is your scanned passport copy, email id, and mode of payment taking around 10 minutes to fill the form online.
When planning for Maldives no pre-visa is required for Indian passport holders as it will be provided on arrival free of cost that will be valid for 30 days. You just need to have a valid passport, sufficient funds, and a confirmed ticket copy showing when you will be exiting the country.

Get the cheapest flight rates online with Flamingo
Fly with Flamingo!
Beautiful beaches: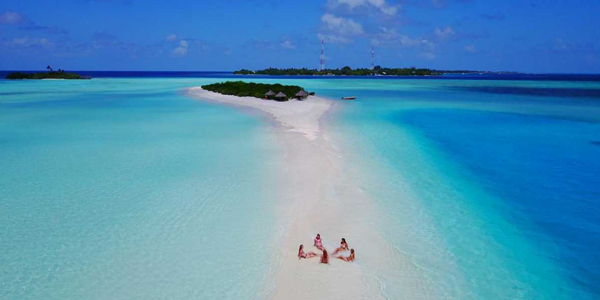 Image Source: ttps://www.holidify.com
If you compare the beaches of both countries then undoubtedly Maldives will stand out. Crystal clear turquoise water, white sand, and palm trees give you a perfect feeling of a relaxing vacation on your Maldives tour package. Sri Lankan beaches are just like Goan beaches long coastal stretch, huge palm trees with golden or brownish sand. With many tourists around, you may not feel the calmness or relaxed environment that you can get in Maldives with huge flat lagoons and most sections will be quiet with no waves. Also, if you want to swim then it can be freely done in Maldives whereas in Sri Lanka it can be difficult due to water activities going around.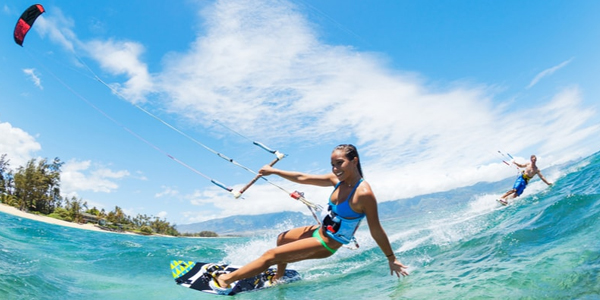 Image Source: https://tourscanner.com/
For adventure seekers, both countries will not disappoint you. If you want to go for a thrilling experience then in Sri Lanka you can do water sports like surfing, jet-skiing, kite surfing, sailing, deep-sea dives, and white water rafting. The wind blow here is perfect and the waves of Sri Lankan beaches make it more interesting. You can also do scuba diving and snorkeling here but Maldives also offers some extraordinary water sports experiences worth trying. You can spot dolphins, turtles, small colorful fishes, corals, etc.
Travel around the country like nature & wildlife:
Sri Lanka is one of the many countries that can give you amazing different experiences like beaches, hill stations, and tea plantations with waterfalls, lakes and rivers, wildlife, and historical places. It is an ideal place for those who like to understand the country, travel from one place to another to have different experiences that can be covered in your Sri Lanka tour package. On the other side, in Maldives there are no mountains and small islands are very close but gives you a similar experience. In terms of wildlife experience, you can mainly get to see lizards, little iguanas, crabs, turtles, and water animals.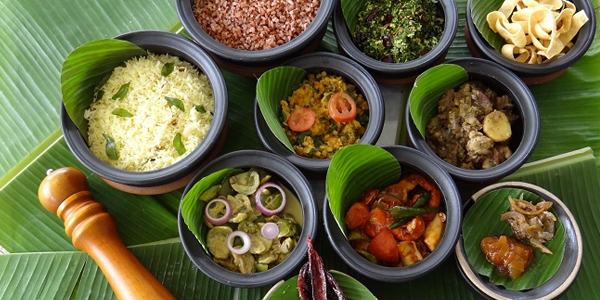 Image Source: www.themaldivesexpert.com
One of the important aspects that people spend their time in making their holiday package is the food in the country they will be tasting. Many of them would like to have a taste of local cuisine which may not be possible in Maldivian resorts. Maldivian cuisine is a mix of Indian, Arabic, and Sri Lankan with the main ingredient being seafood and coconut milk. For vegetarians, food can be an issue and you may have to indulge more in local fruits like papaya, banana, watermelon, etc, and different types of salads.
Sri Lankan cuisine is more like Indian food but a little spicier with rice and different types of curries being their main ingredient. There are many restaurants, cafes, and fast food joints so if you don't like the food then there are other options as well so food in Sri Lanka should not be a problem for travelers.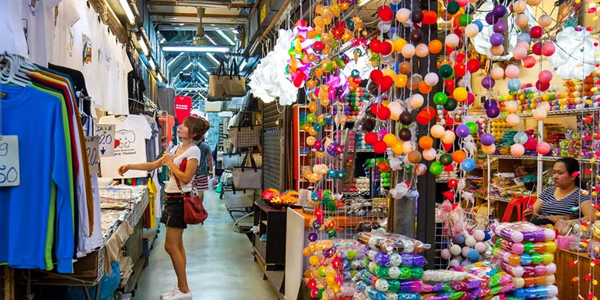 Image Source: https://tourscanner.com/
Since Maldives is the smallest Asian country there are only a few places where you can enjoy shopping but not an ideal place for shopaholics. You can purchase some delicious local fruits, pickles, and snacks from the Male local market along with Maldivian handicraft, seashell items, and wooden crafts. There are a few other local markets and malls in Maldives.
In Sri Lanka, some locally made jams, enjoy Pettah floating market, different spices, variety of teas that are exported in other countries, from handicrafts to therapeutic items as this country is known for Ayurvedic treatments, previous jewels, luxury shopping, and many more.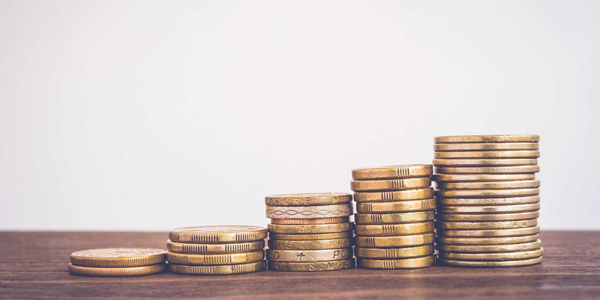 Image Source: https://www.cleanipedia.com/
In Maldives you will find many luxurious resorts and water villas situated on the ocean where you can just go for a swim whenever you feel like. Some of the resorts have underwater restaurants also but mostly such resorts are super expensive and unique. Those who can afford should book these resorts as you will not be traveling to Maldives again in near future. There are budget hotels also but it may not give you that same experience that you are looking for. Along with accommodation, food and drinks are also expensive but the experience is unmatched if compared to Sri Lanka.
A beach stays in Sri Lanka can be much cheaper as there is an array of hotels and resorts to choose from. Some of the 5-star hotels in Sri Lanka can be much cheaper than 5-star resorts in Maldives. The entire costing of your trip depends majorly on what best hotel deals you get in accommodation. While in Maldives you are restricted to eating at your resort or other few restaurants, in Sri Lanka you have many more options even local street food.

Hotel deals like never before!
You Travel We Care!
Here is a list of places to visit in Maldives:
1.Male:
Image Source: https://www.traveller.com.au/
This capital city has buildings, bars, restaurants other than some of the tourist attractions. You can also find Indian bazaars here, Male market and 17th century Friday Mosque.This is the perfect place for scuba diving due to multi-colored corals and seaweed-clad sandbanks lie underwater between the isles of the North Male Atoll.
2. Alimatha
Island:
Image Source: https://www.privateislandsonline.com/
This is a great tourist island that is very popular for night diving packages and you can find plenty of morays, eels, and jackfish.
Check out some exciting things to do in Sri Lanka:
1. Visit
tea plantations: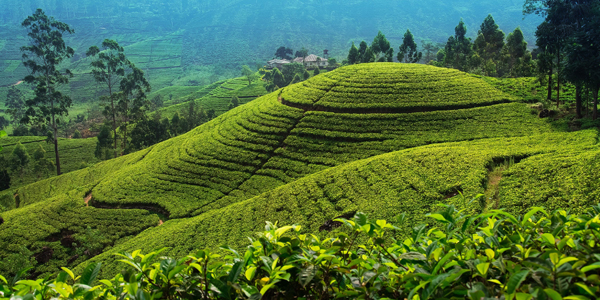 Image Source: https://cdn1.i-scmp.com/
NuwaraEliya is one of the most scenic places to visit in Sri Lanka surrounded by tea plantations, waterfalls, and mountains. Try some of the freshest tea and if you have extra time then travel by train from Kandy to NuwaraEliya that takes around 3-4 hours for amazing views of lush green mountains and tea plantations.
2. Pinnawala Elephant Orphanage: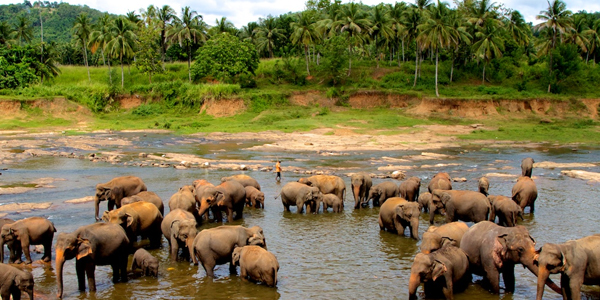 Image Source: https://gate20.files.wordpress.com/
Riding on an elephant is an old experience just imagine watching these giant beast bathing in the river, enjoying themselves doing mischief. This can truly be a lifetime experience for you.
3. Whale
watching at Mirissa: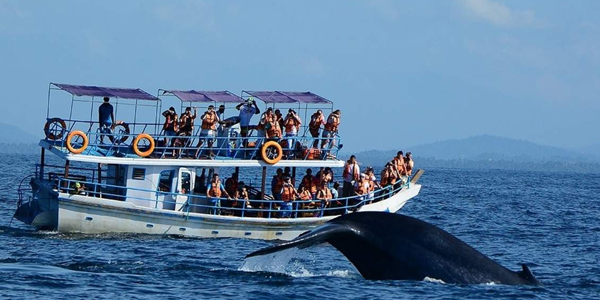 Image Source: https://res.klook.com/
Just think if you can watch the world's biggest creature swim right in front of you. If this thought is so interesting then how you will feel when you can see it. Dondra Head is the southernmost tip in the country where you can get on specialized boats for commercial whale watching. Peak times being December and January, the whales are routinely sighted which is why this place is also considered as one of the best places in the world to spot whales.
Some FAQ:
1. What is the best time to visit Sri Lanka?
Although Sri Lanka is a year-round holiday destination; then its peak season is considered to be between December and April.
2. Do I need a Covid-19 test done when traveling to Maldives or Sri Lanka?
Travel to Sri Lanka for tourists is currently not allowed. If you are permitted to travel by the Sri Lankan government then you must hold a negative Covid-19 PCR report conducted less than 72 hours of departure. Maldives is allowing the tourist to enter the island but need to show negative Covid19 PCR report conducted within 72 hours of departure. You need to have confirmed hotel reservation for the entire duration of stay in one hotel that is registered with Maldives Tourism and upload a health declaration form and Covid19 negative report at https://immigration.gov.mv/
3. What are some of the best places to visit in Sri Lanka?
The best places to visit in Sri Lanka are
Sigiriya Rock Fortress
Kandy and The Temple of Tooth
Yala National Park
Arugam Bay
Adam's Peak
Galle and Dutch Fort
NuwaraEliya and Tea Plantations
Dambulla Golden Cave Temple
Colombo
Bentota
4. What watersports activities can I try in Maldives?
Many water-based activities can be done in Maldives.
Scuba Diving
Snorkeling
Under Water Walking
Kayaking
Glass Bottom Boat
Jet Skiing
Banana Boat
Kite Surfing
Wind Surfing
Fly Boarding
Parasailing
5. Which season is ideal to visit Maldives?
Maldives is always hot and sunny but the ideal season to visit this beautiful island country is from November to April.
In conclusion, we want to say that either Maldives to Sri Lanka whichever tour package you select you will surely have an incredible experience. You are bound to have some experiences that you won't forget at both these destinations. Like in Maldives you may not get to enjoy local food but imagine having food in a restaurant that is extended over a turquoise lagoon could be a much more memorable one. You might not be able to go for snorkeling in the beaches of Sri Lanka but it could be turtle season where you can see babies hatch. Also, we will suggest that it is ok if the budget is going little above what you planned because it may be the only time you will visit these countries and the experience that they will provide you is worth spending a little extra from your pocket. Since they are not far from each other, you can plan to visit both the countries on a single trip, and with this, you will also be saving the cost of flight booking. We at Flamingo can help you make a perfect itinerary for a Sri Lanka tour package and Maldives tour package so that you can get the best out of these two countries. After all, it is all about enjoying the destination and what these countries can give you as they are special in their own way.