Top 10 Yoga Retreats In India!
Looking for the Best Yoga Retreats then India is the perfect place for you. From beautiful beaches to the serene beauty of the Himalayas this country has it all. India is the place where yoga was started and thanks to our Prime Minister Mr. Narendra Modi that on 21st June we celebrate International Yoga Day. It is easy to feel impressed by the sheer number of reputed yoga centers in India. As a yoga country, this nation offers some of the best spaces to widen your understanding of the ancient practice. However, the most common hurdle that stops people from joining such yoga centers is the costing part as these are mostly expensive. We at Flamingo truly believe that everyone should try this life-changing experience and if you are planning India tour packages then we are here to guide you to 10 best yoga retreats for you to choose from.
Yoga is a practice that can bring a lot of good changes like strength, awareness, and harmony in you both physically and mentally. It is good if you have been practicing yoga but if you have not started yet it then we suggest you start right away as it can benefit you like increased flexibility and muscle strength, improved respiratory function, maintain a balanced metabolism, and also reducing your weight. Most of these retreats also offer sightseeing and local excursion along with yoga sessions so this can work out perfect for your holiday package planning. You can visit below top 10 affordable yoga retreats that have yoga sessions for 3 to 10 days and have some of the best unforgettable experience. Before booking makes sure your mind is set about your visit to the centre because for the entire duration of the programs you may need to stay in the ashram, not use technology or meet strangers in the city so that entire concentration on the meditation and focusing on yoga practice.
1. Rishikesh Yogpeeth–Rishikesh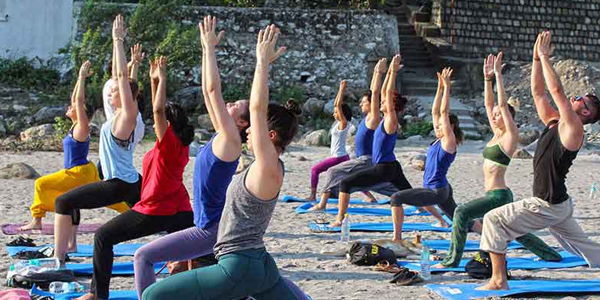 Image Source: https://www.rishikeshyogpeeth.com/
Rishikesh Yogpeeth has a 7 day Yoga Retreat that is designed to help you reignite your passion for life. Apart from yoga, they provide holiday activities like trekking, rafting, sightseeing along with a complimentary Ayurvedic massage that adds up to your plans for an India tour. Here the teachers are masters in yoga who will allow you to understand yoga, improve your asana skills to become stronger, meditation and chanting will give you the peace that you were waiting for, and satvik food that will make you healthier. If you follow the routine here then you can get discipline in your life and be more relaxed that will lead you to spiritual discovery which can broaden your mind.
Inclusion: Yoga learning, Accommodation, and food.
Accommodation: 18 cottages at Abhayaranya Campus & 15 spacious rooms at Ganga Campus
Daily Schedule:
05:30 am – Wake Up
06:00 am – Herbal Tea
06:15 am – Shatkarma/Yogic cleansing
06:30 am – Pranayama and Chanting
07:30 am – Yoga Asana
09:00 am – Breakfast
11:30 am – Yoga Philosophy
12:30 pm – Lunch
04:30 pm – Yoga Breathing | Yoga Nidra
05:00 pm – Hatha Yoga Asana
06:45 pm – Pranayama | Meditation
07:15 pm – Dinner
10:45 pm – Lights Out
2. Himalayan Yoga Retreat – Rishikesh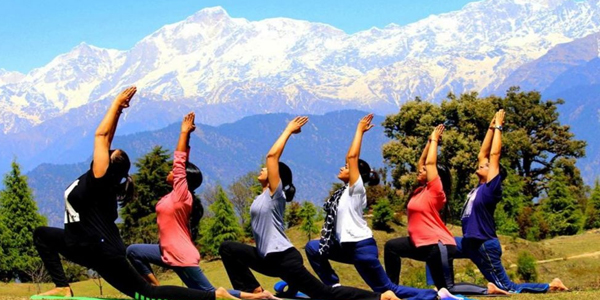 Image Source: https://bookretreats.com/
Haridwar and Rishikesh are the gateways to the Himalayas with many temples and ashrams near the Ganges River. Himalaya Yoga Retreat is one of the best places for you to indulge in ancient techniques for relaxation and rejuvenation. They offer a certified program of 200 hours (7nights/8days) yoga teacher training, emotional blockage chakra treatment and healing, Shatkarma which is full body detox, and Reiki training.
Inclusion: Yoga learning, Private accommodation, 3 daily veg meals, ceremony, and local excursion.
Accommodation: 18 cottages at Abhayaranya Campus & 15 spacious rooms at Ganga Campus
Daily Schedule:
7:30 AM – 8:30 AM Yogic Cleansing
8:30 AM – 9:30 AM Pranayama
9:45 AM – 10:15 AM Breakfast (fruit juice)
10:15 AM – 11:15 AM Yoga Philosophy
11:15 AM – 12:30 PM Lunch
12:30 PM – 2:30 PM Break
2:30 PM – 3:30 PM Varies per day*
3:30 PM – 4:00 PM Tea break
4:00 PM – 5:30 PM Hatha Yoga
5:30 PM – 6:00 PM Tea or Water
6:00 PM – 7:00 PM Meditation
7:15 PM – 8:15 PM Dinner
Varies per day*
Introduction to Ayurveda
Ayurvedic Nature of the Body
Ayurvedic Food and Health
Brief Introduction of Emotional Blockage and Chakra Treatment
3. Swan Yoga – Goa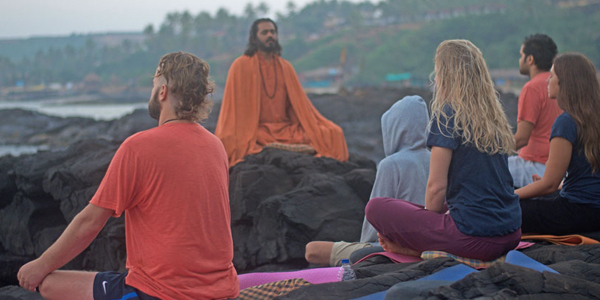 Image Source: https://swan-yoga-goa.com/
When you hear about a Goa tour people think of parties and fun activities but Goa has more to offer. Swan Yoga is a meditation and Ayurveda retreat located in the lush tropical paradise of Assagao just 15 minutes away from Anjuna beach in North Goa. They offer one of the best 200 hours of yoga teacher training, 50 hours of meditation and tantra training, and 50 hours of yoga Nidra training. They have a very cost-effective 1-week yoga retreat package that is ideal for the beginners which include meditation, pranayama, asana, yogic kriya, yoga philosophy, and special yoga techniques. The best part they don't let you miss the beaches in Goa as they have made a Fake Beach with all the facilities you get at the beach.
Inclusion: Yoga learning, Accommodation, and food.
Accommodation: Budget / Standard / Deluxe Cottages
Daily Schedule:
Meditation – 6:00-6:45
Tea & Fruit – 7:00 – 7:20
Asana Yoga or Yoga Kriya 7:30-9:00
Brunch – 10:00-11:00
Yoga Philosophy or Yoga Nidra 11:30-12:30
Asana – Evening (16:00-17:30)
Tulsi Puja (Holy Basil) Healing – (4times/week)(15mins)
Dinner (18:00-19:00)
Havan – Fire Ritual Or Trataka Candle Gazing  (2-3 times/week)
4. Shanti Yoga Retreat – Kerala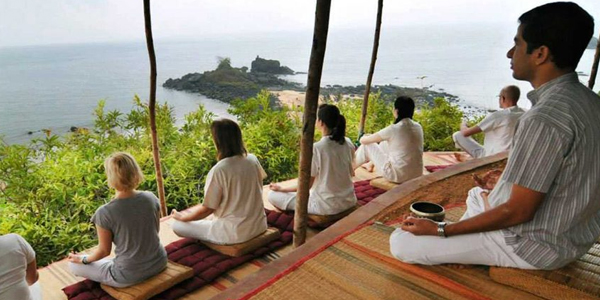 Image Source: https://mediaindia.eu/
Kerala is known for its Ayurvedic treatment and combining it with learning yoga makes it a perfect destination for a yoga retreat. They aim to promote yoga science at national and international levels. This centre offers yoga retreats from 3 days to 20 days giving you lots of options to choose from. They have programs like meditation, yoga therapy, dynamic yoga, and naturopathy workshops.
Inclusion: Yoga learning, Accommodation, a Sightseeing trip, Ayurveda massage, and Nutritious food (more inclusions if you choose more than 3 days program)
Accommodation: AC rooms
Schedule:
Mind Power Training (Day 1 & 2)
Restructuring thoughts and mind.
Unleash universal power from within.
Law of attraction for high achievers.
Receiving success through creative Visualization.
Counseling, Hypnotherapy, Healing Sessions (Individual Consultation)
Fire Walking, Nail Sleeping, Broken Glass Walking, etc.
Yoga (Day 3 – 7)
The basic philosophy of yoga.
Fundamental principles of yoga for a healthy life.
Yoga Asanas and Pranayama.
The practice of Meditation.
Detoxification Kriyas.
Techniques for well-balanced mind-body-soul and relaxation.
5. Sivananda Yoga Vedanta Dhanwantari Ashram – Kerala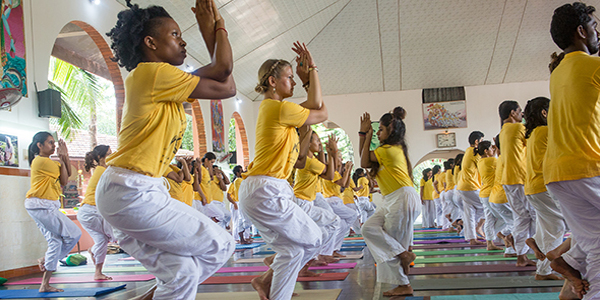 Image Source: https://sivananda.org.in/
Spread over 12 acres of land within the forested foothills of the Western GhatMountains in Kerala, this well-known centre of yoga's environment is peaceful. They offer specialized camps for kids, yoga vacation, Ayurvedic therapies, and advanced yoga teacher training programs irrespective of whether you are a beginner or already practicing yoga.
Inclusion: Yoga learning, Accommodation, a Sightseeing trip, Ayurveda massage, and Nutritious food (more inclusions if you choose more than 3 days program)
Accommodation: Different AC & non-AC shared rooms for 2 people and a Dormitory.
Schedule:
5:.20 AM Wake up
6:00 AM Satsang (group meditation, chanting, and talk)
7:30 AM Tea
8:00 AM Asana Class
10:00 AM Brunch
11:00 AM Karma Yoga (selfless service)
12:30 PM Asana Coaching (Optional)
1:30 PM Tea
2:00 PM Lecture (talks on various yoga topics)
3:30 PM Asana Class
6:00 PM Dinner
8:00 PM Satsang (group meditation, chanting, and talk)
10:30 PM Lights out
6. Sarvaguna Yoga – Dharmashala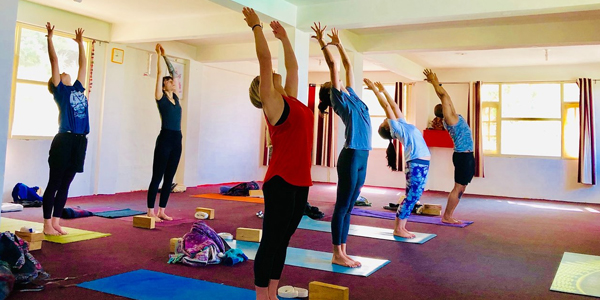 Image Source: https://media-cdn.tripadvisor.com/
If Rishikesh which is the gateway to the Himalayas can give you a unique meditation experience through yoga retreat then think how exciting it can be at the breathtaking Himalayan peaks of Dharamshala at Himachal Pradesh. To connect with your mind, body, and soul, the serene setting of Sarvaguna Yoga is the perfect place for you to practice yoga. It has centre in Goa as well so if you are not a mountain lover then you can head to the beaches of Goa. They offer from 100-hour meditation to 300-hour advanced certified yoga programs and reiki training.
Inclusion: Yoga learning kit and study material, Accommodation (extra inclusions varies from different packages)
Accommodation: Single Deluxe.
Schedule:Depends on the package you choose
7. HimalayanIyengar Yoga Centre –Dharamkot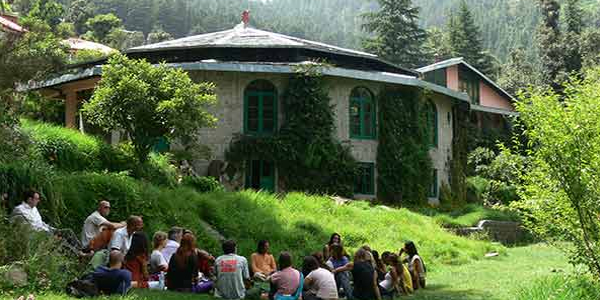 Image Source: https://www.hiyogacentre.com/
This eco-retreat for yoga and meditation sits inside the beautiful peaks of Himachal Pradesh. With spectacular views and lush greenery, this yoga centre let us detach from the world and dive into their yoga practice. The retreat also offers Ayurveda and meditation workshops along with 9 and 10 days of yoga course and training programs. They also have a center in Dharamshala and Goa so you can choose between the beach or hill station.
Accommodation: Send email at info@hiyogacentre.com
Schedule:
Day 1 to 6:
05:00 – 07:00 Energising Inversions Self-Practice
07:00 – 08:00 Pranayama
08:00 – 12:00 Yoga Asana Class
12:00 – 01:00 Lunch
01:00 – 04:00 Rest
04:00 – 04:30 Meditation
04:30 – 06:30 Yoga Relaxation Class
06:30 – Dinner
Day 7: The day will be free but you will not be allowed to leave the ashram or contact the outside world.
8. Kaivalyadhama Ashram – (Mumbai, Delhi, Jaipur, Bhopal, Rajkot)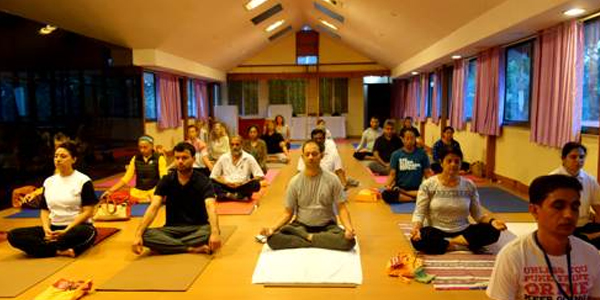 Image Source: https://kdham.com/
One of the most seasoned and comprehensive centers for yoga teaching, research, and learning, Kaivalyadhama is the place you should go if you are genuine about your yoga practice. Other than workshops and short terms courses, this centre's College of Yoga provides an advanced diploma and bachelor's degree in Yoga philosophy. They have different types of packages relaxation, naturopathy (INR 6000 extra per week), Ayurveda (INR 11,000 extra per week), and weight management program (INR 7500 per week).
Inclusion: Yoga learning kit and study material, Accommodation (extra inclusions varies from different packages)
Accommodation: Standard / Deluxe/ Executive / Cottage
Schedule:
06:00 – 06:15 Herbal tea
06:30 – 07:00 Yogic ShuddhikriyasAbhyas
07:00 – 08:15Basic/Therapy/ Advance Yoga Abhyas
08:30 – 09:00 Breakfast
09:00 – 12:00 Nature cure /Ayurveda Treatment (between 10:30 to 11:15 special yoga class for yoga relaxation participants)
12:00 – 13:00 Lunch
13:00 – 17:00 Nature care / Ayurveda treatment (14:30 to 15:30 herbal tea)
17:00 – 18:00 Basic/ Therapy/ Advance Yoga Abhyas
18:15 – 19:15 Pranayama Abhyas (Trataka on Friday & Meditation with Sitar on Saturday)
19:15 – 19:45 Dinner
20:15 – 21:00 Discussion
21:00 Good night
9. Krishnamachar Yoga Shala – Mysore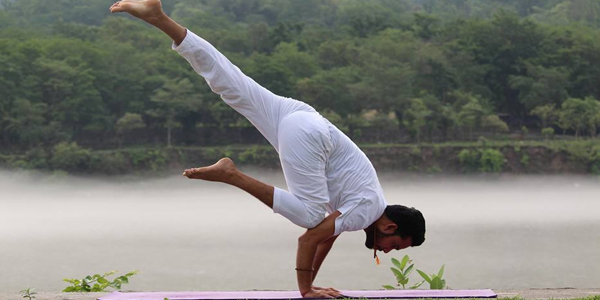 Image Source: https://www.newfangledgirl.com/
Educating conventional AshtangaVinyasa Yoga, the Krishnamachar Yoga Shala offers an assortment of courses and instructor training programs. Instructed under the supervision of Sri BNS Iyengar, the most seasoned living teacher of AshtangaVinyasa Yoga, the courses are given here are among the finest within the world. Accommodation like a private room with a shared kitchen, lavatory, and terrace is available for students.
Accommodation: Single and double bedrooms.
Schedule:
6:45am to 8:00am HataVinyasa Asana class & Drop-in allowed
10:30am to 11:30pm Pranayama
30pm to 5.30pm AshtangaVinyasa for beginners &Drop-in class
All Sunday's holiday
10. Lakshya Yoga – Varanasi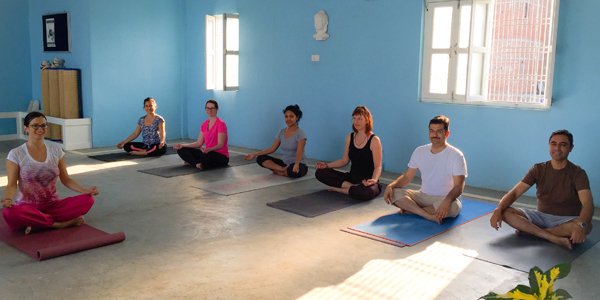 Image Source: https://static.wixstatic.com/
Varanasi a sacred city is known for Ganga aarti and local food makes a perfect place for a yoga retreat. Varanasi is a holy place itself, this centre lets you learn yoga and give you space to understand the beauty of this city. This centre provides 2 yoga classes in a day that includes pranayama and meditation, enjoy a boat ride, and meditate on the Ghats which itself is a unique experience. They also have retreats in the hills of Kangra Valley in Himachal Pradesh.
Included: Yoga classes, meditation & chanting, sunrise boat yoga session, Ganga boat ride for Ganga aarti, temple visit & walking tour of Varanasi, shared accommodation, and 3 meals a day.
Accommodation: Single and double bedrooms.
Schedule:
7:00 – 8:30 am : Yoga & Pranayama
8:30 – 9:30 am : Breakfast
10:30 – 12 pm : Vedanta Talk & Workshop
1pm : Lunch
Afternoon tour of Varanasi / Free Time
5 – 6 pm : Vedanta Talk
6 – 7 pm : Yin Yoga & Meditation
7 pm : Dinner
Most of us mainly plan for a holiday for relaxation far from the busy life in the city and nothing better can be relaxation with yoga. You may feel that the yoga retreats are a bit expensive but let us tell you it can be once in a lifetime experience which you can include on your domestic tour package and something different than what usually you plan. You can book shorter programs for 3, 5, or 7 days and during the off-season for better offers. However, make sure you check complete details on what is included and what is not because generally in shorter programs they may not include meals. Hope that the above options by us will help you think about it and book at least once in yoga retreats on the destination of your choice.