15 Must-See attractions in Jaipur!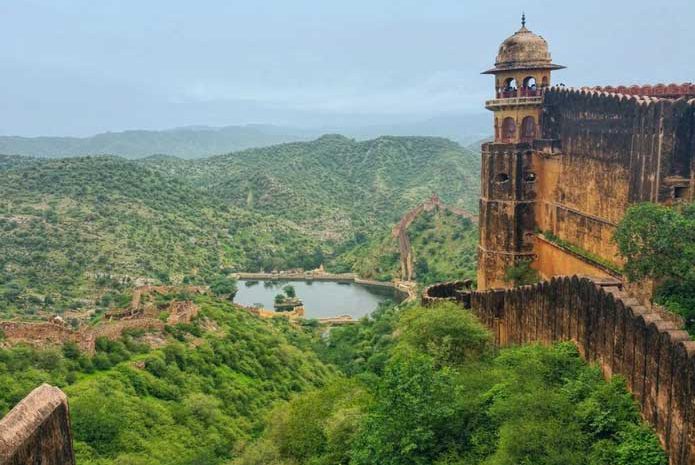 Founded in the year 1727, Jaipur is popularly known as the Pink city of India. The blushing pink color of the city is for its aesthetic Rajasthani vibe, authentic Rajasthani food, culture, handicrafts, traditional Rajasthani jewelry, fabrics & many more. Jaipur is a beautifully rich city filled with warm and friendly people who welcomes tourists wholeheartedly. Capturing the attention of several tourists from across the country as well as foreign countries, pink city – Jaipur is quite a delight for every type of tourist. Being the capital city of Rajasthan, if you're looking for a journey more dedicated to exploring its rich culture or you are wishing to enjoy the ultimate royal treatment, this exciting destination has got it all. If you are ever fascinated by exploring flamboyant forts or architectural masterpieces created by experienced artisans, then Jaipur is a place for you!
Jaipur tourism can come up with numerous popular places so that tourists are boosted up for an exciting vacation in the city. One exciting thing about Jaipur is you can get a lifetime experience by staying in palaces that are turned into heritage hotels. Jaipur has the archetypal type of architecture, which attracts tourists the most. Whereas, the whole city is planned up according to Indian Vaastu Shastra, which signifies the importance of well-being & prosperity of the city. Jaipur is also referred to as an architectural wonderland that gives you an authentic vibe of the grandeur of Jaipur.
This exotic destination can be your next favorite place to visit if you are keen to explore its great architecture, economy, art & culture, food & festivals, and a wide range of tourist attractions! Whatever an enthusiastic traveler wishes for in a destination, Jaipur has got it all covered. Jaipur is the prominent stop in India's most famous tourist circuit called "The Golden Triangle" tour.
There are great hotel deals for Jaipur luxury hotels which you can book from our online hotel booking portal. Consult your tour operator and plan your trip to this exciting destination!
Top reasons which will make you eager to travel to this destination:
To explore iconic historical forts & palaces
To study about heritage & architecture of Jaipur
To try local Rajasthani cuisine at Chokhi Dhani
Experience the vibe of local fairs & festivals
Get a chance to shop at local Bazaars ( Jewelry, Jaipuri Quilts, Bandhani, Mojaris, local art & craft)
A true representation of India
People of Jaipur are welcoming & homely
Experience the vibrancy of culture and religion
Get to experience luxury stay at Rambagh Palace
If you are planning a trip to Jaipur, the above-mentioned reasons on why you should visit Jaipur might be of help to you! Being a tourist, here's a list of the top 15 must-see attractions that are not to be missed out on:
1. Hawa Mahal :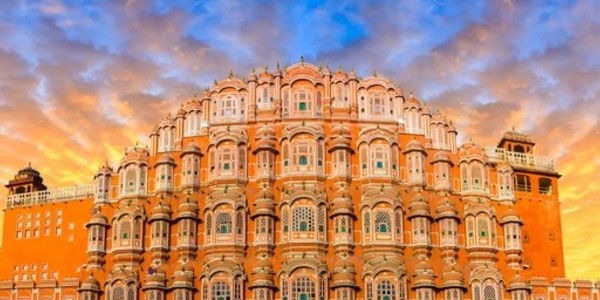 Image Source : https://image.shutterstock.com
Hawa Mahal is located 300 kilometers away from the capital city of India, Delhi. The palace is constructed from red and pink sandstone which represents the icon of Jaipur. If you ever wonder about how the buildings in Jaipur look, then its true representation is Hawa Mahal (Palace of Breeze). This palace is all about displaying architectural figures that appear in postcards of the town. Hawa Mahal consists of 953 windows which makes it a perfect summer palace. Don't miss the colorful glass work in windows and doorways, which casts an ultimate glow on the chambers of Hawa Mahal.
2. Light & sound show at Amber Fort : :

Image source: https://images.thrillophilia.com
Amer Fort also known as Amber Fort is the most happening palace you'll ever visit. The fort is located in Amer, Rajasthan at a distance from the capital city, Jaipur. Constructed by Raja Maan Singh in the year 1592, Amber Fort is famous for its artistic style carvings. Right at the entrance of the palace, you will find a temple dedicated to Goddess Shila Devi. A delight to your eyes, the Amber Fort & Palace Complex in Jaipur, hosts a wide range of entertainment nights. The show focuses on highlighting the local legends, folklore, and celebrates the virtuosos of folk music.
3. Nahargarh Fort :

Image source: https://jaipurtourism.co.in
When it comes to visiting must-see attractions in Jaipur, you cannot miss out on Nahargarh Fort. Built-in 1734 nearly a 300-year old Fort is standing still on the edge of a prime location – Aravalli hills, overlooking the city of Jaipur. Nahargarh Fort was built by Sawai Jai Singh who was the king of Jaipur during that time. Just like Amber fort and Jaigarh fort, Nahargarh has also received the defense ring of Jaipur. Over here, you can do cycling & trekking activities, also you can visit Nahargarh Biological Park located within the fort premises. Nahargarh Fort is a place where you can spot history & royalty all in one place. The lavish Rajasthani building features identical bedrooms for the queens, which all are connected with the king's suite through mutual corridors.
4. Amrapali Museum :
Image Source : https://jaipurbeat.files.wordpress.com
If you are a sucker for traditional Indian jewelry and jeweled objects, then the Amrapali Museum is a must-visit attraction. Founders of the Amrapali museum, Rajiv Arora and Rajesh Ajmera started this brand that showcases the collection of antique Indian jewelry. Spread over two floors, the Amrapali museum features a 4000-piece collection that showcases the talent of Indian craftsmanship. The basement features a collection of artifacts inspired by Indian craftsmen while the ground floor showcases silver and gold jewelry. The display of the museum depicts how wisely Rajasthani people choose their gold, silver, and precious gems. You can have a look at a wide collection of horses' legs, a chariot wrapped in silver, embellished shoe covers, and an eminent crown for a groom from Himachal Pradesh.
5. Jantar- Mantar, Jaipur :

Image source: https://www.planetware.com
An observatory deck in Jaipur, Jantar Mantar features a wide collection of 19 astronomical instruments which was constructed by the Rajput king Sawai Jaisingh II who was the founder of Jaipur, Rajasthan. There's a massive observatory sundial which is especially noticeable. The construction of the monument was completed in the year 1734.
6. City Palace of Jaipur :

Image source: https://media.istockphoto.com
The palace was built by Maharaja Sawai Jai Singh II who moved his court from Amer to Jaipur. Situated in the heart of Jaipur for nearly three centuries, City palace Jaipur is covered by huge protected walls which depict the fairy-like structure but home to Jaipur's modern-day royal family. The palace is much more royal and extravagant than you could even imagine. City palace is sand-colored & its majestic complex of buildings constructed around landscape gardens overlooks Jaipur and Lake Palace. When you visit the city palace, make sure to cover noteworthy sightseeing places like Mubarak Mahal, Peacock courtyard, Armoury, and the hall of the public audience inside the premises of City Palace.
7. Jal Mahal :

Image source: https://www.travel-rajasthan.com
Situated in the middle of Man Sagar Lake, Jal Mahal is the water palace that has four levels submerged under the reservoir. Jal Mahal is a must-see attraction in Jaipur. The construction of Jal Mahal was done by Maharaja Sawai Pratap Singh in the year 1799 and served the purpose of hunting lodge during his shooting trips. There are rumors that entrepreneurs want to convert this decaying space into a luxury restaurant. As for now, if you visit Jal Mahal simply appreciate the charm of the palace from afar. At night, it's lit up in its glory, casting a golden, glowing reflection on the water.
8. Choki Dhani, Jaipur :

Image source: https://imgcld.yatra.com
To fulfill your hunger requirements of grabbing an authentic lip-smacking Rajasthani cuisine, Choki Dhaani is the place for you. It is an ideal space for experimenting with Rajasthani culture, traditions, heritage, and hospitality. Choki Dhani village was set up in the year 1989 and is spread in an area of 10 acres. Right after 1994, Choki Dhani gained popularity among tourists all over the world. There is a wide range of activities at Choki Dhani Jaipur such as Animal & cart rides, Rath Khana, Haldi Ghati battle, Shows & performances by artists, Gaming, Shopping options, and you can even explore the national museum at Choki Dhani.
9. Jhalana Leopard safari :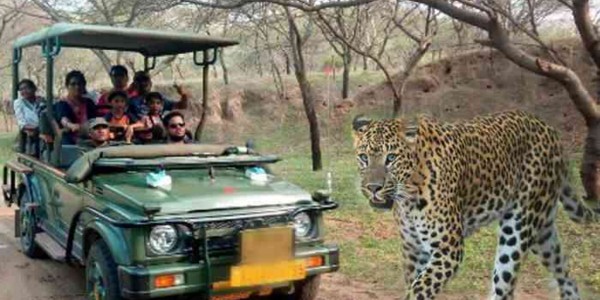 Image source: https://new-img.patrika.com
Jhalana leopard safari in Jaipur is referred to as a harbinger for Eco-tourism in Jaipur. The safari park is spread in an area of 23 sq km and is home to 35-40 leopards out of which 7-8 leopards have their territory inside the tourism park. Apart from this, the safari park also features 500 animals with varied species which makes Jhalana safari park a true intersection of human and nature settled in picturesque Aravalli hills. Jhalana leopard safari is situated in the heart of Jaipur city and slowly it is becoming a favorite destination among tourists to spot wild leopards. Here, you can see a wide variety of deserts, mountains, rivers, valleys, coastal mangroves, and Himalayan foothills. You can spot a wide range of flora and fauna which includes various plants and deer, wild boars, blue bulls, and a variety of migratory birds. Here, you can enjoy activities such as leopard safari, 4*4 jeep safari, photography tour, bird watching, or enjoy a stay in the wild.
10. Panna Meena ka Kund :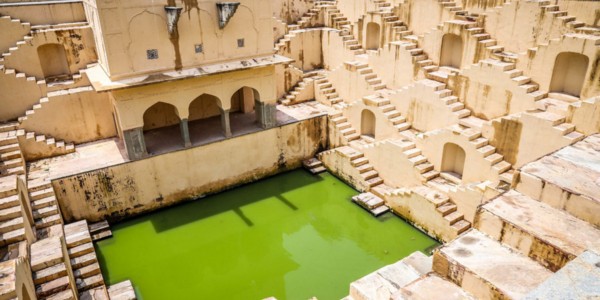 Image source: https://mediaindia.eu
Panna Meena ka Kund is a well-known tourist attraction in Jaipur famous for its historic Stepwell and rainwater catchment which is popular for its photogenic symmetrical stairways. This beautiful Stepwell was built in the 16th century. The Stepwell is square in shape with adjoining stairs that connect all four sides and there's a room on the northern wall. Previously, it was believed that the room was used for religious ceremonies, wedding occasions, or celebrating any other popular festivals. Though not being the biggest Stepwell in Rajasthan, it's worth visiting. There's no entry ticket to visit Panna Meena ka Kund, and the best option is to reach here by foot. For the last 20 years, the site has been maintained by the municipal authority and thus you can visit the Stepwell and take some good memories with you.
11. Johari Bazaar :

Image source: https://jaipurtourism.co.in
For all shopaholic people out there, Johri Bazaar is a must-visit place as it is referred to as the shopper's paradise of Jaipur. While most people visit Pink city- Jaipur for visiting its grand monuments and exploring fortresses, shopping is still a delight for Jaipur. Located right near Hawa Mahal, the Johari bazaar is famous for different types of bohemian exquisite jewelry which you choose from artifacts. The word Johari is referred to as "Jeweller" in Hindi. The whole street is painted with orange color. Apart from Jewellery, Johari Bazaar is also an ideal place to shop for exclusive designer lehengas, Mojari's, Jutis, Bandhani sarees, tie-dye fabrics, and glittering stonework and gemstones.
12. Masala Chowk :

Image source: https://www.pinkcitypost.com
To fulfill your taste buds, visit Masala Chowk which is the recent addition to eateries in Jaipur. Masala Chowk is the open-air food court located in Ram Niwas Garden that offers 21 flavors of Pink City under one roof. This place serves authentic Indian food as well as traditional Rajasthani food. If you are a street food lover, Masala chowk will spoil you with choices. It's a fact that no restaurant in Jaipur gathers a large crowd as Masala Chowk does. Here you can find mouth-watering dishes such as Dosas, Idli, Samosas, Sandwiches, Paani Puri, Chat, and many more at a reasonable price.
13. Elefantastic :

Image source: https://static.wixstatic.com
Elefantastic Jaipur is the best Elephant wildlife century in India. The sanctuary was started in 2012 with a spirit to encounter Asian elephants and their lives in an up closer way. Elefantastic aims to give a fantastic experience to all first-time travelers. Elefantastic is a huge space that gives an experience of great hospitality, delicious food, depicts deep rooted culture, and gives you geographical knowledge, dives into kaleidoscope culture, charming souvenirs, and photogenic chaos. Exploring this hidden gem of Jaipur is worth visiting. Here you can avail of special elephant rides upon trained elephants. You can also opt for camping facilities within the farm. Over the years, Elefantastic has housed 23 female elephants and 1 male elephant. The farm is closely located at the Tiger rescue center of Jaipur. Elefantastic is a must add attraction in your Jaipur itinerary. Basic entry fees start from INR 200 per person which varies according to the season you visit.
14. Bar Palladio, Palace Niwas Hotel :

Image Source : https://b.zmtcdn.com
Located within the premises of Narain Niwas palace hotel, Bar Palladio is an electric blue bar that is inspired by Mughals which showcases classic Indian design. Bar Palladio Jaipur was started to serve classic Italian cuisine with a beautiful setting which creates a vibe of magic and adds a sense of surprise element. Apart from the bar, there's also a shop named "Delicatessen" , basically a gift shop, and "IL Teatro" which is a platform that brings culture, theatre, music, performance, art, food, and travel all at one place.
15. World Trade Park, Jaipur:

Image source: https://www.holidify.com
World trade park, Jaipur is an inspirational business and shopping mall in Jaipur. Here you get options of Fashion, shops, food court, play zone, Events, and cinema. Along with this, there's also a luxurious hotel under construction which will feature underwater rooms, spacious rooms, party hall banquets, a swimming pool, and much more. The Mall is open from 11 am – 10 pm. After 2 years of construction, World Trade Park was opened to the public in 2012 and is spread in an area of 52 acres of land. This 11 stories tall building houses over 500 stores and other recreational zones. The building is covered with a blue and silver color theme externally and is lit up every evening. The mall is divided into two separate blocks connected by a bridge on either side of major Streets in Jaipur.
So, if you are planning to visit Jaipur in near future, don't miss out to include any of the above places of attraction in your travel itinerary. For more details regarding Jaipur tour packages, get in touch with Flamingo Travels.