Essential Suitcase Travel Packing Tips!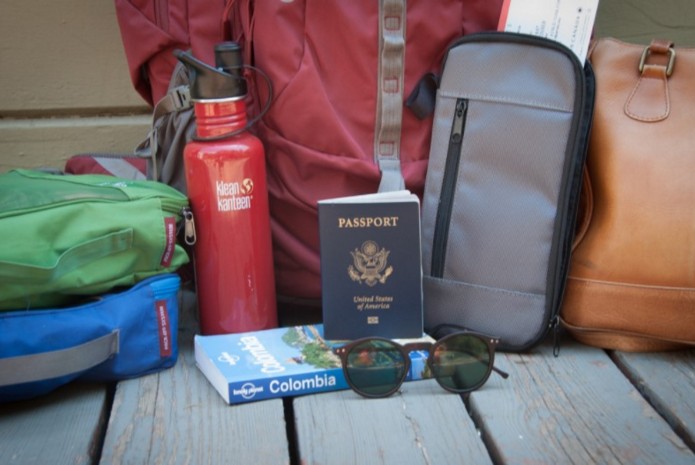 Essential suitcase travel packing tips
Suitcase Packing is quite crucial if you are planning to travel for a long or a short period. Packing could seem simple for many out there, but it is a science with set rules that travelers often learn during the journey of thousands of miles on the road. While on the trip, if you forget an important item, you will be left disappointed and will scramble to seek out the closest store in your destination. If you pack an excessive amount of stuff, you'll end up left disorganized, burdened with heavy bags, and will have to spend unnecessary money on airline baggage fees. So, here through this blog, we would like to highlight the foremost basic—and most useful—essential suitcase travel packing tips. Here's our shortcut to find the best way to pack a suitcase:
First of all make a list of things to pack
Choose the right size of suitcase
Role and fold your clothes properly
Pack your health-kit properly
Make your travel-size toiletries
Carry extra bag for dirty laundry and always recheck once packing done
By following these quirky tips, it will become easy to carry your travel essentials that make your trip run more smoothly.
If you are planning for an exotic vacation in the near future, kindly refer to our website for getting an idea on Top holiday destinations for 2021. Also, get detailed information on the latest India Tour packages.
Here are 10 fundamental tips on how to pack a suitcase efficiently:
Tips to pack your suitcase perfectly
Below are some of the suitcase packing tips to pack your suitcase perfectly.
1. Make a list of things to pack :

Image Source : https://theportablewife.com
Your travel packing list completely depends on the destination you are traveling to, duration of travel, and the purpose i.e. leisure or business. For a leisure holiday or a business trip, your packing list would include casual wear/formal wear, swimwear/beachwear, party wear, nightwear, winter wear, accessories, necessary documents/laptops/appliances, financial, health kit, footwear, and toiletries. Making a list of necessary things to carry while traveling will make your packing a lot easier. Whether it's your first time traveling to an outstation or you are a frequent traveler, it is always helpful to make a list of necessary things to pack that you may want for your vacation. A travel packing checklist will make your vacation hassle-free and stress-free.
2. Choose the right type of bag :

Image Source : https://s3.us-east-2.amazonaws.com
Before even deciding what to pack, it is quite important to find the right type of bag that is lightweight, looks versatile, fits in all your stuff properly, and is easy to carry. Considering the duration of the journey, whether it's a domestic or international trip, road trip, or by train/flight – all of these factors are important in choosing which type of bag is best for your trip. Choosing the right type of bag/types of handbag/travel bag/types of bags for women can ease down your journey. Buying a bag that has an awesome warranty is also important while choosing the right type of bag.
3. Role and fold your clothes properly! :

Image Source : https://www.lifeberrys.com
The best way to pack clothes in a suitcase is by rolling and folding your clothes properly which will save your space. It is a fact that the bigger your suitcase is, the more stuff you will put into it – so the best way to limit your stuff is to buy hard-sided suitcases. Another best way to pack your clothes that will save space is by packing wrinkle-resistant fabrics, arranging clothes thoughtfully, placing clothes you need first at the top, and covering the pile with a dry-cleaning bag.
4. Pack your health – Kit Properly :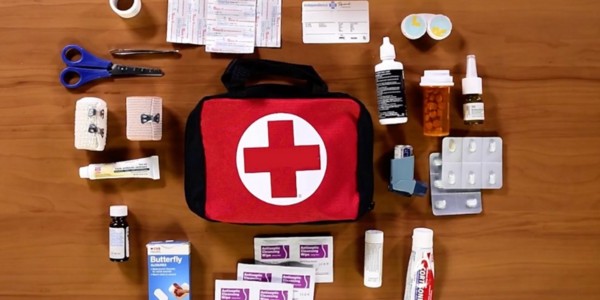 Image Source: https://insights.ibx.com
Health kit is one of the important things to pack for a trip. Items that are to be kept in the first aid box are: Adhesive tape, bandages, gauze pads, antiseptic cream/liquid, allergy medicines, tweezers, thermometer, pain and fever relievers, motion sickness pills, or any other specific prescriptions. Other additional health items include sanitizers, Glasses cases, and sleeping medicines.
5. Make your travel-size toiletries:

Image Source : https://www.twirltheglobe.com
Keep your travel-size toiletries kit handy with all travel-size products. The packing list of travel-size toiletries include liquids, gels, creams, pastes, aerosols; nail clippers, deodorant, shampoos, conditioners, makeup products, SPF, contact lenses cases, hairbrush or comb, hair ties, face wash/facial wipes, etc… All these products must be less than 100ml or less per container. To make this packing easy for you, we suggest you have a toiletry set of four 100 ml silicone bottles in a clear pouch that has a water-resistant zipper. Tip: Never unpack your Toiletries.
6. Carry an extra bag for dirty laundry :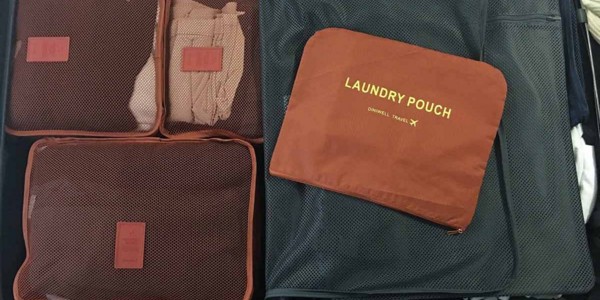 Image Source : https://cdn-bmalj.nitrocdn.com/
While packing your suitcase, always remember to carry an extra bag for dirty laundry. The easier way is to carry a zip lock bag that is inexpensive and lightweight. If you are traveling with a family, then be sure that you'll have a considerable amount of dirty laundry, so apart from a Ziplock bag; you can also carry a dirty clothes travel bag. If you are running out of space, then travel compression bags can be helpful. Travel compression bags are just like zip lock bags but remove the air so the bag packs flat.
7. Always recheck your packing once! :

Image Source : https://www.smartertravel.com
Once you are done with packing, always recheck your packing once. Recheck if your travel products and travel accessories are properly in place. In case, you find any of your items missing you can add them while rechecking your packing.
I Hope these suitcase packing travel trips might be of great help to you while planning for your next holiday. Get in touch with Flamingo Travels, Ahmedabad, or visit our website at Flamingo Transworld Pvt Ltd, to get detailed information on recent tour packages!