Not to Miss Restaurants in Delhi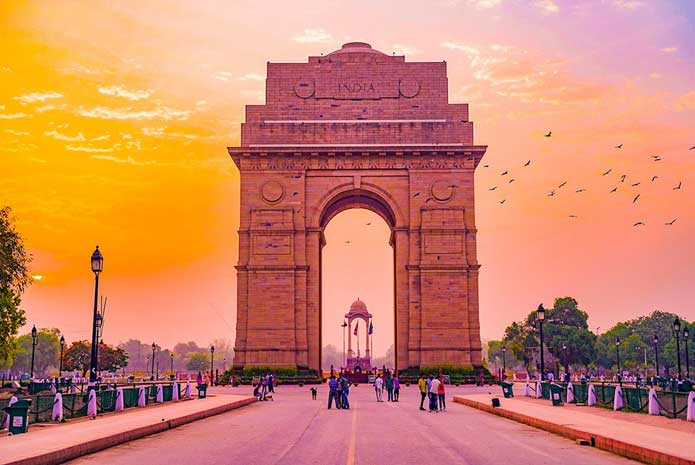 Delhi is commonly considered one of India's top dining destinations, with an increasing number of diverse restaurants joining the scenario. Of course, North Indian food culture is the most common. On the other hand, dishes from all around India and the world have become increasingly popular. Here is a selection of the top best restaurants in Delhi for all budgets and preferences.
Berco's
Olive Bar & Kitchen
Farzi Café
Jamun
Beeryani
Indian Accent
Pind Balluchi
Moti Mahal Delux
Naivedyam
Sagar Ratna
Hauz Khas Social
Ardor 2.1
Diggin
Lord of the Drinks
Haldiram's
1. Berco's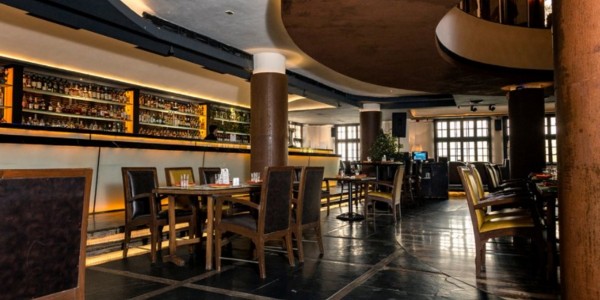 Image Source : https://www.tripadvisor.in
Berco's is now one of Delhi's top restaurants and it's a great place to take the family and loved ones for dinner and lunch. Their diverse menu offers lots of variety, and the decent rates allow you to eat guilt-free. Among the most prestigious names in Thai and Chinese cuisines, they have a very well menu of dishes that are prepared only by trained or experienced chefs using the best quality spices, so that each bite feels as excellent as the last. It is unquestionably one of the great family restaurants in Delhi. When you are traveling to Delhi, do not miss out on this restaurant. Book your Delhi tour Packages through Flamingo Travels Private Limited with delicious food.
2. Olive Bar & Kitchen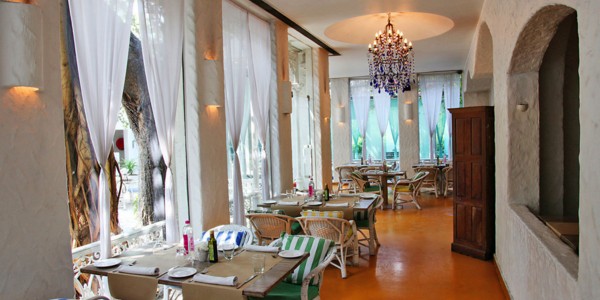 Image Source: https://im1.dineout.co.in
Set up a restaurant in Olive Bar and Kitchen's beautiful leafy garden for the afternoon on Sunday, and feast on an unending spread of delicious Mediterranean food accompanied by unlimited beverages, including sparkling wine. The restaurant is located in South Delhi, near the Qutab Minar, in a renovated Mughal mansion. It is open daily from 12:30 p.m. for individuals who do not attend Sunday brunch. 12:30 a.m. to 12:30 a.m. A restricted menu is provided between 3:30 and 7:30 p.m.
3. Farzi Café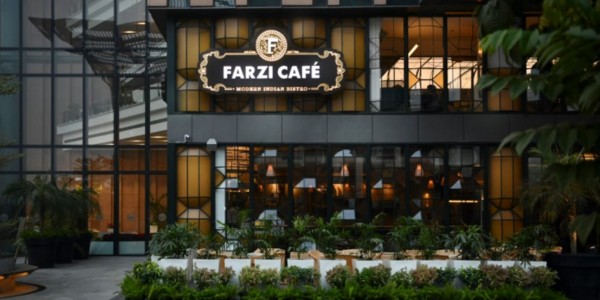 Image Source : https://b.zmtcdn.com
Farzi Café has eventually opened its doors in Connaught Place, Central Delhi, following huge success in Cyber City, Gurgaon. Farzi, as the name implies, means 'Creating an Illusion,' and its food is best described as a gastronomic experience. The interior spaces are stunning, with some very cool lighting. There will be people of all ages here and come with families for a casual dinner. The cuisine is breathtaking; the way they change everything and every dish is enthralling. Lemon Quinoa, Grilled Bombay Decker, and their show-stopping French Toast Jenga are just a few of the other must-order items. Contact your travel agent for more detail.
4. Jamun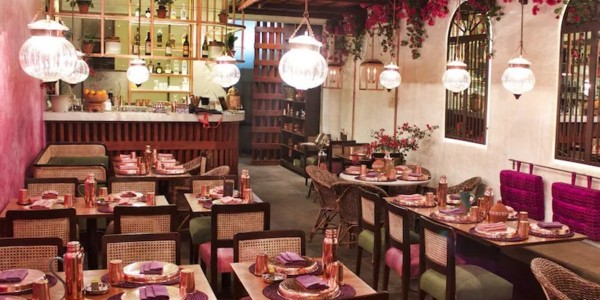 Image Source: https://b.zmtcdn.com
Jamun, a stylish eatery serving Nouveau Indian cuisine, is nestled in the luxurious confines of the Lodhi Colony in South Delhi. Everything about this place exudes class and sophistication, from the exquisitely prepared food to the exquisitely designed interiors. As you are inside, you will be fascinated by the stylish and pleasing atmosphere. The atmosphere is reminiscent of a Southern India verandah-style bistro, complete with huge arched windows, a terracotta-tiled canopy, knotted cane furniture, and vines of beautiful bougainvillea adorning the walls. A restaurant is a great place for those who want a little luxury with their simplicity.  Jamun is a restaurant in Delhi that fully celebrates cultural diversity and Indian cuisine's rich heritage by trying to serve authentic and nostalgic recipes from Kashmir to the Deccan. The menu is quite interesting, with weekend breakfasts, lunch thalis, and a variety of tea-time delicacies on offer. Jamun, in addition to excellent food, has a fully stocked bar.
5. Biryani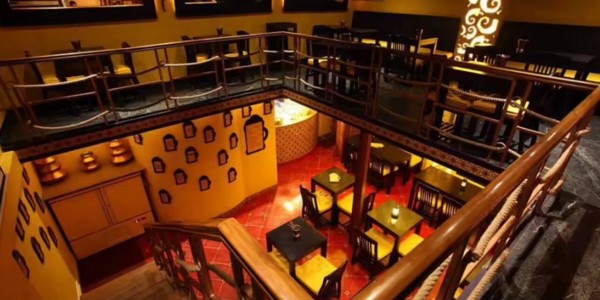 Image Source : https://b.zmtcdn.com
Beeryani is the ideal place for good friends and family to get together to have a good time because of the staff, food, and prime location. It is the best restaurant for people of all ages. Every time you dine with loved ones, you should be happy for great inspired food in an environment designed with personal touches that are new to the area. 'Beeryani' manages to give its customers the best of both worlds by keeping up with the demands of the younger generation while maintaining a firm grip on the older. The restaurant is owned by an ex-Taj chef, and you can see his stamp of excellence all over the menu. The restaurant became so popular that it decided to open two additional locations in the southern area. The bright yellow walls contrast with the dark furniture. To add a creative touch to the room, large framed mirrors, brass utensils, and wall art are used.
6. Indian Accent

Image Source: https://indianaccent.com
Indian food is thought to be rich and drenched in gravy. However, Indian Accent has changed all of that and the definition of our food culture. Chef Manish Mehrotra's modern interpretations of Traditional cuisine are a revelation. He is a genius who tries to surprise his regulars every week. He is creative while remaining authentic, serving dishes such as pulled kathal phulka taco, which is a jackfruit wrap. The Indian Accent is pricey, but the once-in-a-lifetime experience is worth it. Its remote position adds to its mystique. To prevent losing out on the restaurant's hidden secrets, make a reservation ahead of time.
7. Pind Balluchi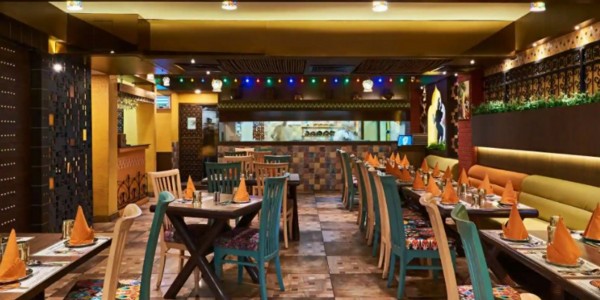 Image Source : https://content3.jdmagicbox.com
Pind balluchi is a type of balluchi. PIND BALLUCHI is a name synonymous with exhilaration and satisfaction, thanks to its delectable Frontier, Punjabi, and Lucknowi cuisine. The brand has made its mark in the hotel business with over years of experience. Dishes are cooked with the finest ingredients, fresh herbs, and spices, and great care is taken with the recipes to evolve authentic flavors. They offer not just excellent kitchen creations, but also a charming village-style setting fuelled by genuine Punjabi fervor and warmth. Their mastery in robust North Indian and Punjabi flavors can only be discovered by going in and sampling their menu, which features over 100 different meals. Book your Delhi tour through Flamingo Travels.
8. Moti Mahal Delux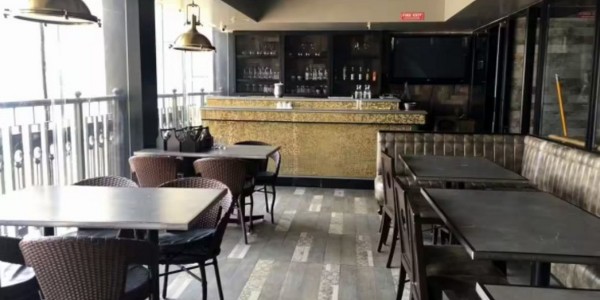 Image Source : https://b.zmtcdn.com
The oldest restaurant brand, recognized for its Eastern India food and Mughlai cuisine, offers gourmet dining at a casual dining establishment's price range. They feature a modest but inviting seating space that is perfect for spending time with a loved one, family, and friends while allowing the meal to be the main attraction. Any chicken item on the menu, as well as Dal Makhani, and Paneer Achari Tikka are highly recommended. It is where you'll find the tasty chicken curry in Delhi!
9. Naivedyam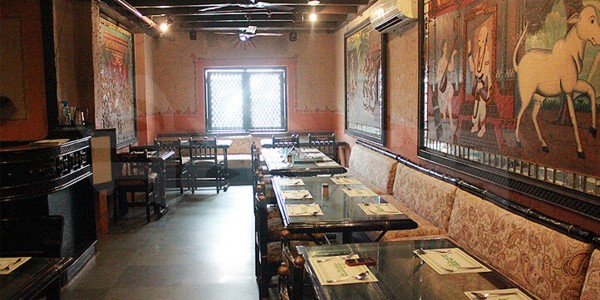 Image Source : https://www.naivedyamrestaurants.in
Naivedyam is the place to go if you want to try the best and most genuine South Indian cuisine. With the state-of-the-art ambiance and authentic food preparation, Naivedyam transports you right into the heart of Karnataka to provide you with the best South Indian food experiences. Kerala's classic tastes and comfort food are featured on the menu. Idli Sambhar, Mysore Dosa with divine Chutneys, and Sambhar Vada are highlights that should not be overlooked. In both forms, the legendary buttermilk rejuvenates you and completes the meal. This restaurant in Delhi serves the best South Indian cuisine in the city.
10. Sagar Ratna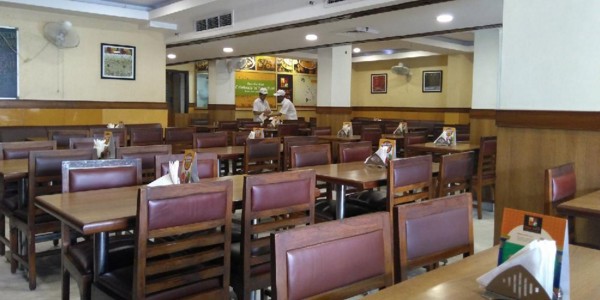 Image Source : https://images.venuepool.com
Sagar Ratna is a famous restaurant chain that serves South Indian vegetarian cuisine as well as North Indian and Chinese specialties. The food is clean, and the atmosphere is relaxing and comfortable. South Indian Thali is a must-try, complete with delectable Sambar, Dosa, and Rasam. In short, with good food at a reasonable price and excellent service, this Delhi restaurant never ceases to amaze!
11. Hauz Khas Social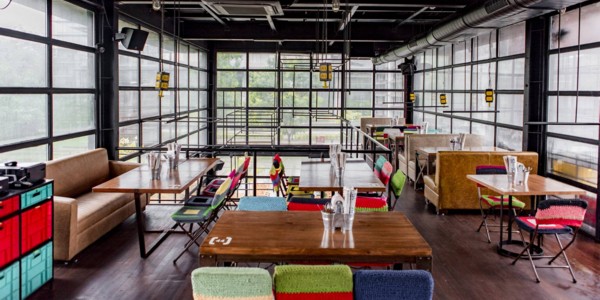 Image Source : https://www.socialoffline.in
It's an intriguing destination to visit for unique experiences and, as the name implies, socializing, since it introduces a variety of diverse tastes to the city's already bustling surroundings. The relaxed vibe, magnificent rooftops, perfect view of the lakeside, and some of Delhi's most fascinating individuals come together to create a lovely atmosphere, suitable for parties or simply hanging outside in this restaurant in Delhi. The familiar unique personality for which this outlet's chain is recognized serves an exceptional assortment of beverages and delectable different-cuisine dishes.
12. Ardor 2.1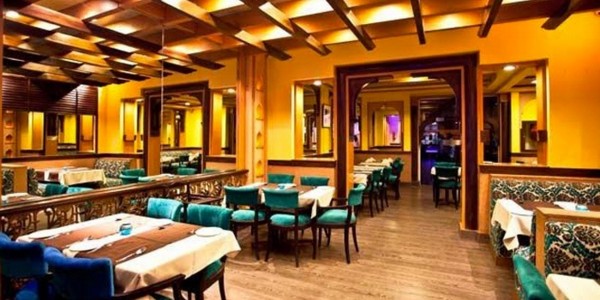 Image Source : https://cdn.experiencesaga.com
Would you like to eat the world's biggest thali in Delhi? It can be found at the high-end Ardor 2.1 in Connaught Place. Can choose between a 56-inch Modi Ji Bahubali Thali with 31 variances of dishes or a Big India thali with different cuisine from all 28 states of India. There are options for both non-vegetarians and vegetarians. The thalis are available from 12 afternoons to evening 5 p.m., as well as from 8 p.m. to late night. Do not go alone because there are so many foodstuffs for one person! Furthermore, unlimited refills are possible.
13. Diggin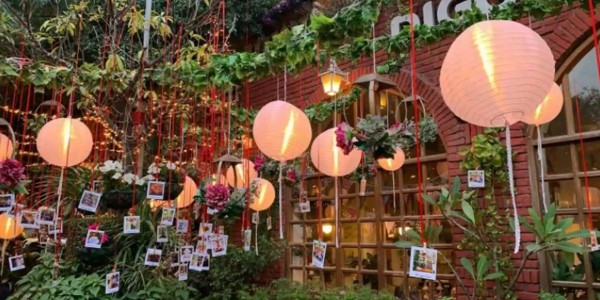 Image Source : https://content3.jdmagicbox.com
Anand Lok is home to Diggin. This place is so beautifully decorated that you will fall in love with it. It has both indoor and outdoor seating areas, both of which are decorated with colorful potted plants, birdcages, and string lighting. It serves food that is as good as its decor and at a very reasonable price. This hidden treasure in the Santushti building has a fantasy with its beautiful green lawns, earning it a spot on the ranked great restaurants in Delhi. Diggin is also well-known for its extensive dessert menu.
14. Lord of the Drinks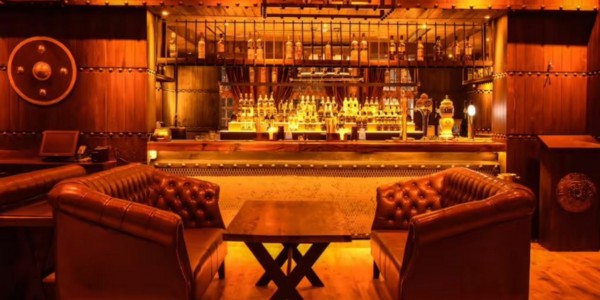 Image Source : https://b.zmtcdn.com
Lord of The Drinks takes pride in offering a calm and laid-back lounge with a well-equipped bar with a superb selection of alcoholic beverages. The atmosphere allows you to feel as if you're watching an episode of Game of Kings, which adds to the suspense. LOTD is best visited during the IPL season. It would be a crime to overlook Lord of the Drinks when discussing the best bar and pubs in Delhi. Visit our website for a north India tour package with delicious food.
15. Haldiram's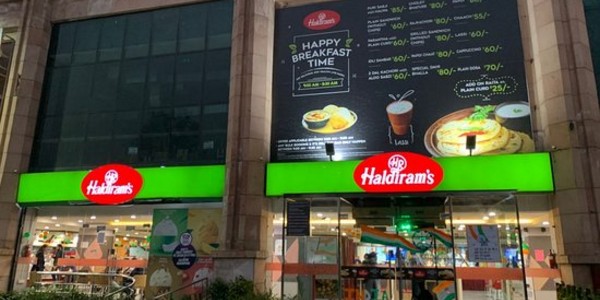 Image Source : https://media-cdn.tripadvisor.com
Haldiram's began as a small shop in Bikaner. In addition to sweets and snacks, Haldiram's offers a wide range of foods including Chinese, South Indian, Mexican, North Indian, and a few continental options. But don't worry, it's all vegetarian. There are a few delicacies including curries, The Lachha and Raj Kachori, Chaats, Kaju Katli, the Chinjabi grub, and regular halwai fare. Haldiram is famous and the best restaurant where you can get everything from sweets to snacks and perfect dining options.
Conclusion:
These great places to eat in Delhi can enhance and enhance your eating experience. Dine with your family members at one of Delhi's best restaurants for an unforgettable day out. This selection of restaurants in Delhi has been carefully compiled to assist you in making a decision when seeking the best restaurant. You can contact Flamingo Travels Private Limited for more information.