Beautiful Places to Explore in Iceland on your Post Covid Trip!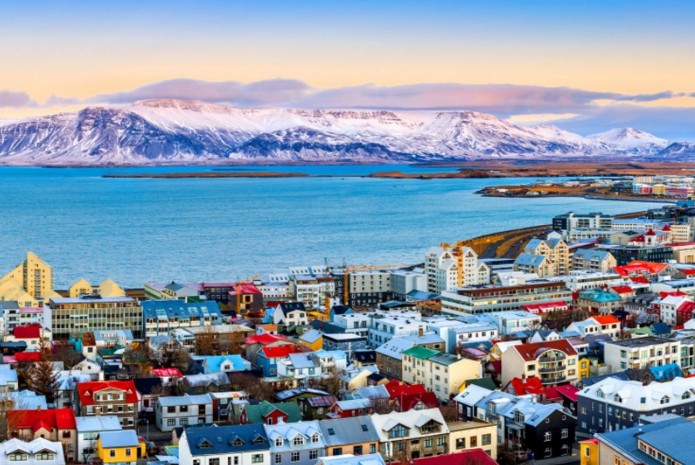 Beautiful Places to Explore in Iceland on your Post Covid Trip!
Iceland Tourism is open for travelers, working within the covid protocol guidelines set forth by the health, safety, and tourism authorities of Iceland. Iceland is a place where one can witness the incredible and the most magical creations of nature. This winter wonderland has a lot to offer, breathtaking landscapes with glistening frost in winters and endless days during the summers. And the most marvelous sight of the northern lights can be experienced from here. It is a place to experience the most beautiful and incredible natural marvels. There are many places to visit in Iceland Post COVID-19 as Iceland has managed the covid pandemic carefully and very effectively. With its isolated location as a singular island in the middle of the Atlantic Ocean and being crowned number 1 on the global peace index for the past 12 years, Iceland is as good a country as any to be your first post-COVID-19 destination. Book your Iceland Trip 2021 through our Iceland Tour Packages.
Places to visit in Iceland Post COVID-19
Iceland is a place that has a lot to offer, do not get overwhelmed with the choices because we have curated a list of places to visit in Iceland. There is something for everyone in Iceland, adventure to relaxation amid nature. Explore Iceland with these places:-
Snæfellsjökull National Park
The golden circle
The Dynjandi Waterfall
Whale watching at Husavik and reykjavik
The Djúpalón Beach
The Hekla Volcano 
1. Snæfellsjökull National Park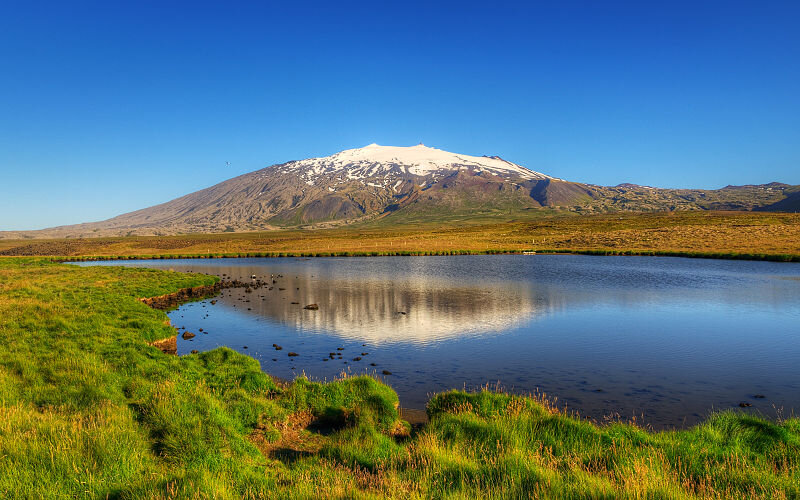 Image Source: https://upload.wikimedia.org
Snfellsjökull National Park is located on the Snfellsnes Peninsula and is one of Iceland's 3rd national parks. Snæfellsjökull is named after the glacier and volcano situated there. The Snæfellsjökull national park is famous for this sub-glacial volcano which is also called the Snæfellsjökull. Apart from this natural beauty, the beaches of Djúpalónssandur and Skarðsvík are worth visiting, these beaches have fascinating histories and interesting geology, and the most beautiful seascapes. The Lóndrangar basalt fortress is also situated here, and it is known for its dramatic yet beautiful look, or it is a very picturesque place.
The historic fishing villages of Arnarstapi and Hellnar in the south and Hellissandur and Ríf in the north of the national park have accommodations for the visitors, and places have kept alive the old culture of the Snæfellsnes peninsula. There are several other sites like Mount Kirkjufell; Ytri Tunga, and Rauðfeldsgjá, these places you can visit by driving for about an hour.  Apart from all these wonderful sites there are also Hiking trails in National Park Snaefellsjokull for all the travelers who seek adventure activities. The Snfellsjökull National Park is unquestionably one of the Best Places to Visit in Iceland.
Best time to Visit Snæfellsjökull National Park
The Snaefellsjokull National Park you can visit during the summer months of June to September. The park rangers are in the region during this time of year, and most services and facilities are accessible.
Things to do at Snæfellsjökull National Park


Image Source: https://lp-cms-production.imgix.net
Djúpalón Beach
Malarrif
Vatnshellir
Saxhöll Crater 
2. The golden circle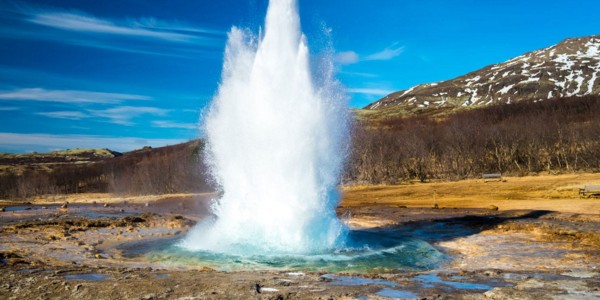 Image Source: https://www.roadaffair.com
The golden circle is a long tourist route in the southern part of Iceland which is 300 kilometers long. This route covers the three most popular tourist attractions in Iceland, the Geyser Geothermal Area, Gull Foss Waterfall, and Þingvellir National Park. This trail is filled with beautiful natural scenery. The golden circle in Iceland is perfect for the people who love to go on road trips, and the route of this road trip is as beautiful as the destinations. This traveling route captures the essence of the nation, when the tourists travel this route they also get to see and learn about the people of Iceland along with its natural beauty. The golden circle is on the top when it comes to the best Places to Visit in Iceland Post COVID-19
Best time to visit the golden circle
The golden circle in Iceland is one such place that you can visit throughout the year. It is very famous for visitors, and one can see it traveling this route all year round. The summer months are most crowded, but there is also some crowd during the spring and fall seasons.
Things to do at the golden circle


Image Source : https://hitchedtotravel.com
The Geysir Geothermal Area
Gullfoss Waterfall
Þingvellir National Park.
Fontana Geothermal Baths
3. The Dynjandi Waterfall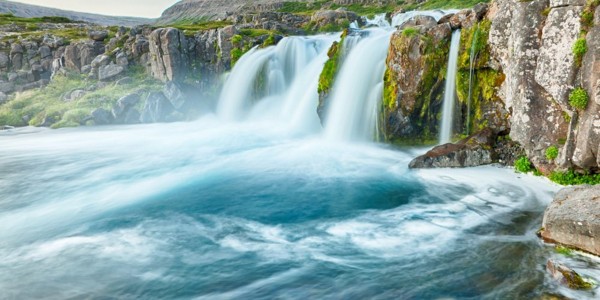 Image Source : https://pbs.twimg.com
The Dynjandi Waterfall in the northwestern peninsula of Westfjords in Iceland is another site to look forward to visiting. These majestic waterfalls fall from the height of 99 to 100 meters, it is 30 meters wide and widens to 60 meters at the bottom. Six smaller waterfalls can be seen on the way up to the Dynjandi Waterfall in Iceland. The route up to the Dynjandi falls is filled with beautiful scenery. Dynjandi Waterfall Location is near Arnarfjörður fjord and Dynjandisvogur Voguebay. The natural wonder of the Dynjandi Waterfall is a location worth visiting on your trip to Iceland.
Best time to Visit the Dynjandi Waterfall
Dynjandi Waterfall can be visited from June to September. This time of the year, the climate is relatively better to travel to the west fjord, and the roads are also suitable during this time to travel.
Things to do at the Dynjandi Waterfall

Image Source : https://fullsuitcase.com
 4. Whale watching at Husavik and reykjavik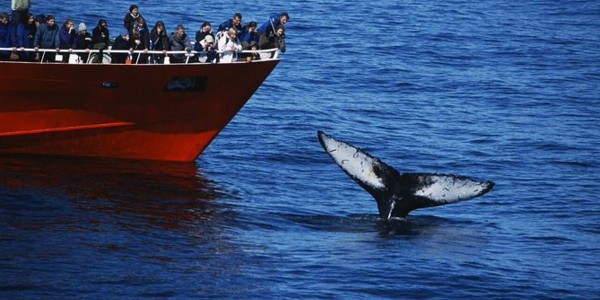 Image Source : https://media.tacdn.com
Whales are incredible creatures, and seeing one in its natural habitat is a once-in-a-lifetime experience. On this whale-watching Reykjavik tour, you'll be able to see dolphins, seabirds, and whales. Hsavk is a town in Iceland's northwestern Skjálfandi Bay. During the summer, this bay provides excellent feeding grounds for whales. You can experience the fauna of the bay on a 3-hour whale watching in Iceland that departs from the harbor in the heart of Husavik. Whales are known as humpbacks, there are minke whales, white-beaked dolphins, and also blue and fin whales to be observed. The humpback whale watching at Husavik is the most well-known animal in the area, and lucky visitors can witness their unique surfacing activities such as lob-tailing, breaching, and tail-slapping. During the boat tour, you may take in the stunning surroundings and observe seabirds such as arctic terns, puffins, fulmars, and eider ducks. Booked Scenic Iceland – SIC Tour Package with Flamingo Travels.
Best time to Visit Husavik
If you're looking for the hottest months to visit Husavik then June, July and August are your best options.
Things to do at Husavik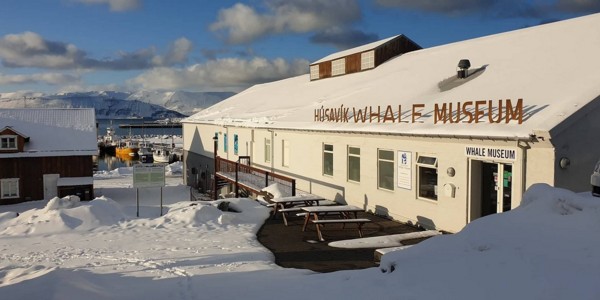 Image Source : https://dynamic-media-cdn.tripadvisor.com
The wonderful Whale Museum
GeoSea Geothermal Sea Baths
Speed boat tour
Dettifoss Waterfall
5. The Djúpalón Beach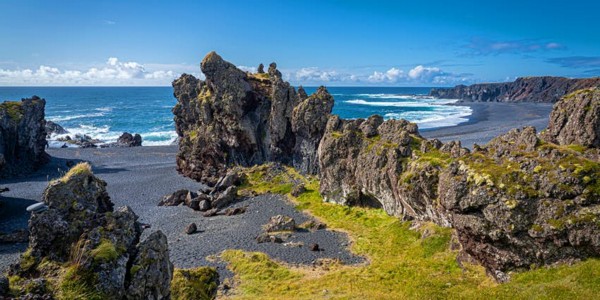 Image Source : https://guidetoiceland.imgix.net
The Djúpalón Beach is a sandy beach and bay in Iceland, located at the foot of Snfellsjökull. It is beautiful black sand beaches in Iceland, and the harbor used to be home to sixty fishing boats and one of the most productive fishing communities on the Snfellsnes peninsula, but it is now desert. Djpalónssandur, on Snfellsness' southern shore, is roughly 200 kilometers from Reykjavik and a stunning 2.6-kilometer walk across the headland from Dritvk, an exceptionally gorgeous cove. Djpalónssandur and Dritvk are often confused; however, they are two separate beaches! Both are made up of silky black pebbles known as Djpalóns Perlan, or "Djpalón's Pearls" — Djpalón meaning "Deep Pool." Many of the stones are now protected in Iceland; however, you are welcome to take photographs. Following the walk down to the beach, you'll come across some of Iceland's most spectacular cliff formations. The wreckage of a British trawler serves as a stark reminder that navigating these perilous waterways and shores takes enormous skill. Before walking across the headland to Dritvk, I recommend taking your time at this truly wonderful beach. You'll catch glimpses of the gleaming Snfellsjökull icecap along the route. It's a beautiful area to walk, with geological formations like a kerling – a troll woman and an elven church, two brackish pools called after the beach, and the rock-arch Gatklettur. The rusty metal from the English trawler Eding, which was stuck here in 1948, is visible on some of the black sands. Tour buses and tourists are accommodated by an asphalt parking lot and public restrooms. Four lifting stones can still be seen on the shore, where fishing-boat crews used to test the strength of aspiring fishermen. The Djúpalón Beach is one of the famous Iceland Tourist Attractions.
Best time to Visit the Djúpalón Beach
You can visit Djúpalón Beach all round the year
Things to do at the Djúpalón Beach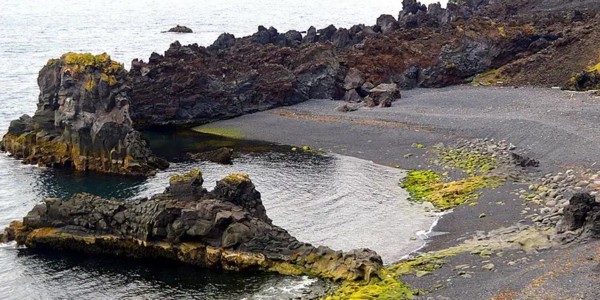 Image Source : https://guidetoiceland.imgix.net
Enjoy the Black sandy beach
6. The Hekla Volcano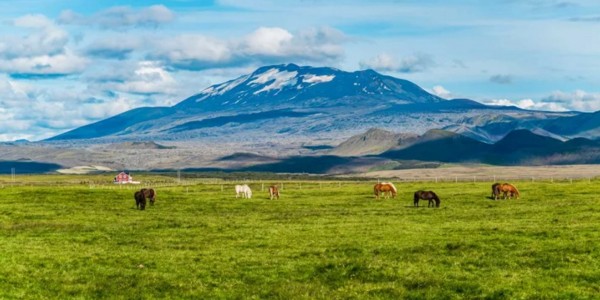 Image Source : https://cdn-adventures-is.azureedge.net
The Hekla Volcano is exceedingly active and noted for its cataclysmic eruptions, Hekla Volcano in Iceland is known as the "Gateway to Hell." It tends to spew massive amounts of heated lava from its vent. It's also deemed dangerous because it hasn't erupted in a year to over a decade. Hekla's most recent major eruption occurred in 1845. The populace was severely harmed by this eruption since it wiped away much of their livestock.
Since 874, approximately 20 eruptions have occurred in and around Hekla, making it one of Iceland's most active volcanoes in the world. At the time of the Middle Ages. It is the most active and well-known volcano in Iceland. Hekla is a portion of a geological ridge that stretches over 40 kilometers. Hekla proper includes the most active component of this ridge, a 5.5- kilometer-long fissure known as Heklugjá. Hekla resembles an overturned boat, with a succession of craters serving as its bottom, the most active of which are two. Hekla refers to a short hooded cape in Icelandic, which could refer to the summit's regular cloud cover. Mons Casule is the name given to the mountain by an early Latin source. Hekla's volcanoes have already been marked by an aggressive ash-producing stage that occurs before or simultaneously with fountaining or streaming lava since the late twentieth century. Hekla erupted 4 times during this period: in 1970, 1980, 1991, and 2000. The eruption in 2000 lasted 4 days but did not affect any major damage. It is also the most famous Iceland Tourist Attractions.
Best time to Visit the Hekla Volcano
You can visit Hekla Volcano all around the year.
Things to do at the Hekla Volcano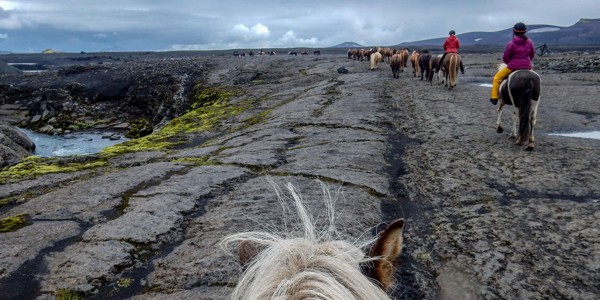 Image Source : https://skalakot.is
Hiking Hekla
Horse riding
Conclusion:
In the North Atlantic Ocean, Iceland is a small, isolated island. Iceland, which lies on the continually active tectonic boundary between North America and Europe, is a nation of stark temperature, geology, and cultural contrasts. Across its ruggedly gorgeous mountain ranges, sparkling glaciers, such as Europe's largest, Vatna Glacier, can be found. Volcanoes, geysers, hot springs, and lava fields make for a stunning landscape. Flamingo Travels Private Limited will take you to Iceland to explore its beauty.