Top Ten Things to do in Philadelphia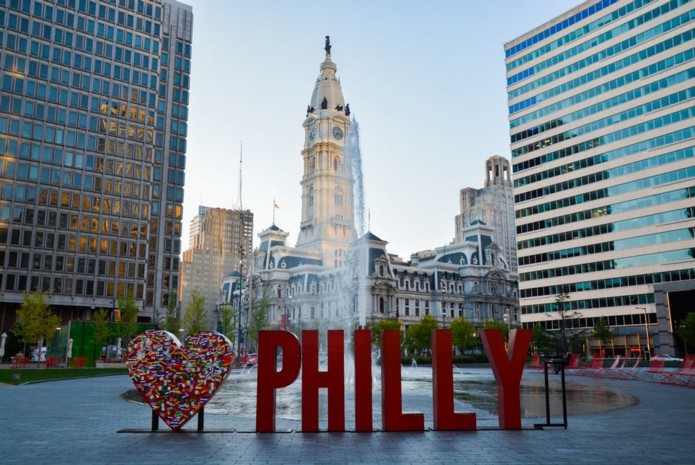 America has numerous cities and sites to visit. However, the focus of this blog is solely on one city – Philadelphia. Or, I should say – Philly!
The effervescent city of Philadelphia has a distinctive and charming personality that one cannot afford to ignore. The city is mesmerizing – there is so much history and beauty here.
Philadelphia is one of America's cornerstone cities, with an illustrious revolutionary past. With its magnificent architecture, historic buildings, and streets – it almost feels like one is traveling back in time to the past. Where else can you walk down America's oldest street? Or send a letter from the very first US Post Office?
Philadelphia, we venture to say, was the city of origin of the United States, with many fascinating places to explore and activities to engage in.
Visitors come from all over the world to experience the distinct flavor of this fifth-largest city in the United States. Philadelphia Tourism actively promotes the Destination – they know that it is essential to familiarize tourists with the destination to inspire them to travel to Philadelphia.
Writing down just a few things to do in Philadelphia may not do this charming city true justice – but I will draw your attention to the ten most essential things to do while in Philadelphia.
1. Visit the Liberty Bell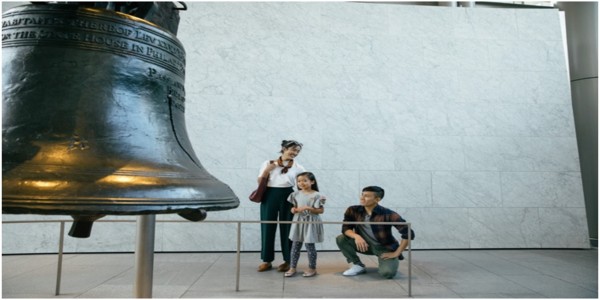 The Liberty Bell in Philadelphia is a global symbol of freedom. It is an iconic site not just for the city and country, but for people from all over the globe. Visit this historical site and read the inscription, which narrates the story of a centuries-old saga.
Although the bell now does not create any sound, the message it imparts and delivers to its visitors is loud and clear. Make sure you click a pic of yourself with the bell and the Independence Hall in the backdrop.
2. Explore Independence Hall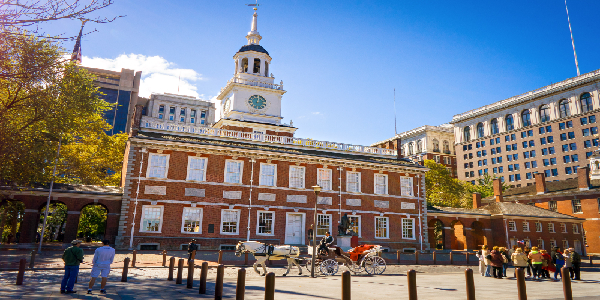 Next in line with famous landmarks of Philly – is Independence Hall, one of Philadelphia's must-see attractions. Although the city abounds with several historical sites –Independence Hall is very special.
Take a tour of Independence Hall and enter the Assembly Room, where Founding Fathers of USA discussed, embraced, and signed the Declaration of Independence. Eleven years down the line – representatives from several states met at Independence Hall to lay the framework of the US constitution.
Today, it's a UNESCO World Heritage Site and the focal point of Independence National Historical Park. Guided tours of this must-see attraction are available around the year.
3. Must-Visit Rocky Statue and go for the Rocky Steps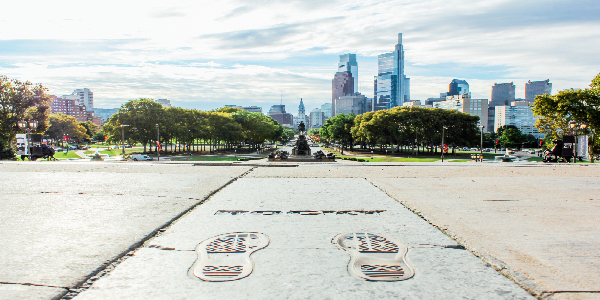 I guess there would be only a handful of people who would not know about the movie Rocky. The movie scene enacted at the Philadelphia Museum of Arts – and is now renowned as one of Philadelphia's most iconic pieces of public art. Since its first onscreen glorious run on the steps of this museum – these seventy-two steps have become a rage for visitors from around the globe.
Tourists to Philadelphia sprint up the stairs, fists pumping in the air as they take in the breathtaking view of the city skyline. Sound a little filmy – indeed it is – but that's the fun part. Complete the entire experience by running back to the bottom of the stairs to take a pic with the bronze statue of the hero.
4. A Selfie at LOVE Park
The LOVE Sculpture is next on the list of well-known Philadelphia sights. You can say that a trip to Philadelphia is not complete without a selfie click against the backdrop of the LOVE Sculpture – an iconic artwork by Robert Indiana. This LOVE Sculpture is located at the JFK Park – aka – LOVE Park, and is an instaworthy photo op for families, couples, and friends.
The LOVE Park is a vast open space with walking paths, green areas, and ample seating arrangements. It creates a fun-filled environment by bringing together world travelers, fitness enthusiasts, sunbathers, and performers.
5. Go for an Epicurean adventure- Reading Terminal Market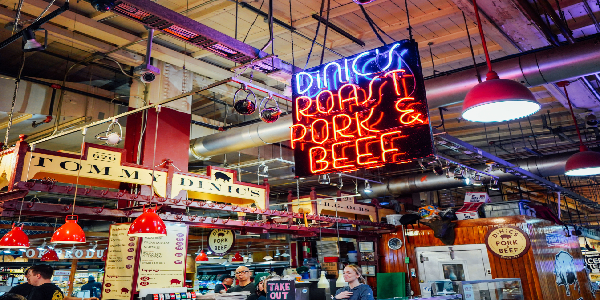 Reading Terminal Market in Philadelphia, which opened in 1893, is one of the country's best and oldest farmer's markets. Set under a former railroad Terminal – it serves as both a popular tourist destination and a trusted market for seafood, fresh produce, cheese, and meats for the locals.
It is an enclosed public market in the heart of the city. It is home to some of Philadelphia's most unusual finds and best dining experiences. There are a variety of merchants, food kiosks, and stalls in the market. Reading Terminal Market is a diner's paradise, with several sit-down restaurants scattered throughout the vast space, all serving the freshest produce and ingredients.
Relish eating a wide range of cuisines managed and operated by the local families following the recipes passed down from generations.
6. Take a Mural Tour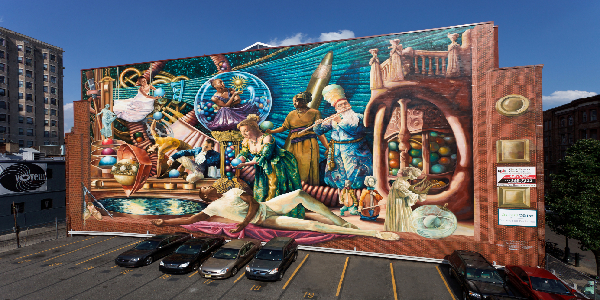 When in Philadelphia – do sign up for the Mural Arts Philadelphia tour. Enjoy this tour either on train, trolley, Segway or on foot. Home to this outdoor art gallery, featuring more than 4000 murals throughout the city, Philadelphia is now renowned as a global mural capital.
A few famous murals are Personal Melody, 13th & Drury Streets, A Taste of Summer, Vetri Ristorante, 1312 Spruce Street, Philly Painting, 2500–2800 Germantown Avenue, and many more.
7. Elfreth's Alley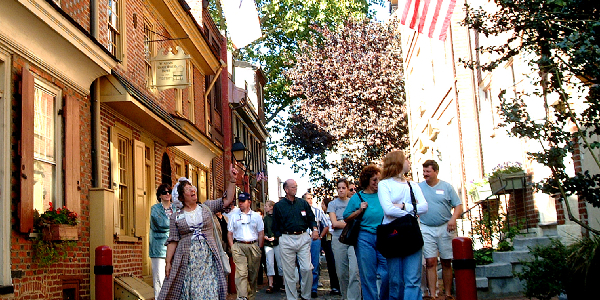 Everyone knows that Philadelphia has tons of museums – but if you want to experience a living museum – you should not miss the oldest residential street in America. Dating back to 1702 – the Elfreth's Alley offers an eclectic experience. The cobbled alleyway features Federal and Georgian-style buildings and is home to several entrepreneurs and artists. Opt for a walking tour to discover more about the tales surrounding this area.
Elfreth's Alley has been home to thirty-two ancient houses, that have lined the street for over 300 years, offering a nostalgic trip down memory lane with no fees or costs; another great destination for those looking for unique things to do in Philadelphia.
8. Check out – Philly's Waterfront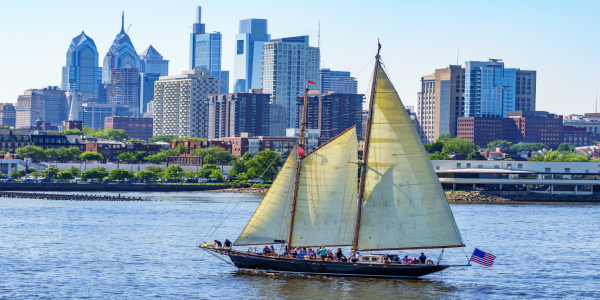 Philadelphia is between the two famous rivers – Schuylkill and the Delaware Rivers. Each with their own unique waterfront experiences. There is always something to do on Philadelphia's ever-changing waterfront.
Explore the recreational piers, attractions, and parks in this area. You can go to the historic mansions on the Delaware Riverfront or visit Penn Treaty Park, attend popular local events like the Blue Cross RiverRink Summerfest and Winterfest, or go to Spruce Street Harbor Park.
With a boardwalk, hammock garden, floating barges with lily pad water gardens, delicious food vendors, and beer gardens. Spruce Street Harbor Park ranks as one of the most popular destinations in Philadelphia.
The Delaware River waterfront has evolved into one of Philadelphia's most energetic public spaces in the twenty-first century. Check out the stunning vistas of the Benjamin Franklin Bridge that connects Philadelphia with New Jersey.
9. Engross yourself in Philadelphia Magic Gardens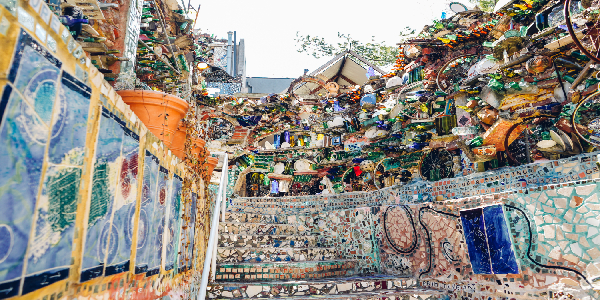 Art is much more than just what hangs in a frame on a wall. The Philadelphia Magic Gardens is a perfect illustration of this. They comprise a garden and two galleries – creating a dazzling aesthetic space. Check out the stunning mosaic work located at this unique art venue.
This magical and colorful mosaic maze is one of the most instaworthy places in Philadelphia. The Magic Gardens glitters with an urban renaissance, a profound sense of creativity, and a dash of madness. The artist – Isaiah Zagar; created it using ceramic tiles, mirror pieces, cement, soda bottles, bicycle wheels, ceramic shards, and other knick-knacks.
Snap some of the most beautiful and unique images while learning more about the city's underground artists in this magnificent improvised garden of mosaics and artistic pieces.
10. Explore the Benjamin Franklin Parkway.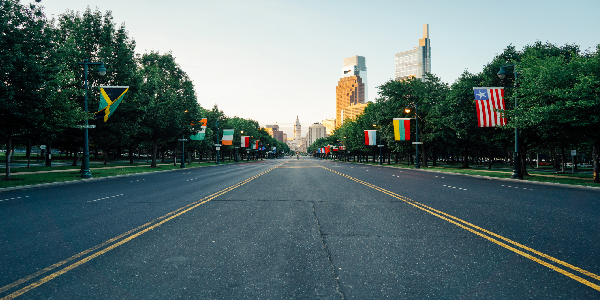 The Museum Mile of Philadelphia or the Benjamin Franklin Parkway is home to several prestigious institutes of Philadelphia. Learn about natural history and dinosaurs at the Academy of Natural Sciences. Visit The Barnes Foundation to check out some unique paintings and pieces of art; The Academy of Natural Sciences of Drexel University – a natural history museum, and The Franklin Institute – a leading science and learning center, great for kids. Check out the Rodin Museum featuring one of the most extensive collections by the artist – Auguste Rodin's. The iconic Philadelphia Museum of Art that crowns the western end of the Parkway houses around two hundred galleries filled with international artwork that spans thousands of years.
Wrap Up:
Philadelphia – this charmingly intimate city has the culture and glitz of a big city. The city's small-town charm and rich history enchant visitors.
Whether you are looking for an adventure, want to learn about the past, or wish to do something unique, Philadelphia is the place to be.
Philadelphia is home to some stunning architecture, plenty of history, and delicious gourmet cuisine, and this is one American city – that you should not miss in your USA tour package.
By now you would be persuaded to visit Philly. But – trust me –the city is actually more mesmerizing, than any words.
So without much ado – meet the USA expert team at Flamingo Transworld and customize your Philadelphia holidays asap.