Famous Writers And Poets And Their Birth Places
Often we find ourselves glued to a certain book or a certain author and we are taken back to the time and space when the book was written or where the writer was born. If you also wonder about your favorite writer or poet's time and space then here is a list of famous writers and poets and their birth places.
1. Samuel Beckett, Dublin, Ireland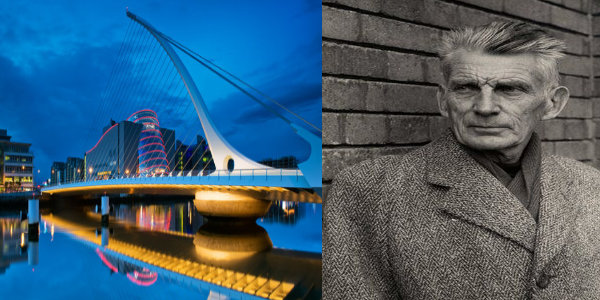 The man who gave the world a piece of his mind with his path breaking writings such as 'Waiting For Godot', 'Endgame' and 'The Unnamable', Samuel Beckett was born in Dublin, Ireland. He was awarded the Nobel Prize in Literature 1969 and Croix de Guerre 1945. If you are visiting the beautiful Ireland please visit the Dublin Writers Museum in Dublin, opened in 1991. Not just Beckett but Swift and Sheridan, Shaw and Wilde, Yeats, Joyce and many others are presented through their books, letters, portraits and personal items. The museum holds exhibitions, lunchtime theatre and readings and has a special room devoted to children's literature so you can take your children or younger siblings as well and let them see the beautiful world of literature. You can also visit The Museum of Literature Ireland (MoLI), The National Print Museum and James Joyce's fans can check out the changing Joycean exhibitions, walking tours and lectures, permanent exhibition on Joyce's life and work by the James Joyce Centre.
2. Virgina Woolf, London, England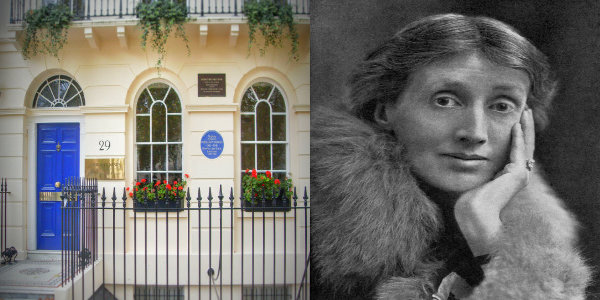 Feminism and modern literature is incomplete without mentioning Virgina Woolf, a London born writer who explained the world the importance of having a room over one's head in order to write or create any form of art, all the more important for women. Known for raising her voice against patriarchy, a unique flair and style of writing and very thoroughly thought topics for her essays and poems, Virgina Woolf's works are no less than a treasure in world of literature. For all the fans of Woolf, you can visit Monk's House a small studio in East Sussex, a 2.5 hours drive from London. It is where Virgina Woolf wrote a lot of her famous novels. Set in 17-century style with flowers and lush gardens around, the house was painted by Virginia's sister Vanesa Bell, and friend Duncan Grant.This was Woolf's holiday home which she bought in 1919 which became a popular meeting place for the Bloomsbury Group. After Woolf's house in London suffered damaged after the war she moved with her husband to Monk's House stayed there till her last breath. Besides Woolf, London is a home for many notable writers including Shakespeare and one cannot miss Shakespeare's Globe, a theatre which is a dream for any artist and literary fan.
3. Emily Dickinson, Massachusetts, United States
Emily Dickinson is one of America's greatest and most original poets of all time who experimented with expression and challenged the conventional orders of writing. The first volume of her poetry was published in 1890, four years after her death and was a huge success. Emily Elizabeth Dickinson was born in Amherst, Massachusetts in 1830.The Emily Dickinson Museum in Amherst, Massachusetts comprises two historic houses in the center of Amherst. Emily Dickinson was born and raised in The Homestead while The Evergreens, next door, was home to her brother Austin and his family. Created in 2003, the museum offers four tours that present the story of Dickinson in different perspectives'.
4. Rabindranath Tagore, Kolkata, India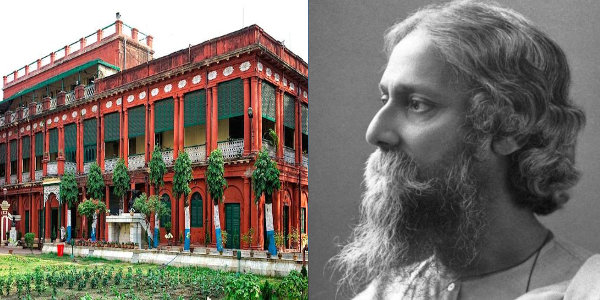 Sitting straight as a  capital of India's West Bengal state this 330-year-old metropolis, Kolkata, was called Calcutta earlier. It is here where you find India and England meet. Calcutta was the former capital of British India Besides being the intellectual, artistic and cultural capital of India, Kolkata is known for heavenly food, retained colonial-era, real gullies, ashrams and homes of many notable writers and poets. Amongst Victoria Memorial, Kalighat, Zoological Garden and the famous Howrah Bridge is another site in Kolkatta which has played an important role in making this city what it is, Jorasanko Thakurbari', Rabindranath Tagore's ancestral house which is now a museum. Often called 'Kavi guru', meaning the poet of poets, Rabindra Nath Tagore was one of the greatest Indian poets whose works continue to be praised and are taken as a subject of research worldwide. His contribution to the field of art and literature is unparallel. His most commendable work, 'Geetanjali' had won him the Nobel Prize award. He wrote the National Anthem of India, 'Jana Gana Mana'.  Built in 1785, the Jorasanko Thakur Bari is spread over 35000 square meters and houses Rabindra Bharati University and Maharishi Bhavan. The museum has three galleries dedicated to Tagore, members of his family and the Bengal Renaissance and is popular amongst tourists from all across the world.
5. Fyodor Dostoevsky, Muscow, Russia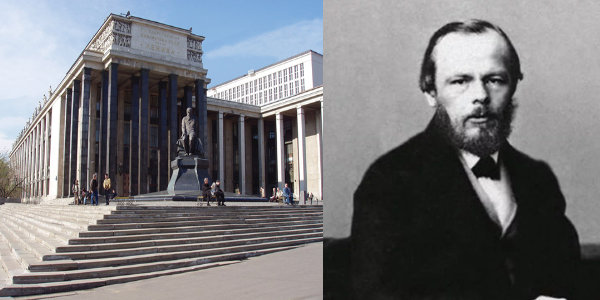 Fyodor Mikhailovich Dostoevsky was a Russian novelist, short story writer, essayist, journalist and philosopher who explored the human minds, its conflicts against backdrop troubled political, social, spiritual and moral atmospheres of 19th-century Russia, through his writings. Considered a literary genius Fyodor was born in Moscow, Russia in 1821 and began his career as a writer at an early age with his first novel, Poor Folk. Fyodor had a controversial life which included being arrested for his radical and then considered anti national thoughts. He was an addicted gambler and his famous work, 'Crime and Punishment' reflects that side of his life in pieces. He died of Epilepsy in 1881 in Moscow in his apartment which is now the Dostoevsky Memorial, established in 1971, ninety years after his death. The Dostoevsky Memorial attracts a lot of tourists from all across the world. The museum is located at 5, Kuznechny Pereulok, next to a historic food market and near the landmark Church of the Vladimir Icon. The apartment was his home during the composition of some of his most notable works and has been reconstructed based on the memoirs of his wife and his friends.
So the next time you visit a place look for a museum or your  favorite author's famous writing spot and take in the vibe of literature, art and lose yourself in world of words, meters and syntaxes .