Best Honeymoon Resorts In The World
Few things, few moments are hard to recreate and amongst all the holidays or trips you take, one of the most memorable one is your honeymoon. No matter how many times you've traveled with your partner before you got married, there is something special about honeymoon that sticks with you no matter how old you get. If you are looking at honeymoon tour packages then here is a list of Best Honeymoon resorts in the world.
1. Excellence Playa Mujeres, Cancun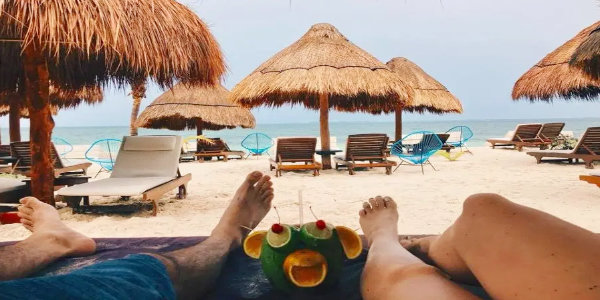 Located in Cancun, Mexico, the luxurious all inclusive Excellence Playa Mujeres is located between the Caribbean and wetlands preserve. The resort is exclusive, huge and popular for its pristine setting. Located on the white powdery sand, Excellence Playa Mujeres also offers lovely night life. The resort boasts about its spa treatments and also offers special services for honeymooners such as breakfast in bed, chilled champagne and special dinner setting. Their 5-star suites offer amenities like private round Jacuzzi, spacious area, a four-poster bed amongst other things.
2. Tokoriki Island Resort, Fiji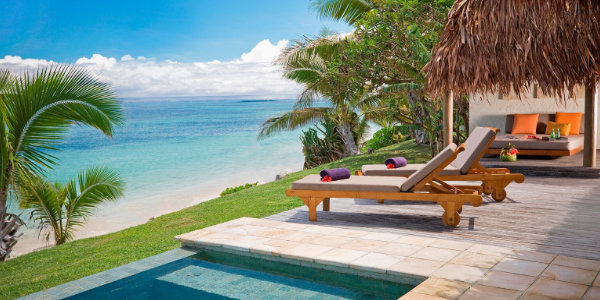 One of Fiji's best Adults-Only Luxury Resort, Tokoriki Island Resort is as exclusive as it gets. With only 72 guests allowed in the resort, this property is tailor made for romance and love. The resort's Bures or Villas offer unique tropical outdoor shower and are surrounded by lush landscaped gardens, the interiors are a blend of contemporary and Fijian style. Besides white sandy beaches and a crystal clear lagoon you can enjoy a cocktail with your loved one by your private pool or simply star gaze from your hammock.
3. Sanctuary Cap Cana, Dominican Republic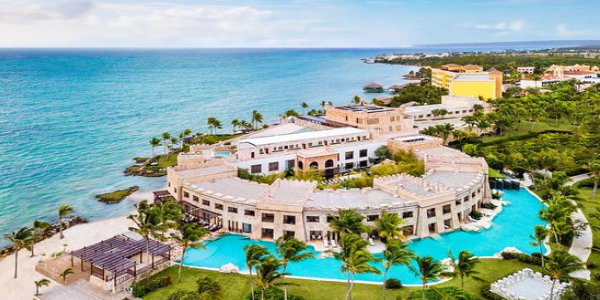 Dominican Republic's most exclusive adults-only all-inclusive resort, Sanctuary Cap Cana, is one of the most beautiful luxurious resorts, ideal for honeymooners who love white beaches, seclusion, sunsets at turquoise waters, celebrations and bird watching. Cap Cana is made up of 30,000 acres of flawless beaches, and oceanfront valley roads offering a variety of things to do such as water sports, outdoor activities. The resort has five swimming pools, a bar which hosts celebrations with live music, a range of daily activities such as learning Spanish and world class spa treatments. It is also the home to Punta Espada Golf Club which is acknowledged  as one of the finest course in the Caribbean and Mexico by various magazines.
4. Warwick Paradise Island, Bahamas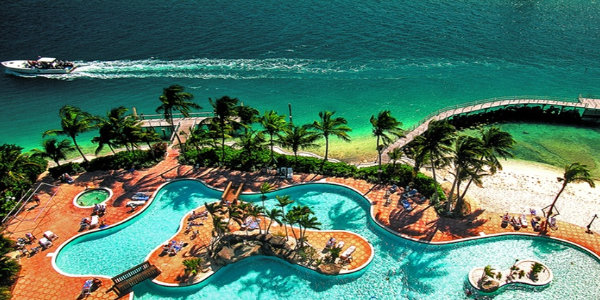 Firstly Bahamas itself is a lovely option to pick for your honeymoon and second of all Warwick Paradise Island is one of the best luxurious adults only resort which is located near shopping, dining and the Paradise Island casino. The resort offers 5 dining outlets, multiple bars and complimentary excursion to the world famous Cabbage Beach accompanied by food, drinks. You can enjoy the views of Nassau Harbour on the 10,000 sq. ft. Sunset Terrace, indulge in the weekly fishing tournaments or simply go for a stroll on the lush green gardens surrounding the resort.
5. Le Blanc Spa Resort, Cancun, Mexico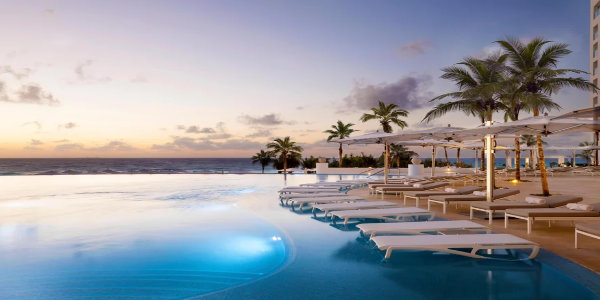 Le Blanc Spa Resort in Cancun, Mexico is another beautiful option to consider for your honeymoon. The resort offers world class cuisine by top chefs, the room offers ocean views besides the infinity pool where you can simply float with your partner like time doesn't exist. The resort also offers personal butler so definitely a luxurious stay where it is hard to not feel pampered. Le Blanc Spa Resort is located on a serene beach where turquoise ocean waits for the sun-kissed sands. Activities include snorkeling, swimming with the dolphins, jungle tour, and golf and city tours amongst many. The resort has a menu for the type of pillow you would like such as, orthopedic pillow, lavender pillow, goose feather pillow, hypoallergenic pillow and chamomile pillow. Yes, hard to not feel pampered.
6. Komandoo Maldives Island Resort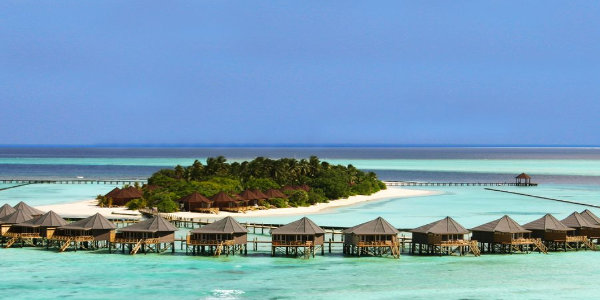 Situated in the Lhaviyani Atoll, a scenic 40-minute seaplane experience from Velana International Airport, Male', Komandoo Island resort in Maldives is extremely popular amongst honeymooners. Maldives' idea of one island one resort is one of the major reasons why it is one of the most popular choices for honeymooning. The resort offers a range of villas such as Ocean Jacuzzi Water Villas (with the sunrise view of the Indian Ocean), Jacuzzi Water Villas, Premium Jacuzzi Beach Villas, Jacuzzi Beach Villa and Beach Villa. The room types keep getting better and more romantic depending on your preference. But having a Jacuzzi Beach villa is as good as having the entire beach to yourself and if that doesn't scream romantic and private then what does? Explore the best of Maldives with our Maldives Holiday Packages
7. Vermont's Twin Farms, Barnard, United States
Considered to be one of the best places for honeymooning worldwide, Twin farms in Barnard, United States is just the kind of exclusive luxury resort that takes you back in time. Spread across 300 acres of land, this resort provides cottages, lodges and rooms giving you a chance to love the old school way. You can row a boat with your partner, enjoy a walk, go bicycling, go on the bee tour, ice skate, and hike and enjoy some music at the pub. They pride themselves on serving one of the best gourmet foods and offering mind blowing spa treatments. Every season has charm on this vintage property so any time is a good time to visit the place.
All the mentioned properties are all inclusive and adults only thereby giving you and your partner enough privacy and luxury that you would want to come back to.