7 Best Rooftop Bars In Bali
Bali is a state of mind. It materializes all that one can think about an ideal vacation – beaches, mountains, divine tan, hospitality, luxury, adventure, relaxation and partying; you name it and Bali has it. Known for a lot of things, party and chilling scenes in Bali never disappoint tourists. After you are done looking at Bali Holiday Tour Packages you will need to know all the best chill places in Bali that you must not miss so here is a list of 7 best rooftop bars in Bali.
1. La Plancha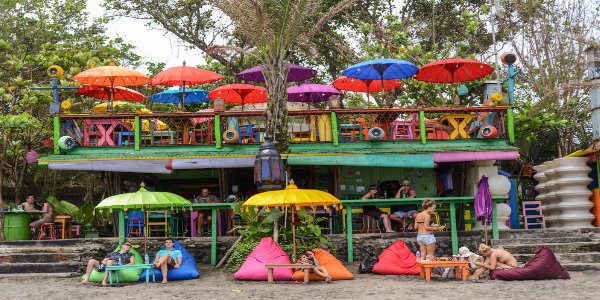 Not the biggest but certainly the most colorful rooftop bar of Bali, La Plancha in Seminyak has a colorful deck with rainbow canvas parasols and painted little stools which are hard to resist. Giving some major social media picture goals, this property is cool, vibrant, quirky and relaxing, just like holidays are suppose to be. The indie in you may find a long lost home here on one of their bean bags.
2. U-Paasha Rooftop Bar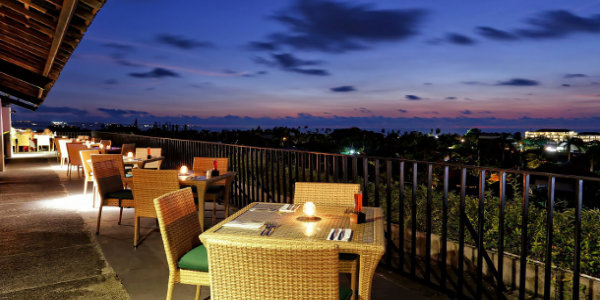 A giant swimming pool, comfortable sun loungers, large bean bags ad wooden tables, U-Pasha rooftop bar is the perfect place to work on your tan while sipping in a margarita. The pool is open for guests only while the bar is open for everyone. Offering some hip music, U-Paasha rooftop bar is a good choice whether you go with your family or with friends. You must try the fresh fruit sorbet tea quenchers there.
3. Rock Bar, Ayana Resort and Spa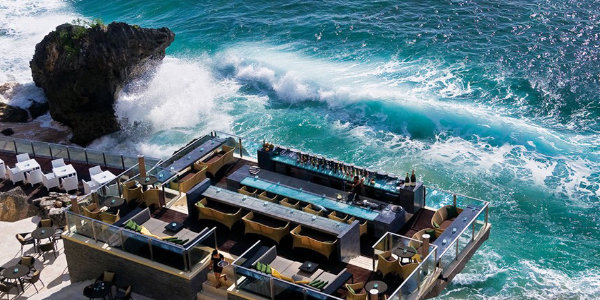 An architectural feat the Rock Bar at Ayana is a world class property with magnificent views of the Indian Ocean. Rock Bar at Ayana is one of Bali's coolest sunset spots and is popular for its gourmet tapas and lovely wines. The idea of sipping a cocktail and hearing the waves crashes the rocks while the sun goes home is just one of the best ways to spend your evenings at Bali. Popular for its sophisticated and minimalist interior, this one is pretty much checks all the boxes as soon as you realize that it gives you 360-degree view of the Indian Ocean. You must try the signature cocktails such as Rock My World and Hot Couture while enjoying some live acoustic band.
4. Double-Six Rooftop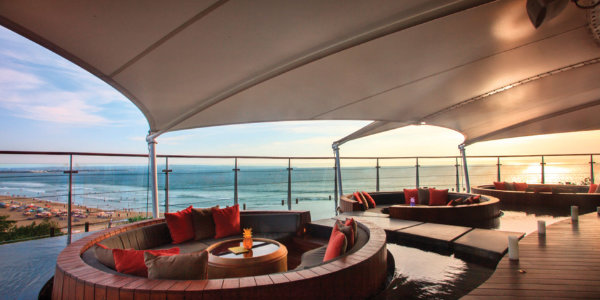 Double-Six Rooftop is located 15 meters above sea level, overlooking the beach and is one of the largest rooftop bars in Bali. Spread across 1700 square meters, this property is a must visit for those who love to wine and dine in luxury and style. Enjoy some Balinese cocktails, tap your feet to the grooves of the best DJs of the town and do not miss the mouth-watering food they have. One of the attention seekers at the property are those floating pods which scream relaxation and emit some serious cool vibes.
5. UNIQUE Rooftop Bar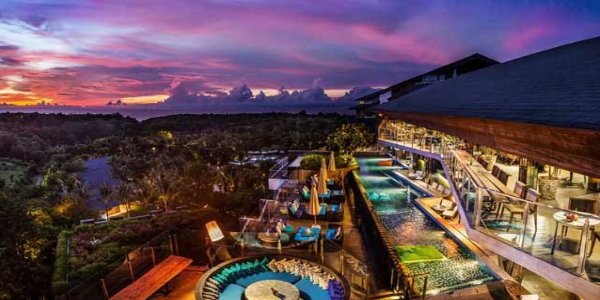 Situated atop RIMBA Jimbaran Bali, UNIQUE Rooftop Bar is a stylish pool club by day and great Mexican dining with cocktails by the night. UNIQUE Rooftop Bar offers beautiful views of Bali's iconic Uluwatu Hills and the ocean beyond. You must try the Tortilla soup, homemade tacos, enchilada, burritos and churros.
6. Single Fin Bar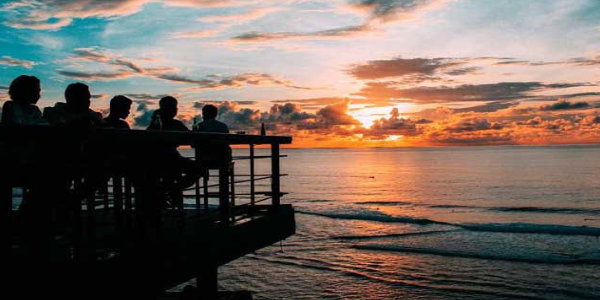 A cliff side bar with multi level terrace, overlooking the Indian Ocean cannot, not be magical. A list of best bars of Bali is incomplete without mentioning this one. Located on the cliffs of Uluwatu, Single Fin Bar is open for both lunch and dinner, serving a large range of great food and drinks, ranging from pizza and burgers to salads and sharing plates they also serve a variety of signature cocktails along with smoothies and cold pressed juices. Look out for 'Acoustic Wednesdays' and 'Sunday Sessions' to experience a level-up chill vibe at the place.
7. Smoqee Lounge & Sky Bar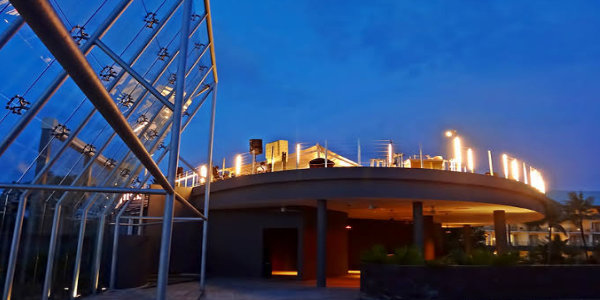 Smoqee Bar & Sky Lounge is an uber-chic place to sip some world class wines and let your hair down. Watch the night take over at their rooftop deck, star gaze, do not count your drinks, and let the music in background blend with your inner music. Try the hand-crafted cocktails with chilli, lemongrass, cinnamon and Balinese flowers.
Sipping your favorite cocktail or trying out a new one while chilling in a pool or lazing in your bean bag, the sight of truly majestic Indian Ocean combined with some gourmet food in the company of live music is clearly one of the best ways to chill in Bali. A holiday with friends, a bachelor, a honeymoon or a proposal date, these roof top bars provide just the kind of vibe and views that you need for any occasion. Even if you are travelling solo, Bali will leave you with some beautiful and vibrant memories. So pack your party dresses, sun block and sunglasses and let your hair down in the Bali style.