7 Colorful Destinations You Must Explore
Mountains, islands, water, landscapes, there is so much we consider before we book a trip but have you ever wondered that there are places in the world which simply do not require a filter to make them look splendid and absolute gorgeous? Places which go beyond the bracket of mountains, islands and landscapes? Here are 7 colorful destinations you must explore.
1. Izamal, Mexico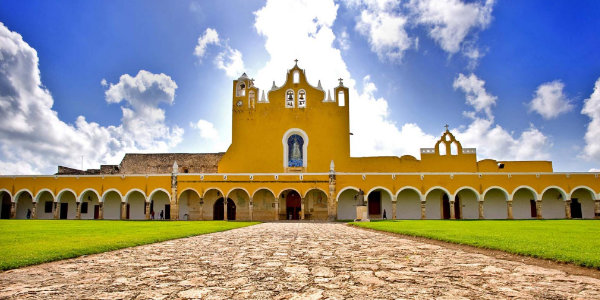 As if the Sun was born and raised here in Izamal , a beautiful colonial town in the centre of Mexico's Yucatan Peninsula which is also called a Yellow town because of the mustard yellow spread all over the place. Situated about 70 km east of, Izamal will welcome you with a serene and peaceful vibe against the hard to miss mustard yellow colored building. Izamal was named as one of Mexico's "Pueblos Magicos" in 2002 for displaying a combination of cultural and heritage richness.
2. Samode Palace in Jaipur, India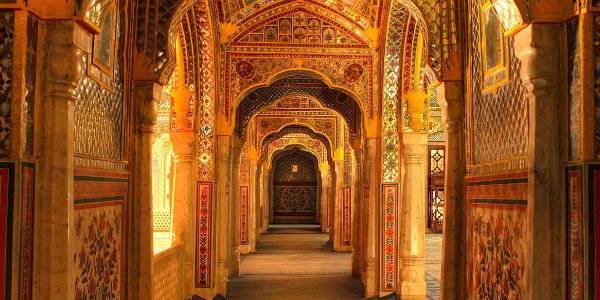 Called as the Pink City of India, Jaipur is full of palaces, forts and heritage properties which will leave you spell bound with its intricate designing, royal architecture and preserved rich culture. Besides the hundreds of lovely royal palaces and heritage sites Jaipur also homes Samode Palace which has hosted royalty, celebrities, artists, and a lot of tourists. This 475-year old Palaces showcases the best of Indian and Mughal styles. Currently a luxury hotel, the insides of this property will make you want to stay here forever. The intricate beautiful delicate designing is hard to miss and fall in love with.
3. Pantai Merah , Komodo Island, Indonesia
As if turquoise seas weren't stunning enough that Pantai Meah, a pretty little beach in Komodo, Indonesia had to give to the world another mesmerizing place to add in the bucket list by being pink. Yes, Pantai Merah is a pink beach, just the sound of it would make someone want to go and explore the place. Pantai Merah is popular for its rosy sand that gets its color from eroded bits of red coral from the nearby reef combined with calm waters and being less crowded it allows you to take in the beauty of this place calmly and click some lovely pictures.
4. Lavender Fields, France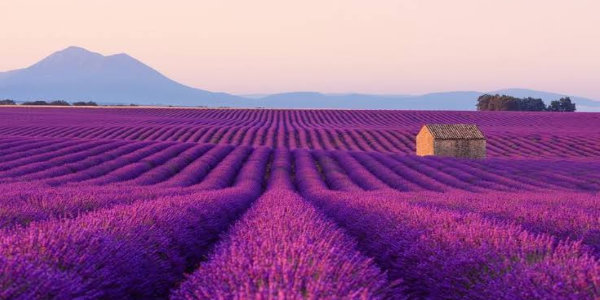 The inner child in us who if ever believed in heaven would dance at the sight of Lavender Fields in Provence. Provence, a region in southeastern France bordering Italy and the Mediterranean Sea is known for its lovely landscapes and impossible to not love, Lavender Fields boasting dusky shades of purple with delicate fragrances that decorate its fields every summer making it a heavenly sight. Lavender farms are to be found in many parts of the world such as New South Wales & Western Australia, Tuscany & Sicily, Italy but not at the same scale as in Provence. There are quite a few lavender festivals in Provence if you're in the area around July-August.
5. The Seven Magic Mountains in Las Vegas, America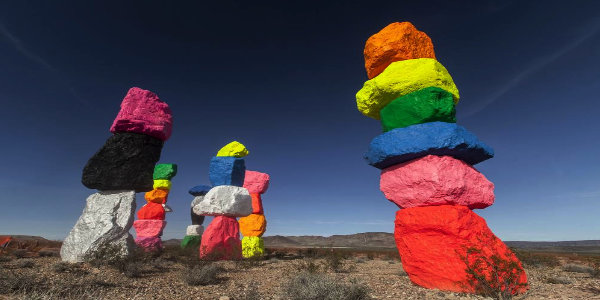 A very popular tourist attraction in Las Vegas, Nevada is an art installation featuring 7 painted boulder totems up to 35 ft. high by Ugo Rondinon in the middle of a desert. Comprised of seven towers of colorful, stacked boulders, The Seven Magic Mountains is a creative expression of human presence in the desert. The colors blaze all the more under sunlight, making one wonder that not beautiful things have to be complicated, the simplest of simple things created with artistic intelligence can leave someone in awe.
6. Chefchaouen, Morocco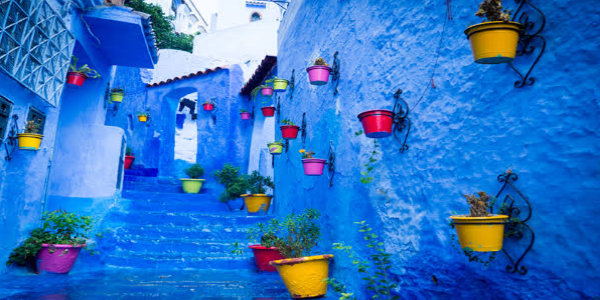 Chefchaouen, or Chaouen, is a city in the Rif Mountains of northwest Morocco, known for the striking, blue-washed buildings of its old town. Chefchaouen is one of the most popular places of Morocco as the blue setting makes it so colorful and unique almost like a movie set. It has its own mood and artistic vibe to it.
7. Morning Glory Pool, Wyoming, United States of America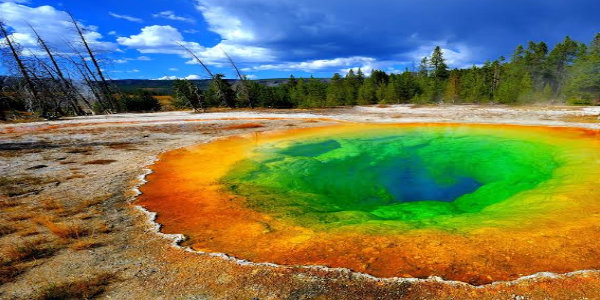 Morning Glory Pool is a hot spring in the Yellowstone Upper Geyser Basin of the United States. Boasting the colors of the rainbow, the original shade of blue of this hot spring was created because of the bacteria living in it, the red and yellow colours which are now found at the rim are actually due to the litter caused by the tourists in the past. Morning Glory which has now even erupted as a geyser is a fragile beauty, as the invasive yellow bacteria continues to close in. To know more about USA holiday packages check out our website.
So this vacation, ditch your browns, black and grey suits and indulge in some color while the world still has some left. These colorful destinations are too good to be true. Check out the weather and other details before hand to book a place which works for you. You can check out Flamingo tour packages to get a better deal and right kind of suggestions for your next vacation.