Visit these 15 places to witness wildlife and nature at its best!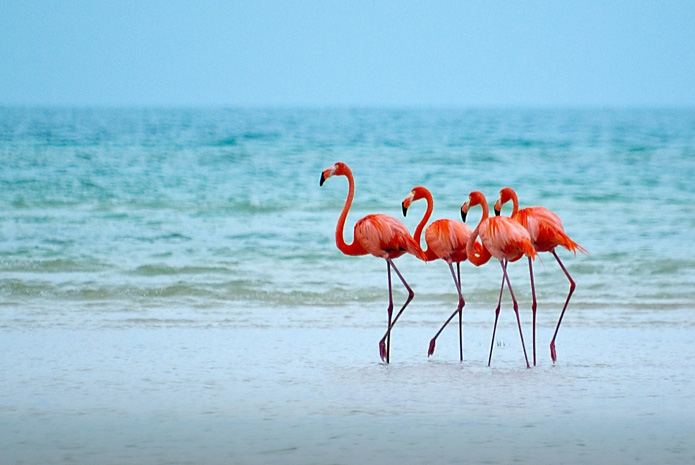 There are many reasons to visit Gujarat. But the three most important tourist attractions in this state are National parks, museums, and wildlife. Gujarat Tourism is always praised for being rich in flora and fauna. The state's climate is suitable for rare wildlife species such as the Asiatic lion, blackbuck, and wild ass among others. Some of the most famous national parks and wildlife in Gujarat are the Gir National Park, Marine National park and Blackbuck National Park etc.
One also witnesses various eras of history, whether at the excavations at Lothal and Dholavira or at Sabarmati Ashram from where Mahatma Gandhi planned several national movements. The major attraction would be the Gir National Park, where you get a jeep safari. You can also visit Nal Sarovar Bird Sanctuary where you get to see various vibrant colorful birds.If you haven't selected your Gujarat tour package, you are missing out on an incredible experience.
Below are some places that should not be missed on your visit to Gujarat.
1. The Gir National Park:

Image Source: girnationalpark.in
It is popular for its rich fauna. Gir National Park is considered as one of the natural habitats for Asiatic Lions. The preservation of those lions was initiated by the Nawab of Junagadh when these were almost to enter the phase of extinction thanks to hunting. Gir is additionally home to a spread of other rare wild animals, like hyenas, fish owls, blackbucks, and lots more. Spread across nearly 1412 sq km of land, this is often also the sole park in India that features a community living inside its perimeters, which too in complete harmony with each other. Gir has become a serious tourist attraction due to the high lion population. Gir takes pride in being one among the foremost awe-inspiring National parks within the country with a particular landscape having isolated hills, plateaus, rugged ridges, and valleys. December to mid-June is the best time to go to Gir park. Tourists also visit Somnath and Junagadh on their visit to Gir National park as they are nearby. Located in Talala Gir in Gujarat, the Sanctuary may be a part of Kathiawar- Gir dry deciduous forests ecoregion. December and March are the best time to go to Gir park during the winter season. It is during this era that the weather in Gir is pleasant and funky. The protected area of Gir park closes per annum from 16th June to 15th October. A safari during this park during the winter season is going to be a pleasant experience as each, and each nook and cranny is hospitable to visit and explore. April and May although a bit hot is considered the best times for wildlife spotting and photography.
What type of activity can be done at Gir National Park –
Jeep Safari in Gir National Park: Duration – 1 day, Rates – approx INR 4900 for a group of 6 pax
Safari tour of Gir Wildlife Sanctuary: Duration – 2N/3D, Rates – approx INR 11000 per person
2. Marine National Park:

Image Source: c1.hiqcdn.com
Covers an area of approx 162 sq km, this park created in Jamnagar district. This national park can be seen on the shoreline of the Gulf of Kutch. Sponges, corals, jellyfish, octopus, dolphin, lobster, and pearl oyster are the major species to see here. Surrounded by coral reefs, the Marine National Park includes the 42 islands, amongst the Pirotan, which is the best island to enjoy marine life. The best time to visit this place is around winters from October till February which offers pleasant weather.
What type of activity can be done at Marine National Park-
Hopping around 42 islands
3. Wild Ass Sanctuary: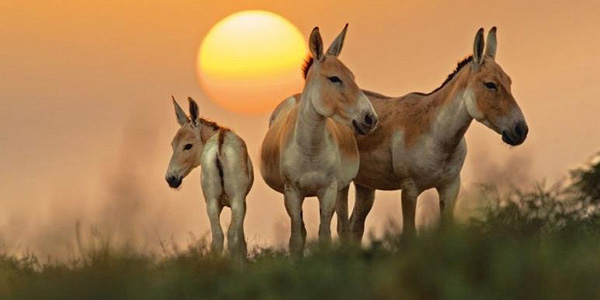 Image Source: trawell.in
The Wild Ass Sanctuary is the only Wild Ass Sanctuary in India and is located in Little Rann of Kutch. The project started in 1973, with the purpose to protect the endangered Indian Wild Ass. It is spread on an area of 5000 square kilometers of the Rann of Kutch which includes some portions of certain cities like Banaskantha, Patan, Rajkot, Surendranagar, and Kutch District. The Indian Wild Ass is also known as Gudhkhar and is still there in the sanctuary. Apart from wild ass, the sanctuary is also home to 32 other mammals which include types of desert fox, Jackals, Nilgais, Caracals, Indian Wolves, and Blackbucks, etc. Annually, around 75000 birds are attracted to the sanctuary which also includes some migratory birds. The sanctuary is also home to 93 species of invertebrates which includes crustaceans, insects, spiders, and more. Also, a sizeable amount of Rabari and Bharwad tribes reside in the sanctuary. Take a jeep safari to experience the best of the wildlife sanctuary.
What type of activity can be done at Wild Ass Sanctuary –
Enjoy watching Chinkara bay, Roam around Bluebell area, and also enjoy watching Blackbuck and Wolf Fox bay.
4. Nalsarovar Bird Sanctuary: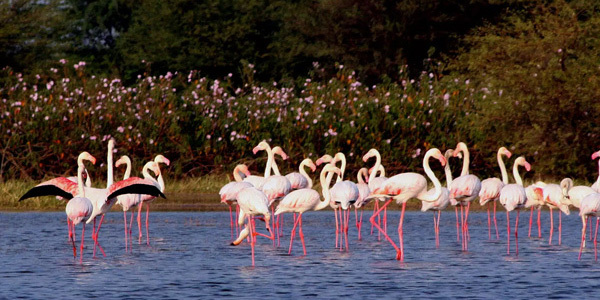 Image Source: static.toiimg.com
Located 64km away from Ahmedabad, it's the largest wetland bird sanctuary in Gujarat. There are about 200 species of birds inhabiting the sanctuary making it a way wanted site for bird-watching. This huge lake is additionally a haven for a myriad number of migratory birds during the winter season. Flamingoes, ducks, and geese, pelicans, rails, cranes, coots, cormorants, egrets, herons, storks, etc. can be sighted at the sanctuary. The period between November and April is the best time to visit Nal Sarovar Bird Sanctuary.
What type of activity can be done at Nal Sarovar Bird Sanctuary –
Roam around the bird sanctuary and enjoy watching 250 bird species.
5. Jessore Sloth Bear Sanctuary: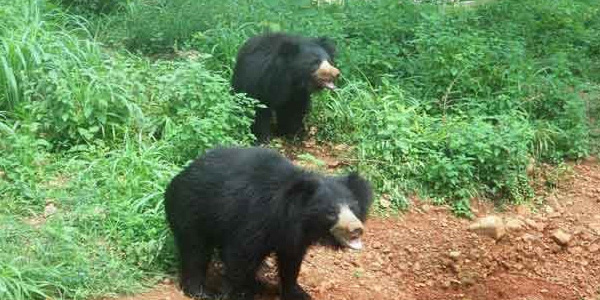 Image Source: indiatvnews.com
Jessore Sloth Bear Sanctuary is situated in the Banaskantha Gujarat, 45 KMS from Palanpur. The Forest area of Jessore hill and adjoining areas is endowed with several rare species of flora and fauna. The forests of the sanctuary play the main role in the conservation of the depleting Aravali ecosystem. Sprawled across the Thar Desert, Jessore Melursus Ursinus Sanctuary gets its name from the majestic Aravalli hill region named Jessore. Home to leopards, blue bulls, sambars, porcupines, wild boars, and 105 sorts of birds that include migratory birds also, this sanctuary also shelters the species of Melursus ursinus. Jessore sanctuary is believed to be one of the most picturesque places to visit in Gujarat. The forest huts and therefore the cottages, located ahead of the lake surrounded by mountains, bring a perfect stay within the sanctuary. Monsoon serves as the best time to visit Jessore Sloth Bear Sanctuary. One can also visit Kedarnath Mahadev Temple and Muni Ji ki Kutia from this sanctuary.
6. Jambughoda Wildlife Sanctuary: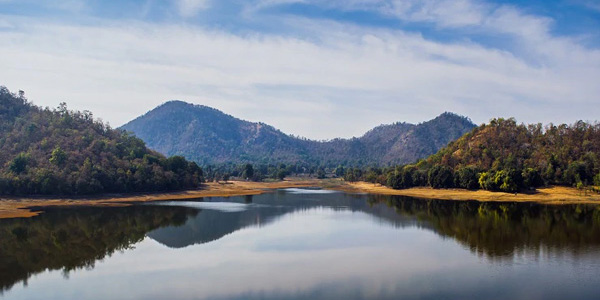 Image Source: oyorooms.com
Jambghoda Wildlife Sanctuary is situated within the Panchmahal district of Central Gujarat covering a neighborhood of 130 sq km. This sanctuary houses a huge population of leopards, hyenas, python, jackals, cobra, the tailorbird, crocodiles, the Oriolus oriolus, teals, and ducks. Targol and Kada are the 2 main regions within the Jambughoda Wildlife Sanctuary that are worth taking a visit. Kada, being the more famous of the 2, is a perfect location for camping within the lush green turf. July to February makes a perfect time to go to this sanctuary.
7. Barda Wildlife Sanctuary: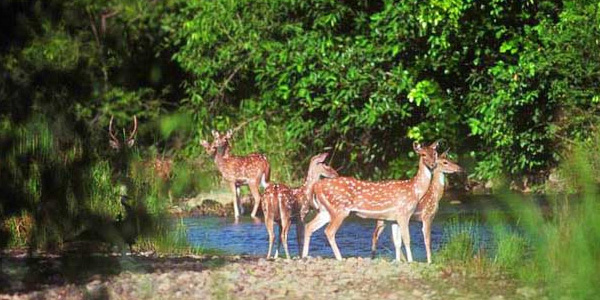 Image Source: gujarattourism.com
Barda Wildlife Sanctuary is situated 15 km from Porbandar, which faces the Arabian Sea. Barda was a private forest of the ex-princely State of Ranavav and Jamnagar and, therefore, it is still commonly known as Rana Barda and Jam Barda. The two most important ephemeral rivers are Bileshvary and Joghri. Kambala and Fodera are the main dams in the Sanctuary. November to Mid-June is the best to visit the Barda Hills Wildlife Sanctuary.
8. Shoolpaneshwar Wildlife Sanctuary:

Image Source: i.pinimg.com
Shoolpaneshwar Wildlife Sanctuary is that the forest area rated together of the simplest and thickest in Gujarat covers a neighborhood, which incorporates a serious watershed feeding two important reservoirs along with the Rajpipla hills as a backdrop.
What type of activity can be done at Shoolpaneshwar Wildlife Sanctuary –
Enjoy tracking on Rajpipla hills
9. Khijadiya Bird Sanctuary: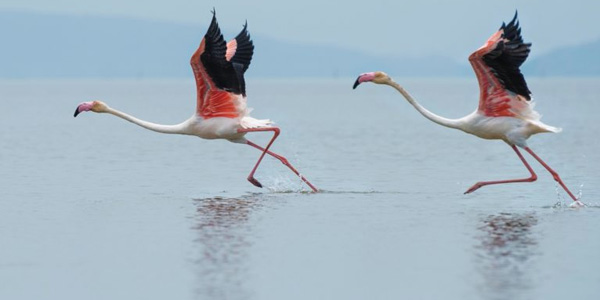 Image Source:  letsbeoutdoorsy.com
Khijadiya Bird Sanctuary is a great place for birdwatchers due to its unique fresh lakes and salty marshlands. It is located 12 km away from Jamnagar District headquarters. The reason behind this unique diversity is a check dam and freshwater area formed due to rains within an area of 6 square km. It is a great place to witness birds along with marine and freshwater habitats, mangroves, mudflats, salt pans, creeks, forest scrub, sandy beaches, and more. Carry your binoculars and cameras along with you as you will come across some beautiful sceneries worth capturing. You may get to witness endangered species like Dalmatian Pelican, Black-Necked Stork, Darter, Eurasian spoonbill, Indian skimmer, and more. October to March is the best time to visit Khijadiya aviary.
10. Gaga Wildlife Sanctuary: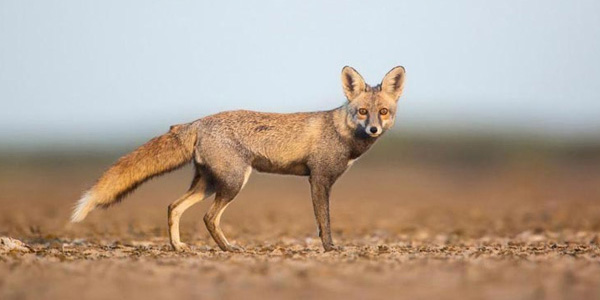 Image Source: dynamic.com
Gaga wildlife sanctuary is a protected area located at Bhatia Taluka of Jamnagar district in Gujarat. It is spread over an area of 3332 hectares of land. It was considered as a sanctuary in the year 1988. It is sub-divided into two landmasses separated by wasteland. It is a unique sanctuary as it is situated in an arid zone with sparse natural resources and it is the only sanctuary in Gujarat offering a protective habitat for a lot of migratory birds and endangered species. It is home to numerous wild animals such as wolf, blue bull, jackal, the jungle cat, and mongoose. A wide variety of insects are also a part of it like butterflies, moths, honeybee, wasps, spiders, and termites.
11. Pania Wildlife Sanctuary:
Image Source: forests.gujarat.gov.in
The Pania Wildlife Sanctuary is located in Amreli in Gujarat. It is loaded with steep rocks and wavy landscapes with wild grass over an area of 39.63 square kilometers. This sanctuary is an extension of the Gir forest but is known as the land of Chinkaras and Antelopes to freely move in the area. You may also come across other animals like lion, blue bull, spotted deer, wild boar, leopard, hyena, and more. The forest is also home to various exotic plants and trees like bamboo, modal, or planned Lannea coromandelica and more. You will also get to see different types of grass. The best time to visit Pania Wildlife Sanctuary is between October and June.
12. Narayan Sarovar Wildlife Sanctuary: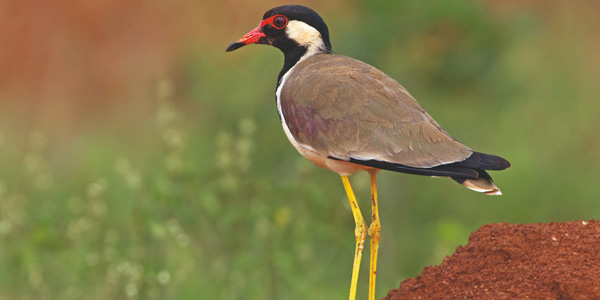 Image Source: gujarattourism.com
Narayan Sarovar Wildlife Sanctuary is a seasonal wetland in the arid region. It is situated in Lakhpat taluka in Kutch district, Gujarat. It is considered as one of a kind sanctuary. You will get to see threatened mammal species, reptiles, and birds. The majority of the sanctuary is desert and covered with thorn forest and scrub forest. It also features wetlands and dry savannah type vegetation. Plant species that are rare can be found here which includes 252 flowering species. It is also home to 184 different species of birds. It is 125 km away from Bhuj and is one of the best places to visit if you are a bird lover.
13. Purna Wildlife Sanctuary: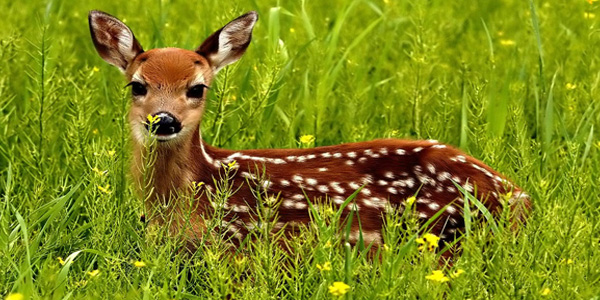 Image Source: lotusyoga.files.wordpress.com
Purna is known for its dense forest cover and witnesses maximum rainfall in the region. Situated within the tribal district of Dangs, Purna Wildlife Sanctuary is understood for being a secure refuge for several wildlife species in Gujarat. This wildlife sanctuary covers a neighborhood of 160 sq km and has about 700 species of plants and trees alongside a generous population of animals like Leopard, rhesus macaque, bonnet monkey, common mongoose, Indian civet cat, Indian porcupine, four-horned antelope, muntjac, sambar, chital, hyena, Felis chaus, flying phalanger, python, and lizards. The commonly spotted birds within the sanctuary are Common grey hornbill, grey jungle fowls, barbets, woodpeckers, shrikes, chlorosis, bee-eaters, flycatchers, and raptors. The best time to visit Purna Wildlife Sanctuary is between November and March.
14. Kutch Great Indian Bustard Sanctuary: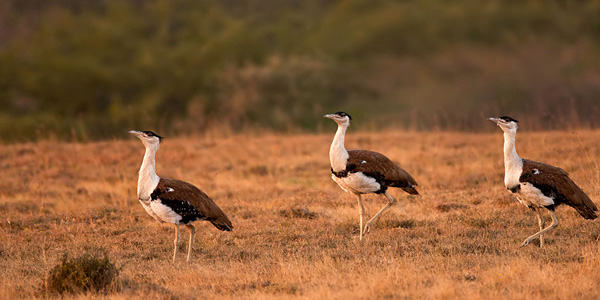 Image Source: forests.gujarat.gov.in
Located in Nalia, Kutch district of Gujarat, the Kutch Great Indian Bustard Sanctuary is believed to be one among the littlest wildlife sanctuaries in India. This sanctuary is home to the good Indian Bustard, which has an ostrich-like appearance. Not just the Indian bustard, the reserve also houses birds like common cranes, harriers, black and grey francolin, sand grouses, black partridges, and few animals like desert cat, wolf, blue bull, and striped hyena. The best time to go to Kutch Great Indian Bustard Sanctuary is between August and March.
15. Velavadar Blackbuck National Park: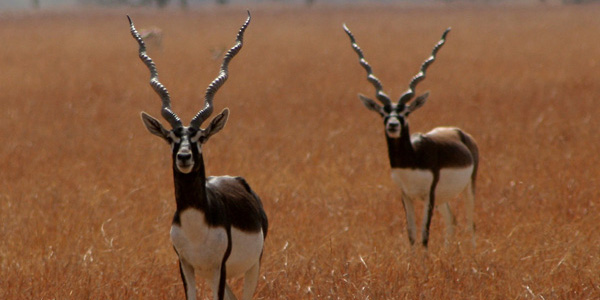 Image Source: live.staticflickr.com
This is among the couple of spots in India, where one can allude to a gigantic people of Blackbucks. The diversion community is masterminded inside the Bhavnagar region of Gujarat and spreads a territory of around 34 sq km. Vervadar may be a level verdant zone, where gatherings of blackbucks are consistently watched waiting around. Besides blackbucks, Velavadar Blackbuck Park is the ensured regular environmental factors for the risked Indian wolf, Jackal, Indian fox, Felis chaus, nilgai gazelle, Wild pigs, Hares, and Rodents. The southern bit of the amusement community is ideal for birdwatchers, while the southern edge is moreover the most cherished spot of packs of wolves. The best a perfect chance to go to Velavadar Blackbuck Park is between July and March.
Gujarat has a long list of wildlife destinations. One can easily plan a wildlife holiday in Gujarat. Whether you are traveling with family or friends this will give you a rejuvenating experience. So when is your next visit to Gujarat?