Top 20 must visit luxury resorts in Kerala!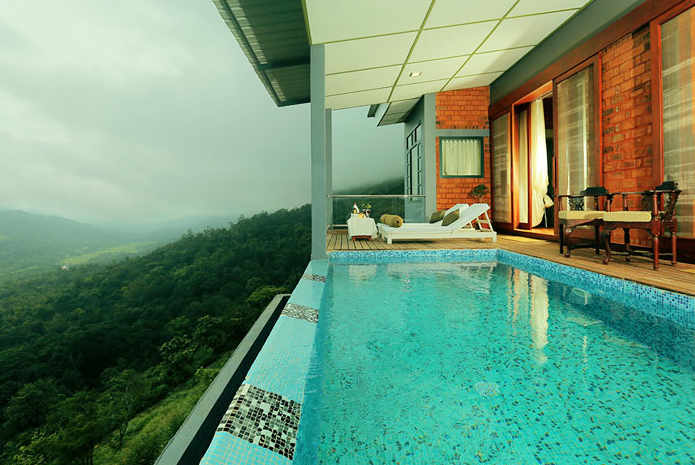 Imagine yourself in the middle of a really busy day. You are drowning in work and when you get home, you have to prepare yourself for a big meeting the next day. At such a time, you badly wish that you could take a few days off from all this ruckus and head out for a calm vacation where you could experience self-indulgence. No other place defines the word serenity better than God's own country, Kerala. Amidst the luscious green lands and the stunning backwaters lie Kerala resorts which are believed to be the epitome of luxurious accommodation. Proof for the same can be seen in the list we have put together of all sorts of luxurious resorts of Kerala.
1. Raviz kovalam: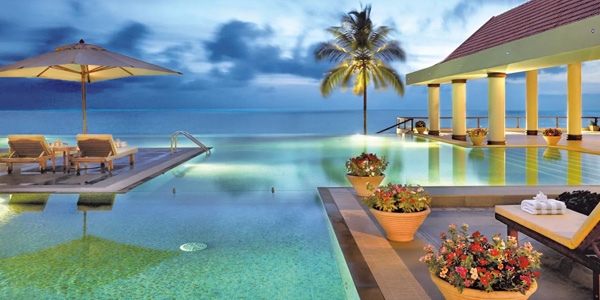 Image Source: assets.fitreisen.de
It is only acceptable to start this list with a luxury resort that lies in the capital and has a history to represent itself. Situated in the capital city of Trivandrum in the state of Kerala, the Raviz Kovalam resort proudly boasts of being the only resort in all of India which is situated at the clifftop overlooking the sea. This resort is also said to be one of the finest 5-star resorts that can be found in the city.
2. Fragrant kollam: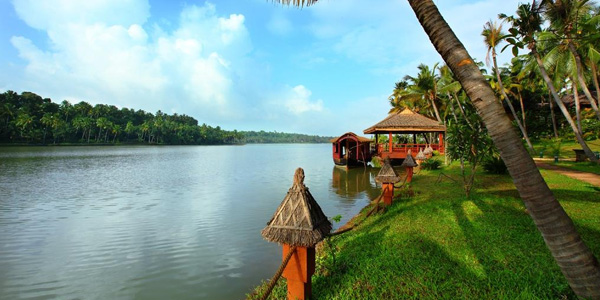 Next up on our list is one of the backwater resorts in Kerala, the Fragrant Nature Kollam. If you are looking for some of the Kerala ayurvedic resorts, then this one checks in all the boxes of requirements. This 4-star resort is situated right in the lap of nature in such a manner that you can literally smell and feel the pure air over here. Wake up to the morning calls of birds and breathe in the crisp air. Watch butterflies fluttering around while you head to the Ayurveda center for a relaxing massage. Or simply indulge in some meditation through the yoga sessions carried out here.
3. Fragrant Munnar: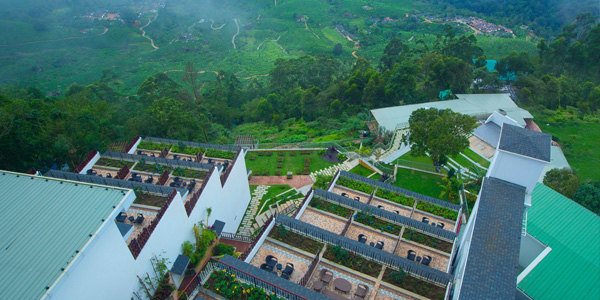 Image Source: r1imghtlak
Moving on to another franchise of the Fragrant Nature group of hotels, this is a more luxurious version of the previous resort. This one is situated in Munnar and overlooks the gorgeous hills of this place. This resort is absolutely luxurious in nature as it offers the best of modern amenities that one can think of.
4. Chandy's windy wood: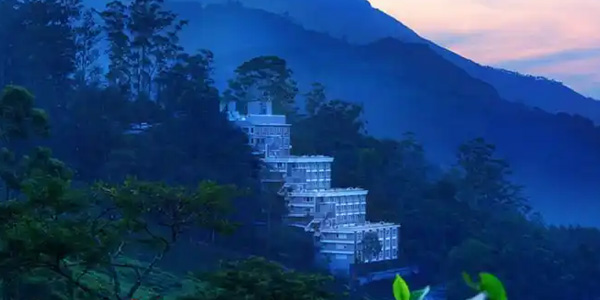 This Kerala resort in Munnar is considered to be one of the most desirable resorts by honeymoon couples as well as other tourists. The accommodation facilities of this resort are simply irresistible. It is no secret that the hills of Munnar are a sight that pleases the eyes and the weather conditions please the soul. This resort is literally perched on the slope of one such hill hence nothing more needs to be said.
5. CGH Earth – Thekkady: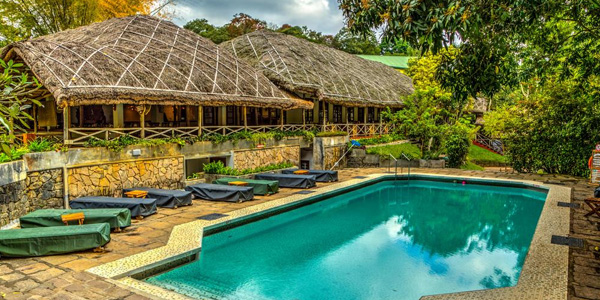 Image Source: q-cf.bstatic.com
Have you ever wished to live in a surrounding which is not touched by the developmental weapons of the urban life? Then this Kerala resort will offer one such opportunity to you. This resort is constructed in a tribal village located in the Thekkady region of Kerala. Amidst the highlands of Periyar which is a part of Thekkady lies a spice garden which holds this luxurious resort. The resort draws its inspiration from the native tribe of Manan which believe in retaining the rawness of nature. As it is in the middle of a spice garden, your taste buds will enjoy this stay as well.
6. CGH Earth – Kumarakom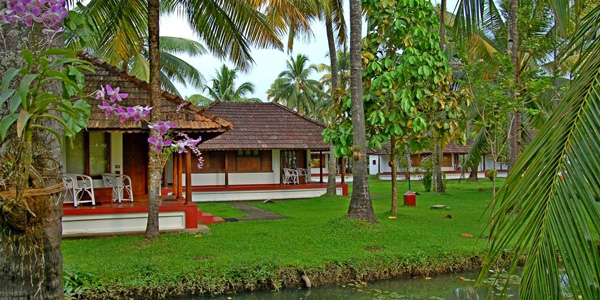 Image Source: q-cf.bstatic.com
Going by the name of  'Coconut Lagoon', the CGH Earth resort situated in Kumarakom has a lake which you can overlook from the property. The Vembanad lake is believed to be one of the largest inland lakes which can be found in India. This is because this lake is renowned to have its own distinctive ecology which proves to be a backbone of natural life. While living at this resort, you can take a boat ride on this lake at your own disposal.
7. CGH Earth – Marari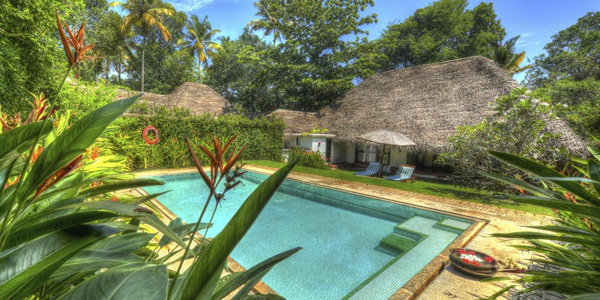 Image Source: q-cf.bstatic.com
Another CGH Earth property, this one has a different kind of geographical location to offer. This seaside resort is on the land of a village which spreads out on 30 acres of land which promote growth of fruit trees, coconut groves, lily ponds, along with a large organic farm. This resort in Mararikulam offers tribute to the fishermen community of this region who have their own culture that adds to the spirit of this sea-side villade.
8. Evolve back – Hampi: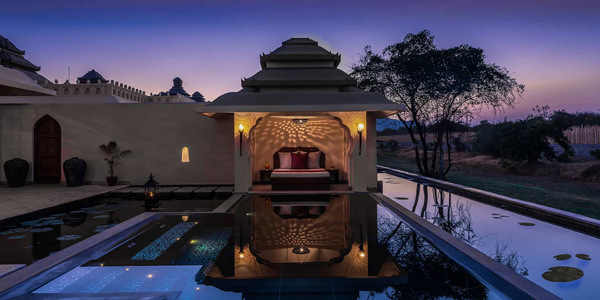 Image Source: www.evolveback.com
If you ever want to understand a place, it is essential to know about the history of that given place. Well this resort claims to offer you an experience similar to the living standards that were witnessed during the 14th century under the rule of the Vijayanagara Empire. The resort is merely 4 kilometers away from the UNESCO World Heritage Site of Hampi making your stay an intriguing one.
9. Evolve back -Coorg: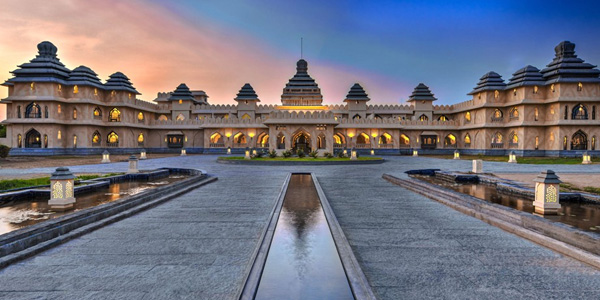 Image Source:cdn.i-scmp.com
Coorg is particularly popular for its immensely gorgeous natural beauty. Now imagine a lavish resort placed right in the middle of this luscious land. Known as the Evolve Back Chikkana Hill Estate in Coorg, right from the moment you step foot on the land; you will feel as if you have been transported to a different dimension of paradise. The property of this resort is stretched out on 30 acres of land which is completely covered with plantation.
10. Evolve back – Kabini: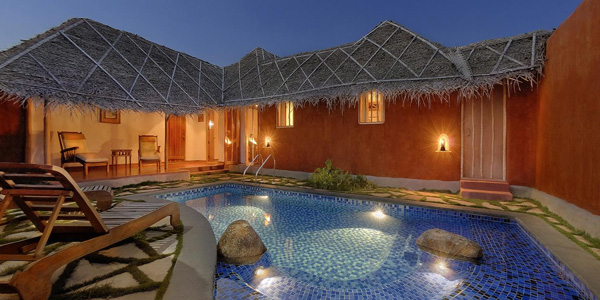 Image Source: q-cf.bstatic.com
When you look at this resort from afar, it will come across as a structure of a normal residential community of the locals of the Kadu Kuruba tribe. But when you go closer, you realize that the exterior of the place resembles that of the rural life of the locals but the interior is luxurious. The resort is bordered on two sides by the river of Kabini and has great access to the wildlife of the region as well.
11. The Serai – Kabini: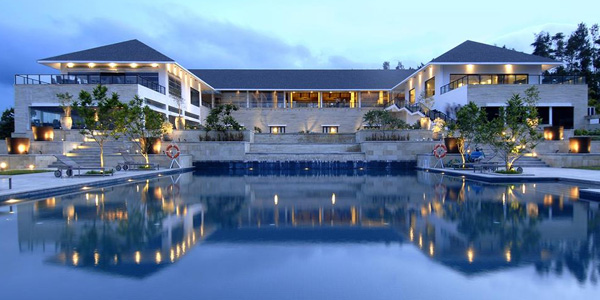 Image Source: www.tfod.in
The region of Kabini is mainly known for the rich wildlife it holds. It can be found on the southeastern end of the Nagarhole National Park, which is considered to be the hub of elephants. There is also a river in the surrounding which attracts a large herd of animals here on a regular basis. Apart from this, you can also spot more than 300 species of birds at any time of the year. The Serai resorts in Kabini offers you this unforgettable experience.
12. Vythiri resort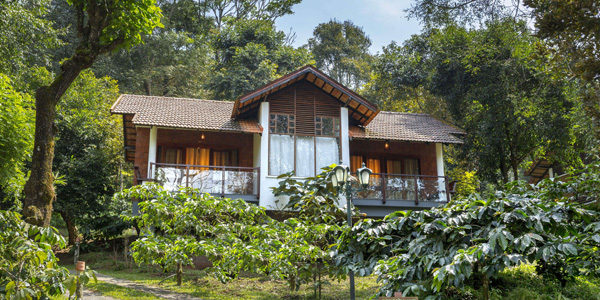 Image Source: scontent.famd3-1.fna.fbcdn.net
The small town of Vythiri has earned itself an identity in terms of a tourist destination. Situated in the Wayanad district of Kerala, the jungle over here is classified as a rainforest. Thus you can get an idea of the kind of greenery that this place holds in store for you. The Vythiri Resort has been constructed to offer an exquisite getaway in the jungle which is a part of a mountainous district. You will feel as if you sitting in the lap of Mother Nature while being surrounded by different types of amphibians.
13. Taj Madikeri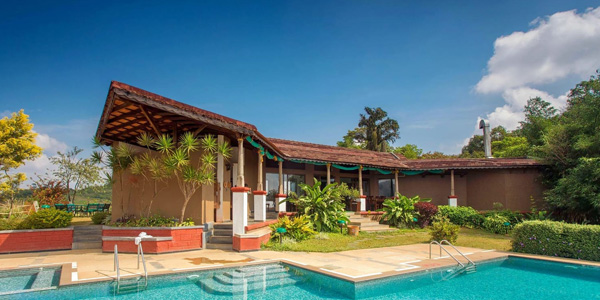 Image Source: images.thrillophilia.com
It won't be wrong to say that Coorg is quite a popular holiday destination among tourists from across the world. And it deserves all the attention as it is 180-acre wide expanse of rainforest and that too in a hilly region. These hills are covered with more than 200 different kinds of plantations and the Taj Madikeri is situated right amidst them. At a height of 4000 feet above sea level, this luxury resort also has a spa which is humongous thanks to the 30,000 square feet of land it covers. While here, don't forget to step out for nature walks and offroad biking.
14. Taj Bekal: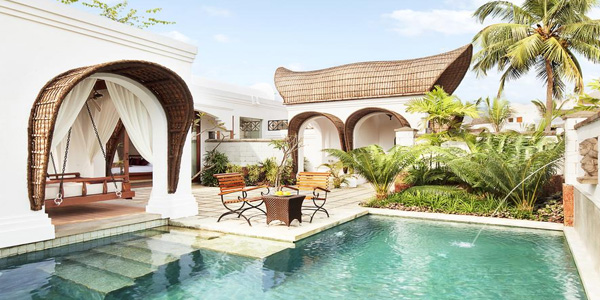 Image Source: q-cf.bstatic.com
If it's a resort by the Taj Group of Hotels, it will scream luxury. Which is exactly what the Taj resort at Bekal will offer you. This luxury resort overlooks a private beach and offers accommodation in the form of villas. These villas consist of private pools so that you can unwind yourself but at the same time keep in touch with the surrounding culture as are inspired by the Ketuvallam houseboats. While exploring the vast resort, you might also find references of Indonesian influences.
15. Taj Kumarakom: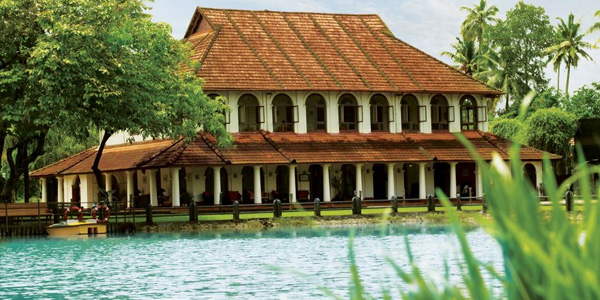 Image Source: q-cf.bstatic.com
The beauty of Kerala resorts is that they usually overlook the internationally renowned backwaters. And the Taj resort in Kumarakom surely fits the description. This resort has centuries old historic value as it has been developed on a family estate and now offers 28 exclusive villas to choose from. This resort has a colonial feel to it as the architecture here depicts that kind of character.
16. Casa Rio – Athirapilly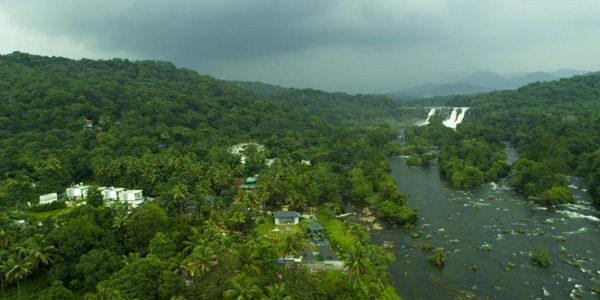 Image Source: q-cf.bstatic.com
This resort mainly aims to offer its visitors the naturopathy and ayurveda Kerala is famous for and is therefore known as the Hillside Health Resort. Despite being luxurious in nature, this resort will offer you the serenity you have been looking for in the virgin forest of Athirapilly. You can spend your evenings sitting by the river adjoining the resort.
17. Forest Canopy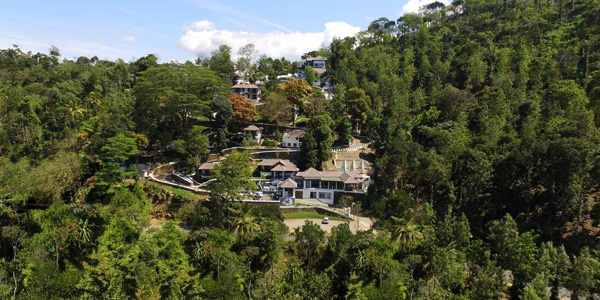 Image Source: q-cf.bstatic.com
Located near the Kottayam – Kumily road, the Forest Canopy resort is considered to be the gateway to Thekkady in Kerala. As the name of this resort already suggests, it is placed right between the rainforest of this region. Apart from taking in the natural beauty, this resort also has a number of activities to indulge in such as boating, plantation tours, trekking in the forest, going for wildlife safaris, or witnessing the local art forms live.
18. Lake canopy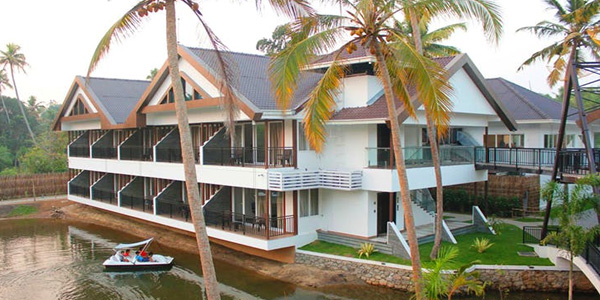 Right at the banks of the lake of Punnamada lake in Alappuzha, this is a breathtaking property which consists of a cluster of 28 cottages that offer you a experience luxury stay along with the entire backwater experience. Many creative minds have stated that this resort looks like a painting that has come alive or a visual poetry. Indulge in fishing over here or simply explore the backwaters on a pedal boat.
19. B'Canti Boutique Beach Resort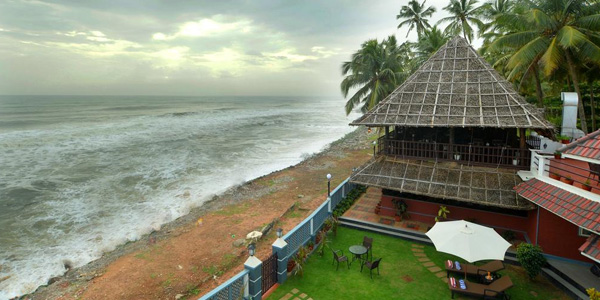 Image Source: q-cf.bstatic.com
Claimed to be one of the most gorgeous beach resorts that you can find in the state of Kerala, this boutique resort is right at the North Cliff of Varkala. Due to its ideal location, its surrounded by rocky land and sandy beaches on all sides. Guests have the leisure of options in terms of living facilities. You can go for rooms overlooking the sea, rooms that come with a private pool, or rooms with a view of the garden. They also have an in-house Yoga Ashram.
20. Spice Tree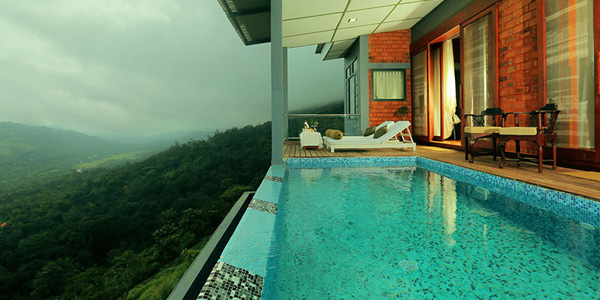 Image Source: spicetreemunnar.com
It is often assumed since centuries that nature has the potential to heal an individual, which is why the Spice Tree in Munnar is a great choice if you wish to feel better about yourself. The resort describes this experience as a pause between the two worlds; one is the hectic urban life and the other is the serene natural life. The accommodation facilities here are enough to lure you to book yourself a room. The pool villa overlooks the cliff side of the mountain, the classic room comes with a jaccuzi, they have a honeymoon suite spa for couples, and the Sugati Garden villa for families.
So start planning your post-covid holiday to these exotic resorts perfect for you Kerala tour package.