A Complete Tourist Guide of Pushkar!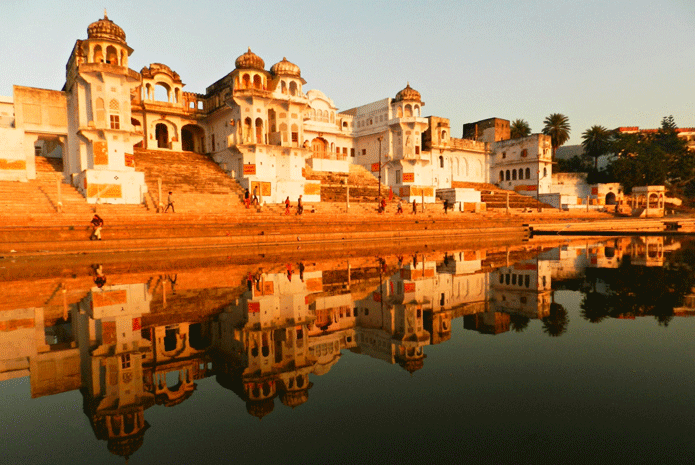 Pushkar is one of India's oldest urban centers. The tranquil city of Pushkar, located northwest of Ajmer, is a favorite destination for thousands of tourists and devotees flocking to Rajasthan. Constructed 510 meters above sea level, Pushkar is surrounded on three sides by hills. The 'Nag Pahar,' meaning the Snake Range, forms a natural boundary between Ajmer and Pushkar. Identified as' Rajasthan's rose garden, the essence of the popular Pushkar rose is being exported worldwide. A legacy of timeless architectural heritage, coupled with an intriguing mythological past, makes Pushkar a fascinating region.Legend has it that Lord Brahma trusted himself to be the maker of the Universe dropped a lotus to the ground prompting the quick formation of a lake. He then decided to call the place after the flower, Pushkar. Pushkar town is home to the world's only temple dedicated to Lord Brahma being a very important part of Rajasthan tourism. Hindus consider a journey to Pushkar as the greatest pilgrimage which must be performed to attain salvation.
Pushkar has become one of the most popular tourist destinations among both Indian and foreign tourists in the last few years. A major crowd puller is the annual Pushkar Camel Fair which takes place in November. The tranquility and spirituality can immediately make you fall in love with Pushkar. The heritage of beautiful architecture and its interesting history make Pushkar a must-visit place on Rajasthan tour.
The town's streets are lined with shops that sell everything for visitors from tie-dye clothing, the musical instrument didgeridoos, and other trinkets. Despite the commercialization, this magical town maintains its authentic flavor and charm.
History:
Pushkar in Sanskrit means blue lotus flower. Pushkar has an impressive track record. Legend has it that Brahma found that Pushkar was ideal for his Mahayagna. He soon found out about Vajranash, a demon who was destroying the town's people. Brahma killed the demon with a mantra singing on a lotus flower. On three locations in Pushkar, few parts of the lotus drop, and these places were later renamed Jyaistha, Madhya, and Kanishtha Pushkar. Brahma's performed a yagna to shield Pushkar from demons. Brahma's consort, Savitri, was required for performing the yagna. She wasn't there though, and Brahma married a girl from the Gurjar community named Gayatri to complete his yagna. Furious at the news of Brahma's wedding, Savitri cursed that only in Pushkar should people worship Brahma. The temple of Pushkar still has a priest called Bhopas is known as Gurjar. In 1901 the city was under the Rajputana Agency and had 3,831 residents.
How to Reach There:
BY AIR – Jaipur's Sanganer Airport is the closest, 146 kilometers away.
BY RAIL — Pushkar Terminus Railway Station, operating since 2012, is linked to Ajmer Railway Station, 14 kilometers away.
BY ROAD – Pushkar are well connected to Rajasthan's national highways. From the Ajmer, bus stands frequent bus services travel from Pushkar to the major cities of Jaipur, Jodhpur, and Ajmer.
Attractions & Places to Visit and Explore in Pushkar
1. Pushkar Lake: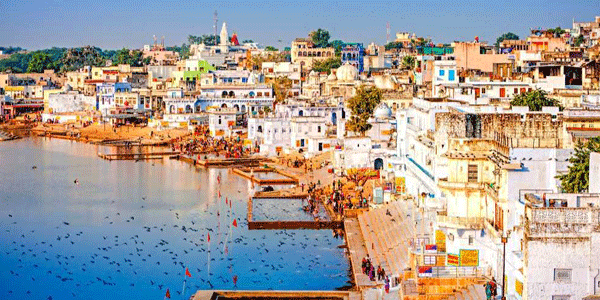 Image Source: shutterstock.com
It is a legend that a lotus was born from the hands of Lord Brahma, the god of life, and Pushkar River, making it as old as life itself. Hindu mythology speaks of PanchSarovars (Five Lakes) – Man Sarovar, BinduSarovar, Narayan Sarovar, Pampa Sarovar, and PushkarSarovar, the most sacred of which is the Pushkar River. Devotees assume that bathing at KartikPoornima (during the Pushkar Fair) in the waters of the lake would annul sins and cure all skin diseases. This artificial lake was created by building a dam and it lies nestled in the folds of the Aravalli range, surrounded by a desert and hills. The lake has 52 bathing Ghats (steps leading into the water), and it is believed that the water around each Ghat has specific medicinal powers. The Lake Pushkar is a popular destination for pilgrims, as evidenced by more than 500 temples dotting the lake banks.
2. Brahma Temple: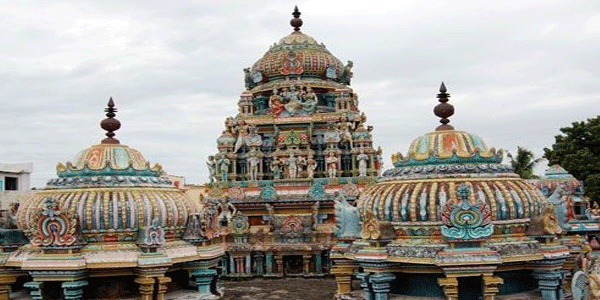 Image Source: content3.jdmagicbox.com
Jagatpita Brahma Mandir is a temple dedicated to Lord Brahma, the Hindu God of Creation, located near the sacred Pushkar Lake. The ancient structure is about 2000 years old though it dates back to the 14th century. Pushkar has over 500 temples, some very ancient, but the most important among them is the Brahma temple. Legend has it that Brahma came down to earth to perform a yajna and chose for his temple this site. The Hindu scholar AdiShankara gave himself to the redesign of the sanctuary in the eighth century, yet the current structure is credited to Ratlam's Maharaja Jawat Raj, who fixed it and somewhat adjusted it. The temple's inner sanctum is dedicated to Lord Brahma, and Gayatri, his second wife. The temple is composed of stabs of marble and stone. Its red pinnacle (shikhara) can be seen from a distance, with a distinct hamsa (bird) motif in the temple. The town celebrates a festival dedicated to Brahma at KartikPoornima during Pushkar Fair which is a must experience on Rajasthan holiday package. Devout pilgrims visit the temple after they bathe in the holy Pushkar Lake and purify themselves. The Brahma temple has been listed as one of the world's ten most holy sites and is considered one of Hindus' five holiest pilgrimage destinations.
3. Savitri Temple: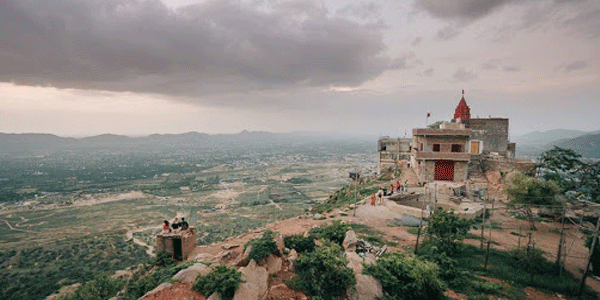 Image Source: /lh3.googleusercontent.com
This temple is dedicated to the first wife of Lord Brahma, Goddess Savitri, is situated on a hillock right behind the Brahma temple. One can catch a panoramic view of the lake, surrounding temples, and sand dunes while ascending the long series of steps leading up to the temple. The existence of the only Brahma Temple in Pushkar is the product of Savitr's curse to Brahma for marrying Gayatri, another goddess while beginning his yagna in Pushkar.
4. Man Mahal: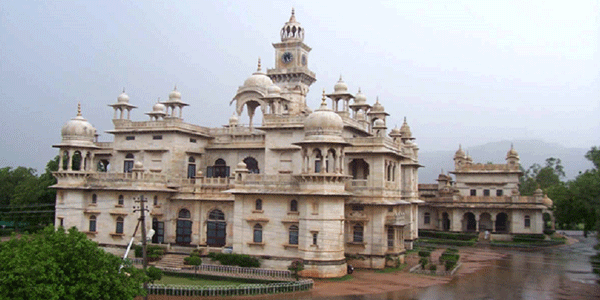 Image Source: www.travelogyindia.es
The Man Mahal is one of Pushkar's grandest palaces. Built as a Raja Man Singh I guest house, this palace is one of the most attractive places in Pushkar to visit. It was built to serve Raja Man Singh I as a royal guest house. The royal era Rajasthani architecture which adorns the palace makes it a visual treat. It has now been turned into a heritage hotel named the RTDC Hotel Sarovar, allowing visitors not only to enjoy the palace's elegance but also the spectacular view of the lakes and temples around the lake.
5. PAP Mochini Temple: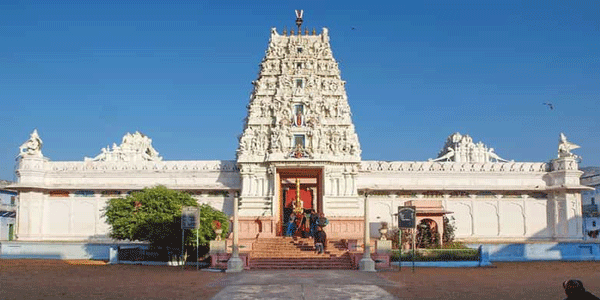 Image Source: static-blog.treebo.com
Directed by the divinity Ekadashi Mata, it is accepted that the sanctuary of Pap Mochini will give rest from their cardinal sins to devotees. Located in Pushkar's northern part, the Temple is like a pearl in Pushkar's crown. The Pap Mochini temple is one of the most famous temples in Rajasthan, having great spiritual significance as well as boasting a splendid architecture.
6. Atmateshwar Temple: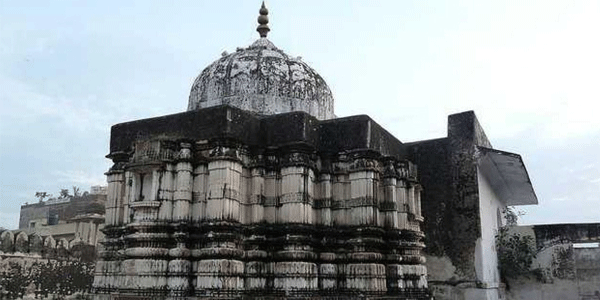 Image Source: www.erajasthantourism.net
This beautiful temple dating from the 12th century is dedicated to Lord Shiva and has an underground part. The intricate carvings of the Hemadpanti architectural style give a magnificent appearance to this temple. Thousands of devotees flock here to pay their respects during Shivaratri's propitious time when Lord Shiva is ritually respected.
7. Old Rangji Temple: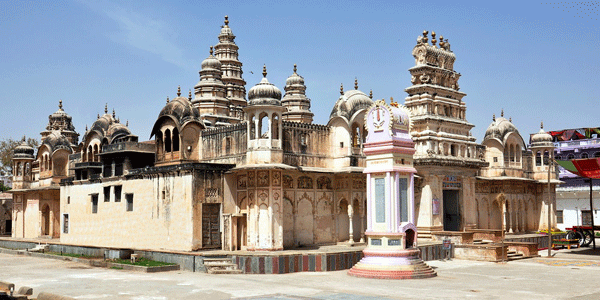 Image Source: live.staticflickr.com
The gracious and eye-catching Rangji Temple is another famous shrine that annually witnesses thousands of pilgrims and tourists. The temple is dedicated to the incarnation of Lord Vishnu, believed to be Lord Rangji. In the temple architecture, the influence of South Indian style, Rajput style, and Mughal style is highly noticeable. Another feature of the temple which attracts visitors is the high-rising 'Gopuram,' which is prevalent mainly in the temples present in South India.
Things to do in Pushkar:
 1. Camel Safari: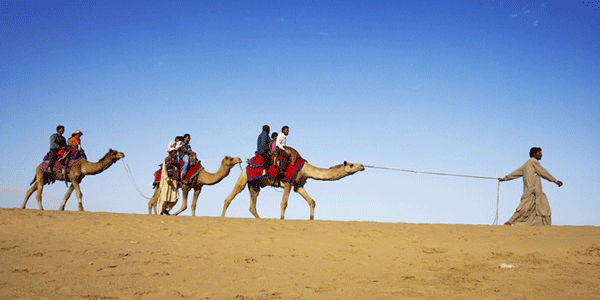 Image Source: dg_image.com
One can better explore the dunes around Pushkar on a camel. Riding up a camel across the desert is an unforgettable experience. It's a bumpy but rhythmic ride through the quiet desert, with the swish of camel feet on the sand being the loudest sound. It's fun chatting with thrilled camel men who are always happy to share their stories. They are the best people to talk to if you want to learn about life in a desert village.
These slow-moving camels will take you through dunes to a point from where you can watch the beautiful golden ball dipping beyond the horizon and the sky changing color from red to violet in the evening, and then the darkness slowly swallowing the entire expanse. From the fairground, you can hire camels, or ask your hotel to arrange for one. If you want to enjoy the ride with your friends or family, there's a camel cart option too. The best time to enjoy a safari is before the sun goes down.
2. Jeep Safari: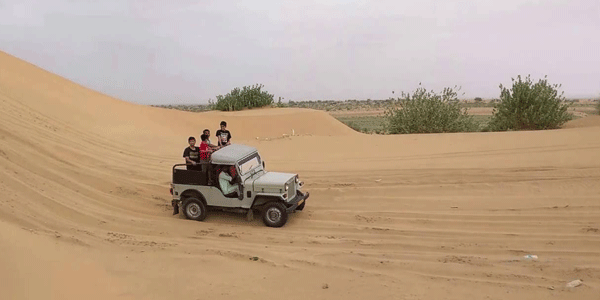 Image Source: www.rajasthantourplanner.com
Travelers with an adventurous inclination have to try jeep safaris. Jeep safari takes you down the rough paths to discover Rajasthan's offbeat destinations. You will not only travel through the desolate desert landscape, but you will also have the opportunity to discover the secret charm of some of India's most remote and vibrant villages, ruins of majestic forts and palaces, ancient temples and rare wildlife. A refreshing dip hidden in the trees in the local waterfall will refresh you thoroughly after an agonizing trail of about five to six hours.
3. Hot Air Balloon Ride: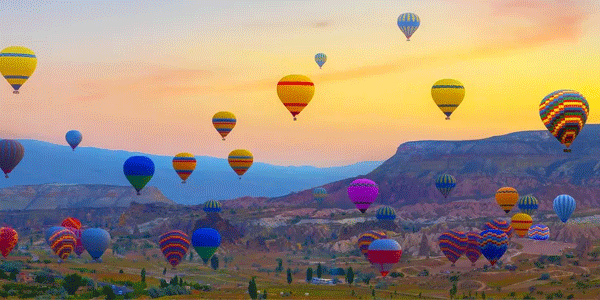 If you're around the fair in Pushkar you need to go for a balloon ride. It offers you the ability to escape crowds while enjoying the fair at the same time. Coast tenderly over the group over the huge spread of the hills to get a staggering views. Drift over this ancient sacred city's lake and temples and feel the magic of floating upon this motley humanity. Typically the balloon ride is held near the end of the fair. The best time to take a trip is at sunrise when the sun's soft rays gradually illuminate the temples, ghats, and ancient buildings around the lake. It's once-in-a-lifetime experience and for any photographer to capture it all in the morning light is a dream-come-true. It is recommended to book in advance to get the best time slots.
4. Varah Ghat Evening Aarti: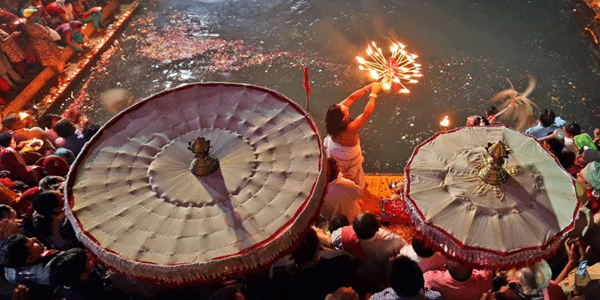 Image Source: i.ytimg.com
Evening aarti is an unmissable experience for both, believers or unbelievers. Men in thousands gather around the ghats in the temples. When the chants begin, the atmosphere is filled with the scent of sticks of incense and roses. Through unison comes the sound of ringing bells from various temples surrounding the lake. The whole atmosphere feels divine and transports you to an entirely different world. While the evening sky fills with the gold of the setting sun, numerous floating diyas make the lake look gorgeous. At any of the ghats you can attend an aarti ceremony but at VarahGhataarti evening is highly recommended. Throughout summers it starts at 7:00 pm and during winters at 5:30 pm.
Best Places to Eat in Pushkar:
Pushkar is a temple town which means it's exclusively vegetarian food here. Yet the sheer variety of it will make it worth your trip alone. You'll find street food vendors and small restaurants preparing delicious vegetarian snacks and street food items at almost every nook and corner of Pushkar. These stalls served hot and fresh, are set up since the early morning hours, and wind up by night. Let us take a look at a few famous street food items in Pushkar in this article.
1. Funky Monkey Cafe: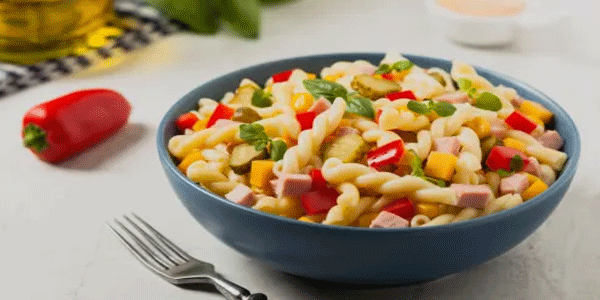 Image Source: res.cloudinary.com
The Funky Monkey Cafe is located on the main market road and is a very popular restaurant. The pizzas and salads are a must-try here. The Nutella pancake is one more fun recipe you can have. You'll get different forms of iced coffee here too.2.
2. The Laughing Buddha Cafe: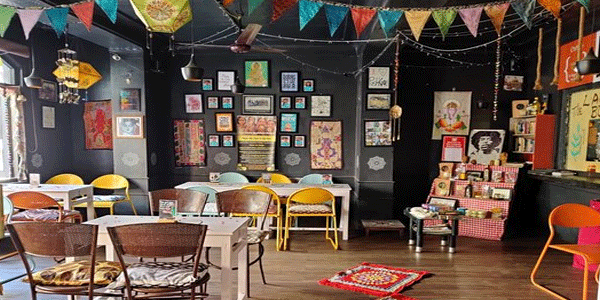 Image Source: media-cdn.com
Situated on PanchKund Road, this cafe is famous for tourists. The Laughing Buddha Cafe is a cozy place serving hot tea and coffee along with a variety of other dishes. The place is open for lunch, snacks, and dinner.
3. Rooftop Babaji Cafe: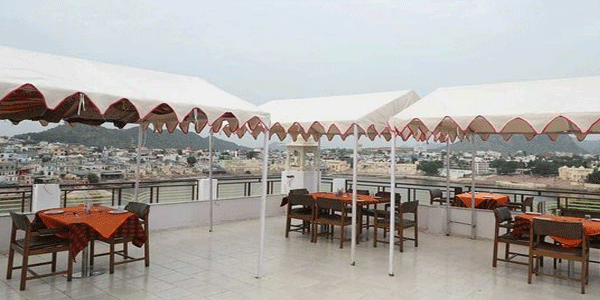 Image source: media-cdn.com
Rooftop Babaji Cafe is arranged in the eastern piece of Sadar Bazar and gives you a general perspective on the Pushkar Lake and the encompassing mountains. The place is popular for Israeli pizzas and snacks. A must-try with their spinach and cheese momos.
4. Hotel Pushkar Heritage: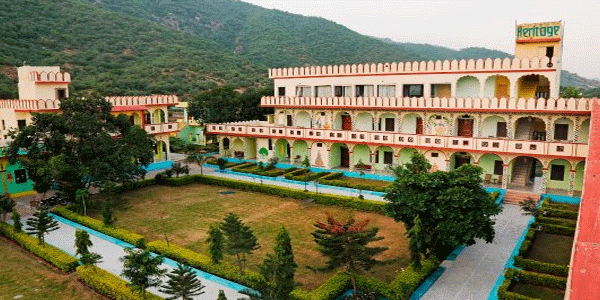 Image Source: media-cdn.com
Hotel Pushkar Heritage is a beautiful hotel located near the bus station, and is also nice to the pocket. They have three restaurants — a restaurant in Rooftop Hill View, a traditional restaurant in Rajasthani, and a restaurant in the Garden. It serves continental, Chinese, and Rajasthani dishes.
In Pushkar, there are several street shops where you'll get different types of falafels. These tasty falafels are quite filling and can be considered as a whole meal. There are several Pushkar restaurants where you'll get dishes that aren't your regular fare. So food is not an issue at Pushkar.
Where Should One Stay in Pushkar:
1. Ananta Spa & Resorts – (5 Star Hotel)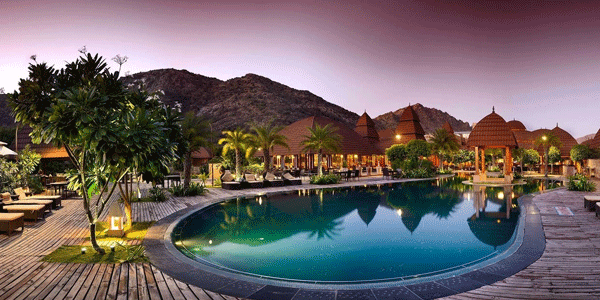 Image Source: i.ytimg.com
One of Pushkar, Ananta Spa and Resorts' most elegant and top resorts is but one of its kind. It offers an impeccable blend of luxury, amenities, and utmost peace. The 9-acre resort is ideal for luxury stays VIP conferences and lavish wedding ceremonies. Luxurious rooms and amenities for a world-class stay. The Mudra Spa offers luxurious wellness treatments such as Herbal touch, Shushakti, Balinese, PurantaBhoga, Santosha, and Abhyanga, etc.
2. Pratap Palace – (5 Star Hotel)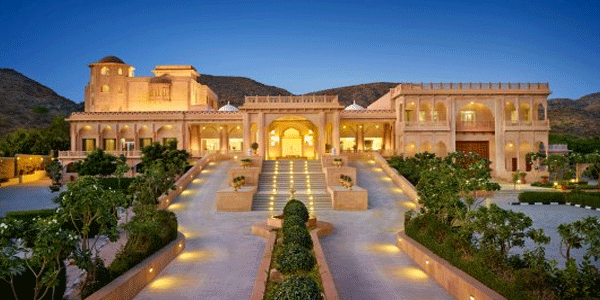 Image Source: media-cdn.com
A palace converted into a heritage resort, Pratap Palace is a confluence of royal ethnicity and modernity. This palace, which is surrounded by a picturesque backdrop of Aravalli hills, has been painstakingly preserved by the Taj Group. With its state-of-the-art amenities, Pratap Palace is sure to make your stay in Pushkar captivating. The grand estate is among Pushkar's finest resort.
3. Pushkar Bagh – (4 Star Hotel)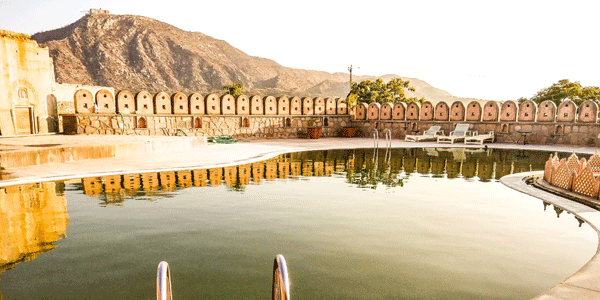 Image Source: imgcy.com
A pure luxury heritage hotel, PushkarBagh provides the best in class hospitality and amenities. This Pushkar resort provides 30 luxurious and deluxe rooms, serving excellent meals at the Surya Mahal Multi restaurant in-house. It's a good pick for adolescent families as the staff arranges sports facilities such as cricket, sand dunes volleyball, badminton, music chairs, and war tug on request. Don't skip the ethnic village safari, a dune meal, and natural surrounding yoga and meditation, and folk dance performances by Rajasthani.
4. Bhanwar Singh Palace – (4 Star Hotel)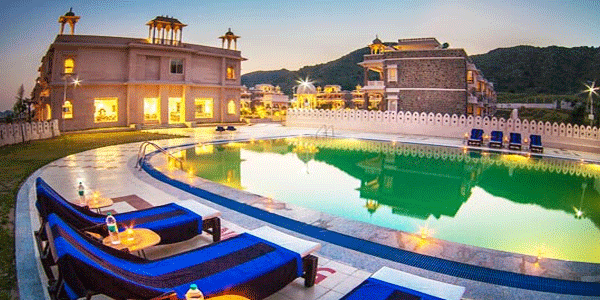 Image Source: hhic.b-cdn.net
Situated 10 minutes from PushkarSarovar on the Ajmer Pushkar Bypass Road, this legacy property is a euphoric get-away goal. Bhanwar Singh Palace is one of Pushkar's luxury resorts and one of the foreigners' hot favorites. The hotel has expansive party lawn facilities that can hold up to 10,000 guests at a time. On request, the palace arranges for adventurous activities such as camel safari and horse riding. The hotel's strategic location—15 minutes from Ajmer Dargah Sharif, and ten minutes from Ajmer Railway Station.
5. Jagat Palace – (3 Star Hotel)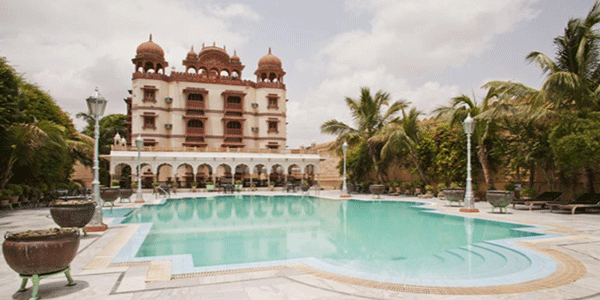 Image Source: cf.bstatic.com
Hotel Jagat Palace is a beautiful mix of Rajasthani architecture and modern amenities offering a personalized touch of hospitality and warmth. The hotel building is built of yellow sandstone and gives a colonial look to it. The rooms are spacious and feature all the necessary amenities. It's just a vegetarian in-house restaurant. 82 super deluxe rooms with antique interiors, traditional pieces, and wooden furnishings. Each room has a secluded jharokha, overlooking the Nag Parbat.
6. Lohana Village Resort: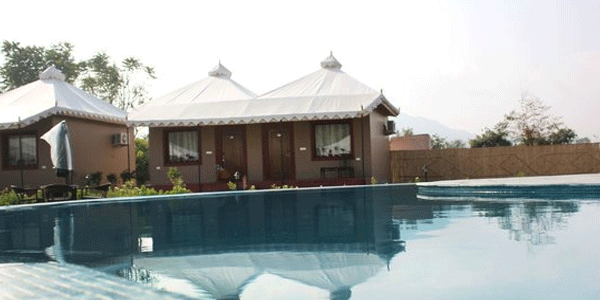 Image Source: media-cdn.com
The Lohana Village Resort was named after a tiny village in Rajasthan called Lohaniya. Spread over 5 acres of land, it is a luxury tent accommodation. Despite being a 3-star hotel it offers physicians on call, transfers to the railway station, laundry facilities, and parking provisions.
To get the best hotel deals online, check out our hotel portal offering plenty of options from budgeted hotels to luxurious resorts.
Some of the questions regarding Pushkar which travelers ask are –
 1. What is Pushkar famous for?
Pushkar is known for its annual fair (Pushkar Camel Fair) which features cattle, horses, and camels trading feasts.
2. What the best things to do in Pushkar?
The best things to do in Pushkar are –
Camel safari
Hot Air balloon
Jeep Safari
3. What is the best time to visit Pushkar?
Around November and March the perfect time to visit the Holy City is. The weather is pleasant during this time, and the desert is much friendlier to those day-long safaris.
4. What are the top attractions to explore in Pushkar?
Pushkar is known for its annual fair (Pushkar Camel Fair) which features cattle, horses, and camels trading feasts. It is held in autumn marking Kartika Purnima by the Hindu calendar (Kartik (month), October, or November) over seven days. It is one of the most extensive camel fairs in the world. It has become an important tourist destination besides the purchase and selling of livestock. Competitions like the 'Matkaphod,' 'longest mustache', and 'bridal race' are the main attractions for this fair, which attracts thousands of visitors.