Top 12 Self-Drive Destinations in Rajasthan!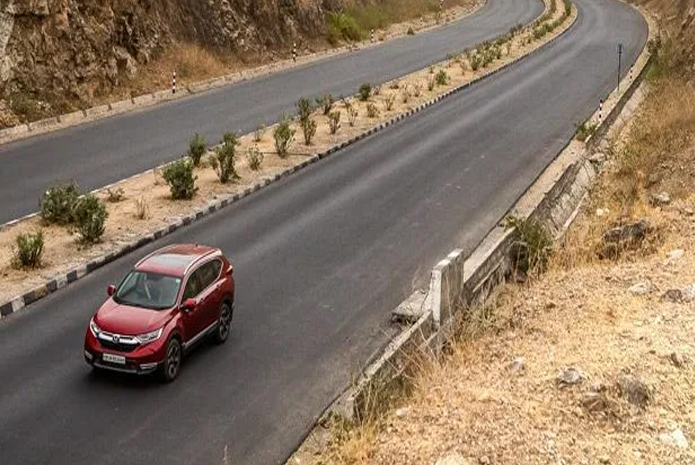 When we visualize Rajasthan, we mostly think about desert, palaces, forts, and the rich culture of the land. Rajasthani cuisine is also one of the many things that are often talked about. If you are a traveloholic, you also know how amazing Rajasthan self-drive tours can get. There are so many great places that you can cover on road trips. It is up to you to choose shorter or longer road trips. In Rajasthan, a road trip is almost like a journey back in time. You'll travel through ancient villages, past royal Havelis, Forts, Palaces, and even eat some dust as you travel through the desert. While traveling across this gorgeous state, you can even consider taking the help of the Rajasthan road map to travel by road trips. Here are some of the destinations you can cover on your Rajasthan tour packages that you will enjoy thoroughly.

Hotel deals like never before!
You Travel We Care!
Let's start from nearest destination from Ahmedabad to Rajasthan self-drive trips-
1. Mount Abu: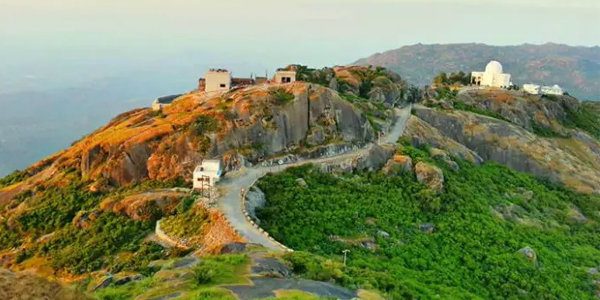 Image Source: assets.traveltriangle.com
On your road trip to Rajasthan, you can soak in the scenic charm of Mount Abu, the only hill station. Traveling the distance of 226 km (4.5hrs) between Ahmedabad and Mount Abu, you can find the site perched on a rocky plateau in the Aravalli Range, home to beautiful lakes, natural beauty, historical palaces, and temples. It is also one of India's most important pilgrimage sites to Jain. In the field of art and architecture, the Mount Abu temples including the famous Dilwara Jain Temples are very impressive examples of the heights attained by Indian craftsmen. In reality, to hit the sunset point you can walk through the local markets that will leave you speechless. Certain major attractions in Mount Abu include boating on Nakki Lake, Mount Arbuda, Toad Rock, and Wildlife Sanctuary. Since the existence of many historically revealing medieval sites, it is a great joy for archeologists who find Mount Abu full of mystery.
2. Udaipur: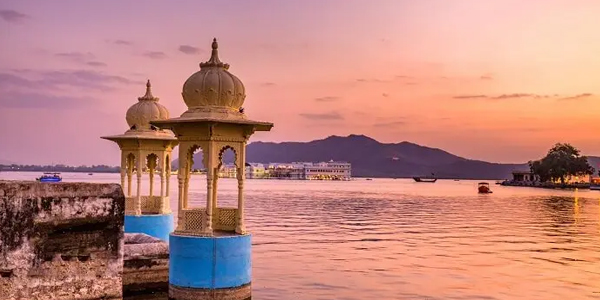 Image Source: socialimg.com
Udaipur distance from Ahmedabad is of 266km (5.5hrs) can be covered with ease and comfort. Udaipur, or 'The City of Dawn,' is an extremely beautiful mystical dreamland in Rajasthan to explore. Udaipur's points of interest include palaces, lakes, forts, temples, and Havelis so no visit to this city can be dull and restricted. Your heart will be filled with joy as you drive around this renowned town that offers amazing sightseeing options for all tourists. Udaipur's shopping options and the romantic setting in the city seem to be inconsistent with the deserted areas of Rajasthan. The pleasant atmosphere supports every corner in the city and there is plenty to do in the Aravalli ranges to make the city glorious. This town bears a noble history epitomizing bravery and chivalry. Tourist attractions in Udaipur include Jag Niwas, Jag Mandir, Shiv Niwas Palace, etc, when on the road trip to Rajasthan. Also for accommodation, check out some stunning luxurious hotels in Udaipur for a relaxing holiday.
3. Jaipur: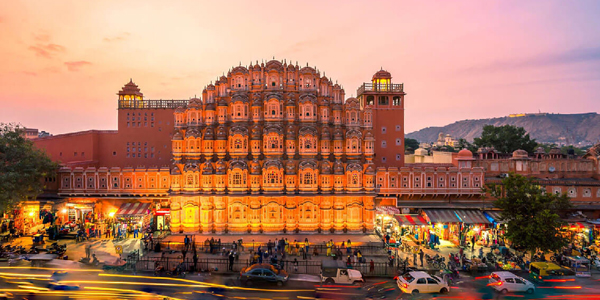 Image Source: www.tourmyindia.com
Jaipur distance from Ahmedabad is 677 km (12hrs) and can be covered with breaks between stays or even night stays in Udaipur and then continue to Jaipur. Jaipur, or "The Pink Town," as it was affectionately named because it is dressed up in Pink to welcome the Queen Victoria's consort, Prince Albert. This revered city is a reflection of Rajputana's opulent architecture, traditions, and state history. The amalgamation of flavors and the combination of old and new that fascinates tourists is another reason why Jaipur is a popular tourist attraction. Jaipur is home to a host of top luxury boutiques and heritage hotels. Some of Jaipur's hobbies include the sight-seeing. The Amer Fort, Jaigarh Fort, Jal Mahal, Nahargarh, and City Palace must be on your travel list to include these sights.
4. Jaisalmer: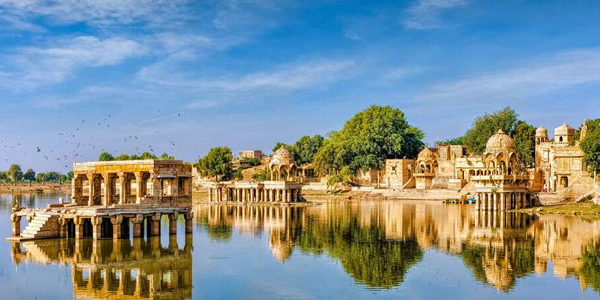 Image Source: femina.wwmindia.com
Jaisalmer is situated in the westernmost part of the Rajasthan state, in the heart of the great Thar Desert. On its Westside, it has to neighbor Pakistan. The distance between Ahmedabad and Jaisalmer is 536 km (10hrs) can be covered at your own pace with stops at attractive locations. Jaisalmer town also serves as a guard at the border between west Rajasthan and India. The Jaisalmer Fort, Sam Sand Dunes, Jain Temples, Nathmalji, and Salim Singh ki Haveli are some of the must-visit places in Rajasthan. Spend 3 to 4 days exploring this town full of archeological wonders. Like most other Indian forts, Jaisalmer tourist spots have shops of apartments, hotels, and ancient Havelis and homes where families are still living. Some of the best hotels to stay in Jaisalmer include Jaisalmer Marriott Resort and Spa, Suryagarh Palace, Fort Rajwada Resort, and more.
5. Jodhpur: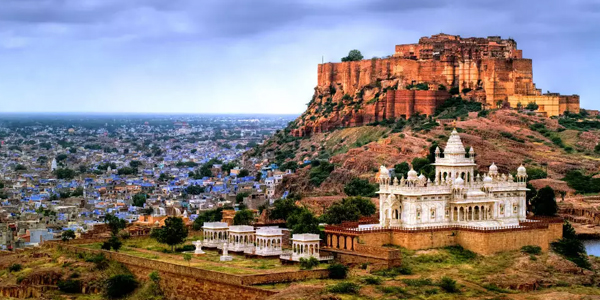 Image Source: static.toiimg.com
The Jodhpur "Blue City" is 444kms (8hrs) from Ahmedabad, and is Rajasthan's second-largest city. Jodhpur forts and palaces serve as the west frontier sentinel for the region. The city is like an oasis in the vast desert, with a host of thorny shrubs across the region. The Mehrangarh Fort testifies to the military influence of the Rajputs while Umaid Bhawan is the only palace built in the 20th century to support the population of the famine-struck Jodhpur. This magnificent sandstone-built building remains a former rulers' home. While parts of it were turned into a museum and a hotel. The Balsamand Lake and Garden lies about 4 miles from Jodhpur. There is also a wildlife sanctuary at Dhawa that boasts the largest number of Cheetal and Sambhar.
6. Pushkar: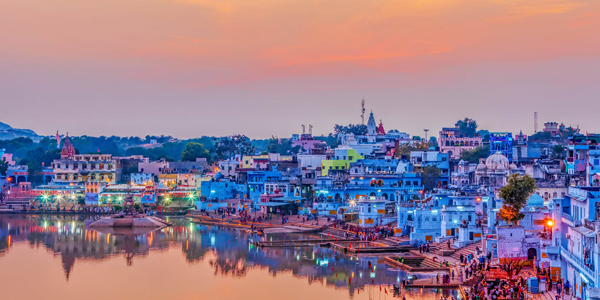 Image Source: images.thrillophilia.com
Pushkar is one of India's oldest urban centers. Pushkar, a grand town northwest of Ajmer, is a well-known goal for a huge number of lovers and travelers running to Rajasthan. Constructed 510 meters above sea level, Pushkar is surrounded on three sides by hills. The 'Nag Pahar' is the natural boundary between Pushkar and Ajmer. Identified as' Rajasthan's rose garden, the essence of the popular Pushkar rose is being exported worldwide. A legacy of timeless architectural heritage, coupled with an intriguing mythological past, makes Pushkar a fascinating region. It is 563kms (10hrs) from Ahmedabad. Some of the famous sightseeing are Pushkar Lake, Brahma temple, Savitri temple, Man Mahal, etc.

Get the cheapest flight rates online with Flamingo
Fly with Flamingo!
7. Ranthambore: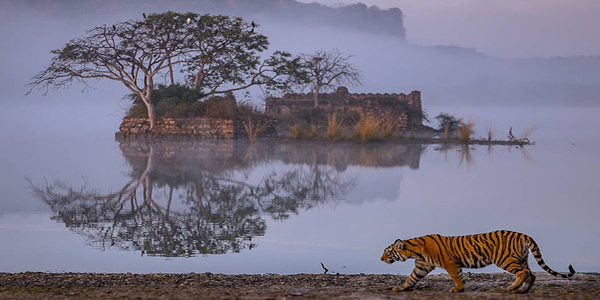 Image Source: static.boredpanda.com
From city to wilderness, a trip from Ahmedabad to Ranthambore will surely be an unforgettable one. Before you reach the famous national park at Ranthambore, you will come across several Rajasthani villages. You can also take breaks on your way and stop over the dhabas to try the super delicious and authentic Rajasthani cuisines. Ranthambore has plenty of attractions including the tiger safari which are carried out regularly throughout the day. It is 700km (14hrs) from Ahmedabad.
8. Alwar: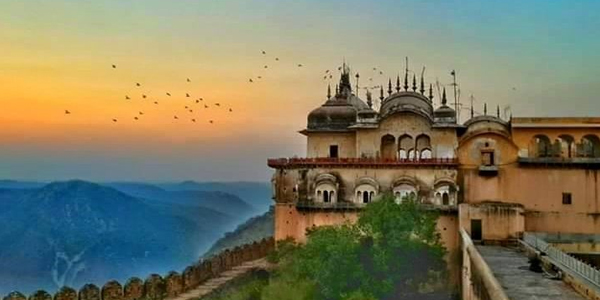 Image Source: www.revv.co.in
If you are in Jaipur and longing for a weekend trip to a historical place, you can any day visit Alwar. The palaces, forts, and temples in Alwar are something that will keep you occupied for the entire day. If you want to spend some days in Alwar, you can choose from the various resorts in the city and book your stay there. You are never going to regret your visit to Alwar.
9. Bikaner: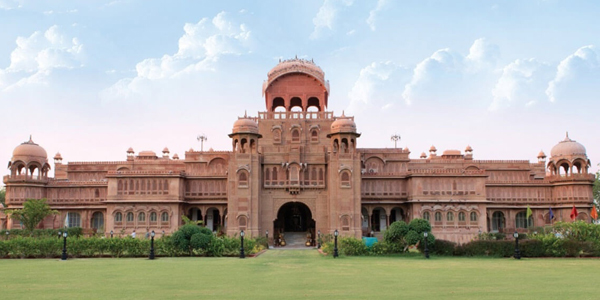 Image Source: www.tourmyindia.com
Rao Bika Ji, a Rajput prince, established the city in the year 1488. The town is known for creating great guerrillas. The excavations from this town show that the civilization was at its peak here even before the civilization of Harappan. Imposing palaces, forts, and beautiful temples with excellent architecture boast the Rajput civilization's finesse. Some major sightseeing of Bikaner is Junagarh Fort, Lalgarh Palace, Gajner Palace, and Jain Temple Bhandasar.
10. Ajmer: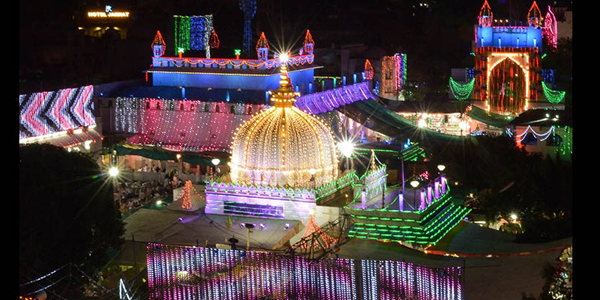 Image source: www.sundayguardianlive.com
Ajmer is a clamoring town situated 14km from Pushkar's excursion site and 130 km southwest of Jaipur. Ajmer city gets its name from "Ajay Meru," which can be translated loosely as an "invincible hill." Home to various tourist areas, Ajmer can be an ideal portrayal of the decent variety of Indian culture and morals, displaying an ideal mix of religion, state, network, and so forth., coinciding in harmony and thriving. Ajmer remains a popular tourist attraction and a place of pilgrimage for Hindus and Muslims alike. Muslims from all over the world visit the Sufi Saint's final resting spot, Khwaja Moinuddin Hasan Chisti; in reality, the Dargah is equally revered by both Hindus and Muslims. The town is surrounded by Ana Sagar's expansive lake and the rugged Aravalli hills. While Ajmer Sharif Dargah, KhwajaMuin-ud-racket Chishti's holy spot, remains to Ajmer's visit as the most celebrated spots of enthusiasm, the city is also renowned through and through for the Jain religion and home to a bewildering Jain Temple.
11. Nathdwara:
Image Source: pbs.twimg.com
 Nestled amongst the Aravalli Mountains, Nathdwara's charming town is translated as "The Lord's Gateway." It is situated in the core of Rajasthan, on the banks of the stream Banas, and is a delightful, beautiful area. This is also a sacred Hindu spot and is flocked every year by thousands of visitors. Nathdwara is also known for "Pichwai Paintings," traditional Rajasthani-style and terracotta paintings. It is known as the center of traditional crafts, arts, and artifacts. This town likewise owes its name to this well-known sanctuary because Nathdwara interprets as 'Shrinathji Gateway.' This spot is additionally viewed as foodie heaven with a lot of accessible traveler choices. All in all, in terms of its architecture and religious significance Nathdwara is a wealthy city.
12. Kumbhalgarh: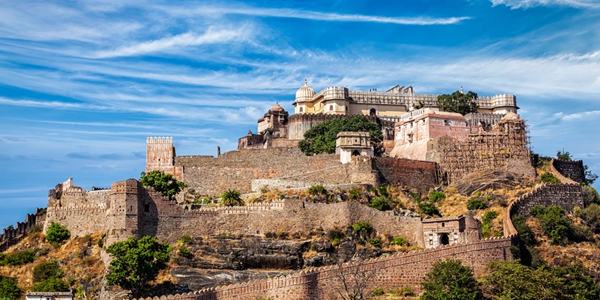 Image Source: img.theculturetrip.com
Kumbhalgarh is a city situated 102 km west of Udaipur, in the Rajsamand district of Rajasthan. This is an extraordinary and captivating objective that draws tourists from everywhere the world and from everywhere the world for its huge fortress worked in 1443 AD and the close by untamed life asylum. Kumbhalgarh is a perfect jungle hunt for photographers and people inclined to safari. Trekking to Fort Kumbhalgarh is a perfect trip. It is Rajasthan's second-biggest fort after Chittorgarh. Another fascination is the Kumbhalgarh Wildlife Sanctuary, spread more than 578 km2 in the region and at an elevation of 500 to 1300m. Some of the best hotels to stay at in Kumbhalgarh include Mahuabagh resort, Ramada Resort, Kanj Haveli Resort, and more.
A road trip is the most exciting activity you can go for, and if it's a place like Rajasthan that's rich in its culture, it's like the cake's cherry and icing. This is reflected in all aspects of life here and it makes for a rich travel itinerary. One of the best parts about taking a road trip anywhere in Rajasthan is it is a super tourist-friendly offering a hospitable environment and all thanks to the local culture which takes pride in caring for its guests. The tourists can also buy interesting handicrafts, garments, and curios to take back with them a memory or gift to their loved ones. You must plan a self-drive trip to Rajasthan if you want to explore ancient India in modern times.
Certain questions which travelers often ask are:
1. Is it safe to drive to Rajasthan?
Yes, Rajasthan State is safe for tourists but the key is the basic safety precautions. Some wellbeing tips for going in Rajasthan will be to abstain from going out late around evening time, to abstain from utilizing dim washrooms, to keep your resources on you, and not to have confidence in individuals too soon.
2. What is the best time to visit Rajasthan?
Travelers visit Rajasthan throughout the year however the best an ideal opportunity to visit Rajasthan is throughout the winter, from November to February, when the temperature isn't excessively high. There can be an extreme difference in daytime and night temperatures during December and January.
3. Which are some of the popular cities in Rajasthan?
Some of the popular cities in Rajasthan are:
Jaipur
Jaisalmer
Udaipur
Jodhpur
Bikaner
4. How far is Udaipur from Jaipur?
Udaipur is 394kms far from Jaipur. The quickest method to get to Udaipur from Jaipur is via train to Udaipur, and it takes 7h 30 m. A trip to MaharanaPratap Airport takes 45 m and is the quickest method to get from Jaipur to Udaipur. The recommended way to reach from Jaipur to Udaipur is a bus and takes 6hrs.
5. What is Rajasthan famous for?
Rajasthan is known for its essential incline posts and mansions and is recognized as the best spot for the movement of business-related imperial homes. Umaid Bhawan Palace: It is the biggest Royal Palace in Rajasthan. It is one of the world's biggest private residences, too.