Best things to do in Panjim, Goa!
Many of us would have already visited Goa and some maybe multiple times. Being one of the most popular tourist destinations, the vibe of Goa is such that people always have Goa in their list of travel because of its beaches and nightlife parties. However, Goa is not only about beaches and party but there are other things to explore like Goan countryside, markets, temples and churches, historical monuments, and wildlife sanctuaries. Whenever planning for Goa tour packages, people look to stay near the beaches for nightlife but there are a lot of things to do in Panjim which is at the heart of Goa and also the capital of Goa. Also known as Panaji, Panjim is the social, political, and cultural center of the state with colorful streets reminding of 400 years of Portuguese influence.
Panjim can be a great base if you wish to explore heritage sites of Central Goa that includes UNESCO listed churches, waterfalls, spice plantations, wildlife, etc. This city should in your list of places to visit in Goa as it has its charm and riverside esplanades and also colorful villas are reflecting the Portuguese Colonial Era. If you want to try a new place to stay in Goa then Panjim is the place for you and this article will guide you about this city which is rich in history and culture. Don't forget to read the entry requirements at the end of this article for tourists visiting Goa state.
How to reach Panjim:
By Air: The nearest airport is Dabolim that is 35 km away from the city. This is the fastest way of reaching Panjim with many flights operating daily.
By Train: The nearest railway station is Margao railway station that is 39 km away from the city which is also the main junction. If your train stops at Karmali then you can get down here as it is only around 10 km away. Many trains are operating for Margao station. It takes time but many prefer to travel by train the via Konkan region because of natural scenic views especially during monsoon.
By Bus: This is the cheapest mode of travel to Panjim preferred mostly by lone travelers and backpackers. The Kadamba bus terminal in the city is well connected with the states of Maharashtra and Karnataka through highways with many state transport buses operating here.
By Car: If you love traveling for a longer duration, take small stops in between, and also enjoy the beauty of road travel then traveling by car is the preferred option. NH-4A is the main highway connecting Karnataka while NH-17 connects Maharashtra. If you are coming from Mumbai or a nearby city then the NH-17 route is very scenic but the roads are winding and narrow so be careful if taking this route.

Hotel deals like never before!
You Travel We Care!
Best time to visit Goa:
Costing is the major discussion when planning a trip and if you are booking a Goa holiday tour package then you should first know when is the best time to visit and whether going during peak season can be avoided to save cost. Peak season in Goa is in December and January because of school holidays in India, Christmas, New Year, and most of all pleasant weather. Many foreigners from the western part of the world also visit India during these 2 months who prefer to stay in Goa so most of the prices are on the higher side. You can visit in November & between February and May to avoid peak season rates but the weather will be dry and humid during these months. June to September is the lower season due to monsoon where accommodation is cheaper but you may need to compromise on outdoor activities.
Things to do in Panjim:
1. Fontainhas: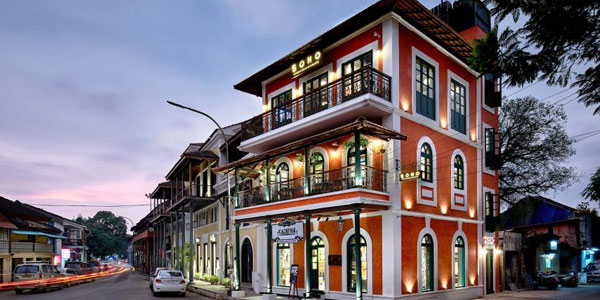 Image Source: www.chakrr.com
This is well worth a visit place in Panjim and if you love photography or taking selfies then the Latin Quarter of Fontainhas should be in your list of places to visit in Goa as it displays beautiful architecture. You can feel the influence of Portuguese here in their language, food, music, etc. This place is also recognized as UNESCO Heritage Zone.
2. Dona Paula: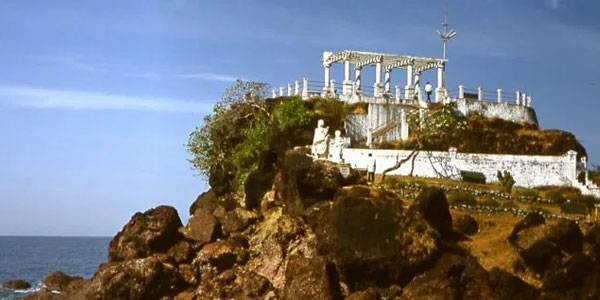 Image Source: https://i2.wp.com/
Dona Paulo is a tourist destination with many hotels located here including the luxury resort Cidade de Goa. Well-known for its ocean-facing hilltop, this beach got its name from two lovers of a sad love story and you can also find the statue of Dona Paula here. It is a perfect beach to relax due to its calm surroundings and you can also take part in water activities like kayaking, parasailing, and many more. In your Goa tour package, this should be a must-visit place as it is ideal for shopping as well with many restaurants around serving delicious food. Lots of film shootings are done here some of the famous movies being Singham and Ek Duje Ke Liye. Just 1 km from this point Mondovi River and Zuari River meet and meets with the Arabian Sea.

Get the cheapest flight rates online with Flamingo
Fly with Flamingo!
3. Our Lady of the Immaculate Conception Church: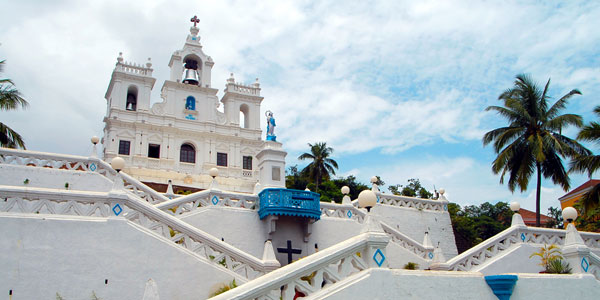 Image Source: www.mapsofindia.com
One of the iconic landmarks in the city, this church was built in 1541 and later replaced by a bigger church in the 1600s. It is one of the most revered churches and famous for its eye-catching zigzag stairs making it one of the most photographed sites in Goa. On 8th December every year, a festival of Our Lady of the Immaculate Conception is held and the church is colorfully illuminated.
4. Altinho Hill: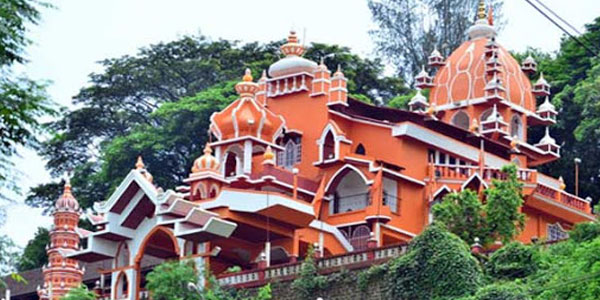 Image Source: https://lh3.googleusercontent.com/
Altinho means high in Portuguese. This is a residential colony with Archbishop Palace, Chief Minister's residence, politicians home, and home of All India Radio station. Along with the picturesque view, there are many restaurants and cafes here.
5. Nightlife in Panjim: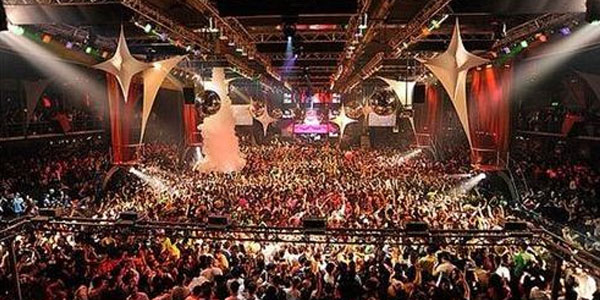 Image Source: https://www.bestgoadeals.com/
Panjim is a perfect place for party lovers and who want to enjoy the nightlife in Goa. You can go for gambling all night to try your luck as there are many casinos here and the most famous being the Floating Casino. There are many pubs and bars also in this area to chill out with your friends and have some beer along with live music in some places. Some of the best pubs are Taverna, SOHO, Down the Road, Quarterdeck, etc.
6. Floating Casino: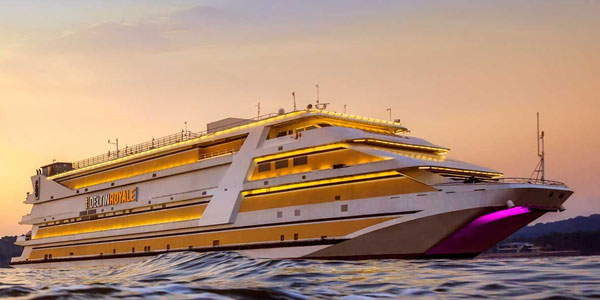 Image Source: www.tripsavvy.com
Bored of playing teen patti, blackjack, poker, roulette on your mobile then head to Panjim for a premium casino experience. There are some casinos on the hotels market side but only allowed to have electronic games. There are many floating casinos anchored in the Mandovi River but the most popular ones are Deltin Royale and Casino Pride. You can choose from the packages available that include unlimited drinks, buffet lunch, live entertainment, and playing chips.
7. Siridao Beach: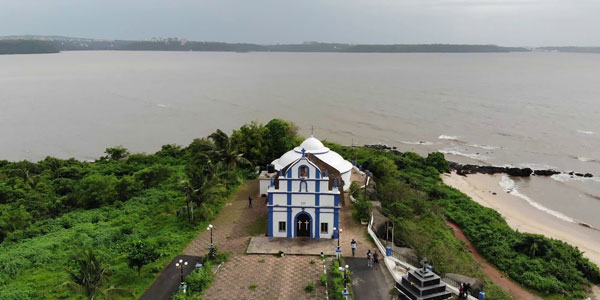 Image Source: https://i.ytimg.com/
If you love collecting seashells then Siridao beach is a haven for shell collectors. It is very easy to find myriad types of shells. If you are lucky then you may also find some pearl shells here and give your loved one a surprise in Bollywood style. To explore there are a few century-old caves.
8. Panjim river cruise: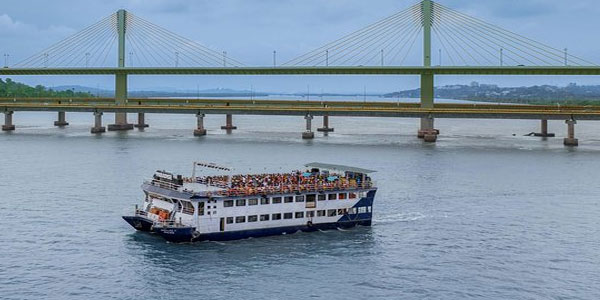 Image Source: https://media-cdn.tripadvisor.com/
Another topmost thing to do in Panjim is to take a river cruise along the Mondovi River. Normally an hour-long ferry ride, the boats leave either from Santa Monica Boart Jetty or Panaji Jetty to go on a cruise. There is also entertainment in these cruises with light snacks but the most popular ones are sunset cruises that include drinks, dinner, music, and entertainment with Goan folk dance. 
9. Water sports at Coco beach: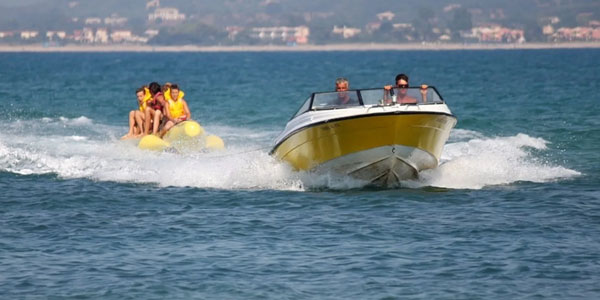 Image Source: https://images.thrillophilia.com/
Till now we talked about party lovers, cafes, and casinos but we can't ignore the adventure lovers. Just 10 km away from Panjim Kadamba Bus station, you can do water activities such as scuba diving, snorkeling, kayaking, parasailing, banana ride. A boat ride is also organized here to spot dolphins.
11. Maruti Temple: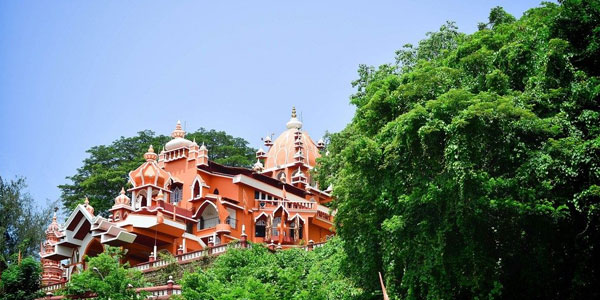 Image Source: https://www.golokaso.com/
On the top of Altinho Hill is this Hindu temple dedicated to Lord Hanuman. It is beautifully lit at night and can be easily visible from a distance. Many devotees visit this majestic temple and take blessings.
12. Miramar Beach: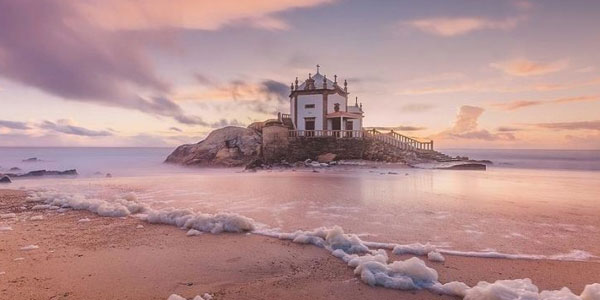 Image Source: https://www.picnicwale.com/
If you are coming with your family then this is the perfect picnic spot. You can take a swim at the beach, enjoy a walk in the evening, and try some street food. It is one of the only two beaches in Panjim other being Caranzalem beach.
13. Goa Science Centre: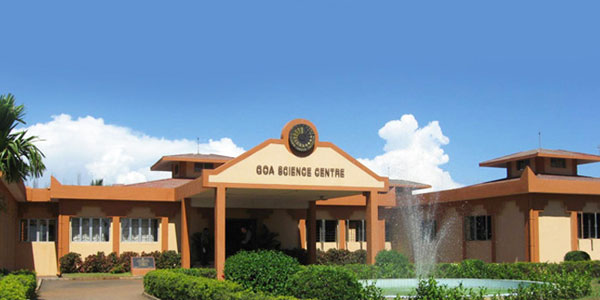 Image Source: www.dg_image
Science and technology lovers should not miss this place. Spread in 5 acres of land, this center has a digital planetarium, 3D film shows, science film shows, taramandal shows, cyber lab shows, and science shows for young children. Suitable for all ages they have an air-conditioned auditorium with a seating capacity of 140 people.
14. Sunset from Kala Academy: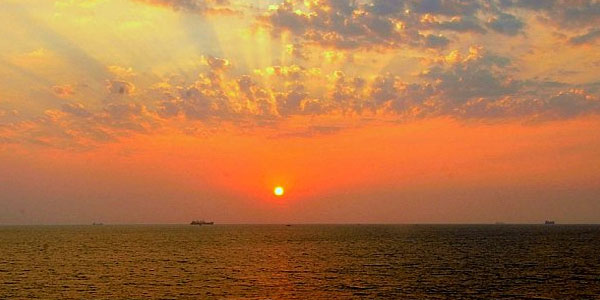 Image Source: https://www.inditales.com/
This prestigious cultural center hosts many plays, concerts, and art shows. Situated on the banks of Mondovi River, the spot behind this academy is perfect for splendid sunset views.
15. Panjim Market: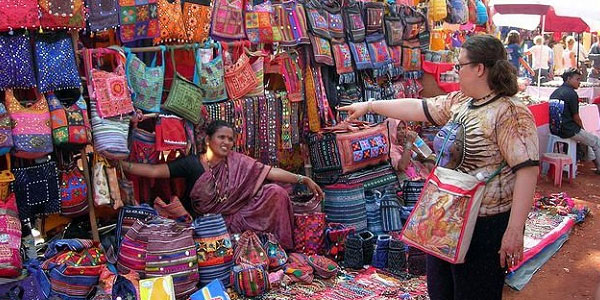 Image Source: https://www.dailyhawker.com/
Panjim has malls and local markets for shopaholics. If you are looking for international and branded shops then head to M.G.Road and 18th June Road where you will find different stores. However, if you are looking for Goan specialties then Panjim Municipal Market is the place for you where you can get locally made fenny, different types of cashews, and souvenir items.
Best restaurants in Panjim:
1. Down The Road:
This pub-style restaurant has a wonderful ambiance with live music making it an ideal hangout spot if you like live music. They offer some delicious local food along with Chinese, Continental, North Indian, fast food along with beer. With the lively environment here most of the people prefer to have fast food here.
2. Awadh House:
If you are looking for traditional Awadhi cuisine the Awadh House is there for you. This beautifully decorated restaurant offers dishes from the era of Nawabs something different in the state of Goa and if you need a break from seafood. Although a bit costly this is a must-visit place purely because of its delicious food and great ambiance. Galouti kebab, Tangdi Kulfi, and Dal Awadh are a must-try.
3. Navtara Veg Restaurant:
Vegetarians will not be disappointed in Panjim as few good restaurants are offering tasty veg meals and Navtara is one such restaurant. They have many branches in Goa which shows its popularity and it is well priced also.
4. Tataki:
If you don't want to eat something Indian then visit Tataki for Pan Asian cuisine. Located at Panjim city center, their food, drinks, and ambiance are exceptional.
5. Hotel Venite:
If you want to try traditional Goan food then the legendary Hotel Venite is the perfect place. Vindaloo dishes are very spicy inspired by Portuguese but a must-try. Try to take a seat nearby windows to enjoy outside views.
6. Mum's Kitchen:
For authentic Goan vegetarian and non-vegetarian cuisine there is no better place than Mum's Kitchen as they are trying to save the traditions of Goan food that were lost.
7. Ritz Classic restaurant and bar:
One of the best restaurants in Panjim, they offer Indian cuisine and are specialized in seafood. You must try their fish thali but if you are looking for a light meal then try their starters.
8. Udupi Hotel restaurant:
Udupi restaurant is a big name in delicious South Indian vegetarian food. If you are craving some South Indian taste for dosas or uttapams then this is the place you should look for.
There are wide varieties of hotels and resorts at Panjim from luxury to budget hotels. Depending on the costing of your Goa holiday tour package you can choose the right accommodation for you and your family.
9. Events in Panjim:
Many events and festivals are happening in Panjim and if you travel at the right time then you can have the best time of your life. The most famous festival in Goa is the Carnival which is a smaller version of Rio Carnival or Carnival of Madeira in Portugal. During this festival, a Parade begins in the evening of Fat Saturday with balloons, decorated carriages, and bullock carts, dancing of troupes with masks and costumes, live music, and many more. Mostly held at end of February, this is an event that is not to be missed by anyone if in Goa during the carnival.
During the Covid-19 many states in India have placed some rules if tourists are entering their state as a safety protocol. Goa had also initially placed rules that made difficult for a tourist to visit the state for a much-needed vacation but to revive Goa tourism, the government has changed the entry rules and now it is one of the most searched and visited places in India during this pandemic. Below are the guidelines set by the Goan government:
Earlier travelers from within India had to carry a Covid-19 negative report within 48 hours to avoid mandatory quarantine. This is now changed and no Covid-19 report is required and there is no mandatory quarantine rule.
Travelers visiting the city from outside India have to go for institutional quarantine for 7 days followed by 7 days of home quarantine which is the rule placed by the central government.
Those who are coming by flight/train/by road, they will have to pass through thermal screening & if found symptomatic then need to undergo testing. Till the time test results are out you will need to be isolated and if the result is negative then you are free to continue as per your itinerary.
Over 650 hotels that have been ranked highly are selected by Goa Tourism Department where travelers can get their pre-booking done.
Booking done at unapproved hotels will not be allowed.
A self-declaration form is to be filled in your pre-booked hotel.
Aarogya setu app is a must before entering Goa.
Until further notice beach shacks and casinos are closed but bars have been opened.