Things To Know Before You Take Off To Goa
India enjoys one of the oldest civilisation in the world. With rich culture & heritage, traditions & list of attractions, India welcomes many tourists not only domestic but globally also every year. The 7th largest country in the world has everything the best thing to be enjoyed- religious places, hill stations, beaches, city life, shopping experiences, yummy food with different cuisines, historical sites, vibrant nightlife & the culture to fall in love with.
When we think of beach destination in India, the smallest state here is one of the most favourable, & without saying it's Goa. Goa is the favourite destination & each year Goa Tourism welcomes millions of tourists. Goa is one of the perfect combination of Indian & Portuguese culture & is known for the things every traveller wishes to include in their holiday.
With flowing palm trees, colourful & enjoyable nightlife, beaches, water sports activities, flea & night markets, local & delicious sea food & architectural sites, Goa has everything an enthusiast visitor wants. And, your Goa Tour Package should include all the major experiences including the above elements.
So, if you are planning a holiday to this wonderful beach destination, then there are some important things you should consider before planning a trip to this beautiful place.

Get the cheapest flight rates online with Flamingo
Fly with Flamingo!
1. Explore Different Beaches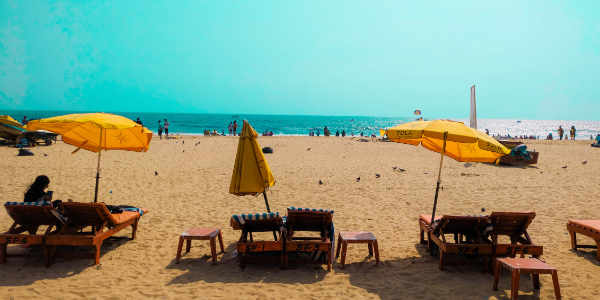 Image source: Unsplash.com
Goa has a beautiful coastline stretching to around 105 kilometres, and so. This state enjoys a great range of beaches. And, the beaches of Goa are one of the main attractions which grab the attention of many travellers. Every beach has its own way of uniqueness & fun. Some beaches are very famous, such as Vagator, Baga, Calangute, Anjuna, & Candolim is mostly crowded & known for vibrant shacks & nightlife whereas, there are many unexplored & non-popular beaches which are known for complete peace & relaxation. Some of them are Butterfly beach, Ashwem beach, Mobar beach, Hollant beach, Kakolem beach & Velsao Beach. Make sure while preparing your itinerary to include these beauties in your itinerary.
2. Points to be taken care while enjoying the beaches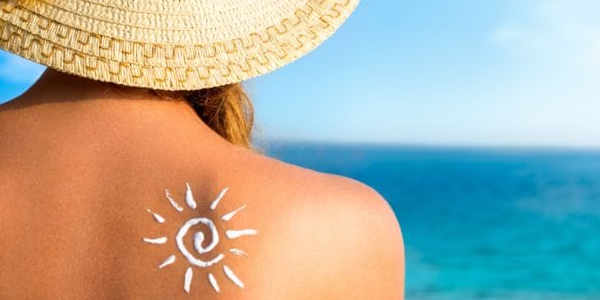 Image source: food.ndtv.com/
With beaches being an enjoyable attraction here, you need to take many precautions to make your holiday one without any regression. One of the most important ones is sunstroke & sunburn, so, it is necessary to apply the best sunscreen suiting your skin before heading to chill at the beach; & also don't forget to carry your cap & sunglasses;
Many beaches are marked with a red flag; this should not be ignored, especially if you are planning to go during the monsoon period. This is because during monsoon, the tides may be quite strong & it might be quite risky to swim during this time.
2. North Goa v/s South Goa
Image source: fabhotels.com
This a common question popping in mind is of the tourists who are planning to visit Goa for the very first time, whether to stay in North Goa or South Goa? It's very simple actually & depends on the type of your vacation. This means if you are a hippy traveller who loves to party, roam around, enjoy the noisy & vibrant nightlife, then North Goa is the best suitable place to enjoy for you. And someone who just wants to relax & admire nature, sip a drink with watching the sunset, then a stay in South Goa is something you need. So North Goa is all about food, drink & party till the night is young & South Goa is all about food, drink, clean & less crowded beaches & serenity. So decide your travel type & plan a visit.
3. Plan your trip wisely
Image Source: passportlust.com
Weather & season are very important while planning your travel to Goa. The months from October to March are the pleasant ones because of the weather is quite favourable during this time, whereas, April & May the temperature is not favourable & quite humid here, so, it might happen you might not be willing to leave your air-conditioned room. And when you plan to go between June till September, the state enjoys their monsoon season, so, you will enjoy the greenery but won't be able to enjoy the outdoors, & the rates are comparatively high during these months. Following this, December is the peak season for tourists here this is mainly because of Christmas, New Year & the two great festivals making this place more happening one. So, it's important to keep in mind the cost factor & climate factor while planning your vacation to Goa & it is always suggestible to plan in advance to give you the better rates for flights & stay.
5. Explore Goa with the Bikes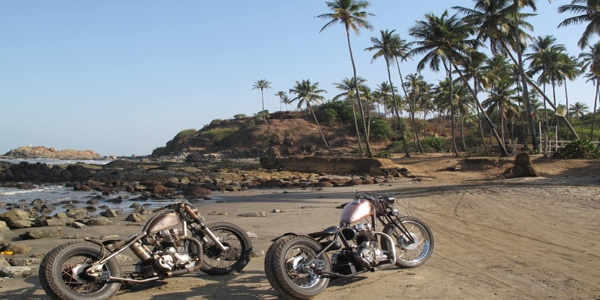 Image source: http://350cc.com/
The best mode of transport in Goa is to hire a two-wheeler & just roam around the corners of the city with your bike. This is also a cost-effective option along with being the most convenient one. The taxi & public mode of transport in Goa is quite disorganised & also expensive. The roads in Goa are well-connected & well-maintained, & also its quite easy to hire a car or bike in Goa. The rates to hire any one of them is INR 250-INR 1000 per day, depending upon the type of the vehicle & season of your travel. And most importantly, if you are staying for longer, try to negotiate with the seller & also take a test drive before hiring a vehicle, to check the condition of the vehicle.
Points to be kept in mind while driving in Goa:
Don't drink & drive in Goa, if you planning to party till late night then plan to go near to your hotel, or else plan to arrange a safe taxi while returning;
Helmet is compulsory, which they will provide you while renting the bike;
And, have a valid driving license for a safe & hassle free travel;

Hotel deals like never before!
You Travel We Care!
 6. Always keep cash in hand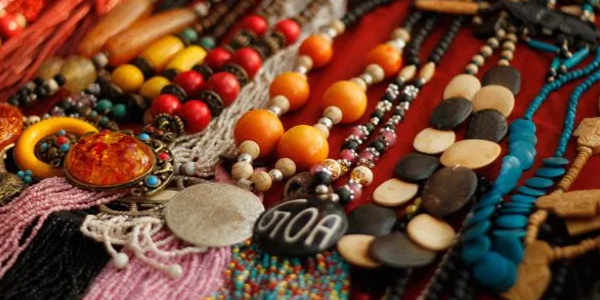 Image Source: itsgoa.com
Goa has a good range of shopping options. Every year, this tiny land entertains millions of tourists but still not very technology updated, as, today also many shacks, shopping vendors & shops don't have the option to pay through debit card/ credit card, & it is compulsory to pay by cash only. So make sure to have cash in hand, while roaming here. So have a good amount of cash for food, drinks & souvenirs. But, guys at the same time also be aware of the pick pockets to have safe stay here.
7. Avoid beach parties & drugs while in Goa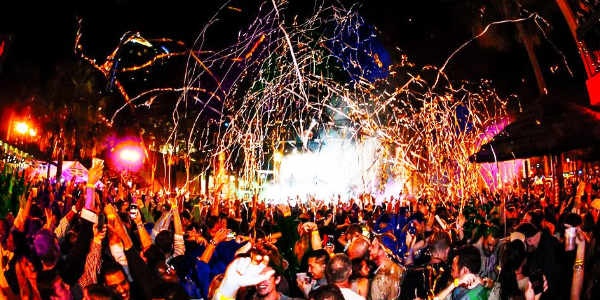 Image source: edmli.com
Many a times, it might happen that you might be invited to the rave parties or the beach parties here. Though these parties might be quite happening, vibrant & loud, but at the same time, a riskier one too. This is because here the drugs circulation is done on a very larger scale & so it might happen that the police can also drop in to raid this place. So to have a happy vacation avoid these parties or else you will end up behind the bars for 10 years of caught.
Secondly, it is also important not to drink while strolling on the beaches as it is completely banned, you can either carry it with you to your rooms or drink at the shacks on the beaches.
So these two things should be most importantly followed as both of them are illegal & will let you in a big trouble if caught.
8. Don't rely only on Google Maps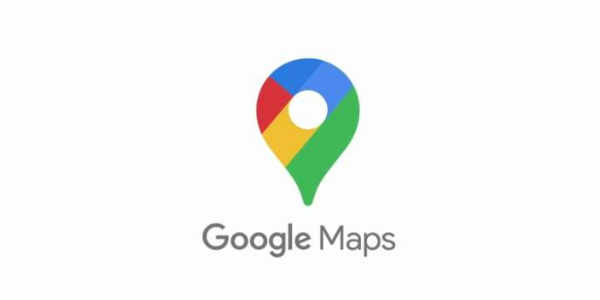 Image Source: indiatvnews.com
If you rent your own bike or car & plan to explore the city with the help of Google Maps, then it is advisable to not completely rely on the google maps especially when you planning to visit outside the city. As many places here are not marked on Google maps, so the best way is to stop & ask the directions to any local roaming there, this would be quite convenient way.
9. Beware from the Jelly Fishes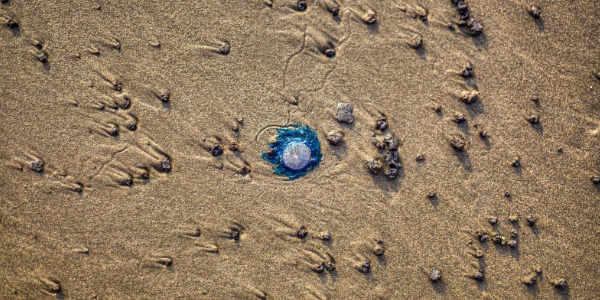 Image source: pinterest.com
In Goa, it is estimated that there are around 1,200 different varieties you can come across while swimming in the beaches or strolling around. The size of the jellyfish varies from being too tiny to 200 kgs weight also. And, so the government here had issued a notice to swim carefully in the beaches of Goa, as these species look quite attractive but at the same time, the sting is very much painful. It is also advised to remove all of your jewellery while going for a swim, as the shining element of your ornament tends to lure the jellyfish towards you. In case, anytime, if you get a sting, immediately without giving a second thought head to the nearest hospital.
10. Try your own glass of Feni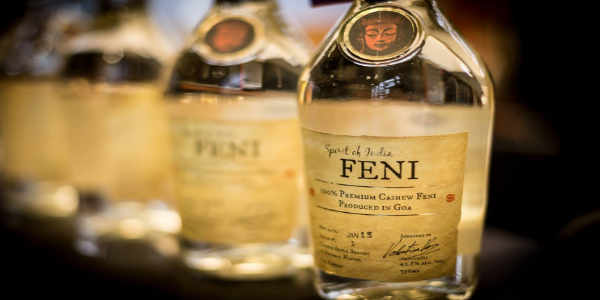 Image Source: thegoavilla.com
Feni is one of the known local alcoholic drink here. This drink is prepared from the cashew fruit shown above in the picture. The drink is distilled from this fruit. This is one of the most amazing drink & experience which should not be definitely missed when you are in Goa. There are tourists who fall in love with this drinks but at the same time you will also come across the tourists who dislike this drink as they say that the smell of this drink is very unlikable. You can easily find your bottle of feni in any of the wine shops here & some of the famous home-made brands available are Cazcar Heritage, Madame Rosa, Vaz's Cazulo, & Rhea.
11. Enjoy the smaller events & festivals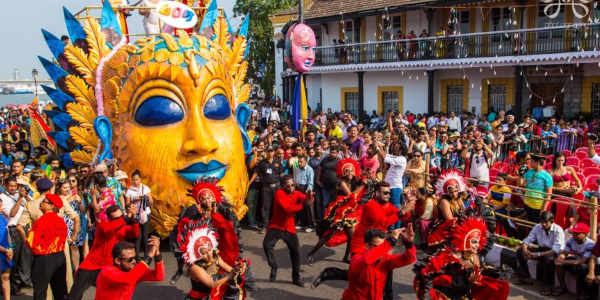 Image source: abhibuscommunity.com
World's extraordinary & best festivals can be enjoyed here. One of the known festival in Goa is held in the month of December, The Goa Carnival, the most vibrant & colourful festival. If you are Goa in the month of December, then surely enjoy this festival. Then there is one more unique festival here, that is, the Bonderam & this is celebrated in the island of Divar. This is also known as the Touxeachem Festival in Talaulim village & in easy terms the festival of Cucumber. The newly married girls offer cucumbers at the St. Anne Church with a hope to conceive soon. Such a unique & at the same time, the enjoyable fest.
12. Relish the Goan Cuisine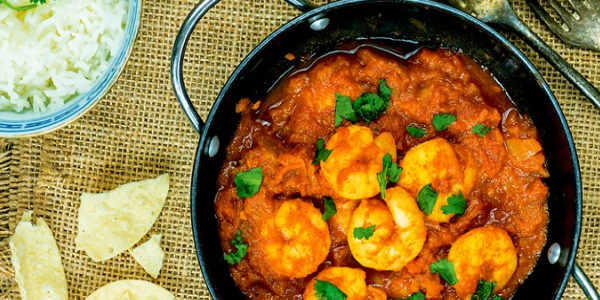 Imagse source: foodhospitality.in
Goa's cuisine culture is influenced by many other foreign culture such as Portuguese, Arab, Brazilian, French, Chinese, Malaysian, Konkan & Malabar flavours to give you the best food experience. So when in Goa, make sure to enjoy one meal of Goan cuisine. Food items like Goan Fish Curry, bebinca- the famous Goan dessert, & sorpotel are some of the famous dishes here. Also, do try some Feni, the local Goan drink made up of cashew & coconut. You are surely going to love it.
13. Activities beyond beaches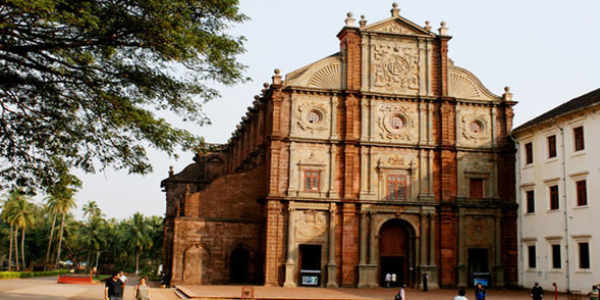 Image source: churchtimings.com
Don't go with a mind-set of only enjoying the beaches when in Goa, because there is list of attractions & experiences waiting for you. Goa serves as a home to many historical & archaeological churches, forts, museums & temples, caves, spice plantations, wild life sanctuaries & other experiences.
Also, take a day off to visit the country side of this tiny state to explore the Portuguese culture, their houses, their lifestyle & day to day life. The best option is to hire your own scooter & explore the small traditional villages of Goa & have the best of your time here.
So, your Goa tour should be a combination of attractions & experiences, & if you plan your days keeping in mind the above points, it is sure that your trip will something you want to cherish forever. Be it a solo traveller, a honeymooner, group of friends or family with kids, you tour with start with a bang & end with a swag.
With this also don't plan your tour at the very end moment, try doing some research for the stay options, compare the prices, & plan in advise so that your tour is not only a fun-filled one but also a cost effective too. And, don't forget to carry a pair of sunglasses, a cap or hat, sunscreen lotion, a valid driving license, flip-flops, shorts & casuals, cash in hand, cameras & don't forget to bring back bundle of joy with you.
Happy holidaying fellows!