Go surfing in Maldives: Handy guide!
With some of the best waves in the world, the water of Maldives is perfect to go for surfing. The long fun waves make it a perfect trip which is why it is one of the topmost things to do in Maldives whether intermediate or advanced surfers. There are around 1190 islands in the Maldives that are spread in the Indian Ocean along 800 km long vertical stretch and each region gives you a different experience. It is absolutely safe to surf in the Maldives because the swell reaches up to your shoulder or head height, unlike other destinations where the waves are super powerful. If you have booked a Maldives holiday tour package for surfing trips then the best time to visit here is between March and November where the weather is good and most of the archipelago is good for surfing.
The Maldives is popularly known as a honeymoon destination where couples enjoy their romantic holiday and get to know each other more. But due to consistent swell here some of the water sport activities started to become popular due to which the economy of the Maldives tourism industry grew further. Even on flat days, you can do exciting things like snorkeling to see the rich flora and fauna underneath the waters of Maldives or go kayaking. There are numerous surf spots in the island nation and finding them is very easy since they are very close to each other. Male Atolls, Central Atolls, and South Atolls are the three main surfing areas on this tropical island. Some like to surf with now crowd around but some like to enjoy with others around it depends on individual's choice. If you want to do surfing with less or no crowd then you need to head to Central and South Atolls as Male Atolls can be very crowded particularly from May to August months.

Get the cheapest flight rates online with Flamingo
Fly with Flamingo!
Below are some of the best spots for surfing in the Maldives:
1. Male Atolls: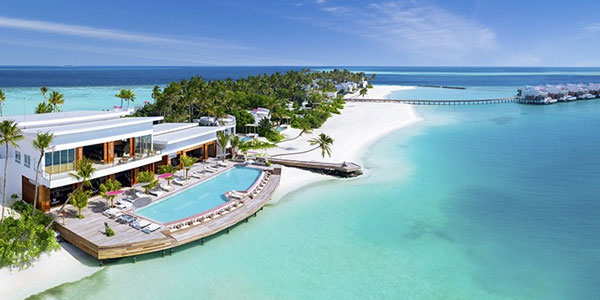 Image Source: ttps://www.sleepermagazine.com
The first region that comes to mind when talking about surfing in the Maldives is Male Atolls. It is the administrative atoll of the Maldives consisting of 2 separate atolls South Male Atoll and North Male Atoll. If you are searching for the best resort to stay in your Maldives tour package then this region can be the best option as there are many famous resorts here and all the islands are close to the Velana International airport. Reputed for rich wave zone, Male Atolls also known as Northern Atolls have hosted many international and national surfing competitions so at times you can find lots of crowds here. The best time to visit here is between March and October while from April to August you can get to see some great swells for surfing with ranges from two to eight feet. Some of the best spots for surfing at Male Atolls are:
Cokes: Recommended for intermediate or experienced if the swell is big, this is a right-handed wave named after the Coca-Cola factory situation on the island of Thulusdhoo. The wave is hollow and has a wider tube on the inside that provides instant shade time and it breaks over a shallow reef. The best time to surf is when the swell is from the south with northwest winds.
Jailbreaks: This spot was opened recently for surfers as it is situated on the Himafushi Island just across the national jail which is why it is also known as Prison Point. Depending on your take-off point you can get a variety of waves at Jailbreaks and you can expect waves from waist height to a few feet above your head. With 3 tube sections and long walls, this is believed to be the fastest wave in the Maldives which is why it is among the popular surfing spots for tourists. It starts slowly but as it advances it starts to gain speed.
Chickens: Located in the uninhabited VillingilimathiHuraa island, the swell size of this wave ranges between 3 ft to 10 ft with around 500 m long ride. It is named after a poultry farm existing on the island. It is considered one of the best waves in the world when the swells are big and the winds are perfect. It is advisable for intermediate to experienced surfers only. The perfect hands would be those able to float through the strong winds and after that keeping up with the zipping lip.
Lohi's: Named after the island Lohifushi, this left-handed wave remains consistent throughout. Breaking in two areas, in case the swell is huge enough it can frame a perfect long wave that barrels over the reef. This spot also hosts the popular WQS O'Neill Deep Blue every year between May to June. The ideal conditions to surf are with north-west and north-east winds but it is perfect with swell from south-east and winds from north-west. Since there is no restriction on the number of surfers that can stay there, this spot becomes more crowded than the nearby spots.
Honky's: Considered one of the best waves in the Maldives, when all the conditions are perfect it can a world-class spot for surfing. Its left-hander wave is very long and could be double in the second section. This place requires the right swell direction with a fast left at 4 feet. 
2. Central Atolls: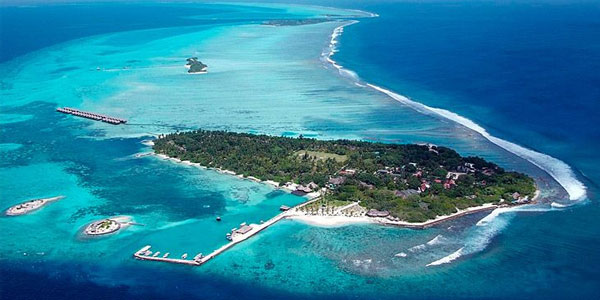 Image Source:https://www.wavehunters.com/
Probably not the most well-known if compared to Male Atolls and South Atolls, but if you are looking to escape the crowds then this could be a perfect place for you. Meemu, Dhaalu, Laamu, and Thaa are four atolls between the Male and South atoll area thus forming Central Atolls. Its popularity is increasing among surfers because there are plenty of medium-sized waves that can surprise you as the breaks are unknown but most of them are right-handers with some lefts as well. Some of the best spots for surfing at Central Atolls are:
Tsunami's: It is a right swell angle wave that is well protected from northern and western winds. Most of the swell of this left-handed wave is picked up from the east-facing spots of Laamu Atoll. There are 3 amazing sections to surf here with hollow barrels on the takeoff and at the end section while a fun wall for some turns in the middle section.
Mikado: A powerful right-hander, this is the most consistent wave in Thaa Atoll. The walls are fast and hollow producing some great barrels. When there is high tide Outside Mikado works out best and when you pump, as a surfer you are sure to get the experience of a lifetime.

Hotel deals like never before!
You Travel We Care!
3. South Atolls: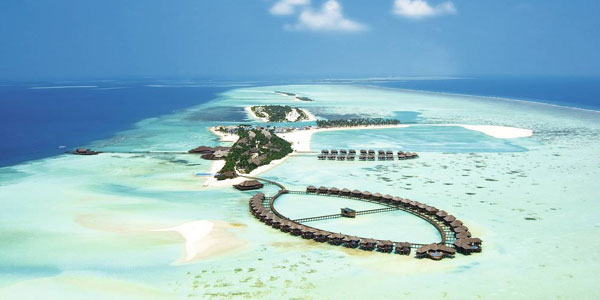 South Atolls are secluded from others and the only way to reach here is by charter boats so if planning a Maldives tour package it can end up being an expensive trip. The best time to visit most of the atolls in the Maldives is from April to September but many say that in South Atolls you can get the best conditions from February to April that is before the southwest monsoon begins and also between September and November when it ends. To travel here you will need special government approvals. Here the best conditions for surfing can be found at GaafuDhalu Atoll because the swell here picks up more than any other atoll in the Maldives. This region is also known as Huvadhoo Atoll. Some of the best spots for surfing at Central Atolls are:
Tiger Stripes: This left-hander fun wave is not very hollow but has decent long walls with complicated take-off. The level is so consistent that in any kind of tide it is perfect for surfing. Works best with north-west winds, it is simple when the swell is smaller but gets challenging when the swell becomes stronger.
Castaways: This is a soft right-hander where surfing is possible on all tides but the best is when the swell is bigger than 4 feet during high tide because of its shallow reef. It is an ideal setting for surfing due to lots of marine life nearby along with an isolated island.
Two ways: Even though right and left-hander, if you want funnier and longer waves then right-hander tends to be better. It is a favorite among the intermediates because it is not that hollow.
Explore these exciting atolls and explore best of surfing on your Maldives tour package. Book your much awaited holiday with Flamingo and get ready to have some of the most memorable moments of your life.