The Most Impressive Wonders in UAE!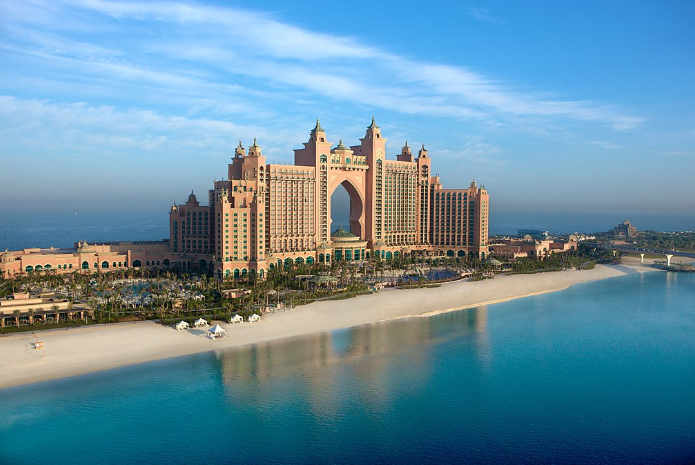 The United Arab Emirates consists of "seven" different emirates, & out of all these 7 emirates, Dubai is said to be one of the most modern desert cities with new development happening here every single day. Every place is the largest one, or one of the tallest or one of the biggest here in UAE.
Without any doubt, we can say that UAE is one of the most loved & preferred tourist place for the majority of us, as the destination has everything to offer to all the age groups. With huge malls to theme parks, from great resorts & stay options to cheap street shopping, delicious food options & remarkable skyscrapers.
Long back, this developed city was just a fishing village, but when you see it today, you are definitely going to fall in love with this city. Today, UAE is considered as one of the Most Expensive & Richest Country because of its major architectural development from low buildings before independence to now becoming home to some of the world's tallest tower or buildings or shopping malls.
Today the UAE architecture is talked about everywhere &Dubai Tourism has made all the efforts to promote this destination at its best. And you guys, also make sure that whenever you plan a Dubai tour package, you have a chic picture at all the mega buildings coming in the below write-up. So let's have a wonderful virtual tour to some of the most renowned skyscrapers of this country.

Get the cheapest flight rates online with Flamingo
Fly with Flamingo!
Burj Khalifa
Cayan or Infinity Tower
Burj Al Arab
Dubai Mall
Atlantis at the Palm
Jumeirah Beach Hotel
Princess Tower
JW MarriottMarquis Dubai Hotel
Dubai Miracle Garden
Jumeirah Mosque
1. Burj Khalifa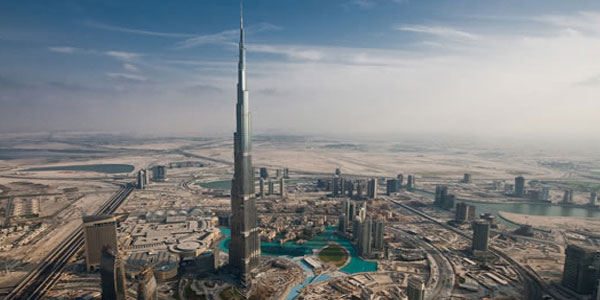 Image Source: https://worldtoptop.com
The only tower in the whole world which is clearly visible from the clouds as you are about to reach Dubai. Even if you travel to Sharjah, people say you can even have a look from there. Just imagine, how tall this skyscraper can be!
With a height of 828 meters, this is one of the tallest & a remarkable example of some of the best architectural development of the world. Some of the topmost features of this beauty is as below:
The only building with the highest floor swimming pool area;
The world's tallest passenger elevator;
The highest observation deck of the world;
& highest number of floors in the world;
2. Cayan/Infinity Tower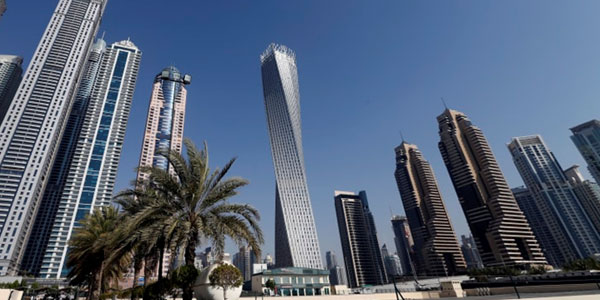 Ever wondered what is so unique about this 73 floors Infinity tower? The most eye-catching feature of this tower is the twist of 90 degrees given to the structure of the building.  Build-in 2016, the Infinity Tower is twisted from the below to the top.
This tower is a higher-end & luxurious residential building, & living here gives you some great view of the waterfront, Dubai Marina & Arabian Gulf.
And this tower's architecture group Skidmore, Owings, & Merrill SOM, is also the one who is behind the architecture of the tallest wonder Burj Khalifa.
3. Burj Al Arab
Image source: https://dynaimage.cdn.cnn.com/
This resort hotel was opened in the year 1999, & a 7-star luxurious resort hotel in Dubai. The structure shape of this hotel is like a sailing Arabian Dhow Ship & is 321 metres tall in height. The hotel is located on the Jumeirah Beach, & here you can enjoy the in-house features like Sky View Bar, the underwater restaurant & the outdoor tennis court.
The most luxurious suite here is one of the expensive rooms in the world costing up to $24,000 per room per night on an average.
And the photography in the night would be something to be cherished as the hotel is illuminated with water, fire & light.
4. Dubai Mall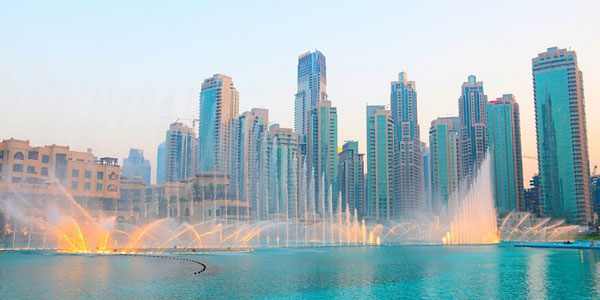 Image Source: https://worldtoptop.com
This multipurpose largest mall in the whole world was opened in the year 2008 & added a new feather to some of the renowned buildings in Dubai.
In the mall, you can enjoy more than 1,200 shopping centres, Dubai Aquarium, ice-skating rink or just sit & enjoy the skyline of Dubai at the amazing cafes & hangout places. If you are a shopping person, trust us, you will need at least 2-3 days to explore the whole mall.
So when in Dubai & want to spend a great family time with your loved ones, then without a second thought, go to this marvellous creation.

Hotel deals like never before!
You Travel We Care!
5. Atlantis at the Palm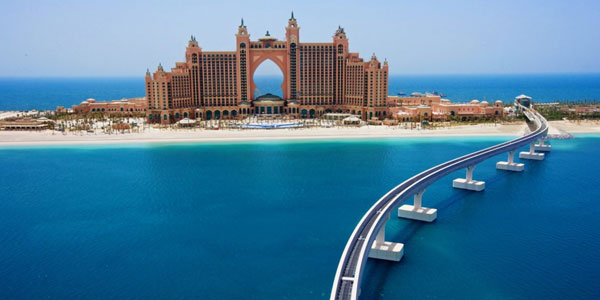 Image Source: https://dynaimage.cdn.cnn.com
This iconic resort hotel is set on the artificial palm island & so without any doubt the name is inspired from here. Opened in 2008, it can be said the replica of Atlantis in the Bahamas but when you have a closer review you can see the Arabian influences in the architecture.
With more than 1500 rooms, you can also enjoy Aqua-venture water park & Lost Chambers (Aquarium) during your stay here.
Without any doubt, it can be said as one of the 8th wonder of the world.
6. Jumeirah Beach Hotel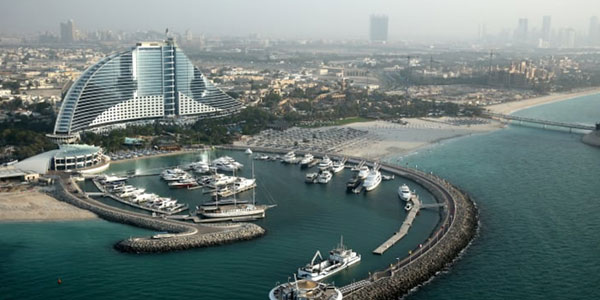 Image Source: https://dynaimage.cdn.cnn.com
With a private classic beach & a structure of waves, this is one of the marvellous wonders that beautifies the glory of Dubai. The hotel host more than 10 restaurants & bars, one of the best waterpark & newly renovated rooms, this is one of the best luxurious stay option if planning to go to Dubai.
You can also chill & refresh at the rooftop lounge with an amazing skyline view. If you don't get a chance to stay, then it is just recommended to just enjoy a tour of the Hotel.
7. Princess Tower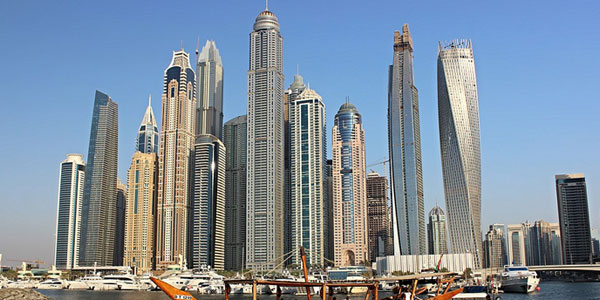 Image Source: https://en.m.wikipedia.org
Not only known for its prime location, but also said to be one of the tallest residential tower in Dubai located in the Dubai Marina Area. With 101 floors, this tower is the 29th tallest in the world & third one in Dubai.
Today, the residents can enjoy the in-house features of the tower like an outdoor swimming pool, indoor swimming area, sauna, steam room, gym area, children's play area, observation deck at 97th floor & much more that a luxurious resort has.
Do have a look while strolling around the Dubai Marina Area, you will definitely be amazed.
8. JW MarriottMarquis Dubai Hotel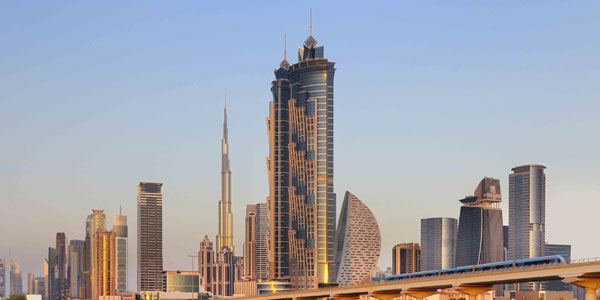 Image Source: https://cache.marriott.com/
Everything mentioning about this hotel is super-chic, be it the 15 award winning restaurants, the location, the more than 1600 luxurious rooms or saying it the iconic & tallest luxurious property on the earth.
If you are luxurious traveller, this hotel is just for you. Guests can enjoy in the spacious rooms with modern amenities, enjoy at the rooftop bars, or have a dip in the indoor swimming pool. You can also enjoy the free shuttle service to Dubai Mall from here.
Come & witness the amazing beauty of this lavish place & make a memorable vacation with your family.
9. Dubai MiracleGarden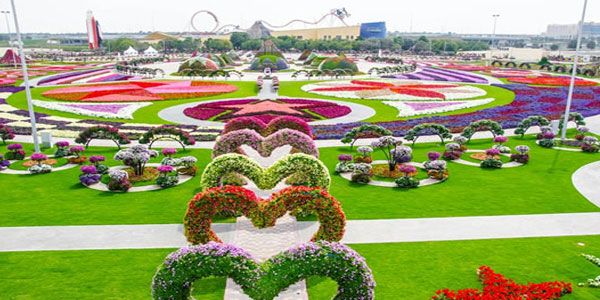 Image Source: https://worldtoptop.com/
Do you even know why is this beauty known as the Miracle Garden? This is because this largest garden of 72,000 square meter is located in middle of the garden, which is definitely not less than a miracle. Being one of the largest natural flower garden on this earth, this garden houses around 45 million of different species of plants displayed in different shapes of cartoon characters, plane, heart-shaped, igloo, fairy world flower walkways, pyramids and what not. And this displays changes with every year.
This garden is opened post September or October every year & is recorded in the Guinness books of records.
10. Jumeirah Mosque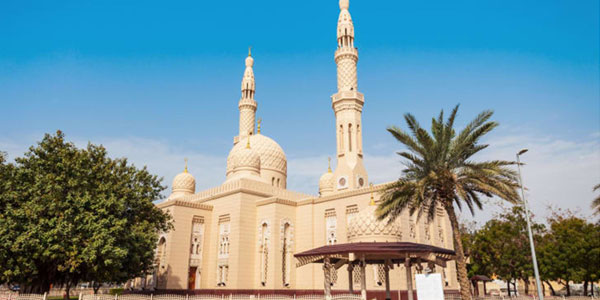 Image Source: https://dynaimage.cdn.cnn.com
And when we come to end of the write-up, we will talk not about something regarding being the longest, or tallest, because the Jumeirah Mosque is all about appreciating its immensely beautifully crafted architecture.
In 1976, the construction started & it took 3 years to build this mosque. The traditional Fatimid style which is the origination of Egypt & Syria, this mosque is built as per this.
Before, 1988 non-Muslims were not allowed to enter this mosque, but later they changed this rule & now special organized tours are arranged to have the tour of this mosque.
With the capacity of 1,200 worshippers, this beauty is worth visiting in Dubai. So don't forget to get clicked here.
To conclude, you will be totally surprised with this spectacular landmarks of Dubai, each one of them have something unique to consider. Guess, a big job of everyone is sorted regarding some of the unique places to visit in Dubai during while selecting one of the best Dubai Tour package.
Frequently Asked Questions About Dubai
1. What is the best time to visit Dubai?
Dubai- a desert city, enjoys a scorching hot climate starting from April to September, & post September, this climate here is very pleasant and good, so if planning a trip here, plan in the winter months.
2. Is Dubai safe in night?
You will be really surprised to know that this city is the safest place on this planet. You can roam freely anywhere, anytime you want in Dubai.
3. Which are some of the must-visit attractions near Dubai?
You can have a stayover in Abu Dhabi or go for Day trip to Sheikh Sayed Mosque Abu Dhabi, Ferrari Park in Abu Dhabi, or just enjoy the parks in the Lapita Resort.
4. How many days one needs to cover Dubai?
On an average, you need 5-6 days to plan a trip to Dubai, and don't forget to keep a day completely for shopping.