Must explore waterfalls in Goa!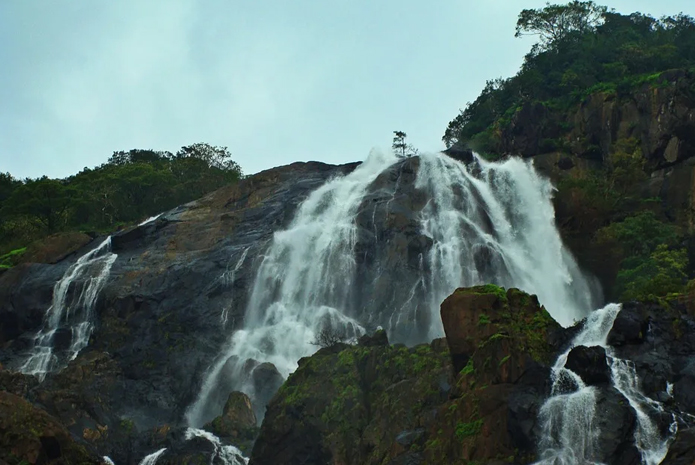 Goa is well known for its beaches and we all know that but there is also another natural beauty to see in and around Goa which is a waterfall situated in Sahyadri hills. Mostly, people who go on Goa tour plan for water sports activities, shopping, nightlife, and casinos but one must visit some of these waterfalls for its stunning views because strong streams of water flowing down the mountains are sights to behold. There are so many waterfalls in Goa then you could have imagined and these will surely inspire you on your Goa holiday tour package to see them personally especially for the photography lovers who like to take classic nature pictures. Here are some of the spectacular waterfalls in and around Goa that are worth visiting.
1. Dudhsagar Falls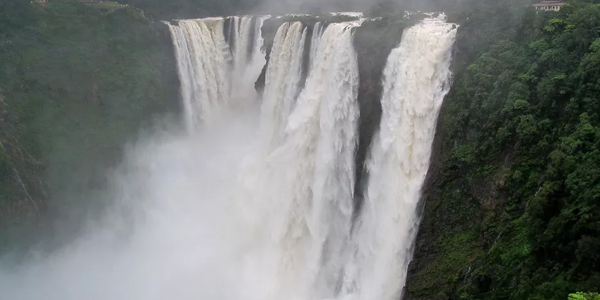 Image Source: https://images.thrillophilia.com/
One of the most picturesque waterfalls not only in Goa but in the whole of India, Dudhsagar falls is situated 60 km from Panaji by road. At a height of 310 m and 30 m in width, it features among India's tallest waterfalls. Dudhsagar (meaning Sea of Milk) is located on the Mondovi River which looks like heavy gushes of milk flowing from the top of the hill. It forms the border between the states of Goa and Karnataka. The best time to visit these falls is during monsoon and between October and December but during the dry season, it may not be that spectacular. Dudhsagar Falls feature in the top places to visit in Goa such is the beauty of this place. You may have seen this waterfall in the famous Shah Rukh Khan movie "Chennai Express". It is very difficult to reach the waterfall area as it is surrounded by forest but the trains which pass by this waterfall take a short unscheduled stop where people can get out of train walk for a distance for this splendid view. However, considering the risk that was involved just for a partial view of the falls, Indian Railways banned people from deboarding at this stop. To get a full view, you can take the help of an association at Molem a Goan village who will take you to the area & get you back. Treks are also organized at Dudhsagar and there are many routes you can take but one should check which one is open to the public and it is suggested to travel with a guide only.
2. Harvalem Waterfall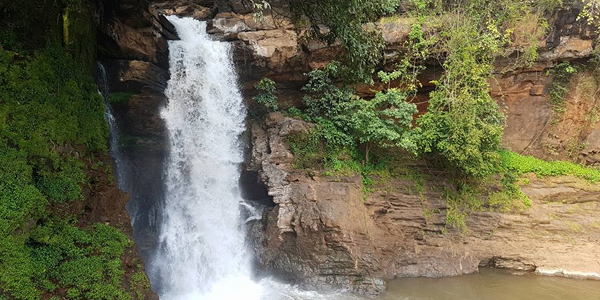 Image Source: https://www.gosahin.com/
Not as awe-inspiring as Dudhsagar Falls, Harvalem (Arvalem) waterfall looks beautiful during the monsoon that cascades down the hills from a height of 50 m. Situated in the small village of Sanquelim, this waterfall is a delight to your eyes and a popular picnic spot. By taxi, it takes around 1 hour to reach this area where other than waterfalls you can visit Arvalem Caves which is only a few kilometers south-east end of Sanquelim. It is believed that the caves were carved by Buddhist monks or the place where Pandavas took refuge during their exile of 12 years. Near the waterfall, there is also a Rudreshwar temple which holds importance for Hindus in Goa. To increase Goa tourism here, the government has developed a park here from where the view of the waterfall can be enjoyed peacefully. If you wish to take some nice photos then you can take a walk on the old arched bridge from where you can get a good view of this waterfall. Adventure lovers can do white water rafting that starts at Valpoi which is just 13 km away from this waterfall.
3. Savari Waterfall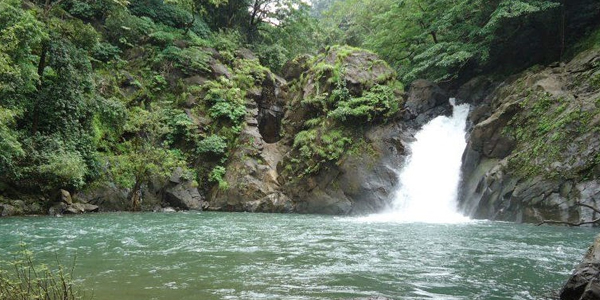 Image Source: https://static.mygoldengoa.com/
One who loves trekking and wildlife sanctuaries must-visit Netravali east of Goa. Just a few years back announced a wildlife sanctuary, if you trek for 3 km here you will reach Savari waterfall. It is a very beautiful spot and trekking towards this waterfall can be a memorable experience as well. Considered the prettiest waterfall in North Goa, this place allures enthusiasts and nature lovers. There are few other waterfalls in the area but this is the tallest one and can be visited after the monsoon. If you wish to do some offbeat stuff on your Goa tour package then this is the place you must visit if you are planning from October to March. If you are lucky then you can spot Black Panther, great pied hornbills, large squirrels, slender loris, etc.
4. Kesarval Waterfall (Kesarval Springs)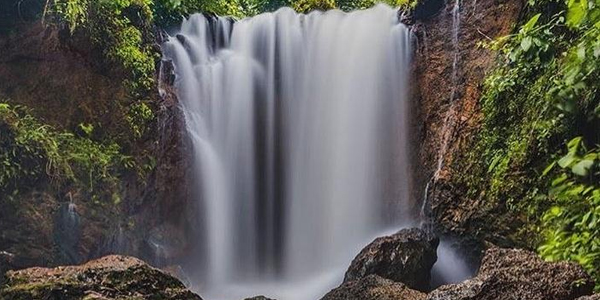 Image Source: https://im.whatshot.in/
This place is not an ordinary waterfall but also known for its medicinal properties for healing ailments. Also called Kesarval Springs, the minerals in the water come from the hard rock accounting to be a great spa. Monsoon is the best time to visit here as the flow is more but it can be dangerous as it gets very slippery and taking a dip in monsoon is not advised. One of the best places to visit in Goa, the perfect time to visit this popular tourist attraction is between October to March when the flow is less due to the dry season. Just 16 km away there is a Mormugao fort that offers stunning views of the harbor. If you wish to give your loved one a surprise then you can take a helicopter joy ride from Park Hyatt hotel situated in the same area.
5. Charavane Waterfall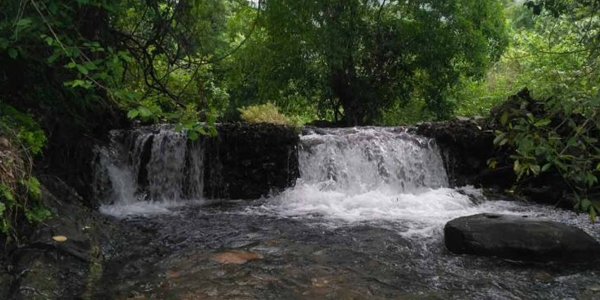 Image Source: https://top10goa.com/
Located 57 km from Panaji, this amazing milky waterfall provides a spectacular view of the green forest along with the fast streams of the waterfall. The village people are so kind in guiding the perfect way to reach the falls but please note it is a long trail through the fields and slippery rocks. The trek here is around 1.5 km which may take around 1 hour depending on your speed but it is worth it for trek lovers and having some fun time with friends.
6. Bamanbudo Waterfall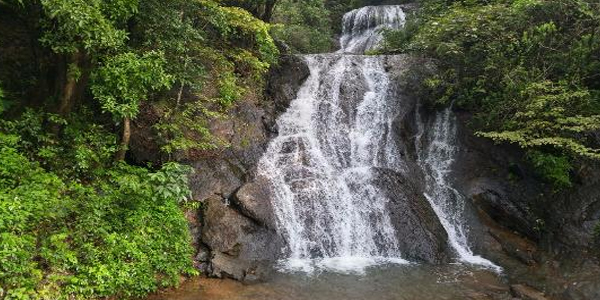 Image Source: https://media-cdn.tripadvisor.com/
The stream of water here is more like a glider than a fall due to which there is no steep bottom and bathing here is fun. It is one of the few waterfalls in Goa where you can enjoy under the waterfall but it will be a bit slippery so need to take care while walking. The falls are located on the roadside in the Gaodongrem village of Canacona district making it easily accessible and it is mostly filled with tourists. The best time to visit here is in the morning when the crowd is less.
7. Kuskem Waterfall
Image Source: https://i2.wp.com/
Another waterfall located in the Canacona district in South Goa is Kuskem waterfall which is also 20 km from the Cotigao wildlife sanctuary. The waterfalls from a height of 30 m but the environment surrounded by beautiful flora and fauna are worth visiting. You will need to trek to reach this waterfall and traveling with a guide is always suggested as it is deep in heavy dense jungles. If you wish to stay here for one day then you can get accommodation at the forest department's eco-cottages which are at the sanctuary.
8. Kemburli Waterfall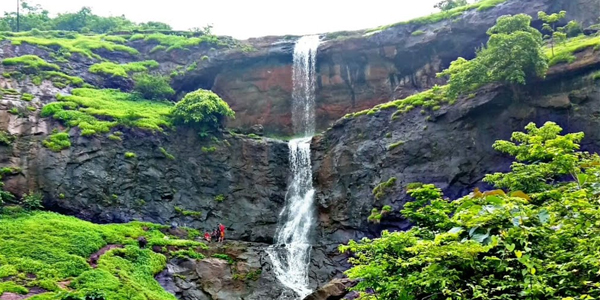 Image Source: https://i.ytimg.com/
Mumbai to Goa by road has some of the best scenic views and that is the reason why many people opt for a drive rather than by train or a flight even though travel time is more than 10 hours. On the way, there is Kemburli village where you can find Kemburli waterfall. It is a perfect place for a highway halt and the view of this place will surely make you refreshing for your onward journey.
9. Hivre Waterfall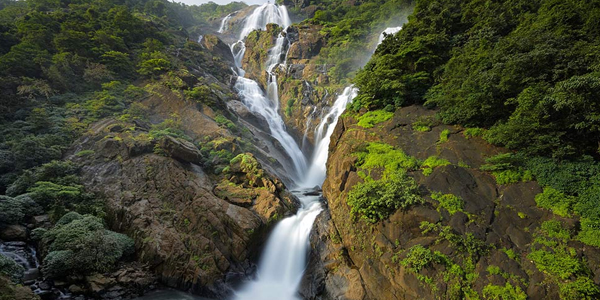 Image Source: https://www.fabhotels.com/
If you are a hardcore trekker then Hivre waterfall and Dudhsagar Falls are two of the best areas for trekking with lush green scenery everywhere. If you like trekking Hivre waterfall should be in your itinerary of Goa tour packages as this is the perfect example of nature at its best. During monsoon, you can see this waterfall from a distance which will motivate you to reach the destination through the fields and slippery rocks in the jungle.
10. Kalsa Waterfall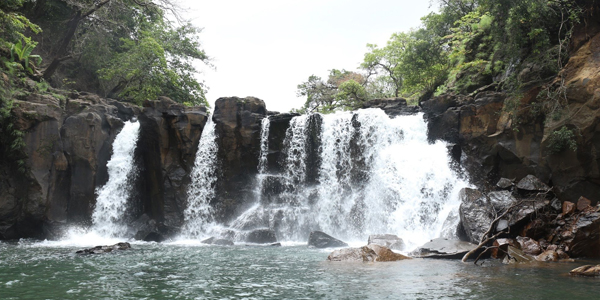 Image Source: https://cdn-assets.alltrails.com/
Located in the Kankumbi forest between the borders of Goa and Karnataka, Kalsa waterfall is a delight for nature lovers falling from a height of around 100 m. You can get a thrilling trek experience here as you need to reach the waterfall by walking in the dense forest and crossing the rivers and if you are traveling during monsoon then the excitement is even bigger due to the flow of rivers. Trek is organized here throughout the year but it can be tedious as the trek is around 5 km which will take around 5 hours to finish.
12. Surla Waterfall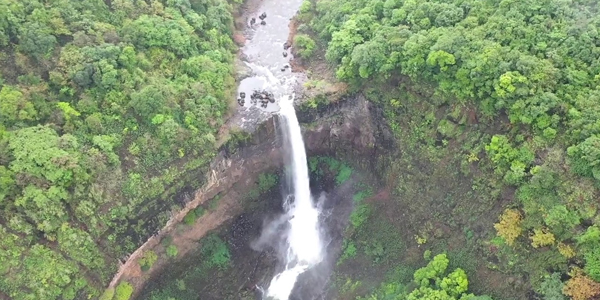 Image Source: https://i.ytimg.com/
Another waterfall that is on the edge of Goa between the borders of Goa and Karnataka is the Surla waterfall. In monsoon when the fall is in its full glory, you can see this waterfall from a distance and you can take a comfortable ride to the top for a splendid view. The best part of the trek here is it starts from Kalsa so on the way to the viewpoint of Surla waterfall you pass through another majestic fall which is Kalsa waterfall.
13. Pali Waterfall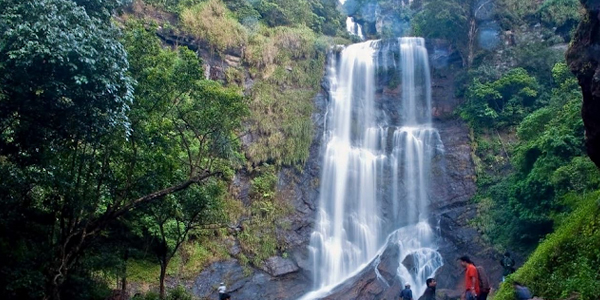 Image Source: https://2.bp.blogspot.com/
Valpoi is a village in Goa where you can find this beautiful fall named Pali waterfall. Another popular place among tourists, this place is also called Shivling waterfall as the water from the hill falls on a rock below giving the impression of water being poured on the shivling. To reach this waterfall you need to trek through the Mhadei wildlife sanctuary which will be an experience to remember for a lifetime.
14. Nagatta Waterfall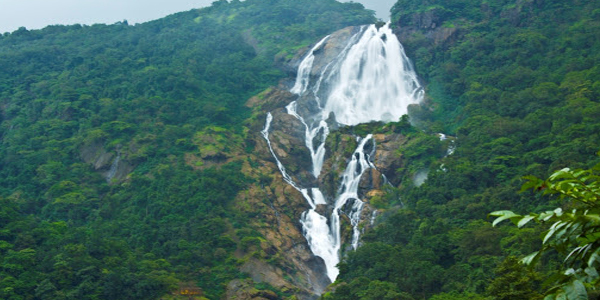 Image Source:https://lh3.googleusercontent.com/
The view from Amboli ghats is truly mesmerizing. This area is actually in the Sindhudurg district of Maharashtra which is 91 km away from Goa. The scenery on the road trip in these ghats is simply amazing which is why those who travel through this district to Goa or vice versa do take a stop here for some of the best selfie clicks with valley view behind. Amboli is considered as one of the wettest regions in Maharashtra so during monsoon you get to see some spectacular waterfalls with Nagatta Falls being the most popular one among tourists. Other attractions here are Bauxite Mines and Sea View Point.
15. Mainapi Waterfall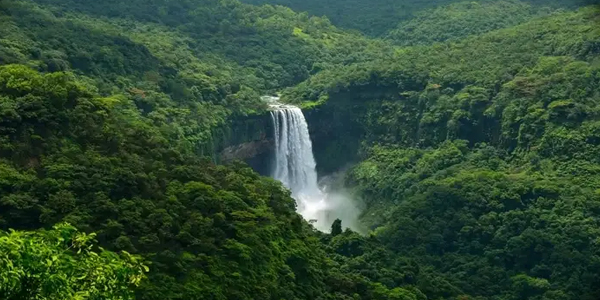 Image Source:https://img.traveltriangle.com/
Another waterfall situated at Netravali wildlife sanctuary which is around 14 km from Netravali village. The trek here is around 4 km which is very adventurous. If you are staying in South Goa then you must take a day off or keep an extra day in your Goa holiday tour package just to enjoy this hidden waterfall if you love trekking. Some of the fun things you can do at this village is taking a bath in Mainapi waterfall, enjoy at bubble lake which is 2-3 km from the sanctuary, visit the rock engravings at Usgalimal village which are said to be around 25,000 years old, enjoy the nature around Kushavati river, and spice plantation just across the river.
16. Twin Waterfall: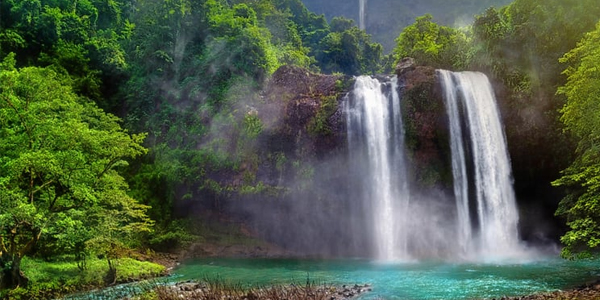 Image Source: https://trishn.com/
One of the hidden gems of Goa is the Twin waterfall. Go on a trek and explore the flora and fauna of this beautiful place which is one of the best offbeat things to do in Goa. The water here splits into 2 different paths which is why it is named as Twin waterfall. Once you reach here you won't be able to resist yourself from taking a swim or dip in the water. If you are carrying a hanging bag, purse, or eatable stuff then beware of monkeys here and do not interact with them.
So book your much awaited Goa holiday tour package and don't miss out on exploring these stunning waterfalls.