Rann Utsav 2021 at Kutch : All You Should Know About The Desert Fest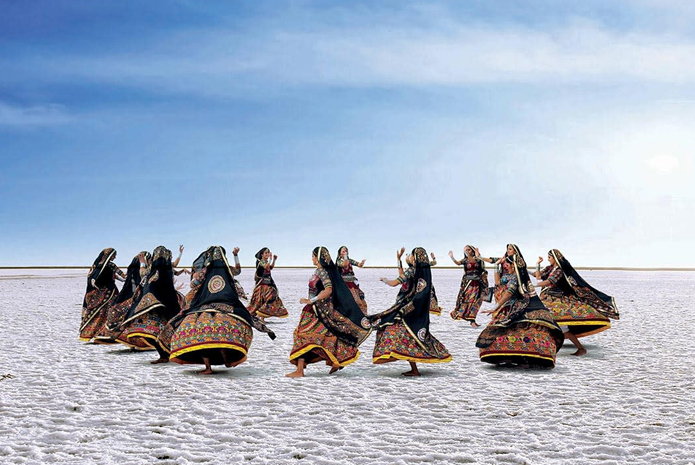 Rann of Kutch is said to be world's largest salt desert, & along with being splendidly beautiful, it has also boosted as one of the best tourist destination promoted by the Honourable Chief Minister of Gujarat- Mr. Narendra Modi in the year 2005 by creating Rann Utsav, Kutch.The main motive to start this festival for our Chief Minister & Gujarat Tourism is to display & honour the culture & tradition of the state of Gujarat to Indians & even the foreign nationals.
Initially this festival was only celebrated for five days in the month of November but later this changed to consecutive three months starting from October till January & sometimes also extended till the Holi festival. This year the festival is organised from 12th November 2020 to 28th February 2021. This white sand destination is one of the natural wonders as during the rainy season this sand desert gets hidden under the waters & for the remaining months you can witness a spectacular stretch of the white sand desert. This festival is one of the best things to do in Gujarat & should be enjoyed once in your lifetime.

Get the cheapest flight rates online with Flamingo
Fly with Flamingo!
For travelling here, one needs to follow simple COVID-19 travel tips for Rann Utsav. It is not mandatory to provide a negative PCR test report while entering here, be it any mode of transport. It is compulsory to wear masks while in public places and sanitize your hands at regular intervals. Most important, follow the government rules pertaining in the particular zone.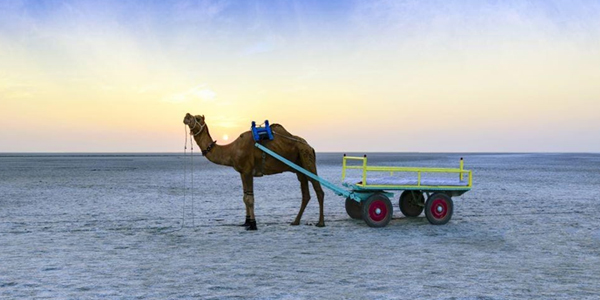 Image Source: https://seoimgak.mmtcdn.com
Following things, you should keep in mind while planning a trip to Rann Utsav, Kutch:
Best time to visit Rann Utsav
Location of Rann Utsav
Permits required to enter the Rann of Kutch
How to reach RannUtsav
Stay Options at Rann Utsav
Things to do at Rann Utsav
Some great tips for a wonderful experience at Rann of Kutch
Places to visit after Rann Utsav Festival
Best time to visit RannUtsav
This whole festival is arranged & managed by Gujarat Tourism & is one the best winter vacation to be enjoyed with friends & family when the moon is shining to the fullest & the breeze is cold & nice.
One needs to wait for winters to start to enjoy this festival, that is, from October month of every year & extends till March which is the best time to visit Rann Utsav. And, it would be more happening, if you book your trip during the full moon time, when the whole desert seems like a fairy world just like in your dreams.
You can enjoy a walk in the early morning or late evening, as this is the time when you will truly fall in love with this white land. Also, experiencing camel safari during the moonlight is worth an experience.
They have very good arrangements relating to food, stay, transportation, shopping & all the experiences one needs to make their holiday a fulfilling one. You can scroll some of the Best Kutch Rann Utsav tour packages on our website.
This year the RannUtsav datesare starting from 12th November 2020 and will be ending by 28th February 2021. And, if you wait, it would be great if you plan to go when the season is about to end, you can avoid the rush & enjoy the serene beauty.
Location of Rann Utsav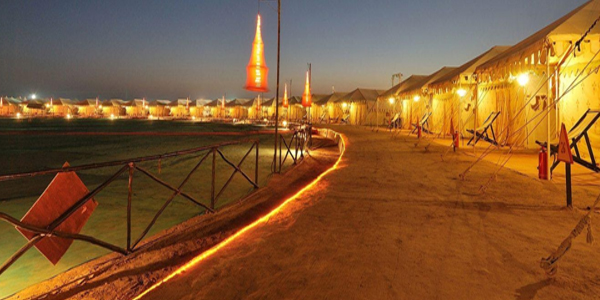 Image Source: https://scoutmytrip.com
Rann Utsav- marvellous festival is organised in the Dhordo village in Kutch. This village can be easily reached from Bhuj & it takes only about half an hour from here. Bhuj also has an airport & Dhordo is only 85 km from here. The entire region is beautifully arranged to celebrate the festival of crafts, arts & the rich cultural heritage of Gujarat.
Permits required to enter the Rann of Kutch
Rann of Kutch shares its border with Pakistan & so to visit here to need a permit. You can easily get the permit from the Bhirandiyara village checkpoint, only 55kms kilometres away from Bhuj.
You also need to carry a photocopy of an ID proof with an original one too. The cost is quite minimum like INR 100 per adult & INR 50 per child. Indians can easily apply for an online permit for Rann of Kutch. 
Please note that the checkpoint is closed during the off-season.
How to reach at Rann Utsav
The nearest city to Rann of Kutch is Bhuj. So, to reach from Bhuj to RannUtsav, you need to drive or take a flight or a train from your destination to Bhuj.
By Air:
The nearest Airport to RannUtsav is Bhuj airport with well-connected and regular flights. From here you can hire autos or taxis or buses to reach your final destination.
By Road:
You can hire private taxis or drive your own car to Kutch, the best route is through National Highway 8A. There are also public transport buses available from Gujarat and Rajasthan to get here.
By Rail:
Alternatively, one can also board a train from their relevant destination and reach Bhuj. From Bhuj you can hire taxis, buses or autos to reach RannUtsav camp.
Stay Options at Rann of Kutch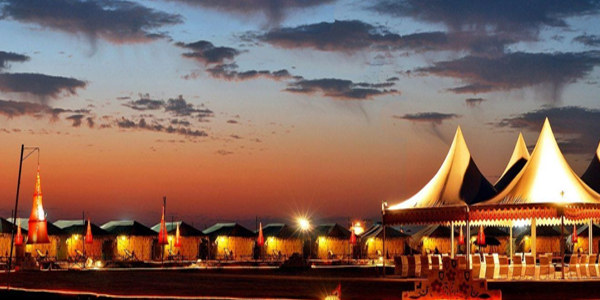 Image Source: https://scoutmytrip.com
Dhordo, also referred as the tent city of Gujarat, has the best stay options in Rann of Kutch. There are around 400 non-AC rooms & AC rooms. You also get to select from the Luxury & Swiss tents with an option to stay in the nearby villages for an extraordinary experience of village life. These tents & bungalows are designed in the traditional way representing the true culture of Kutch.
To have a luxurious experience you can also stay in the mud bungalows called Bhungas wherein you can enjoy with all the modern amenities & these bungalows are specially set up for the RannUtsav.
Things to do at Rann Utsav
The Tourism Corporation of Gujarat Limited makes sure that your trip to this beautiful desert is memorable, enjoyable & one of the great experiences. From shopping to strolling, you have everything to experience & enjoy with numerous Rann Utsav activities like star gazing, enjoying folk dances, shop handicrafts, sightseeing & many other adventures.
1. Adventurous & Sightseeing Tours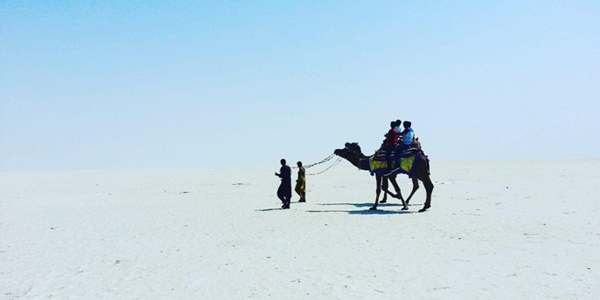 Image Source: https://scoutmytrip.com
There are many extraordinary experiences you can enjoy in Rann of Kutch. You can enjoy a desert safari, go for a solo ride on a Desert Patrol Vehicle in the desert, one of the exciting moments. This doesn't end here, you can also choose to witness the white sand desert from the top of the world by a hot air balloon, you can directly book from the operators over there.
Other Activities: Play indoor games like Chess & Carrom, Desert Safari, little Rann of Kutch safari, Camel Ride during moonlight or daytime, paintball, enjoy adventure sports like zip lining at Skyzilla, & star gazing;
2. Enjoy a Date with the Moon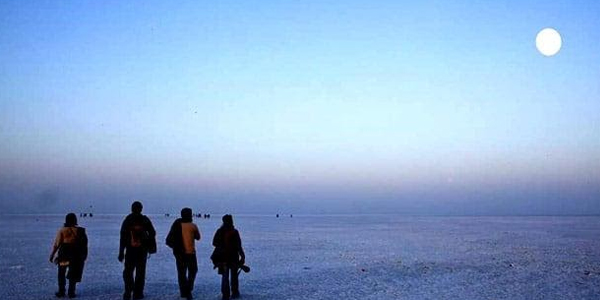 Image Source: https://s3.india.com
To be romantic with your partner, this is one of the most magical places, under the glittering moonlight with white sands spread all around you. You can stroll with your near ones in the white sand desert during the moonlight & you will love spending this amazing time with the moon.
And, to have the best enjoyment, the magical time to be here is during the Rann of Kutch full moon period, the white desert will be at its best. Though the Rann of Utsav full moon packages are costlier but trust us, you will have the wonderful experience of your life.
3. Hot Air Balloon Experience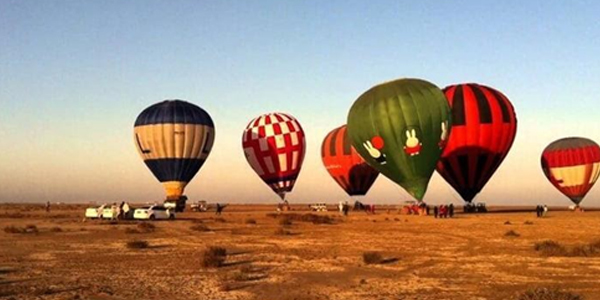 Image Source: https://img.traveltriangle.com
If possible, take the hot air balloon ride to enjoy the experience of the white sand desert from a completely different angle & trust us, you will not easily forget these spectacular views & will not end to talk about this. The price of Hot Air Balloons in Rann of Kutchvaries from season to season most of the time. Rann Utsav is going to be a great fun holiday.
4. Cultural Experience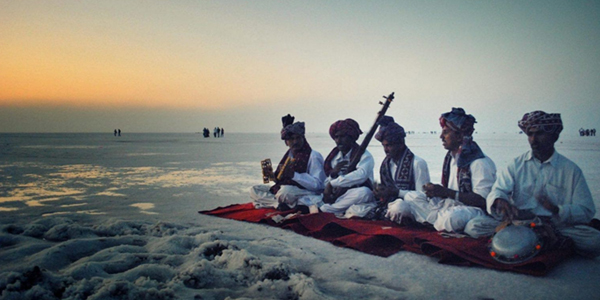 The main aim to initiate Rann Utsav is to experience the cultural side of Kutch district. You can enjoy local folk dance of Gujarat& music performances everyday with bonfire in the white sands. You will love to dance to the music of the local folk culture & it is a must to include one of such activities in your itinerary.  So, Rann Festival is not only about a vacation but also to gain knowledge about the rich traditions that are still preserved in Kutch culture.
5. Shopping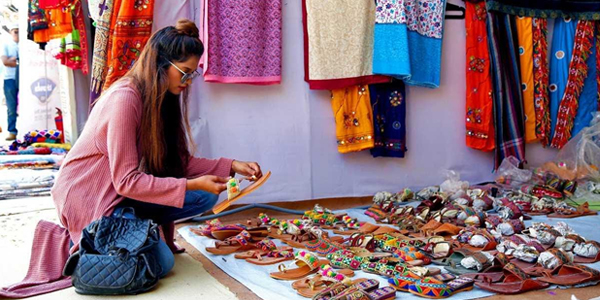 Image Source: https://www.holidify.com
The shopping options at Rann Utsav is an endless thing. You will get some great options to bring back home some of the local & traditional handicrafts of Kutch. Leather goods, silverware jewellery, ravelled Kutchi embroidery work dress materials & items, handcrafted Gujarati items, ornaments with this list going endless. Explore each & every stall, even if you don't wish to buy just enjoy the window shopping here. These items & articles are handcrafted by the local villagers & craftsmen here. Carry back home a beautiful crafted souvenirs and enjoy the traditional shopping in Kutch.
And, you can also attend a workshop organised by the local villagers from the Kutch Villages like Khavda, Gandghi-Nugam & Bhirandiyra to & learn about the skills of handcrafting these items.
Must Visit Markets of Kutch:
Bandhini Bazar
Roopalee Handicrafts
Rainbow Textiles in Ganghara
Khamir crafts store in Bhuj
Shrujan-threads of life
6. Relish the Local Food at Rann Utsav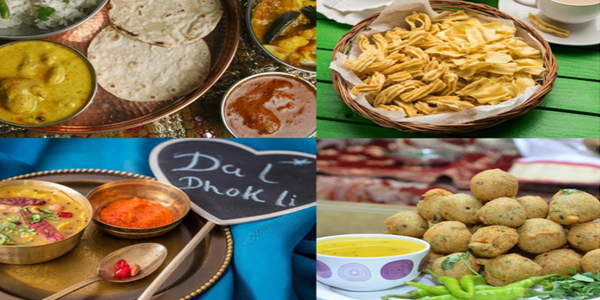 Image Source: https://www.outlookindia.com
A trip is not satisfactory unless you don't taste the lip-smacking food of that place. And, Kutch has some of the great food options to make your holiday a worthy one. Visit the big-hearted two main dining halls here to taste the local Kutchi Cuisine. Also, there are many food stalls to satisfy your odd-times cravings & relish thefood of Kutch.
Kutch famous foodmainly includes bajrarotla with butter milk & curd, bhajiyas, prepared by the local villagers.
Some great tips for a wonderful experience at Rann of Kutch:
Explore Bhuj nearby places apart from the White Sand Desert, say, Aina Mahal &Prag Mahal in Bhuj, Narayan Sarovar, Vijay Vilas Palace, & Kutch Museum;
Carry some woollen clothes along with you, as the temperature raise quite high in the night;
Have a panoramic view of the white desert from the highest view point of Kutch- Kala Dungar;
Try to plan your trip in advance due to availability stay issues when booked near to the date;
Make sure to enjoy the sunset at the Mandvi Beach to having some amazing lifetime experience;
It will also be completely safe & easy if you planning a complete solo trip to RannUtsav in Kutch; Be it a women or men, this solo trip will boost your confidence for sure;
Places to visit after Rann Utsav Festival
1. Beach Experience at Mandvi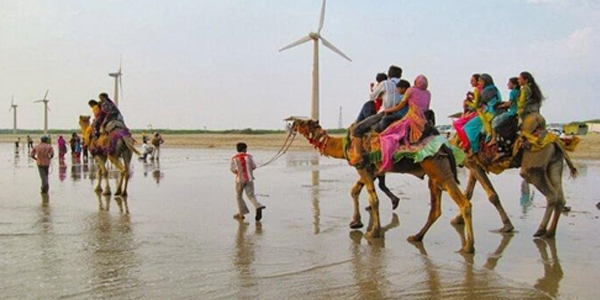 Image Source: https://img.traveltriangle.com
Mandvi Beach is one of the most beautiful & scenic seashores near the Vijay Vilas Palace & offers some great views of the surroundings. Some of the Mandvi beach activitiesare- Enjoy a walk during the sunrise or sunset, go for a camel ride or horse ride, enjoy water sports activities like parasailing, jet skiing, water scooter, swimming, banana boat-ride for a thrilling experience. Mesmerise the sunset views with sipping coconut water & gulping the local food.
You can also choose to camp at the Mandvi Beach if you are in search of a complete calm & relaxed place. There are 10 small tents set aside to the Vijay Vilas Palace, the place is less crowded, neat & tidy offering a luxurious stay. You can go for bird watching, play football & volleyball on the beach, lakeside picnic, & indoor games. And if you are fond of staying near the beach, you can opt to stay at some of the wonderful Mandvi resorts.
2. Explore Bhuj City
You can increase the length of your trip by adding 2-3 nights of stay in Bhuj city. There are many tourist places in Bhuj, though a bit of historical ones, but truly will give you a perfect glimpse of the city life of the Bhuj City. Places that definitely should not be missed here are Bhujiyo Hill, Aaina Mahal, Hamirsar Lake, Prag Mahal Palace, Shree Swaminarayan Temple and the Chhatardi.
If you are someone who enjoys taking back home the famous items from the place you visit, there are many shopping places in Bhuj, known for its traditional & local items and artefacts.
And lastly, you can also check Bhuj with the Gandhidham packages for a complete historical and magnificent experience.
3. Experience the exotic Safari rides in Gir
You can spend a complete one day in Gir national park and enjoy some of the famous tourist places in SasanGir. The park is known for being the residential places for the Asiatic Lions in India and to have a look at the King of the Jungle, you can opt for a Jeep Safari available in many time slots. For a greater experience of staying in the forest, you can opt to stay in the famous Sasan Gir resorts and have an adventurous tour thereby.

Hotel deals like never before!
You Travel We Care!
Stay Options to be considered:
Radisson Hotel, Kandla

Ryan Resort, Bhuj

Gateway to Rann Resort

Regenta Resort, Bhuj
So, we are sure reading this already forced you to plan for this magnificent winter place to cherish & enjoy because as said by our great Legend Mr. Amitabh Bachhan – 'Kutch NahiDekha to KuchNaiDekha'.
When in doubt to go for a short family holiday then check some of the Gujarat Tour Packageslisted which also includes RannUtsav packages & book a holiday with us to have the best of services & innumerable experience to be cherished forever. For a hassle-free and planned itinerary to Rann of Kutch, you can get in touch with Flamingo Transworld or contact our travel experts. With all said & done, don't forget to #flamingotravels during your visit here. Happy Winter Holidays Guys.