Rishikesh- The Adventure Capital of India!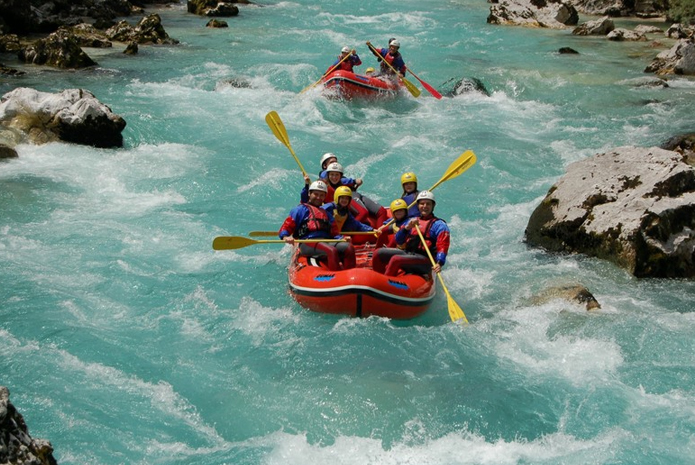 Since ancient times, Rishikesh is known as the base for spiritual learning, it was here, that the yogis and rishis attained nirvana or intellectual enlightenment. Folks from all over the world seeking spirituality and piousness have found their way to this holy and ancient town. People come here to learn the ancient techniques of Yoga, practice meditation, or at times, just to seek inner peace. Rishikesh is quite renowned as the Yoga hub of the world. People of all ages and nationalities eager to learn yoga, or seek inner peace are attracted by the magnetic charisma of Rishikesh. 
Rishikesh is encircled by hills on three sides, situated on the Ganges River banks, in the northern part of Uttrakhand state. It is around 30 km away from Haridwar. A decade back it was only considered as a destination that is visited often for the river Ganga, ashrams, yoga, temples, and meditation. But in recent times, it is gaining popularity as the adventure capital of India. It attracts a huge number of adventure seekers from all over the globe. The holy river Ganga not only just adds to the holiness quotient to this place but is equally a base for adventure sports. White water rafting on this holy river is one of the major attractions for adrenaline-pumping sports. Not just river-rafting, as this place is surrounded by hills it also makes it a great spot for rock climbing, trekking, hiking, and mountain biking. Apart from these other adventure sports such as zip-lining, rappelling, and kayaking are equally popular as well. 
Rishikesh is a classic amalgamation of adrenaline-pumping adventure sports and spirituality. Once the pandemic subsides, do not miss to explore the gems in our country, opt for our Rishikesh tour packages, and head out to explore Rishikesh. Check out more about adventure sports activities and options as you read further: 
1. White Water Rafting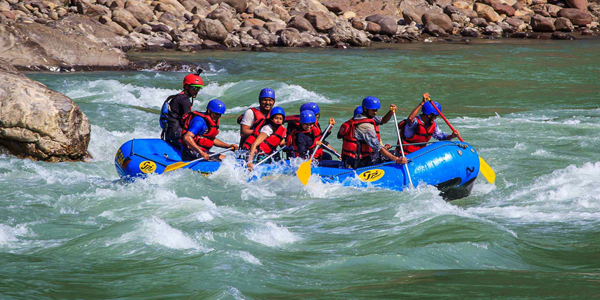 Image Source: https://k6u8v6y8.stackpathcdn.com/
One of the most prevalent adventure activities that should not be missed is white water rafting on the river Ganga. Unlike Haridwar, the river is not calm here, rather it's quite furious. The river transition from the Himalayas via the Shivalik hills to the plains has many challenging rapids and drops that are quite a thrill to maneuver. Taking the advantage of this furious Ganges, Rishikesh offers the best rapids in the world. The rafting routes range from easy to difficult grades. Some of the popular rapids here are Roller Coaster, Club House, Initiation, Marine Drive, Double Trouble, Hilton, Three Blind Mice, etc. the best rafting length here is between Rishikesh to Kaudiyala. Planning for this adventure sports, the best time to travel to Rishikesh is from September to April.  
2. Air Safari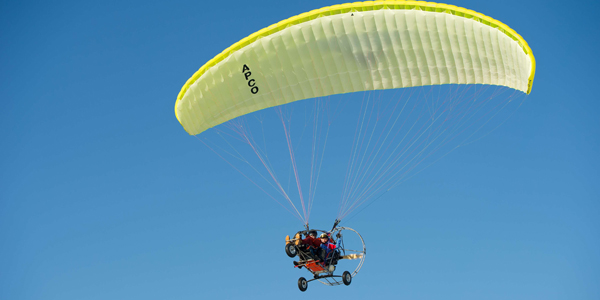 Image Source: https://imgcld.yatra.com/
Another fun sport to experience while in Rishikesh is Air Safari. Air safari with the help of experienced pilots who operate the powered parachutes will help you soar to amazing heights in the sky. A powered parachute is a type of aircraft that is ultra-light and consists of a motor and wheels along with a parachute. Do not miss this unique activity that will liberate you from the gravity of earth, and connect you to the vastness of the sky. Feel the fresh breeze and soak in the feeling of being one with nature. Apart from the bliss feeling, you will get to have a bird's eye view of the region. You will drift over the serene landscapes of the holy place; fly over the sacred river Ganga, dams, lush green forests, and the mighty Himalayas. Check out more details about Air safari while booking our Rishikesh tourism packages
3. Bungee Jumping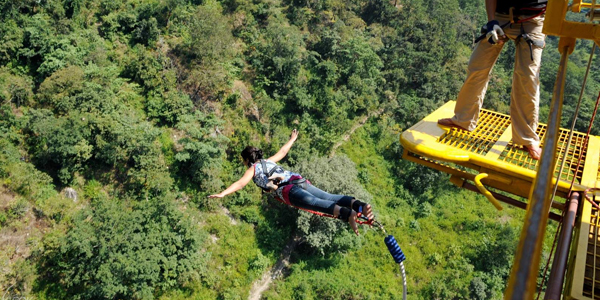 Image Source: https://res.klook.com/
Bungee Jumping is an adventure sport wherein you would jump from a tall structure while being connected to an elastic cord. The venue for this activity is Mohanchatti in Rishikesh. The name of the bungee jump service provider is Jumpin Heights. The height is around 83 meters. This is not only adventurous but you will also get to explore yourself. This will be a life-changing experience as the feeling of freefalling and hanging in the air is an experience of a lifetime. You need to be physically fit for this activity and can enjoy these sports throughout the year except during the rains. 
4. Trekking and Camping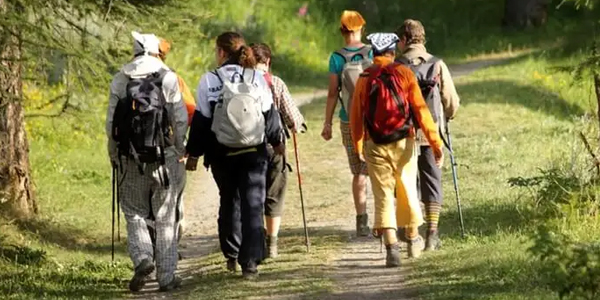 Image source:https://img.traveltriangle.com/
When we talk about trekking and camping trails, Rishikesh is one of the best places in India for the same. You can register yourself at the famous mountaineering institute–Nehru Institute of Mountaineering, here you will have experienced and qualified instructors who can assist you to the top and towards the valley for a fun-filled trip.  With the majestic Shivalik Ranges surrounding this place, it has some of the most exciting trekking routes leading the mountain peak Chandrashila, crossing the dense forest areas. There are many popular treks here such as Kauri Pass and Valley of Flowers. There are many day-hiking treks here such as Jhilmil Ghufa, NeelkanthMahadev, Kanyapuri, and so on. Seek the guidance of a destination specialist at Flamingo Transworld, who will suggest the best options while planning your Rishikesh Haridwar tour packages 
5. Cliff Jumping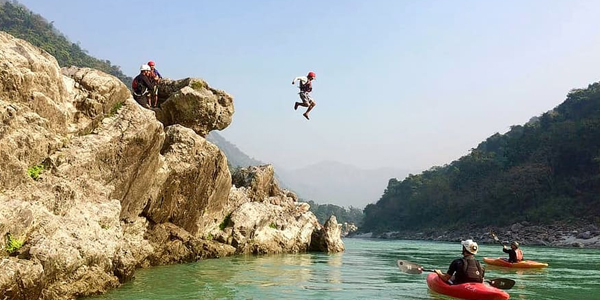 Image Source: https://res.cloudinary.com/
Another adrenaline-pumping experience while you are in Rishikesh is cliff jumping. The jump is around 20-50 meters high. The thrill of jumping down the cliffs is surely going to awake every sense in your body. You can go for this activity even if you don't know to swim, as you would be wearing a helmet and a life jacket, under the guidance of a professional instructor, who ensures your safety. You need to evaluate your physical strength first before jumping into the river. 
6. Parasailing and Paragliding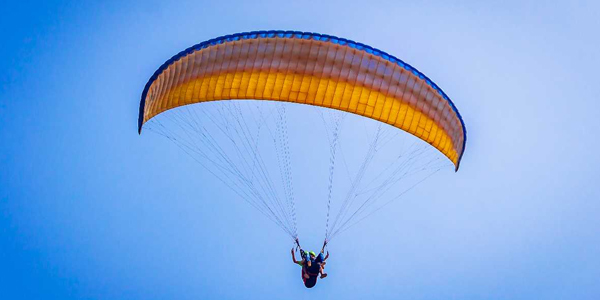 Image Source: https://www.holidify.com/
Paragliding is a recreational flying sport. A free-flying, foot-launched aircraft is a paraglider. While parasailing the person is towed with a vehicle, generally a boat, and is attached to a parachute, known as a parasail. If you wish to have a look at the incredible landscapes of Rishikesh, then one of the best and cost-effective ways is to try parasailing and paragliding. You will be enchanted by the picturesque scenery of this heavenly place. Admire nature from a different perspective. Do remember to add this activity while planning your Rishikesh tour packages with us. 
7. Rappelling and Rock Climbing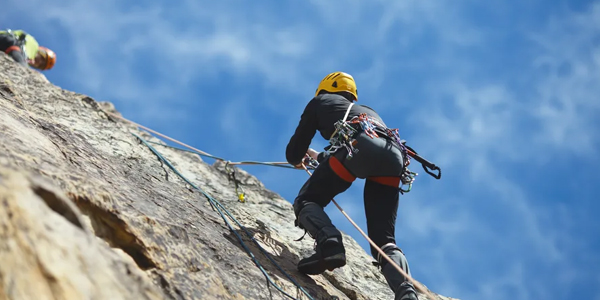 Image Source:  https://res.cloudinary.com/
Two of the most sought-after adventure sports in Rishikesh are rock climbing and rappelling. Rappelling is sort of the opposite of rock climb; it is basically to rope down a cliff. These activities are suitable for both professionals and amateurs. Adventure enthusiasts will enjoy the rock climb while being on the edge of the reefs of the Himalayan cliffs. You will climb the mountain with the help of natural grips of the rocks and cords. You will learn to face challenges and will get to discover your skills and physical strength. Physical fitness is a must to enjoy these activities.
These are some of the best adventure activities that you should not miss to try during your stay in Rishikesh. Along with these activities, explore Rishikesh, walk on the Laxman Jhula – the hanging bridge above the flowing stream, enjoy a dip at the Triveni Ghat and reprieve from all your sins, plan a trip at the Beatles Ashram, take a yoga class, and do not leave Rishikesh without experiencing the soul-stirring Ganga Aarti. Seek expert guidance from the team of Flamingo Transworld to personalize your Rishikesh Haridwar tour packages