Best Food and Shopping to explore when in Kashmir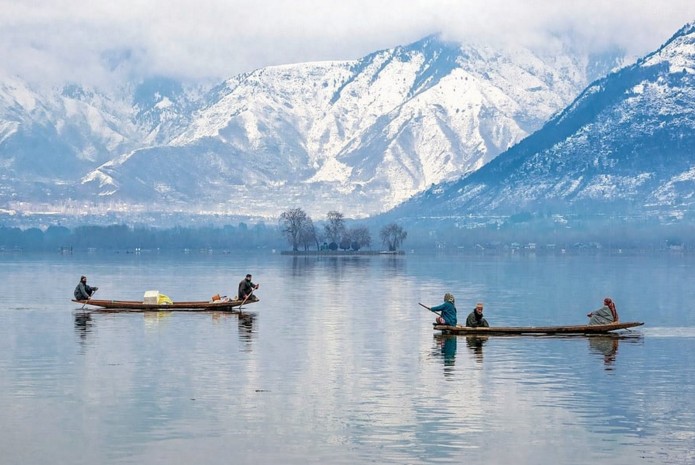 Amazing Chinar trees, the mesmerizing sounds of the Santoor, and lush green hillsides, all things directly transport you to the Kashmir of the 60s and the 70s. Kashmir is not only famous for its beautiful landscapes and frozen lakes during the freezing winters, it is even an excellent destination for shopping and food. Kashmir is indeed a famous shopping haven because of the collection of items available that are exclusive to this area. Not just shopping, markets in Kashmir offer regional delicious food which is easily available so you can purchase your favorite items and eat at the same time.   Have a look at our Kashmir Tour Packages by our Flamingo Transworld Pvt. Ltd!
Food Options
Here is a list of the best food Options:
Kashmiri Saag
Kahva
Modur Pulao
Kashmiri Baingan
Goshtaba
Rogan Josh
Dum Olav
Lyader Tschaman
1. Kashmiri Saag: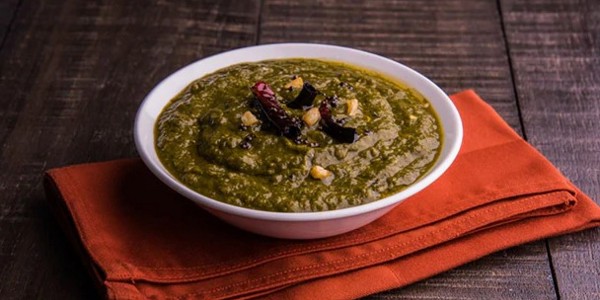 Image Source : https://i.ndtvimg.com
Even if you love spinach or not, this delicious food of Kashmir will make you fall in love with it. It is the ideal recipe to maintain you with some warmth during the chilly winters. They can prepare Kashmiri saag in 20 minutes with just 6 ingredients only; you can prepare this delicious dish yourself. Enjoy this delight with some soft Rotis!
2. Kahva: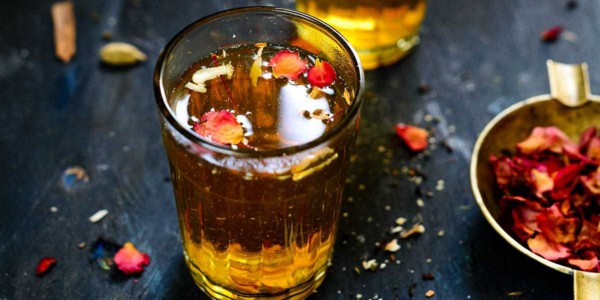 Image Source : https://www.whiskaffair.com
When you are in Kashmir, you usually have Kahva tea. It is a famous brew in Kashmir culture Kahva is a herbal green tea mixed with walnut, almonds, and saffron spices. If there is any festival, Kahva is served. You will find twenty different varieties of Kahva since it's made in every house. Few people also put milk in Kahva. It is also called Mughal Chai in some villages and areas. It is the traditional variety of Kashmiri Cuisine.
3. Modur Pulao: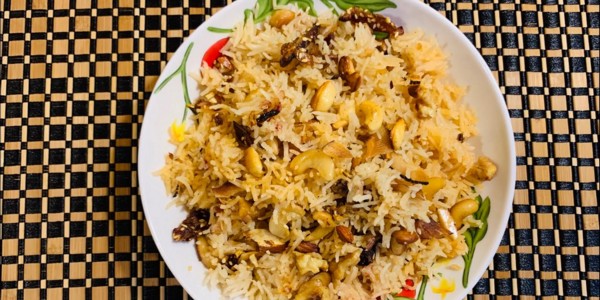 Image Source : https://i.ytimg.com
Modur Pulao is not the basic Pulao dish that we make. It's prepared with the goodness of saffron, ghee, cinnamon, and milk. Rice is then covered with a variety of dried fruits such as almonds, raisins, and cashews. Because of the sugar in it, you will notice a tinge of sweetness. Saffron is the main ingredient as it is grown in Kashmir itself. Saffron gives a rich golden color to rice, and it becomes very tempting. For rice lovers, this Kashmiri cuisine is one of the best cuisines and a must-try dish.
4. Kashmiri Baingan: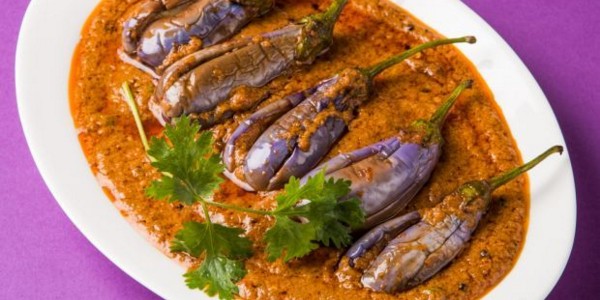 Image Source : https://i.pinimg.com
Kashmiri baingan is one of the best and tasty dishes. You cannot control yourself to dine this delicious dish that is cooked in spices which you simply cannot resist. Eggplant is cut into small cubes, and the dish is cooked in yogurt gravy that makes you desire more. It is a delicious Kashmiri culinary fusion that is great as a side dish. This vegetarian dish which can be prepared in various ways is fairly loved by the people of Kashmir.
5. Goshtaba: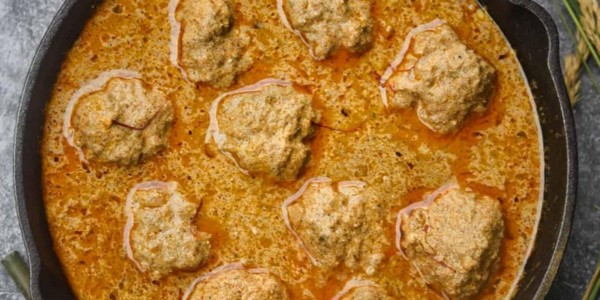 Image Source : https://www.getarecipes.com
People of Kashmir, or even Kashmiri pundits, love to eat meat. As a result, Kashmiri cuisine includes a wide range of non-vegetarian dishes. Goshtaba is a traditional delicacy with a regal flavor that originated as a feast for royalty. Therefore, it prepared for royal celebrations in Kashmir. It's mainly chopped mutton balls prepare in yogurt gravy and with the goodness of different spices. Its enticing flavors will make you want to eat more than one dish.
6. Rogan Josh: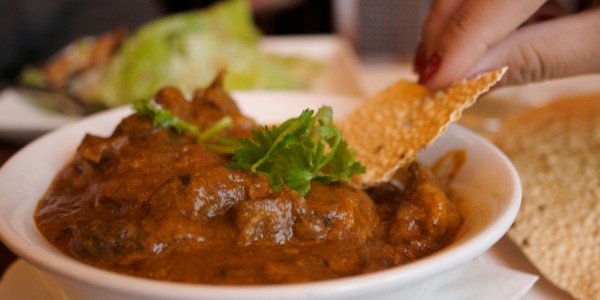 Image Source : https://upload.wikimedia.org
When thinking of Kashmir cuisine the Rogan Josh has to be the first dish that comes to mind. Kashmir has made a name for itself in the food world because of this delicious cuisine. Rogan Josh is a flavorful lamb curry cooked with a combination of spices, yogurt, and caramelized onions. It is a healthy dish, low-fat that is best served with naan bread and rice.
7. Dum Olav: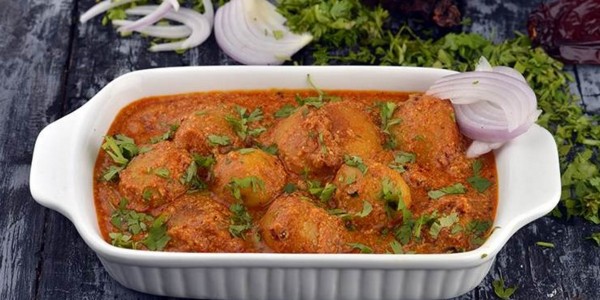 Image Source : https://www.tarladalal.com
If you want to taste the original authentic Kashmiri food, you should take a trip to Kashmir and have Kashmiri Dum Aloo. Baby potatoes are prepared in yogurt, fennel, hot spices, and ginger paste. Just the smell of this delicious cuisine is tempting. It goes well with naan bread or Rotis.
8. Lyader Tschaman: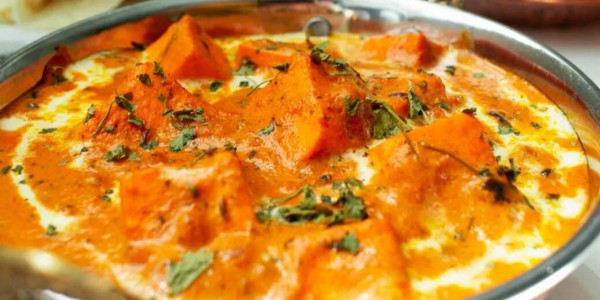 Image Source : https://images.slurrp.com
If you think there are not enough vegetarian meals in Kashmiri cuisine, you are mistaken. Lyader Tschaman is a Kashmiri cottage cheese dish made with a buttery sauce. The cottage cheese is yellow in Kashmir. You will find this cuisine in almost every house. Even non-vegetarians will find it difficult to resist this classic delicacy. It is without a doubt Kashmir's most well-known vegetarian meal.
Shopping :
In Kashmir, an art and craft lover should spend a day shopping for authentic items. Below is the list of the best shopping items in Kashmir.
Pashmina Shawls
Walnut wood carvings
Kashmiri chilies
Saffron
Namda (Kashmiri hand-woven carpet)
Kashmiri Lac ornaments
Kashmiri Apples
Antique copperware
1. Pashmina Shawls: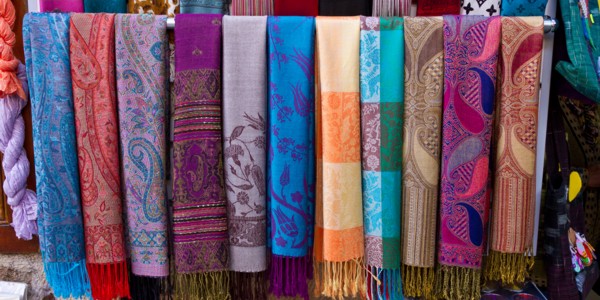 Image Source : https://www.mapsofindia.com
Kashmir is a famous place for Pashmina blankets and shawls. There are very few visitors to Kashmir who do not purchase Pashmina Stoles and Shawls. These Pashmina shawls are completely crafted by knowledgeable craftsmen of Kashmir and prepared with pure sheep wool. When you touch a Pashmina shawl or blanket, you will notice how thin the texture is, as well as how soft and warm it is. It is what makes Pashmina goods so diverse.
2. Walnut wood carvings: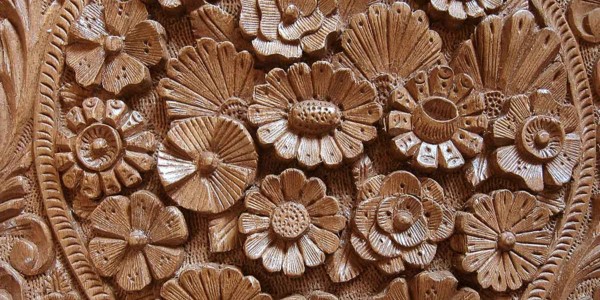 Image Source : https://www.gyawun.com
Wood carving items are the most fascinating shopping things in Kashmir. Kashmir's most important craft is carved walnut woodwork. The features of this walnut wood include close grain, durability, and perfect work that make the item more interesting and expansive.  The carving on items is done by the very experienced craftsman with the use of traditional tools. The items like furniture, tables, bowls, key chain, key holders, photo frames, and trays are the most commonly purchased items by visitors in Kashmir. You must buy wood carving things as Kashmiri authentic items.
3. Kashmiri chilies: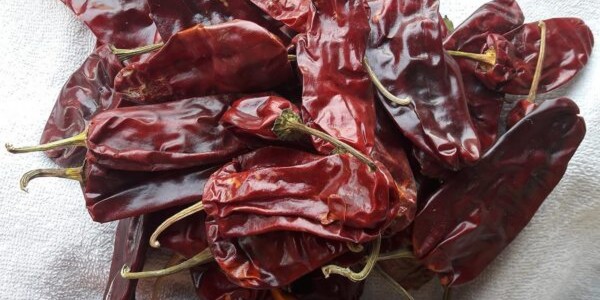 Image Source : https://kashmirstore.in
Kashmir boasts one of the top cuisines in India and its appetizer dishes bursting with flavors and best spices. The main reason for this is that they make their spices, which bring forth the authentic flavor of Kashmir. Spices like pure red chilies, Saffron, the world-famous Kashmiri black cumin, and Red Chili Powder are a few of the spices that are unique to the area.
4. Saffron: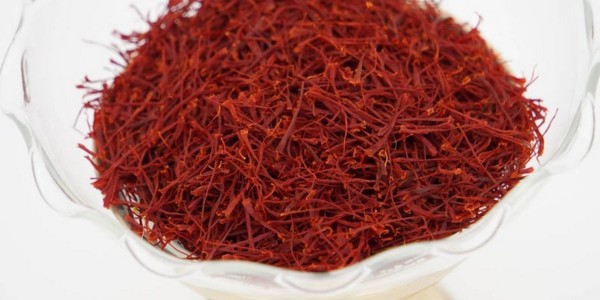 Image Source : https://anuna.com
Saffron is part of the cultural tradition of Kashmir, connected with the famous Kashmiri food, its therapeutic values, and the rich traditional culture of Kashmir. It improves health, and it is utilized in medicinal and cosmetics. It has been linked with historical Kashmiri cuisine and serves as the rich traditional culture of the area. The exclusive characteristics of Kashmir saffron are its thicker and longer stigmas, high aroma, and bitter flavor, high quantity of crocin, chemical-free processing, and natural deep-red color.
5. Namda (Kashmiri hand-woven carpet):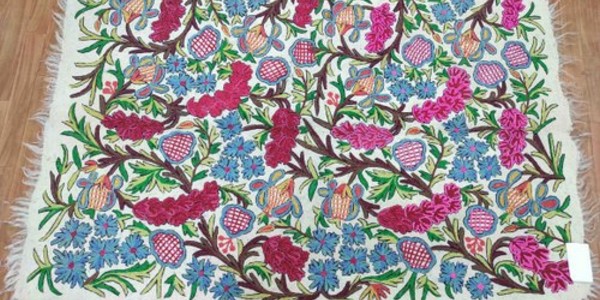 Image Source : https://5.imimg.com
Kashmiri carpets are known all over the world for their unique quality of being handcrafted and rich in texture. Carpets are one of the best shopping items in Kashmir. Carpet making is a unique art, and the quality of a carpet depends on the number of knots. It's made of pure wool or pure silk; it is one of the pure types of carpet available in Kashmir. The Kashmiri Carpets are mainly very costly, and their prices depend on their quality, and size. If you buy a mixed material carpet that is low quality, and includes a blend of silk, rayon, and wool.
6. Kashmiri Lac ornaments:
Image Source : https://milanostyle.com
Kashmir enjoys a fantastic traditional culture with its wonderful traditional jewelry and beautiful classical dresses. You won't find more gorgeous jewelry anywhere else than in Kashmir. So, you must purchase ornaments in Kashmir. The ornaments in Kashmir are carefully created to give them a glorious appearance. You can buy Nupura, Kundals, Tika, Balu, Kada, and Chaunk Phool from jewelers as these are the most popular ornaments purchased by visitors.
7. Kashmiri Apples: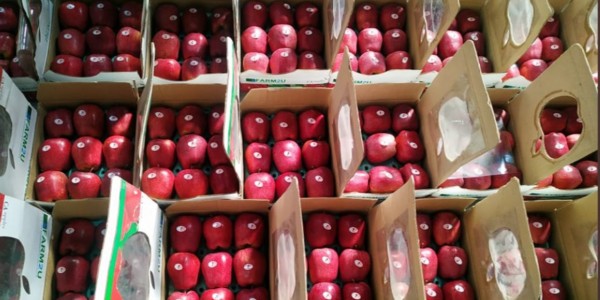 Image Source : http://dialkashmir.com
Along with the beautiful mountains and landscape views, Kashmir is blessed with a plentiful of delicious fruits. Kashmir is also known as the "Land of Fruits," as it grows a variety of fruits such as apple, pomegranate, peach, plum, cherry, and kiwi. To get a proper taste, you can buy a variety of fruits here.
8. Antique copperware: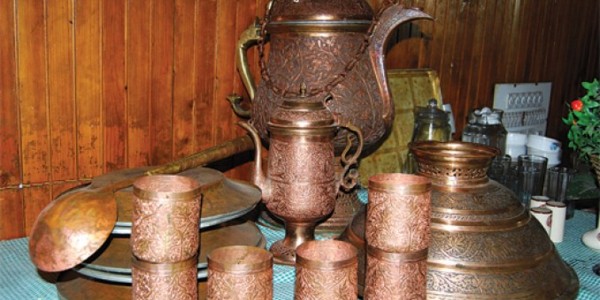 Image Source : https://i2.wp.com
Many coppersmiths in Kashmir have perfected the art of creating intricate and traditional designs with nothing more than a hammer and chisels. Kashmir copper work is maybe the most effective and the best value for money. Objects such as samovars, bowls, plates, and trays are frequently engraved by craftsmen. Drinking water from a copper vessel is thought to be good for one's health.
Conclusion:
Kashmirs' beautiful landscapes, great snowy mountains, and fascinating lakes apart from this Kashmirs cuisine, art, and traditional items make your holiday perfect. Without shopping for popular items and tasting the food of their region something is missing in your holiday. To have a holiday packed with fun and excitement, look into the numerous Kashmir tour packages available or seek the advice of Flamingo Transworld Private Limited's qualified destination specialists.