The Best Cruises To Take This Summer
Are you looking for a key to having a fantastic 2020 summer cruise? Plan it way ahead (like now) so you can bag the best seats in the house! But first, think of what can you do to prepare for the ideal cruise trips in 2020 out in the wide-open seas? We've highlighted some insights into preparing for the contemporary cruise experience so you can choose from the best summer cruises.
1. Keep seasickness at bay
Motion sickness is nausea, disorientation, and fatigue that can be induced by head motion. The first sign is usually an unhealthy pale appearance and the final stages are usually nausea and vomiting. Nothing can be worse than experiencing seasickness while cruising around the best spots in the world, so here are some tips to avoid being seasick on a cruise:
To acclimate yourself to live onboard, it is advisable to spend as much time as possible out on the deck, using the horizon as a point to maintain your equilibrium.
Booking an outside cabin in the middle of the ship which is the natural balance point is also an option.
Seek prescription drugs based on the advice of your physician ahead of your trip.
Finally, give the Sea-Band wristband a try. Sea Bands work by applying pressure to the P6 (Nei Kuan) acupressure point on each wrist which has been proven to relieve nausea and vomiting.
2. Is there such a thing as the perfect cruise itinerary?
The answer is: of course there is! With thousands of cruise options available, it can be a daunting task but here's a quick list to help you get through:
– Consider the length of the cruise trip (cruise itineraries range from three-night weekend cruises to 100-plus-day trips), embarkation points, and vacation styles.
– Choose your desired destinations because options range from the sun-soaked Caribbean to the polar bear focused Arctic regions.
– Decide what kind of ship you want to sail on because this could also dictate where you end up choosing to go.
3. What are cruise trips' most FAQ?
– How much does cruising cost?
Cruise prices range from extremely cheap sale fares to super-pricey rates for fancy suites on luxury lines. In short – there's something for everyone. The key here is to do your research and book in advance.
– What are cruise stays like?
Today, cruise ships have all the comforts and luxuries associated with resorts on land as well as much of the glitz and glamour of party destinations. However, don't forget that the seas can have an effect on your itinerary. You have to debark and re-board the ship at specified times and your cabin will typically be smaller than a hotel room.
– Who are cruise trips for?
In short, cruise trips today are for everyone. They cater to families, singles, newly-weds, the health-conscious, and the adventure seekers. Nowadays cruise lines are making it easier and more affordable to travel and cruise your own way.
– Is cruising safe?
Ships must follow many rules and regulations that protect the safety of everyone on board.  The rules also require that before the ship sails, all passengers must participate in a safety drill that includes instructions on locating and putting on life jackets and finding their assigned lifeboats. Major accident occurrences are quite rare, in fact, you may be more at risk driving to the airport or boarding a plane than you are once at sea.
– What about staying in touch with those back home?
Many ships have internet centers so you can check emails and go online even if you haven't carried your own device. And though expensive, you can make phone calls from your cabin and of course, you can always use your cell phone to stay in touch.
And finally, what can you do to ensure a stress- free cruise trip?
Arrive a day earlier
Travel light
Keep documents handy
Say yes to travel insurance
Know your terminals
So now that you're ready, where should you go this summer?
Here are our top picks to have the best time of 2020:
1. Alaska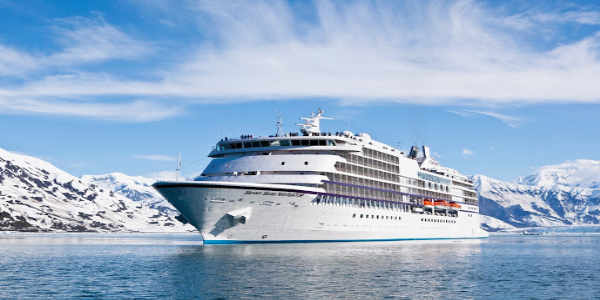 Alaska is home to glaciers and wide waterways bordering the thick brush of the mountains which makes cruising an amazing way to see the state of Alaska. An Alaskan cruise takes you alongside wildlife and glaciers with panoramic views visible from the decks of the ship making it one of the best places to cruise this summer.
When to go? 
Alaska cruise season is typically May through September, and some locals say early June is one of the best times to visit the state. Not only is this the safest time for the cruise ships to sail to avoid any ice that may form on the water passageways, it also is the time cruisers can most enjoy being on deck of the ship and exploring each port as the weather is relatively nicer and warmer.
What to see? 
1.The Inside Passage
The Inside Passage is the most popular route – it is what Alaskan cruising is all about. Check itineraries to see how much time your ship will spend cruising there as some ships sail mainly at night, which means you might not see as much.
2. Kenai Fjords
The Kenai Fjords are located in the Kenai Fjords National Park which includes the Harding IceField, the largest ice field completely contained inside the United States, as well as four active volcanoes.
3. White Pass and Yukon Route Railroad
This is easily the number one choice for tourists. The White Pass trip includes a ride on the narrow-gauge railway that climbs out of Skagway, following the 19th century Klondike gold rush trail.
4. Seward
East of the Kenai Fjords, the town of Seward is a dazzling sight along the coast. Named in honor of William H. Seward, who served under Abraham Lincoln as Secretary of State, the town is the starting point of the famed Iditarod Trail.
5. Hubbard Glacier
At 76 miles in length with a width of up to seven miles, the Hubbard Glacier is North America's largest tidewater glacier. The massive glacier, named for the first president of the National Geographic Society, Gardiner Hubbard, is one of the few Alaskan glaciers currently advancing rather than retreating.
What to pack?
Apart from the regular suspects, here's what you will need for a cruise through Alaska:
Layers of clothing: A base layer serves as a way to keep warm when it's chilly, without having to wear layer after layer of bulky clothes. One pair of tops and bottoms should do just fine as they can be worn several times on your trip.
A bottle:  Even though Alaska is not hot, you will need a bottle if you decide to go hiking.
Binoculars: There's a lot to see on an Alaskan cruise when it comes to wildlife. From eagles to bears to whales, the area is known for a wide range of animals.
A light windcheater: Carry along a rain slicker which is light enough to wear on warmer days, but also keeps you dry while you're out and about.
Hiking boots: It is popular to take excursions into the more rugged wilderness of Alaska so keep your feet protected from rough terrain by packing a good pair of hiking boots.
Other noteworthy items include insect repellant, sunscreen, camera and accessories, waterproof bag, zip locks, wide-brimmed hats, and a swimsuit.
2. The Caribbean Cruise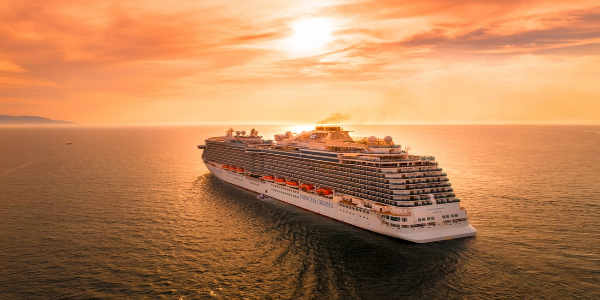 A top contender when choosing for your cruise vacations 2020 is the Caribbean cruise which comes with the promise of tropical heat and sunshine making it very attractive particularly in the peak-season winter months.
When to go?
The peak time to go on a Caribbean cruise is between December and April when the weather is hot and sunny with low humidity and cool, pleasant nights. This is also when the widest choice of cruises is available.
What to see?
1.Labadee, Haiti
Whether you are a beach bum or an adrenaline junkie, you're going to love Labadee. Situated on the north coast of Haiti, Labadee lets you sink into white sand and savor stunning ocean views or fly down the island's 500-foot-high zip line—the world's longest over water!
2. Cozumel, Mexico
First stop – the Mayan ruins! Once you're done visiting the incredible ancient ruins, try scuba diving (a top activity here) or take a tour and visit the mainland historic site of Tulum.
3. Falmouth, Jamaica
Falmouth is all about adventures in nature, like the spectacular Dunn's River Falls and Negril's beautiful beaches. And when you're done with the tough stuff and hunger calls, sink your teeth into their famous jerk chicken and saltfish.
4. Bridgetown, Barbados
A coral island, Barbados, is home to white sand, blueish-green water and colorful reefs, making it the ideal destination for snorkeling and scuba diving among fish, turtles and even shipwrecks.
5. Basseterre, St. Kitts and Nevis
Lush rainforests, captivating history and once-in-a-lifetime adventures  – this isolated West Indies isle has it all, with more than a quarter of its land protected as a national park.
What to pack?
Must-haves for a Caribbean Cruise include:
An overnight bag for all your travel essentials such as required travel documents, identifications, and medications, along with a change of clothes in case your luggage is delayed. Since your suitcases will be collected during the night of your cruise, you'll want to keep your valuables with you including your camera for any last-minute photo ops.
Relaxed and comfortable clothing including swimwear
Sunglasses
Sunscreen
Lightweight scarf or a hat for sun protection
Small day pack or a crossbody purse to hold the essentials including your camera, water, sunblock and your room key, plus a little extra room for souvenirs
Flip flops, wedges and comfortable sneakers with socks
3. Norwegian Cruise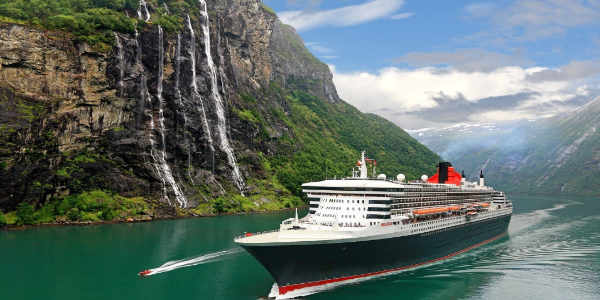 Norway is home to the world's highest concentration of fjords – including some of the deepest and longest. Here are some of the jaw-dropping sights that you must see on a cruise and our thoughts on how you can prepare for it.
When to go?
The best time to embark on a Norwegian cruise is June through August, but voyages begin in May and run into September. Some lines even offer cruises throughout the year, it all depends on the kind of weather you prefer.
What to see?
1. The Seven Sisters
The Seven Sisters is so named because its seven separate cascades resemble a woman's hair, this waterfall tumbles up to 820ft into the Unesco-listed Geirangerfjord and the glistening 'strands' are most visible during the main snow melting period from May to July.
2. Briksdal Glacier
Mighty Jostedalsbreen is Europe's largest glacier, covering nearly 200 square miles and with ice up to an incredible 2,000ft thick. Briksdal is one of the most accessible and best-known of its 50 plus arms, with shore excursions available from the port of Olden.
3. Sognefjord
Situated near the popular port of Bergen, Sognefjord is Norway's longest inland and at just over 800ft wide in places, its picture-perfect Nærøyfjord arm is the second Unesco World Heritage Site in the fjords.
4. The Northern Lights
Norway is easily one of the best places to spot the breathtaking Northern Lights. The lights appear on dark, clear nights from September to March so book your cruise trip during this period for the best chance of spotting them.
What to pack?
While you should carry the regular, casual wear, if it does get chilly, you will need to layer up so include a jacket. Otherwise, the best guideline on how to pack for a Norwegian cruise is to pack for a tropical vacation: swimwear, flip-flops, a hat, sunscreen and casual wear.
4. Hawaiin Cruise
If you're thinking about making an exotic destination your next vacation, then we've got the low-down on Hawaii. Here's everything you need to know about vacationing at postcard-worthy waterfalls, volcanoes and some of the world's most stunning beaches.
When to go?
Of course, any time is a good time to take a cruise to Hawaii, so the absolute best time for your Pacific island vacation would be based on your interests – in the weather and in the activities available.
What to see?
1. Honolulu
Honolulu boasts an exciting blend of history and cosmopolitan energy, full of shops, beaches, and fine dining. During your time here, don't miss out on the traditional luau for the ultimate Hawaiian party experience.
2. Kauai
A paradise for outdoor lovers, Kauai is known as the 'garden island'. The stunning natural beauty of Kauai includes picture-perfect beaches, impressive coastal cliffs and dramatic canyons. For a fun way to spend your time on Kauai, join the tour of an impressive 2,857-foot-deep canyon, plus a ride up the river, which flows through the base of the canyon.
3. Kona
Kailua-Kona is rich in Hawaiin folklore and here you can take a snorkel adventure to get up close and personal with the island's otherworldly marine life and landscape.
4. Maui
The famous island of Maui is a delight for almost anyone. The popular destination is the second-largest of the Hawaiian Islands and is known for its spectacular scenery, history and culture.
What to pack? 
Casual and formal dress-wear
Wallet and travel documents
Eyeglasses/contact case and solution
Essential medications and over-the-counter products like bandages, ibuprofen, antacids and motion sickness supplements
Cell phone
Basic toiletries
A swimsuit
Sun protection (hat, sunglasses, reef-safe sunscreen)
Earplugs
A good novel
Portable charger
A reusable water bottle
Hand sanitizer
Note: Be sure to pack proper attire for the excursions that you've scheduled.
5. Cyclades Islands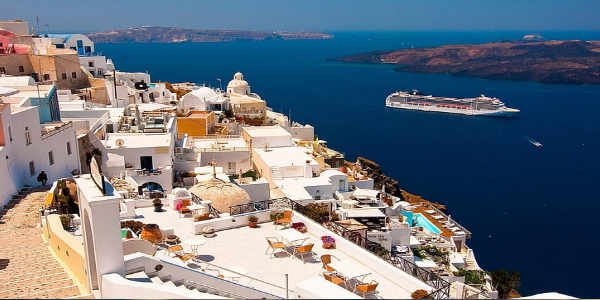 The Cyclades are the picture-perfect Greek islands where whitewashed villages tumble down to azure bays.
When to go?
The tourist season in the Greek islands runs from May to late October. While July and August are the most popular for cruise ships, keep in mind that temperatures can sore. June and September are probably the best months, as the tourist rush isn't too heavy and the climate is cooler.
What to see?
1. Athens
Explore the historical city of Athens on a walking tour, get the insider lowdown from your local  guide, and discover hidden gems and highlights that this quaint city has to offer.
2. Mykonos
Mykonos is known throughout the world as one of Europe's main beach party spots but this city has a lot more to offer – scenic views and cute, twisty streets are just a few of them.
3. Santorini
Watch the spectacular colours of Santorini's acclaimed sunset bathe the caldera as you enjoy a picnic and glass of wine. Did you know that some of Greece's best wine comes from Santorini? So now you can easily plan to spend the day touring wineries.
4. Skiathos
Make Skiathos your beach stop, as the island has more than 40 beaches along a small coast.
What to pack?
Daypack (a smaller backpack that you can take with you on shore excursions)
Comfortable clothing for warmer temperatures
A sweater or jacket for the cooler evenings or early mornings
A light raincoat or poncho
Comfortable walking shoes for shore excursions
Sandals or flip flops
Sunscreen
Sunglasses
Sunhat
Swimming costume
Water bottle
Biodegradable shampoo, conditioner and soap
Insect repellent
European adaptor/electrical plug
Camera
6. Southeast Asian Cruise
If you like a combination of cosmopolitan cities, exotic landscapes and colonial history, a South-East Asian cruise travel makes a compelling alternative to the more laid-back sun and sea cruise destinations.
When to go?
The southern regions of the Southeast Asian countries, particularly coastal areas, experience a monsoon season from May to October and summers are hot and humid. The best time to visit is later in autumn through January, when temperatures are cooler and rain is unlikely.
What to see?
1. Siam Ream
Explore the extensive Angkor Wat Temple in Siem Reap whose stunning buildings were constructed in the 12th century and are surrounded by a protective moat.
2. Bangkok
Bangkok is one of the most iconic cities in the world and when you go there on a cruise you'll experience it fully. A treasure cove of excitement – Bangkok has bustling markets, bright colorful produce, exotic street foods and a vibrant population.
3. Ko Phi Phi Leh
Ko Phi Phi Leh is one of the islands in Southeast Asia most famous for its half-moon shaped bay surrounded by turquoise translucent water and a palm tree-lined sandy beach. Don't miss this stunning sight on your cruise.
4. Bali
Take in the arts of Indonesia or relax with one of the many healing massages they have to offer – from the pressure-filled approach of the Thai massage to the soothing Balinese approach.
5. Halong Bay Boat Ride
One of the most popular things to see in Southeast Asia is Halong Bay. Here you can spend hours marvelling at the emerald green water, towering limestone pillars, and tiny islets topped by mini jungles.
What to pack?
Sunscreen
Daily Essential
Light, comfortable clothing
Swimwear
Sunglasses
Footwear
Sandals, flip flops, and lightweight trainers or hiking shoes are ideal for traveling through Southeast Asia
Taking a cruise trip is one of the best ways to travel and it gives you the opportunity to see some of the most beautiful places in the world. All cruise tour packages include stopping at the best ports to visit and you can choose your own excursions that give you the chance to explore historic landmarks, nearby beaches, ancient ruins, and more. From the Alaskan coastline to the beaches of the Bahamas to the Mayan ruins of Mexico — there's definitely an ideal destination for you.
And if that doesn't get you, then imagine this – clear blue skies with warm sea mists spraying as you sit back and enjoy your favourite beverage while staring out into the endless blue sea.