Taj Group of Hotels – An epitome of luxury in India!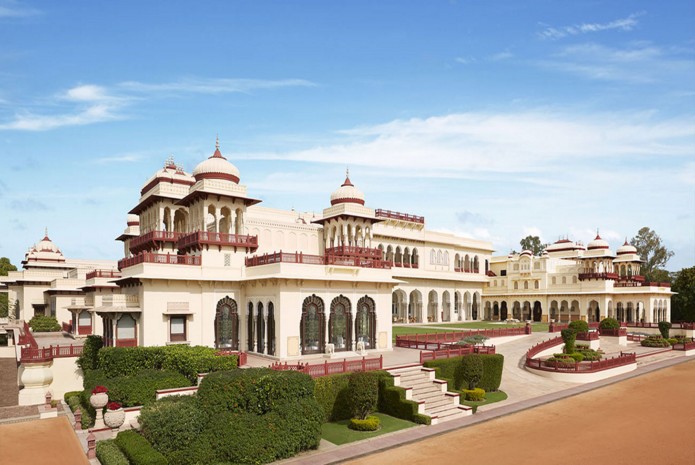 Enter a world of unparalleled hospitality with imperial elegance. Taj – quintessentially Indian is the favored destination for the who's who from all over the world. As far as I can remember – whenever and wherever I have heard the word Taj – it creates an image as a symbol of Indian hospitality, luxury, sophistication, and royalty.
Weaving through the Indian culture and heritage, the hospitality services at Taj Hotels are globally renowned. It's no surprise that a few Taj Hotels have already made the Top 100 Hotels and Resorts in the World list, given their level of elegance.
The Taj Group of Hotels is a subsidiary of the Indian Hotels Company Limited, which many people are unaware of. It is the leading hospitality-focused endeavor in Southern Asia.
As of 2020, Taj Hotels operates 84 hotels and hotel-resorts in India and 16 in other countries, including Malaysia, Bhutan Maldives, Nepal, Sri Lanka, the United Arab Emirates, South Africa, the United Kingdom, Zambia, and the United States.
History
The Taj Mahal Palace, the epitome of splendor and royalty, opened its doors to guests on December 16, 1902, in what was then known as Bombay. This magnificent property is the legacy to the Indian hospitality industry, from the founder of the Tata Group – Jamsetji Tata. Allow me to share the history behind this hotel group as below:
On 16th December 1903, the founder of the Tata Group, Jamsetji Nusserwanji Tata, inaugurated the Taj Mahal Palace hotel in Bombay, which is now known as Mumbai.
One story; depicts that based on racial discrimination, Sir Jamsetji Tata; was denied to enter the Watson Hotel in Mumbai. So he planned to build the Taj Hotel.
During that era, hotels used to accept only European guests. Another legend states that he opened this hotel when his friends loathed the hotels present in Bombay in that era.
But, the more credible reason is that Mr. Tata had this idea on his mind and had studied the subject and wished to build a hotel that would attract people to India and improve the image of Bombay.
Later the group started acquiring old palaces and converted them into hotels. It also created several five-star deluxe hotels across India and abroad.
It strengthened its position in established markets by upgrading existing properties and developing new ones.
In 1989, The Taj Group of Hotels became India's only hotel chain with locations in all of the country's main cities.
Philosophy of Taj Hotels
The Taj group of hotels, for a century, has been the curator for authentic Indian hospitality. The commitment to offer the utmost comfort to their guest with a sense of care and responsibility is embedded; in the DNA of the company.
The experience that guests have, from the moment they step into the hotel car to arrive at the property to the time they descend from one to return home, has been meticulously planned and executed. The Taj Group of Hotels has acted as a role model by integrating social, environmental, and governance procedures into its business strategy.
About the brand – Taj Hotels & IHCL
IHCL has progressed from a well-known hotel company to a dynamic hospitality network. The company has effectively transformed itself from a brand house to a respected house of brands; by tactically redefining and strengthening its brand portfolio.
IHCL has a portfolio of brands that spans various hospitality sectors and is created with unmatched expertise, professionalism, and affection.
Regardless of all such hurdles, Brand Finance felicitated Taj Hotels as the strongest hotel brand in the world in 2021. This group was acknowledged for its top-notch customer service.
Sub-brands of IHCL
Indian Hotels Company Limited encompasses several brands of hotels as below:
Taj: the iconic brand that consists of resorts, luxury hotels, palaces, and jungle safaris.
SeleQtions: a brand that includes properties, such as the Devi Ratn in Jaipur, etc.
Vivanta: – classy upscale hotels such as Vivanta by Taj-Blue Diamond in Pune, etc.
Ginger:  is a budget chain of hotels.
amã Stays & Trails: It offers a guest authentic, and local experiences clubbed with comfort and personalized services.
Taj Hotels' Top Eight
The leading Taj hotels around the world are as below:
1. Taj Rambagh Palace, Jaipur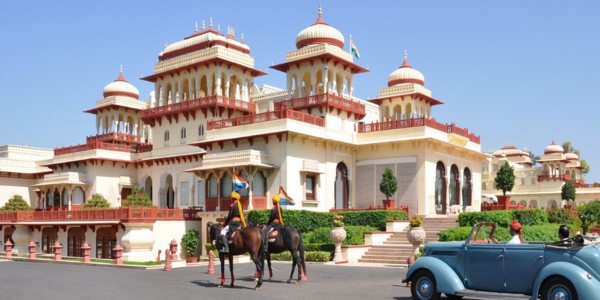 Image Source: https://www.tajhotels.com
The crown jewel of the Taj Group – Rambagh Palace is decorated extravagantly with sandstone chattris, hand-carved marble jailis, and has aesthetically designed Mughal Gardens that spans across 19 hectares. Guests are escorted by royal butlers and given a historical tour of the palace. Many notable celebrities had stayed at this property.
Statistics:
Rooms : 45 Hotel rooms and 33 grand suites
Restaurants : 5
Spas : 1 – Jiva Spa
Other Features : Heritage Walk, Gazebo Experience, Spectacular Arrival
2. Taj Lake Palace, Udaipur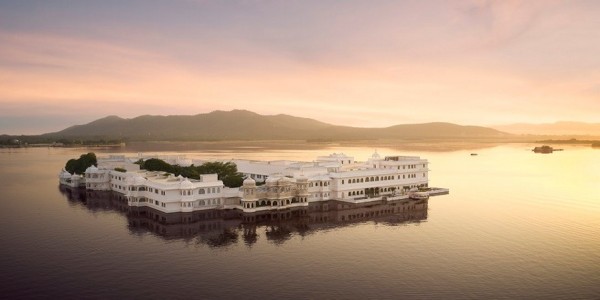 Image Source : https://www.tajhotels.com
Taj Lake Palace is located in the wonderland of Udaipur, on the turquoise waters of Lake Pichola. Jag Niwas was the original name of this palace. It began as a challenge to the prince to build his castle in response to the maharaja's request for permission; to stay in the pleasure palace Jagmandir with his ladies. With open-air courtyards, lotus ponds, and shikara rides on the lake, this property is ideal for weddings and honeymoons. This hotel was also featured in the James Bond movie – Octopussy. Each room at this hotel has stunning views of the surrounding Aravalli Hills, City Palace, and Jag Mandir.
Statistics:
Rooms : 65 luxurious rooms and 18 grand suites.
Restaurants : 4
Spas : 1 – Jiva Spa
Other Features : Heritage Walk, Gangaur, Spectacular Arrival
3. Taj Mahal Palace, Mumbai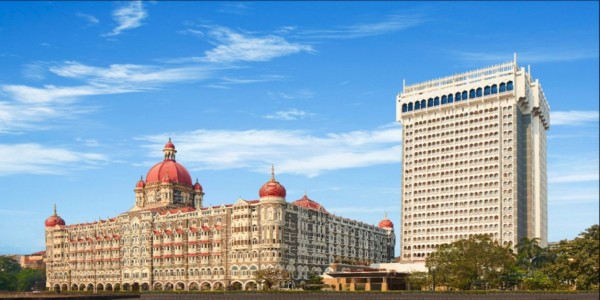 Image Source : https://www.tajhotels.com
It is one of the world's most well-known five-star hotels. Located in southern Mumbai, close to the Arabian Sea, the Taj Mahal Palace Hotel surpasses its reputation as one of the best accommodations in the world. The old Palace wing reflects the old-world splendor and period charm amalgamated with modern amenities. On the contrary, the Tower wing reflects Indian and contemporary European styles.  The common areas are furnished with antiques, silk carpets, contemporary art, crystal chandeliers, etc. Most rooms have mesmerizing views of the city skyline, the Gateway of India, and the Arabian Sea.
Statistics:
Rooms : 285 rooms & suites
Restaurants : 9
Spas : 1 – Jiva Spa
Other Features : Heritage Walk, Taj Art Gallery, Taj Salon
4. Taj Exotica Resort & Spas, Andamans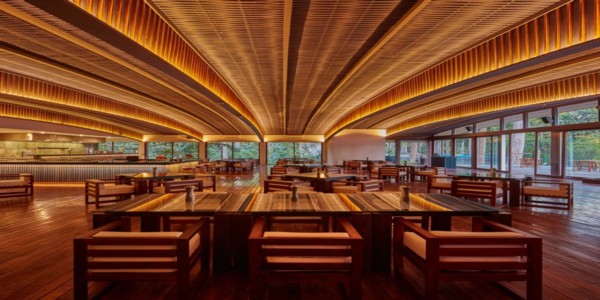 Image Source : https://media.cntraveler.com
Taj Exotica, an intimate resort with emerald green jungles surrounded by endless stretches of sun-kissed sands, lapped by gin-clear waters teeming with marine life, make for a truly magical destination in the Bay of Bengal. Guests at this resort can unwind and enjoy the exceptional services of the Taj brand. Each villa at the resort is designed based on the traditional houses of the Jawara tribe- the indigenous people on the Andaman Islands. The villas are elevated on stilts, made of wood and lavish furnishings.
The resort encompasses one presidential suite, three grand luxury two-bedroom pool villas, and sixty-eight deluxe villas. The property is the perfect destination to chill and soak in the wonderful views all around.
Statistics:
Rooms : 01 Presidential Suite, 03 Grand luxury Villa, 68 Deluxe Villa
Restaurants : 2
Spas : 1 – Jiva Spa
Other Features : Forest Trek, Scuba Diving, Junior Islander, Deep Sea Fishing
5. Taj Falaknuma Palace, Hyderabad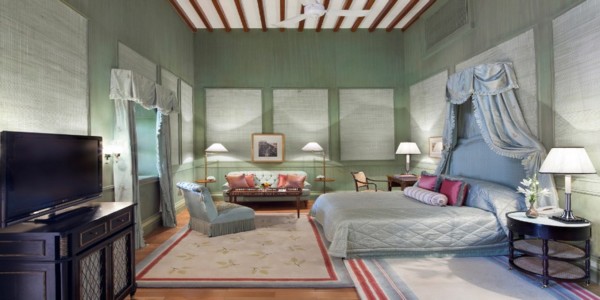 Image Source : https://www.tajhotels.com
Perched around 2000 meters above the Hyderabad city, Taj Falaknuma Palace glistens like a star. Falaknuma Palace was once the residence of Nizam – who was the richest person in the world. This palace has been converted into a 5-star luxury heritage property. The guests at this palace are treated royally with elegance and stunning architecture.
The palace has grand marble staircases, splashing fountains, Venetian chandeliers, precious statues, antique furniture, exclusive sketches and murals in ornate frames, royal collections of crystals, stained-glass windows, and exquisite gardens from the Moghul era. The library at the Palace is a replica of one of the libraries at Windsor Castle.
Statistics
Rooms : 60 rooms and suites
Restaurants : 5
Spas : 1 – Jiva Spa
Other Features : Spectacular Arrival, Heritage Walk, Pre & Post Wedding Shoots.
6. Taj Exotica Resort & Spa, Maldives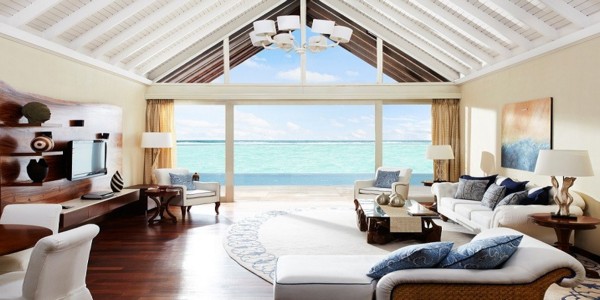 Image Source : https://www.tajhotels.com
At Taj Exotica Resort & Spa in the Maldives, you can escape the fast pace of everyday life and relax in the lap of luxury. The hotel spans Emboodhu Finolhu Island, one of the largest lagoons in the Maldives. The property is enclosed by turquoise waters, coral reefs, and white-sand beaches. This place is also known as the Three Coconut Isle and is renowned for its wide range of flora and fauna.
It's a true paradise on earth, surrounded by crystal clear waters, white-sand beaches, and lagoon villas with exquisitely crafted furniture. At the resort's bar, sip cocktails while admiring the awe-inspiring views of glowing Indian Ocean sunsets.
Statistics:
Rooms : 65
Restaurants : 4
Spas : 1 – Jiva Spa
Other Features : Essence of Environment, Water Sports
7. Taj Jumeirah Lakes Towers, Dubai
Image Source: https://www.tajhotels.com
The Taj Jumeirah Lakes Towers in Dubai is the newest international entrant of the brand Taj. Taj Jumeirah Lake Towers is renowned as the Favorite New Hotel in North Africa and the Middle East region. His Excellency Sheikh Nahayan Mabarak Al Nahayan inaugurated this property.
Taj Jumeirah Lakes Towers officially opened on December 8, 2019, becoming the Taj brand's second hotel in the Middle East. This property resembles the classic amalgamation of global contemporary sensibilities, century-old legacy, and the exemplary heritage of India.
The hotel introduced two firsts to the JLT area: a large ballroom for meetings, conferences, and intimate wedding functions, as well as the highest rooftop pool, bar, and restaurant.
Statistics:
Rooms : 200
Restaurants : 3
Spas : 0
Other Features : Kids at Taj, Uniqu
e Dining
8. Taj Bentota Resort & Spa, Sri Lanka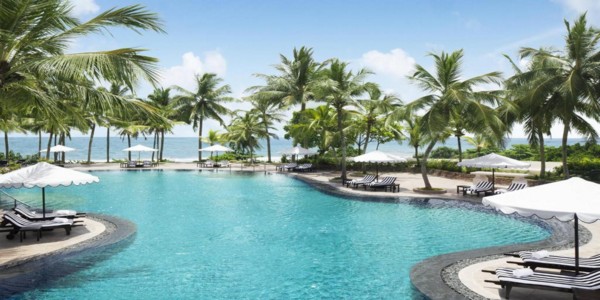 Image Source : https://www.tajhotels.com
Taj Bentota Resort & Spa, Sri Lanka, is an appealing holiday resort on the beachside haven of the wonderful southwest coast. The property was renovated recently that has a plethora of amenities, refreshed living spaces, Spa and lively bars, and tempting restaurants. A stay at Taj Bentota will enchant you for sure. Be amazed by the stunning views of the Indian Ocean; admire the striking architecture with a cup of the renowned Ceylon iced tea.
Statistics:
Rooms : 162
Restaurants : 5
Spas : 1 – Jiva Spa
Other Features : Kosgoda Turtle Conservation Project, Galle Fort Trip, the Elephant Experience
Conclusion:
IHCL has welcomed guests with warmth and world-class refinement since the opening of the Taj Mahal Palace in 1903 while remaining connected to the local heritage and endorsing global values.
Not just me; I am sure all of us are always in awe of Taj Hotels. Taj Hotels was and will always be the hallmark of unmatched hospitality across the world. It is not just a mere hotel stay, but it is an experience beyond words to attain at least once in our lifetime. Whenever you do so, log on to our portal for the best deals on Taj Hotels, or connect with one of our hotel experts at Flamingo Transworld Private Limited. I feel the popular tagline – Wah Taj; rather seems more relevant to Taj Hotels – the best accommodation in the world. Do you also feel the same?