Try these Authentic Vegetarian Items in Switzerland!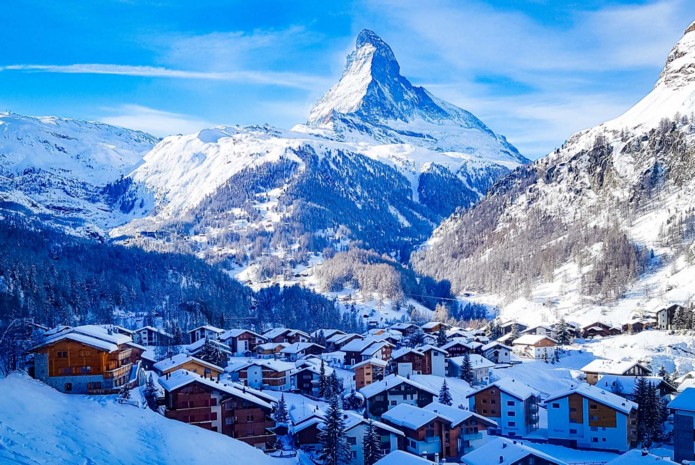 Switzerland is known for snow-capped mountains, chocolate, swiss cheese, cows, and swiss villages. The place is ideal for nonvegetarians, vegetarians, and vegans, but some traditional foods are vegetarian friendly and are must-try dishes in Switzerland. Food plays an essential link and allows to know the place and develop a bond with the locals.
It will be an adventure to hunt for vegetarian food in Switzerland, as many restaurants include meat in their dishes. Switzerland is a farming country, and Swiss cuisine is mainly based on potatoes, milk, and cheese. The dishes also have German, French, and Italian twists making them the most extraordinary cuisine in the world. To know more about these, Visit our destination experts at Flamingo Transworld and create your customized Switzerland tour packages.
Below are some of the authentic vegetarian Swiss dishes:
Rosti
Cheese Fondue
Raclette
Swiss Pasta
Birchermüesli
Gerstensuppe
Wild Garlic Pesto or Ravioli
Brezel
Steamed Vegetables & Local Cheese Slices
Sussmost
1. Rosti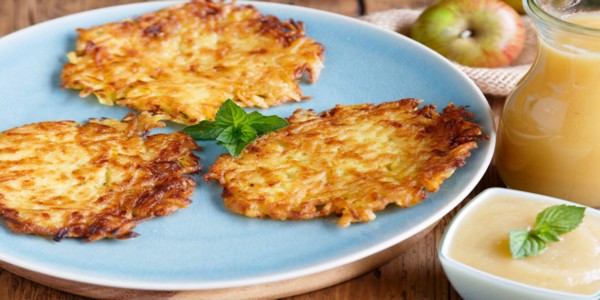 Image Source: https://www.expatica.com/
Rosti is one of the famous Swiss dishes and popular across the country for a long time now. There are many different versions of rosti available. This dish is served for breakfast. Potatoes are thinly grated and sliced, then shallow-fried or baked until they turn crispy and golden brown. The rosti is crispy from the outside and soft from the inside. You will find this delicious dish all over Switzerland. Mostly the rosti is topped with roasted veggies and melted cheese on the top. You can also enjoy it with a sauce of your choice.
2. Cheese Fondue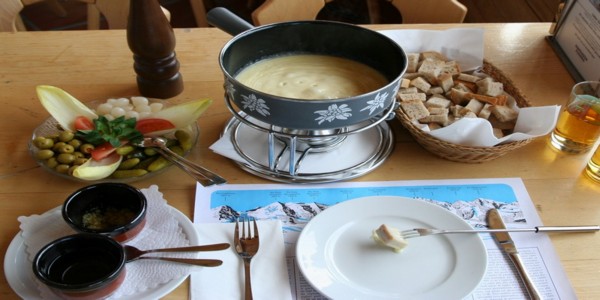 Image Source: https://en.wikipedia.org/
Cheese Fondue is one of the authentic Swiss dishes and one should not miss it when you are here. A trip to Switzerland is incomplete without tasting the different local fondues. Fondue in Switzerland is generally eaten during the winter period and was invented in Swiss centuries ago. The recipe of cheese fondue consists of Emmentaler cheese, Gruyere cheese, little flour, garlic, white wine, and a bit of the local liquor, Kirsch.
You can enjoy different types of cheese fondue here like mushroom flavored, blue cheese along with molten cheese and roasted vegetables.
 3. Raclette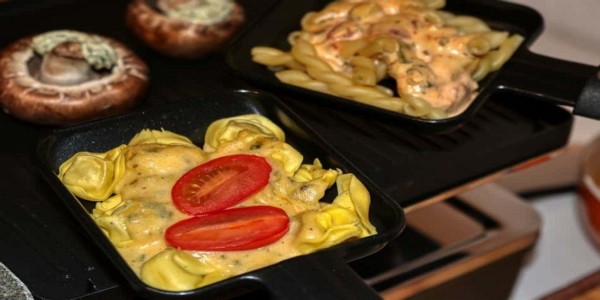 Image Source : https://golookexplore.com
Raclette is another famous cheese dish you must try when in Switzerland. For a delicious & cheesy raclette, the cheese is melted with the help of a raclette machine, and the taste of this dish is different. You can enjoy this local cheese with potatoes, onions, or pickles.
Also, you can enjoy raclette with your favorite sauces.
4. Swiss Pasta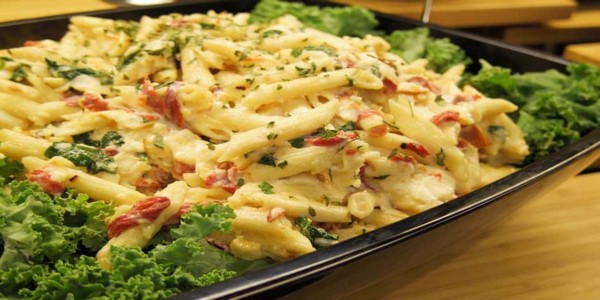 Image Source: https://golookexplore.com/
Switzerland is close to the pasta production country Italy and hence is known for serving different varieties of pasta. The swiss pasta is known for its cheesiness, sautéed with lots of veggies and Italian flavors, hence the pasta tastes delicious.
If you are in Swiss, it is a must to try their pasta for once.
5. Birchermüesli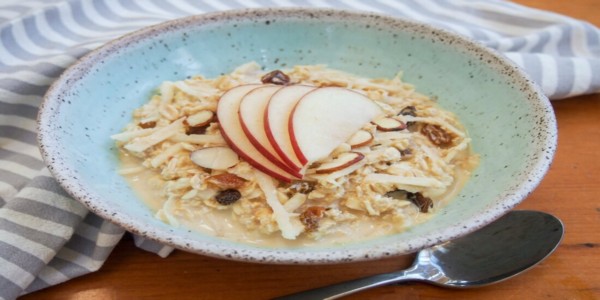 Image Source : https://www.carolinescooking.com
If you love a healthy diet even when you are on your vacation, you will love this dish. Birchermüesli is a nutritional dish made up of oats. This dish was invented by a Swiss doctor several years ago. He aimed to promote healthy living. The doctor believed consuming veggies is a healthier option in comparison to meat. The whole menu consists of nuts, fruits, condensed milk, or lemon juice. You can enjoy this dish at any time of the day.
6. Gerstensuppe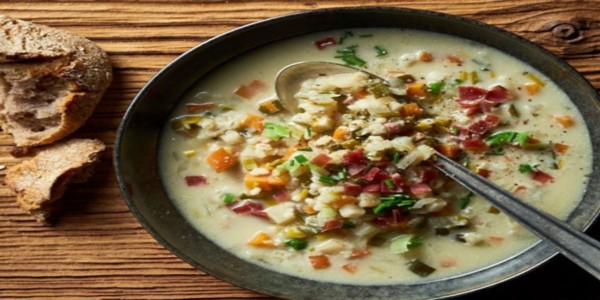 Image Source: https://busyfamilyrecipebox.com/
Gerstensuppe is a nutritious and healthy Swiss Alps barley soup and originated in a part of Graubünden. You will find this soup in every hotel or restaurant in Swiss, especially when you go skiing in the winter. The soup is made from seasonal veggies and pearl barley and is healthy, colorful food to have here. If you are vegan, you can also try the vegan version of this dish.
7. Wild Garlic Pesto or Ravioli
Image Source : https://images.kitchenstories.io
During the spring season, the forests of Swiss get covered with wild garlic, which is locally known as Barlauch. The flavors and smell of the garlic are strong. People here love to make pesto sauce with garlic. The garlic is chopped finely and sautéed with oil and pine nuts. You can use pesto sauce for pasta or as a filling for ravioli. The flavor is strong and doesn't require any other ingredients. In many places, the pasta is garnished with lots of cheese.
8. Brezel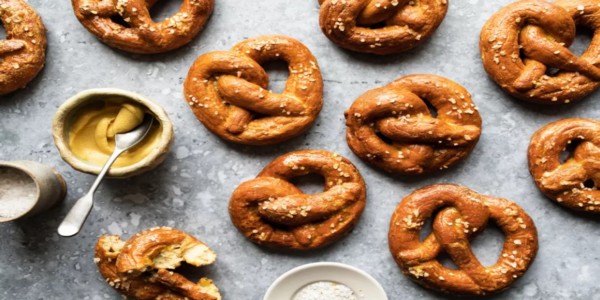 Image Source : https://www.thespruceeats.com
Pretzels are soft bakery items made out of dough, generally in knot shape, sold in suburban areas of America or Europe. Brezels are hardback snacks available in different colors, shapes, and sizes.
Brezel is one of the national foods of Switzerland and you will love to cherish this salty bakery item.
Generally, lots of butter and cheese are used to prepare a delicious brezel in Swiss. And, also many shops in Swiss sell vegan brezel too.
9. Steamed Vegetables & Local Cheese Slices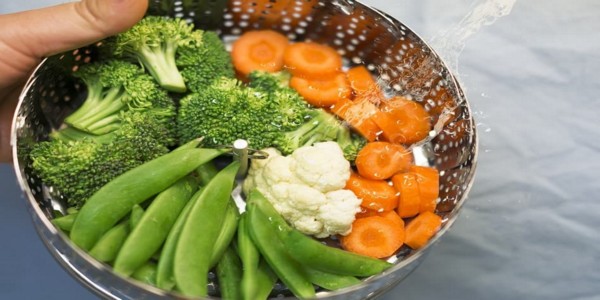 Image Source: https://golookexplore.com
Switzerland is a famous country for making chocolates and cheese. There are many different varieties of cheese available here, common ones are Emmental, Gruyere, Vacherin, and appenzeller. In comparison to Italian and Greek cheeses, the swiss cheeses are strong and have a unique flavor.
You can sample these cheeses before you buy them. One of the best dishes served is local cheese with boiled vegetables- a unique and delicious dish. You can add other toppings of your choice to it.
10. Sussmost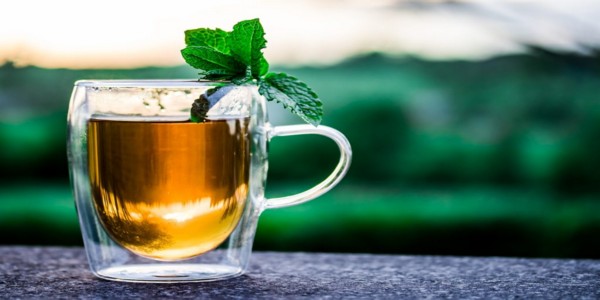 Image Source : https://tarastravels.com
Apple is one of the prime ingredients in Swiss cuisine. You will love to eat apple tarts, pasta, cakes, along with apples and loads of cheese. Autumn is the season when apple harvesting takes place in Switzerland. Sussmost is a non-alcoholic drink made up of apple juice. During the autumn period, enjoy freshly pressed apple ciders and juices here. Sussmost is cloudy non-alcoholic apple cider, whereas sauremost is an alcoholic apple cider drink and schorle is when sparkling water is mixed with juice. All of these drinks are worth trying and are easily available in every shop or restaurant.