The largest hotel chain in the world – Marriott International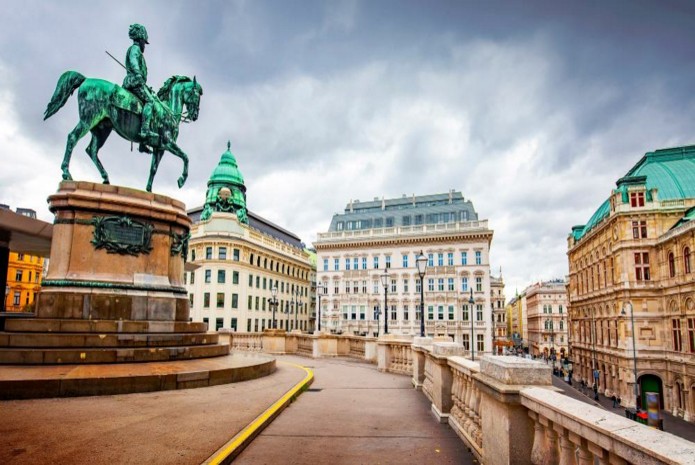 Introduction:
Over the last two decades, luxurious five-star and seven-star hotels and resorts have sprouted up globally. Although this is great news for discerning guests, not all fancy and lavish hotels live up to the expectations of an exquisite and memorable stay.
I feel that amidst all the branded hotel chains – only a few hotel chains prosper in delivering the stability of unmatched excellence that luxury-minded travelers expect these days.
With world-class wellness facilities, outstanding service, extraordinary accommodations, admirable gastronomy, exceptional locations, and environmentally friendly policies, these brands stand out and leave the competition in their wake
Marriott International, the world's largest hotel chain, is one such brand. Marriott International offers the most influential portfolio in the hotel industry. This chain of hotels encompasses thirty brands, 7000+ properties spanning 131 countries. Thus, creating more ways for discerning travelers to connect, feel and enrich their world.
History
Before we delve further into this massive hotel chain – let us take a quick snapshot of Marriott International with a timeline focusing on significant milestones, particularly in the hotel business.
1927 : Marriott International was launched in 1927 by newlyweds Alice and J. Willard Marriott with Hugh Colton – their business partner. Initially, the firm was the primary A&W root beer franchise. Later with beer – they added hot food items – and changed the name of their company to Hot Shoppes.
1953 : Hot Shoppes went public
1959 : The company launched Twin Bridges Motor Hotel – its first hotel in Virginia.
1969 : Launched its first international hotel in Mexico.
1972 : Marriott joins forces with SunLine to become the first hotel company to venture into the cruise industry.
1983 : Marriott introduces the first Courtyard hotel for business travelers.
1984 : The first JW Marriott debuts in Washington, D.C.
1987 : Launches of Marriott Suites Hotels and first Fairfield Inn, and acquires Residence Inn and launches the extended-stay lodging industry.
1988 : Marriott opens its 500th hotel in Poland, the first Western-managed hotel in Eastern Europe.
1995 : Marriott adds a historic brand to its portfolio with the acquisition of a 49 percent stake in The Ritz-Carlton Hotel Company.
1997 : Marriott acquires Renaissance Hotel Group
2004 : Bulgari Hotels & Resorts made their debut in Italy.
2009 : The Autograph Collection by Marriott is a new upmarket and luxurious independent hotel brand launched by Marriott.
2013 : Marriott introduces MOXY HOTELS, the company's first foray into Europe's economy and three-star hospitality segments.
2014 : Marriott bought Protea Hotels'
2015 : Marriott attains Delta Hotels and Resorts, becoming Canada's largest Full-Service Hotelier.
2016 : Acquires Starwood Hotels & Resort – become a company with more than 5,700 properties encompassing more than 1.1 million rooms across 30 brands spanning 110 countries.
Philosophy
Marriott International has always put people first. They have a strong belief that if you take care of your coworkers or associates, they will take care of your guests. Since 1985, Marriott International has been a great place to work because of this philosophy. The culture of this organization of placing people first has consistently earned numerous global awards and recognition. It is in the company's culture to provide opportunities for associates to advance and flourish. Marriott's group of hotels pursue excellence in everything they do, they embrace change as innovation is an integral part of Marriott's story.
The company believes in integrity emphasizes conducting business with legal and ethical standards. It entails their day-to-day business, supply chain policies, employee policies, environmental programs, and social responsibility.
About the brand
The megabrand – Marriott encompasses around 1.3 million rooms globally, more than 7000 hotels, and 30 brands. It ranges from glamorous Ritz-Carlton to pocket-friendly Four Points by Sheraton. Being the brand leader, Marriott features the most influential portfolio in the hotel industry. Their core beliefs and strategic business objectives embrace diversity and inclusiveness. Taking care of people and their well-being is their most valuable cultural legacy.
Sub-brands
Marriott International has an unmatched collection of brands. Experience classic brands' traditional hospitality for the modern discerning traveler. Marriott has a collection of distinct brands; for those looking for memorable experiences with a unique perspective.
Luxury:
The Ritz-Carlton
Regis
JW Marriott
Ritz-Carlton Reserve
W Hotels
Edition
Premium:
Marriott Hotels
Sheraton
Marriott Vacation Club
Delta Hotels
Le MERIDIEN
Westin
Renaissance Hotels
Gaylord Hotels
Select:
Courtyard Hotels
Four Points By Sheraton
SpringHill Suites
Protea Hotels
Fairfield Inn & Suites
AC Hotels
Aloft Hotels
Moxy Hotels
Longer Stays:
Marriott Executive Apartments
Residence Inn
TownePlace Suites
Element
Homes & Villas by Marriott International
Collections:
Autograph Collection Hotels
Design Hotels
Tribute Portfolio
List of Hotels
Amongst the 5700 properties – presenting a selected few of the best Marriott hotels in the world.
The St. Regis Dubai – The Palm
JW Marriott Phuket Resort & Spa, Phuket
Le Meridien Bora Bora
The Westin Maui Resort & Spa
W New Orleans
Delta Hotels by Marriott Toronto
Courtyard by Marriott Niagara Falls – USA
Protea Hotel Kruger Gate
Four Points by Sheraton Venice Mestre
The Miami Beach EDITION
Sheraton Grand Sydney Hyde Park
Renaissance Wien Hotel – Vienna
Marriott Marquis Houston
Melbourne Marriott Hotel
The Laguna – a Luxury Collection Resort & Spa – Nusa Dua
1. THE ST. REGIS DUBAI – THE PALM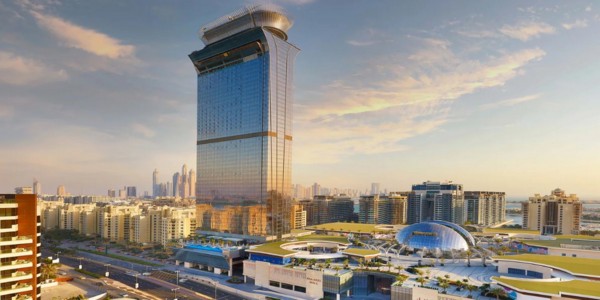 Image Source : https://cache.marriott.com
The St. Regis Dubai – The Palm, one of the most anticipated hotels in Dubai, is now open for overnight guests who wish to avail themselves of the group's famed hospitality and splendor. Located on the human-made island – St. Regis spans the first eighteen levels of the Palm Tower skyscraper. The hotel connects with Nakheel Mall with numerous restaurants, shops, entertainment outlets, Palm Monorail station, and the View at the Palm.
The room is approximately 43 square meters, with floor-to-ceiling windows, a dedicated seating area, and plenty of luggage and closet space. Enjoy the 24-hour butler service savor the cuisine in their lounges and restaurants. Unwind at the infinity swimming pools or the elegant Iridium Spa, or work out in the Exercise Room. The hotel is close to several main attractions of Dubai, just one monorail station away from Aquaventure Waterpark, a three-minute drive to the iconic waterfront – The Pointe.
Statistics:
Rooms : 290 rooms and suites
Restaurants : 4
Spa : 1 – Iridium Spa
Other Features : first ladies-only afternoon tea lounge in the UAE – Her by Caroline Astor, direct access to Palm Monorail, Nakheel Mall
2. JW Marriott Phuket Resort & Spa – Phuket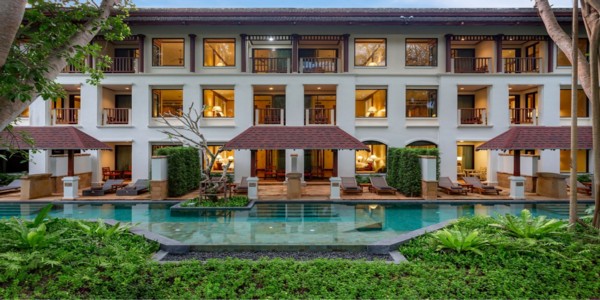 Image Source : https://www.marriott.com
Experience a memorable escape to JW Marriott Phuket Resort and Spa. This family-friendly, five-star resort in Phuket is just a few steps away from Mai Khao Beach. It is close to the Royal Phuket Marina, Old Town Phuket, and the islands of Phang Nga Bay. JW Marriott Phuket is a sandbox hotel that features three outdoor pools, an award-winning spa, and a modern fitness center. Relax in hotel suites, rooms, and villas with luxury amenities including marble bathrooms, plush bedding, 24-hour room service, outdoor space overlooking the ocean or the tropical gardens, and free Wifi. A few rooms at the property have extra living space, private pools, and whirlpool tubs.
Savor Italian cuisine at Cucina – one of the five restaurants at the resort, relish varied snacks at the café or the coffee shop or opt for a refreshing drink at one of the three poolside bars or three lounges at the resort.
Statistics:
Rooms : 262 rooms and suites
Restaurants : 8
Spa : 1 – Mandara Spa
Other Features : Swim-up bar, a cookery school, water sports, tennis courts, bike rental
3. Le Meridien Bora Bora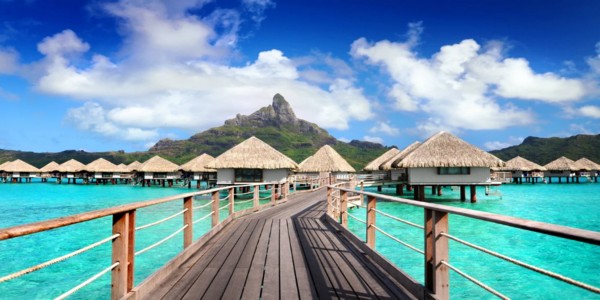 Image Source : https://www.marriott.com/
Le Meridien Bora Bora is a modern resort set on a lagoon and an islet. It features modern amenities and beautiful scenery. The first-ever resort built across the lagoon from Bora Bora Island, Le Méridien offers the greatest views of Mount Otemanu. Le Meridien Bora Bora is a traditionally erected hotel that offers stunning views; of Mount Otemanu. The hotel decor is Polynesian-inspired, and a few rooms have infinity pools overlooking the lagoon. Most areas in the property have a large glass floor that lets you see the underwater life and lagoon.
The hotel has spacious air-conditioned beach bungalows with Polynesian décor facing the lagoon. For families and groups, the hotel offers spacious two-bedroom beach villas. The overwater rooms have glass floor panels and large deck areas with easy access to the water. The hotel features a pool bar and two restaurants.
Statistics:
Rooms : 98 rooms and suites
Restaurants and bars : 3
Spa : 1
Other Features : Infinity pools, fitness center, Ecological Center, Diving Center, Beach Fare, and fitness center.
4. The Westin Maui Resort & Spa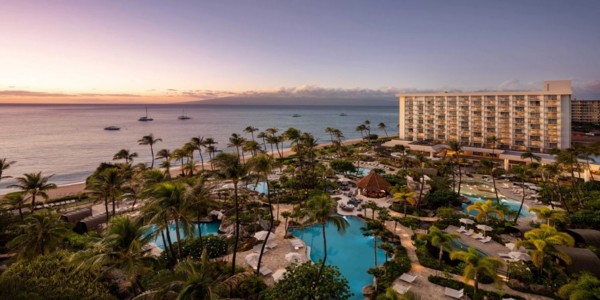 Image Source : https://www.marriott.com
The Westin Maui Resort and Spa on Ka'anapali Beach is one of the prime locations. The USP of this property is its 85000 square-foot aquatic playground. The resort is located three miles from downtown Lahaina, 32 miles from Kahului Airport, and 18 miles from the Maui Ocean Center. Guest at this property can enjoy numerous water sports such as beach volleyball, windsurfing, scuba diving, snorkeling, etc. The pool area at the resort features a whirlpool, wildlife ponds, five freeform swimming pools, and winding waterslides.
The Heavenly Spa at the Westin Maui Resort provides a variety of beauty treatments, saunas, massage therapies, and an ocean-view relaxation lounge. The fitness center, business center, kids club, live entertainment, multilingual staff, photographer, shopping arcade, and free airport shuttles are available at the Westin Maui Resort. The resort has several dining options that serve international cuisine. Rooms at the resort have coffeemakers, safes, ironing boards and irons, refrigerators, voicemail, hairdryers, and high-speed internet access.
Statistics:
Rooms : 758 rooms and suites
Restaurants and bars : 6
Spa : Heavenly Spa by Westin
Other Features : kids club, Wailele Luau – folk dance and dinner, Chase the Sunset, Koi Fish Feeding, Blink Photography, Keiki Hula Show, Ulana Niu (Coconut Weaving)
5. W New Orleans
Image Source : https://www.marriott.com
Guests are greeted with southern hospitality from the minute they arrive at W New Orleans until they depart. The hotel décor captures the musical soul and mysterious charm of New Orleans with jazz imagery and eclectic tarot. The hotel features exclusive Bliss Bath amenities and W beds. Guests will be captivated by the city's rhythm, with prominent restaurants, jazz, the iconic Jackson Square, and boutiques, all within walking distance of the hotel. Take a stroll through the gothic cast-iron gate encircling the illuminated outdoor pool, relax by the fountain in the European-style courtyard, or sweat it up at the well-equipped fitness center.
Indulge in the signature cocktails and contemporary Creole cuisines at the restaurant – SoBou – ranked as the best new restaurant in the country.
Statistics:
Rooms : 97 rooms and suites
Restaurants and bars : 1
Other Features : Near-by activities – casino, tennis court, golfing, theaters, and museums.
6. Delta Hotels by Marriott Toronto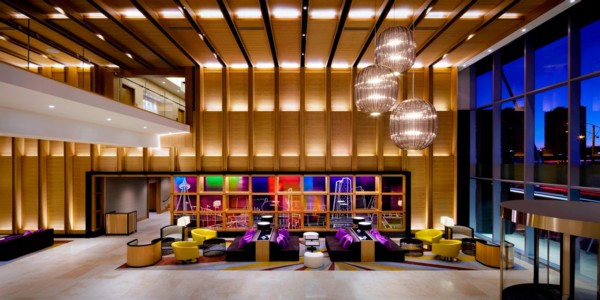 Image Source : https://cache.marriott.com
Delta Hotels Toronto, Marriott's flagship hotel in Toronto, is located in the heart of the city. The Rogers Center, Union Station, the waterfront, the CN Tower, and many other city attractions are all within walking distance of the hotel. The hotel is designed in a contemporary style, and each room has a stunning view of the city. Ironing facilities, a shower, a hairdryer, and an in-room safe are included in the hotel's rooms. The bar has a vibrant atmosphere and serves premium beverages, and the restaurant at the hotel serves Canadian and Mediterranean dishes. One can also avail several options to dine out. This signature high-rise soars above the city's transformative skyline at 160 meters, facilitating world-class hospitality and urban access in the city's entertainment and financial districts.
Statistics:
Rooms : 567 rooms and suites
Restaurants and bars : 4
Other Features : Indoor pool, Coffee shop, Business center, Free Wi-Fi, Fitness center
7. Courtyard by Marriott Niagara Falls – USA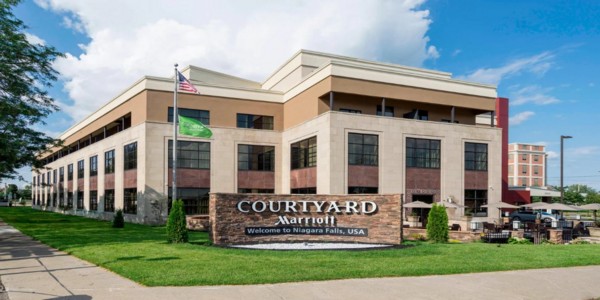 Image Source : https://www.marriott.com
The Courtyard by Marriott in Niagara Falls is less than a mile from the magnificent Niagara Falls State Park and at the entrance to downtown Niagara Falls. The hotel has an on-site restaurant and bar that serves signature cocktails as well as a variety of meal options. Courtyard by Marriott features a 24-hour fitness center and heated indoor saltwater pool.
All 82 rooms at the hotel feature microwaves and mini-refrigerators, complimentary WIFI, hairdryers, coffee makers, ironing boards, premium bedding, and flat-screen television sets. The property also has a gift shop and a 24-hour business center. The hotel is close to popular sites like Casino & Seneca Niagara Resort.
Statistics:
Rooms : 82 rooms and suites
Restaurants and bars : 2
Other Features : Coffee Shop, fitness center, indoor pool, and business center.
8. Protea Hotel Kruger Gate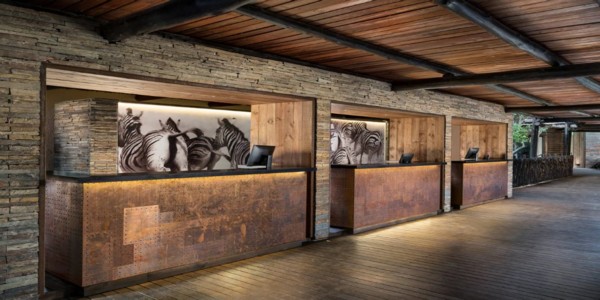 Image Source : https://www.marriott.com
Protea Hotel Kruger Gate, a lodge-style hotel with sky-high walkways and a treetop ambiance, offers classic Big 5 safaris in the Kruger National Park with all the amenities of a high-end 4-star hotel. The modern relaxation facilities at the hotel will perfectly balance your adventures in the pristine wilderness. Set in peaceful freshwater woodland of massive African trees, the hotel offers a variety of elegant accommodations ranging from standard to large guest rooms, as well as executive and presidential suites.
All rooms at the hotel are adorned with Africa-inspired décor, have air conditioning, en-suite bathrooms, in-room dining, and free Wi-Fi. Relax at the beautiful spa, enjoy sumptuous meals under the stars, and chill near the infinity pool.
Statistics:
Rooms : 145 rooms and suites
Restaurants and bars : 3
Spa : 1 – Dees African Spa
Other Features : close to the Paul Kruger Gate of the Kruger National Park, Outdoor swimming pool, Game Room
9. Four Points by Sheraton Venice Mestre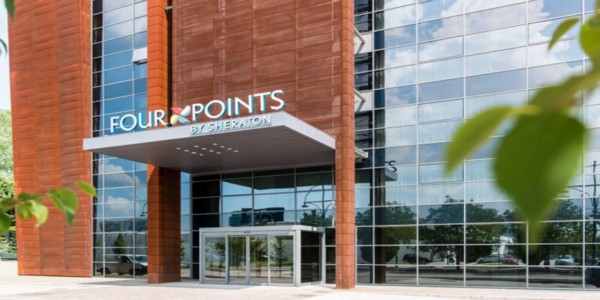 Image Source : https://www.marriott.com
Recently renovated – Four Points by Sheraton Venice Mestre is strategically placed in the commercial area of Venice. The hotel is best-fit for leisure and business travelers. All the rooms and suites at the property are furnished with Italian décor, signature Four comfort bed, banquet hall, and Point Bar & Restaurant. There is also a fitness center, a wellness point – spa, and the Point garden at the hotel.
Sheraton Four Points by Sheraton Venice Mestre enchants the independent traveler with a new level of comfort, open and friendly style, and lively, can-do service — all at a reasonable price. Guests begin the day energized and end the day relaxed and free to enjoy the small pleasures that make their time away from home memorable.
Statistics:
Rooms : 168 rooms and suites
Restaurants and bars : 3
Spa : 1
Other Features : Free Wi-Fi, fitness center, outdoor pool, laundry services,
10. The Miami Beach EDITION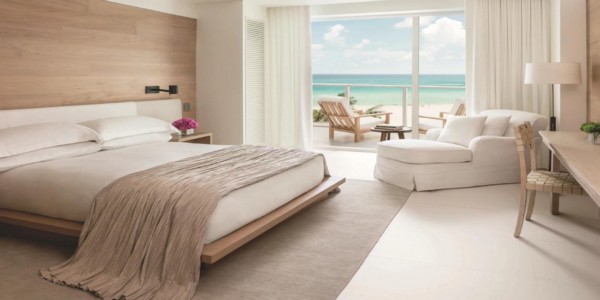 Image Source : https://www.marriott.com
With luxury hotel accommodations and an oceanfront setting, the Miami Beach EDITION is a perfect escapade. It is a 3.5-acre beachfront hotel with a plethora of one-of-a-kind amenities located away from the hustle and bustle of South Beach. Local venues and famous attractions, such as the Fillmore, the Miami Beach Convention Center, and the Perez Art Museum Miami, are just a short distance away.
The resort-style hotel features the one-of-a-kind BASEMENT complex, which includes a nightclub, a bowling alley, and a 2,000 square-foot ice skating rink – all of which are fee-based. Each hotel room is designed in a sophisticated style and has large windows with views of the pool, ocean, or the city. In addition, the rooms have plush bedding, a desk, free Wi-Fi, and marble bathrooms with rainforest showers. The luxury bungalow at the resort has serene terraces and plunge pools.
Statistics:
Rooms : 294 rooms and suites
Restaurants and bars : 5
Spa : 1
Other Features : night club, bowling alley, ice-skating rink, beach access,
11. Sheraton Grand Sydney Hyde Park
Image Source : https://www.marriott.com
Sheraton Grand Sydney Hyde Park hotel – a five-star hotel is situated right in the center of Sydney offering stunning views of Hyde Park and downtown. The hotel is close to Royal Botanical Garden, St. Mary's Cathedral, and Middle Harbor. Sheraton Grand Sydney Hyde Park features a heated indoor pool, a rooftop fitness center, a premier club lounge, several meeting rooms, and a day spa.
The property has 558 spacious rooms and suites. Each room has bespoke furnishings. The color palette of the hotel is inspired by Hyde Park; the suites are complemented by stitched leather and plush upholstery. The large windows in each room offer splendid city views and have complimentary fiber-optic Wi-Fi.
The hotel serves innovative cuisine clubbed with outstanding service. Feast – the restaurant at the hotel presents numerous culinary delights inspired by the multicultural flair of the city. Unwind at the end of the day at the Conservatory bar – sample inventive cocktails, nibble on light bites and soak in the views of Hyde Park. The Conservatory Bar is nestled under a glass atrium and has a fantastic collection of Australian gins, wines, and local craft beers.
Statistics:
Rooms : 558 rooms and suites
Restaurants and bars : 3
Spa : 1 – Rejuvenation Spa
Other Features : Free Wi-Fi, Express check-in/ -out, Fitness/Gym, Parking, Swimming Pool
12. Renaissance Wien Hotel, Vienna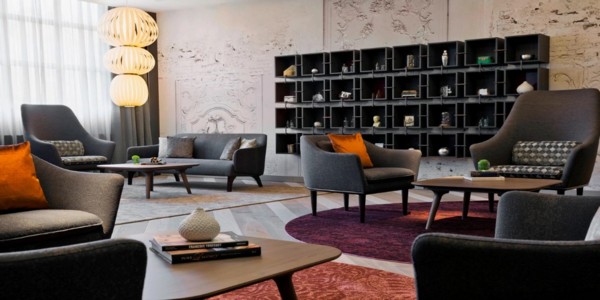 Image Source : https://www.marriott.com
If you are looking for accommodation at a prime location in Vienna city, opt for the four-star Renaissance Wien Hotel. The hotel is just a few steps away from the U-Bahn subway station, famous attractions such as Schonbrunn Palace, St. Stephen's cathedral, and Naschmarkt. Each room and suite at the hotel features modern décor, mini-refrigerators, indulgent bedding, tea/coffee facilities, free Wi-Fi, and a workstation.  There is also a fitness center, salt and sauna room, and an indoor pool at the hotel.
The hotel's restaurant, Wunderkammer Drinking & Dining, serves a variety of international dishes. Start your day right with an American-style breakfast at the hotel. There are also nearby restaurants to eat at, such as Das Eduard, etc.
Statistics:
Rooms : 309 rooms and suites
Restaurants and bars : 2
Other Features : Health club, indoor pool, Babysitting, fitness center       Cocktail Lounge
13. Marriott Marquis Houston, Texas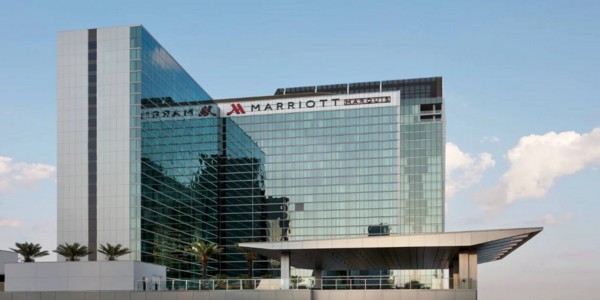 Image Source : https://www.marriott.com
At Marriott Marquis Houston, you will find the ideal balance of great service, convenience, and modern design all year long. The hotel is in downtown Houston, Texas, and is connected to the George Brown Convention center through a skywalk. Settle in their spacious rooms and suites offering city, or park views, views of the lazy river, Houston Skyline, or Minute Maid Park. The hotel features deluxe amenities like LCD TV, free Wi-Fi, spacious in-room desk with an ergonomic chair.
Satiate your palate with myriad dining options at Marriott Marquis Houston. Avail of the best dining experience at the hotel, from the best sports bar experience in downtown to skyline views from the pool deck and more.
The convention center at the hotel has 150000 square feet of event space featuring meeting rooms, a grand ballroom, an outdoor pavilion, and a rooftop terrace.
Statistics:
Rooms : 1000 rooms and suites
Restaurants and bars : 6
Spa : 1 – Pure Spa
Other Features : Marquis Fitness Center, swimming pool, Business center Wheelchair accessible
14. Melbourne Marriott Hotel
Image Source : https://cache.marriott.com
Melbourne Marriott Hotel offers luxe romantic staycations to fun-filled family experiences. Being in the city center, this five-star hotel is just a short walk from the shopping hub and other famous attractions such as the State Library of Victoria, Parliament House, and Royal Exhibition Building.
Make yourself comfortable in one of the 185 guest rooms and suites featuring LCD televisions, refrigerators, premium bedding, complimentary Wi-Fi, cable programs, and a bathroom with shower and hair dryers.
The Essence, the on-site restaurant with a lounge/bar, serves local cuisine. There is also a spa tub, a sauna, and an indoor pool at the hotel.
Statistics:
Rooms : 185 rooms and suites
Restaurants and bars : 3
Other Features : Fitness center, Indoor Atrium Heated Salt Water Pool, meeting rooms, Limousine service, Laundry on-site
15. The Laguna, a Luxury Collection Resort & Spa – Nusa Dua
Image Source : https://www.marriott.com
From its breathtaking views of the Indian Ocean to its Balinese hospitality, The Laguna – a Luxury Collection Resort and Spa provides a memorable experience.
This Nusa Dua beach resort provides lagoon access suites, spacious rooms, and luxury villas. All the rooms at the resort are either with direct lagoon pool access or a private balcony. The rooms feature indulgent signature beds, Balinese décor, 24-hour butler service, marble bathrooms, and stunning views of Bali. Pool Villas offer a private pool, garden, and dedicated reception lobby. Guest at the resort can also avail themselves of the signature luxury collection concierge services.
Savor and sip at the award-winning restaurants and bars while enjoying the spectacular views of the Nusa Dua Beach and ocean. The multiple restaurants at the resort offer cuisine from around the world. Take a dip in either of the seven lagoon pools or pamper yourself at the serene resort spa.
Nearby activities include beautiful temples and museums displaying Indonesian arts and artifacts, as well as shopping at the Bali Collection and visiting the scenic peninsula's unique natural landmarks. When the temperature rises, relax into the hotel cabanas, known as bale bengong, for a beachside spa treatment in the cool shade.
Statistics:
Rooms : 287 rooms and suites
Restaurants and bars : 5
Spa : 1 Lagoon Spa
Other Features : Fitness center, Lagoon Pools, Nusa Dua Beach, Bali Fire Dance, water sports, tour Uluwatu Temple
In the End:
Marriott takes pride in its hospitality and luxury, values that appeal to a specific demographic. These large hotel chains typically offer a standardized level of service, comfort, and other amenities to their guests.
It means that no matter where you go on a holiday, you can expect the same quality of stay if you book with that particular hotel brand. For example – if you had enjoyed your stay at one of the hotel brands; at any location, then you will enjoy your stay at a Marriott hotel at any other place as well.
Select a destination – and our hotel experts at Flamingo Transworld – will help you shortlist the right Marriott for you and create the best tour package for your holiday.