Re-live history with Neemrana Heritage Hotels in India
Being a travel buff – and after exploring several hotel brands – if you are bored of experiencing the same hotel experiences, Neemrana hotels in India are the ones for you.
Neemrana Group of Hotels represents the ultimate synthesis of restoration, reconstruction, and regeneration. It has a wide range of boutique heritage hotels – that have evolved from forts and palaces. Each Neemrana resort offers a one-of-a-kind experience with architecture from a bygone age. Neemrana Hotels are well-renowned as the heritage hospitality brand in our country with a roster of 18 cultural and historic properties.
Neemrana Group of Hotels pioneered; the concept of transforming abandoned ruins into experiential accommodation options. Historic hotels where you may relive the experience of living in the same place as royalty.
From the 14th to the 21st centuries, the Neemrana Group chose grand mansions, forts, and palaces to restore and reconstruct as monument hotels. Antique artwork and furnishings are frequently employed to create a more authentic ambiance and aura better than in medieval times.
The Neemrana Group of Hotels is not just the most successful heritage hotel brand in the country, but; they are also renowned for recreating heritage tourism in India.
History
In 1977, Mr. Aman Nath and Francis Wacziarg while researching on the book of frescoes – The Painted Walls of Shekhavati – they noticed the Neemrana ruins lit up by the setting sun.
The Neemrana Fort in the Aravalli ranges enthralled and sparked curiosity in them.
It captivated Mr. Aman Nath so much so; that he dedicatedly followed up with the king and bought the property along with his two Indian friends in 1986. They purchased the fort for INR 700000, restored it – and presented it as a hotel with twelve rooms in 1991.
This Neemrana property hosted the International Festival of Indian Literature in 2002 along with several other events, conferences, and weddings. The two friends who had joined hands with Mr. Nath left the group, and Mr. Francis Wacziarg stepped in. Mr. Nath was a Delhi University post-graduate in medieval Indian history and Mr. Wacziarg was a former French Diplomat.
Philosophy of Neemrana Hotels
In India, Neemrana Hotels are pioneers in experiential and authentic historical tourism. The Neemrana group of Hotels not only works to revitalize and restore heritage monuments but also creates jobs and contributes to the economic success of the region.
The concept of Neemranification refers to sustainable heritage tourism that engages local people. It creates local jobs, supports fair pay, and empowers women. Local adolescents are educated and trained in the hospitality sector. Unaffected by city life, these truly warm hospitality carriers provide modest yet exceptional service.
In collaboration with the district government – the Neemrana group of hotels has adopted, rebuilt, and upgraded an Anganwadi center in Rajasthan's Sarhetta Village. It is a unique program to support reproductive health and early child development.
Neemrana Fort-Palace is also actively instrumental in promoting Indian art and culture in many tourist destinations across the country.
About the brand
In 1977, The Neemrana Group of Hotels chose the Neemrana Fort Palace as its foremost non-hotel. With a focus on architectural restoration for reuse, they want to present guests with a genuine Indian experience that is one-of-a-kind. The brand's mission has been to turn past historical treasures into modern-day Heritage Hotels. It portrays an image of Indian heritage, values, and culture to the world.
Neemrana presents you a handcrafted collection of 18 properties spanning from Rajasthan, Punjab, Uttarakhand in North India to a 16th-century resort in Kerala.
Neemrana Hotels aims to preserve the properties' old-world elegance while offering the essential amenities required of a modern hotel. To stay true to the brand's statement, "We don't let history become a bygone," every effort was taken to ensure that guests could see, sense, and taste lost eras inside realistic environments. Neemrana non-hotels have succeeded to deliver a consistent authentic experience of Indian history across their entire portfolio.
The Neemrana Hotels
A Few of the choicest Neemrana properties are as below:
Neemrana Fort Palace
Rambaug Bungalows
Hill Fort – Kesroli Alwar
Wallwood Gardens
1. The Neemrana Fort Palace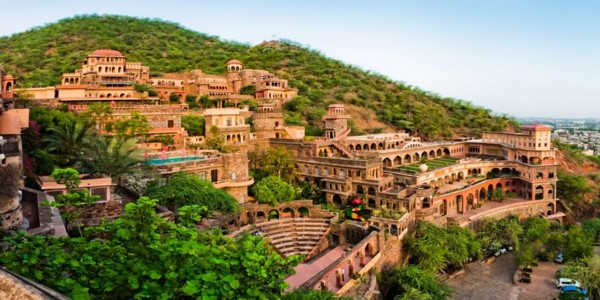 Image Source : https://res.cloudinary.com
The Neemrana Fort Palace is a splendid accommodation option in the town of Neemrana in Rajasthan.
Conveniently positioned around two hours from Delhi, it's the ideal weekend getaway for Delhiites looking to get away from the hustle and bustle of the city or a fantastic starting point for your Rajasthani journey!
Neemrana Fort Palace – a crown treasure of the Neemrana group of hotels – is their flagship property. The Neemrana fort is spread across 25 acres and contains five palace wings divided into eleven levels. The hotel has 76 rooms and suites, and each room has an air of luxury and comfort resembling the bygone royal era.
 Every day, a vast range of North Indian cuisine is available at Neemrana Fort-Palace. South Indian, French, Italian, Chinese, and Thai food are commonly featured in the buffet presentations to ensure that our guests have a memorable dining experience at our restaurant.
This grand heritage mansion appears alive and well, with exquisite interiors and vintage furniture. The relaxing surroundings of the gardens, combined with a touch of modernity, make this a fantastic holiday resort for both local and international visitors. The finest aspect of staying overnight at this resort is the panoramic view of the fort after dusk. Hundreds of shimmering fairy lights illuminate the scene, creating a magnificent backdrop.
Statistics:
Rooms : 76 rooms and suites
Restaurants : 4
Spas : 1
Other Features : Vintage car rides, cultural performances, Zip lining, historical walking tour, Camel rides
2. Rambaug Bungalows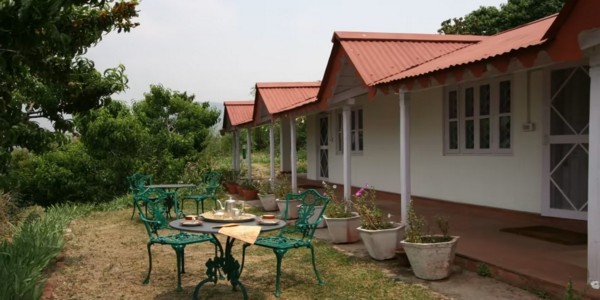 Image Source : https://res.cloudinary.com
Tourists flock towards hill stations to satiate their craving for some tranquility. But, most hill stations are crowded during the peak season – hence one needs to style a notch higher, move away from the mainstream madness and opt for a royal stay. One such option is The Ramgarh Bungalows by Neemrana Group of Hotels.
The Ramgarh Bungalows property is located in a small town – just an hour's drive from Nainital. Stay here to experience the hills in absolute purity. The USP of this hotel is its exclusive vintage style. Each bungalow has around two to three rooms. All bungalows are designed in Colonial style with picturesque bay windows, fireplaces, terraced gardens, and verandahs. One can go for endless treks in the woods and enjoy nature in its natural environment.
The hotel primarily serves North-Indian cuisine, followed by Oriental, Continental, Chinese, and Italian delicacies.
Statistics:
Rooms : 6 bungalows
Restaurants : 1
Spas : NA
Other Features : Visit butterfly gardens, fruit orchards, and bird watching
3. Hill Fort – Kesroli Alwar
Image Source : https://res.cloudinary.com
The Neemrana Group has strived to maintain the old-world charm of the Hill Fort-Kesroli property while ensuring the basic comforts of their guests. This fort is one of the ancient resorts in Alwar. It offers a unique experience to see and live history.
It is one of the rare heritage hotels in the region; that exists since the 14th century. Hill Fort-Kesroli is a perfect choice for a weekend escapade from Delhi. It is a stunning ancient heritage palace that takes you back in history. All the rooms at Hill Fort – Kesroli are furnished in Rajasthani style décor. The property is encircled by fields all around. It has a beautiful garden and swimming pools.
Statistics:
Rooms : 21 rooms
Restaurants : 1
Spas : 1
Other Features : outdoor pool, visit Sariska Wildlife Sanctuary and Jaisamand Lake
4. Wallwood Gardens
Image Source : https://res.cloudinary.com
Wallwood Gardens – a 19th century Scottish-style Neemrana property is one of the renowned heritage hotels in Coonoor. The property owns an award-winning garden of the Nilgiris. It is close to one of the most luxuriant botanical gardens – Sim's Park.
Wallwood Gardens offers guests the proximity of being close to this botanical gardens to admire many rare plants and trees. The property is a popular option amongst other Coonoor hotels due to its spacious old-world rooms.
Statistics:
Rooms : 6 suites
Restaurants : 1
Spas : NA
Other Features : visit Pomological Garden and Sim's Park.
In the End
You would have stayed in many accommodation options ranging from budget to ultra-luxury, but staying at any Neemrana hotel is not just a mere accommodation – but an experience to feel. Visit Luxury & Budget Hotels at Best Prices by Flamingo Travels and seek the best hotel deals for Neemrana properties.
Each property is a spectacle in itself. Experience the authenticity of each Neemrana property and re-live the bygone era.