List of best 20 Hindi songs to hear while traveling!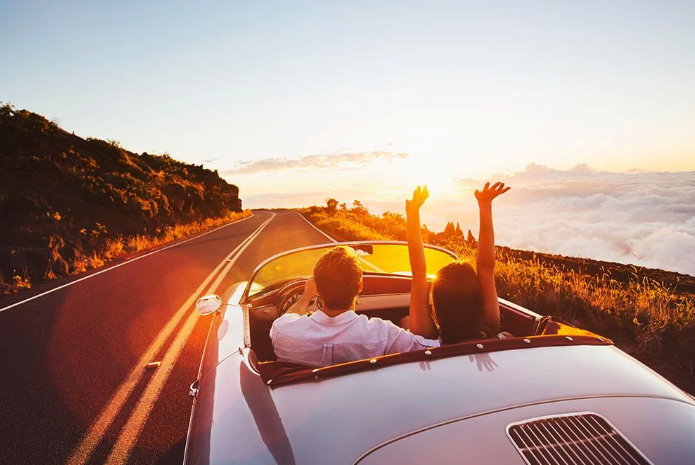 Music is one of the best ways to enjoy traveling. Music takes you where you want to, connects you to home, world and most importantly with yourself.  So here is the list of best  20 Hindi songs which you should have on your phone while on any holiday package across the globe.
1. Dil Chahta Hai (Dil Chahta Hai)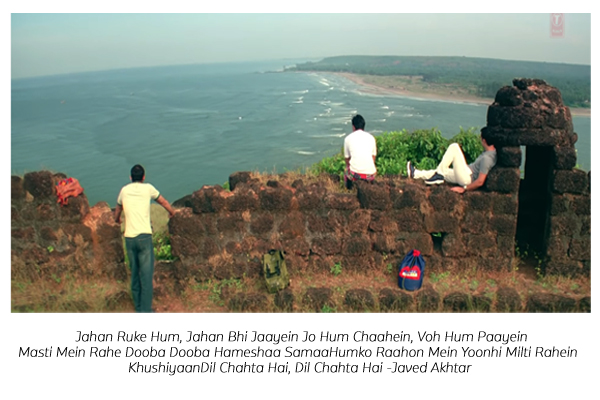 This is one song I am sure majority of people have on their phone at any given point. This song reminds you to be happy, to be you and most importantly what it means to be alive at this point. Written by Javed Akhtar, this song is just the kind of music legacy we want to leave the future generations with. Check out variety of hotels and resorts for your Goa tour package with Flamingo.
2. Ik Junoon (ZNMD):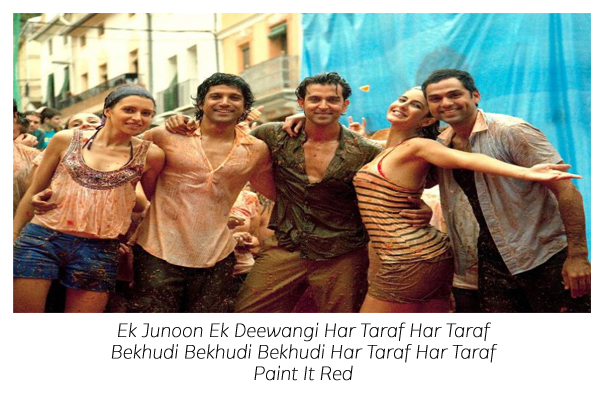 Just the song you want to dance on with your friends. It reminds you what it means to have friends, to fall in love and most importantly never ever lose hope in life.
3. Illahi (Yeh Jawani Hai Deewani):
The gypsy in you is drawn to this song like sand towards a desert. This one makes me want to leave everything that I am doing and book a tour package right away.
4. Iktara (Wake up Sid):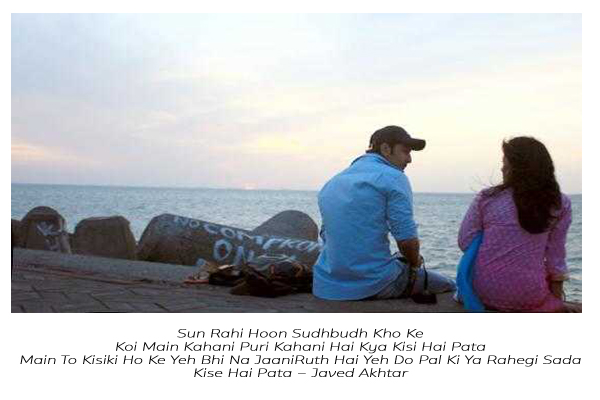 For the ones who listens to the world around, for those who learn from strangers at the bar, or pickup bits and pieces of stories from a London tube, this song is a must in your playlist. It was shot in Mumbai, so if you are on a weekend getaway in Maharashtra, then don't miss out on this song.
5. Khawabho ke Parinde (Zindagi Na Milegi Doobara):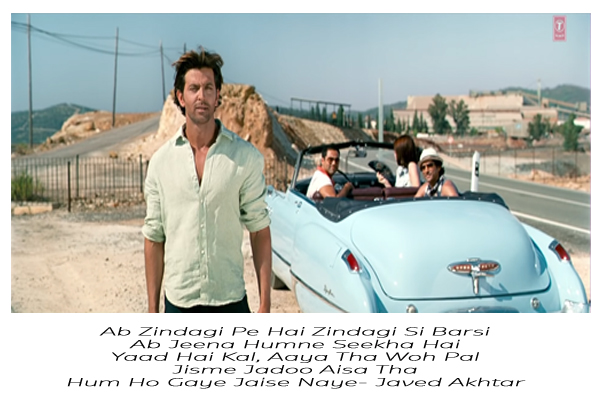 That one trip with your friends which you cherish the most, that one trip you wait for, you slog the entire year for, that trip is incomplete without this perfect road trip song. Keep an eye for the horses!
6. Phir Se Ud Chala (Rockstar):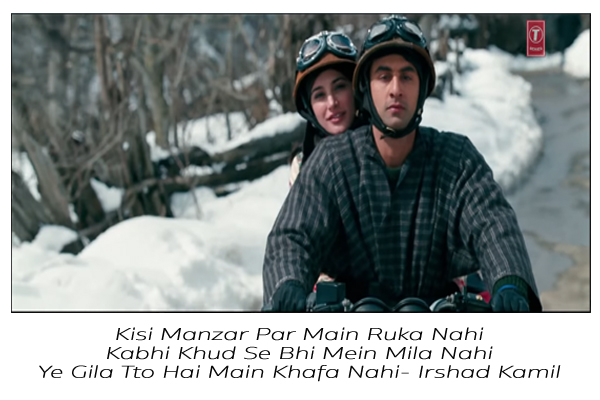 For those who live to travel, for those who don't just visit places but visit palaces of mind and souls, this track is like wine, makes you drunk one word at a time.
7. Safarnama (Tamasha):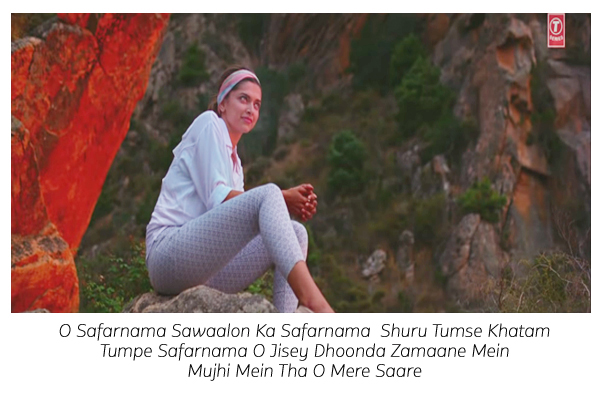 Always on the go, this song stirs the traveler in you. One of the best songs I've heard in recent times tailor made for your travel music jukebox.
8. Pataka Guddi (Highway):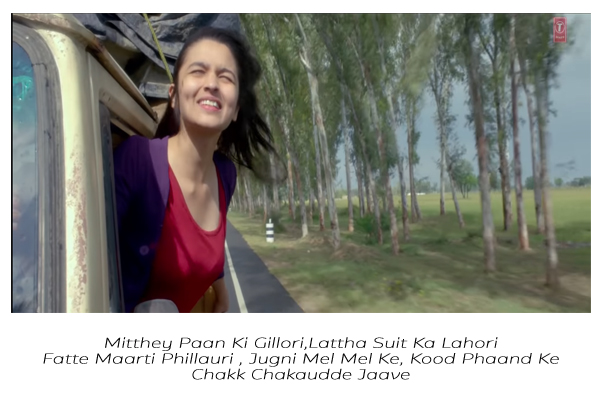 To travel without fear, fear of deadlines, works, relationship anxieties, everything, drop everything for a moment to tell yourself that the universe is taking care of you. Play this track, take a deep breath and meditate at mountains the millennia style.
9. Yunhi Chala chal Rahi (Swades):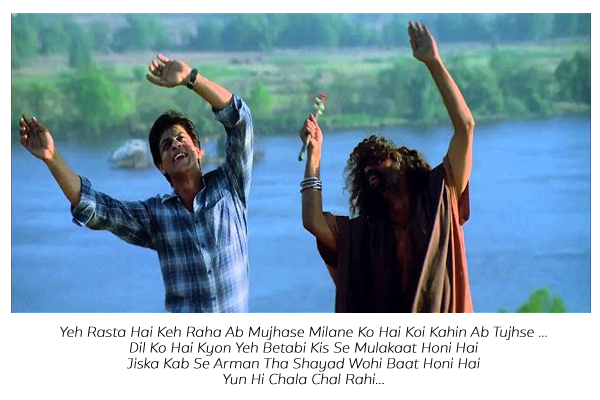 Do you too turn into a philosopher when you travel somewhere? If yes, then your split personality will love this optimistic track and with Udit Narayan and Kailash Kher's voices, it can't get any better.
10. Hairat (Anjana Anjani):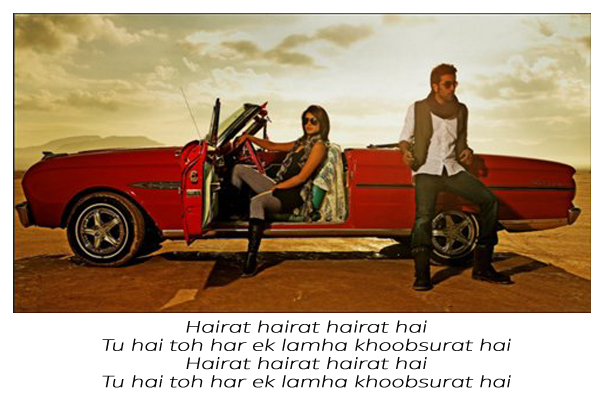 This song is for all those couples who explore each other while traveling. For one understands the other better during travelling. New day, new place, new mood with the same person by your side.
11. Khalbali (Rang De Basanti):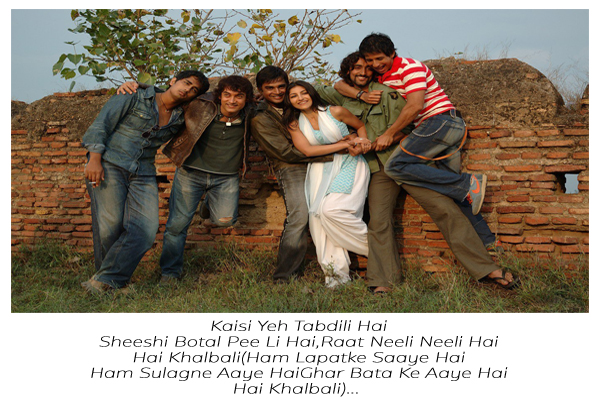 I reserved this one for my childhood friends. The things you can only do around them, the names only they can call you, the fun which is only fun because they are around. This one is for those who make you who you are.
12. Dooriyan (Love Aaj Kal):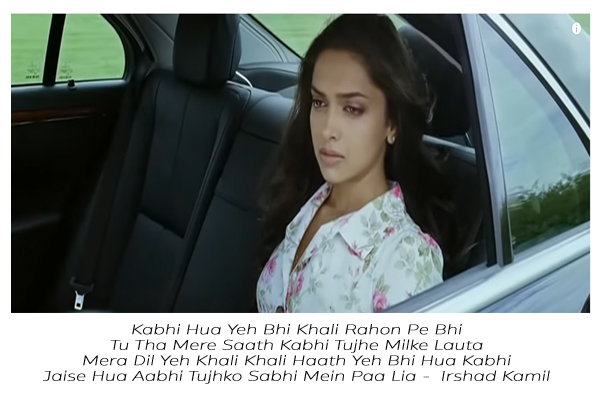 This is for those who travel alone on the surface but carry a home within. Be it in any form- a person, a memory that is stubborn to never leave, an aspiration that breathes in you. This is more than just a romantic song
13. Rock On (Rock On!):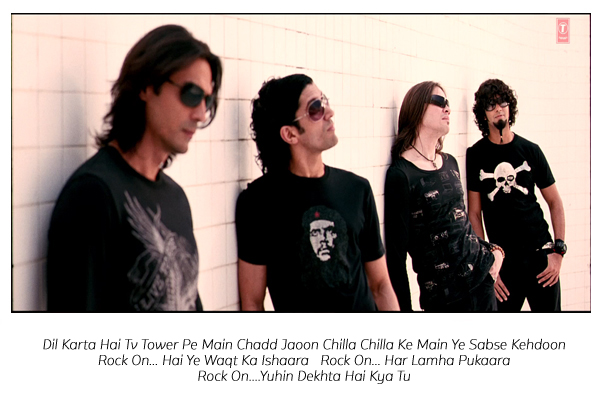 For the fun, energetic and adventurous friend/relative in the group who pushes you to be young again, this one is dedicated to you.
14. Musafir Hoon Yaaro (Parichay):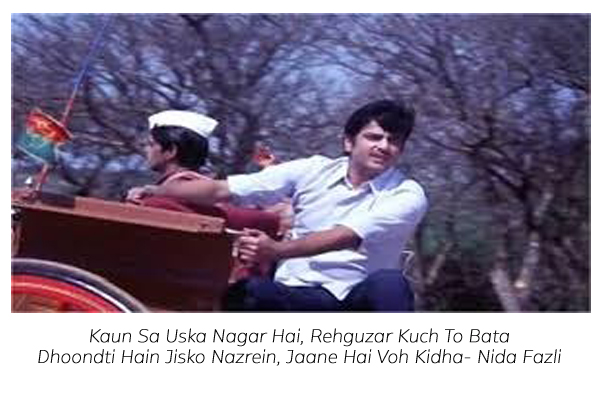 For those who love old songs, this one is hard to miss. Every single word of this song will leave an impression on your heart.
15. Chod Aaye hum wo Galiyan (Machis):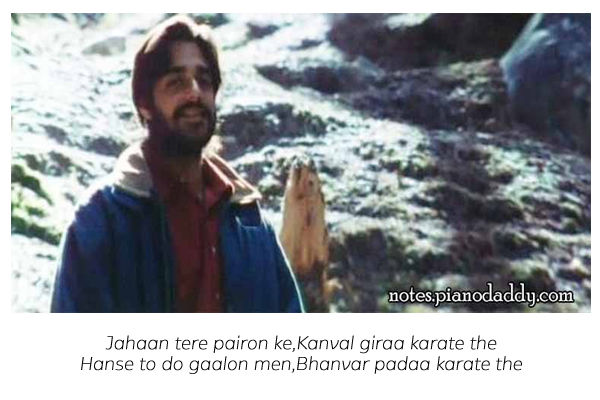 Dedicate this song to that one thing/person/place which you say you left but never really went away. To the questions we only ask yourself and the answers we refuse to admit. This song is a treasure, once opened will be hard to close.
16. Kyun (Barfi):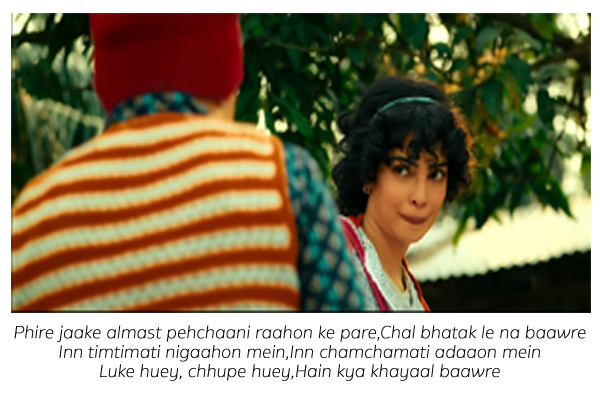 This one is for that crazy, curious friend in your travel group who never ceases to ask questions and is perpetually filled with confusion and curiosity but on the inside is the wisest.
17. Jane kya dunta hai (Sur, The Melody of Life):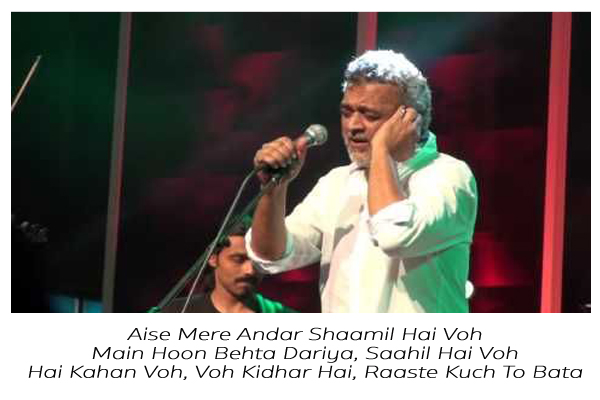 Every 90's kid knows the importance of this track by Lucky Ali. One of the songs which refuses to leave your mind, plus Lucky Ali's voice is hard not to fall in love with.
18. Fanna (Yuva):
This song is one of a kind creating a whole different mood. Go to Flamingo holiday packages, book a trip to your favorite destination and don't forget to play this song. Hi-gh Life!
19. Behne de (Ravaan):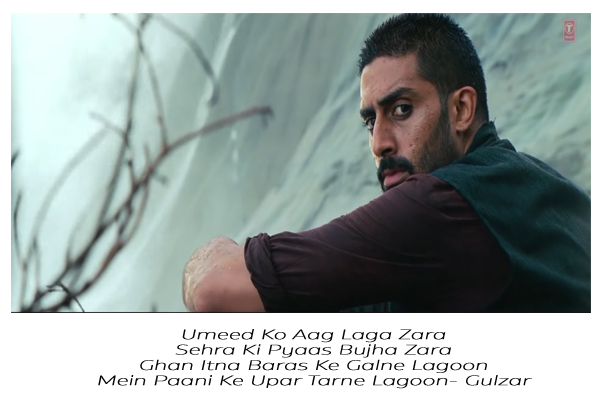 Ever sat on a beach wondering what it must be to be an ocean? How would surrendering everything feel? Listen to this one the next time you are one on one with nature and I bet you'll feel emotions taking shape of words.
20. Hum Kis Gali Jaa rahe Hai (Doorie):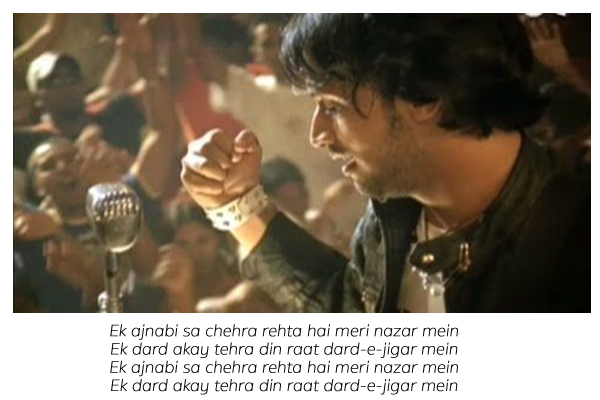 If you are that last minute traveler, who simply packs and leaves for a destination, this song will resonate with you. One of the many good tracks from Atif Aslam's album Doorie.
So, pack your sunglasses, take your travel diary, re-check your passport and identity cards and load your music library. Go travel your passports out and listen to these exciting songs on your weekend getaways or roadtrip holidays.